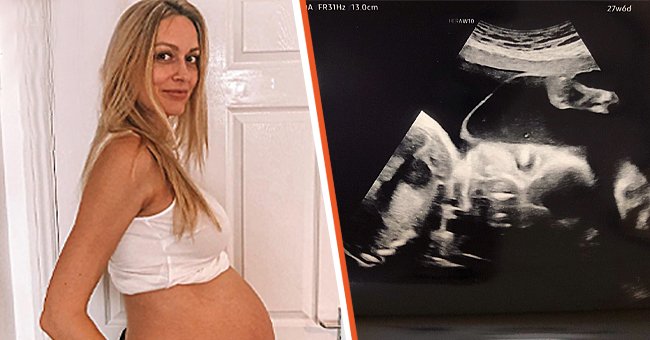 instagram.com/roberts.supertwins
Pregnant Woman Goes for an Ultrasound, Doctor Gets Quiet When He See the Baby Is Not Alone There
Going for an ultrasound scan is one of the best experiences for expectant parents, as they get to see their babies before they are born. This story tells of a woman who received the most shocking news during one of her ultrasound sessions.
Pregnancy is regarded as so many things. It is dazzling and difficult, enchanting and exhausting, isolating and unifying. Despite all of the difficulties of being pregnant, the joy of most expectant mothers cannot be quantified.
Whether a woman is a first-time mom or is expecting her second or third child or more, those nine months leading up to the birth are an undeniably wondrous and life-changing experience.
However, for many women, getting pregnant does not come easily. And for a woman who is struggling to conceive, traveling that path of infertility can be a lonely journey filled with heartache, frustration, and lots of tears.
In some cases, women with fertility issues never get pregnant, but in other cases, some women are privileged to pass through the terrible journey and come out victorious.
The latter is the case of Rebecca Roberts, who got pregnant after waiting for many years. Here are details of Roberts's story and how she received even bigger news during her pregnancy.
THE FERTILITY STRUGGLE & PREGNANCY NEWS
Before welcoming her child, Roberts struggled with fertility issues. She and her partner, Rhys Weaver, had tried to get pregnant for over a year, but all efforts were futile. So, the woman's doctor prescribed an ovulation drug to help Roberts conceive, and it worked.
In February 2020, Roberts and Weaver found out they were expecting after taking an at-home pregnancy test, and it was the best news. As time progressed, the couple went for the first ultrasound scan, and it was a surreal experience.
After seeing their baby on the screen and listening to the beautiful, steady heartbeat, the obstetrician concluded they were expecting one child. "I remember walking away from the very first scan so happy," Roberts explained.
SOMETHING RARE AND UNEXPECTED OCCURED
Five weeks later, and three months pregnant, Roberts came in for her third ultrasound scan. But this time, the sonographer spotted something shocking that left him speechless. Recalling the experience, Roberts confessed:
"I thought something awful had happened."
However, what the sonographer spotted was an incredible and extremely rare occurrence. Doctors told the expectant mother that she was expecting twins, conceived three weeks apart. The term that describes this rare occurrence is called superfetation.
Dr. Lisa Thiel, maternal-fetal medicine specialist at Spectrum Health in Michigan, explained the phenomenon thus:
"Superfetation is when a second pregnancy implants a few days or weeks after an initial pregnancy occurs. A new egg is fertilized by a new sperm."
"The reason this is so rare is because hormones are released by the woman's body to prevent further ovulation, and a thick mucus is created at the cervix to prevent any further sperm from entering the uterus at that time," the doctor added.
Upon hearing the news, Roberts was filled with so many emotions. Speaking to Good Morning America, the woman confessed that initially, she wondered how she missed the second twin. But when Roberts knew it was not her fault, she felt relieved.
Unfortunately, Roberts and Weaver's happiness soon turned to anxiety and sadness. Due to the former's age and the twins being conceived at different times, the doctors explained to the couple that the younger twin might not survive.
For the couple, it was heartbreaking. Still, Roberts and Weaver did not give up. But at some point, the younger twin had stopped growing correctly due to issues with her umbilical cord. So, at 33 weeks, doctors induced labor, and Roberts gave birth to her babies.
THE TWINS' BIRTH & LIFE AFTER
The super twins, Noah and Rosalie, were born in September 2020. At birth, Noah weighed four pounds, ten ounces, while his sister, Rosalie, weighed only two pounds, seven ounces.
Noah spent three weeks in the NICU, while his sister was sent to a particular hospital where she stayed for 95 days. Roberts made it known that seeing the twins separated broke her heart. But in the end, the family of four was reunited shortly before Christmas.
Since the reunion, the twins have been inseparable. The proud mom of two said Rosalie and Noah share an incredible bond. In Roberts's words:
"When we lay them down next to each other, it's like they instantly know, and they reach out and touch each other's faces, and it's just the most beautiful thing."
"Twins have an amazing bond anyways, but the story between these two, when they're old enough to find out, they'll feel even more special," she added. Hopefully, Noah and Rosalie's bond will remain intact, and the latter will grow normally like every other healthy baby.
This story will always be a reminder that children are a gift from God, and in whatever way they come, they will permanently change the lives of their parents, even when they don't expect it.
Please fill in your e-mail so we can share with you our top stories!
The information in this article is not intended or implied to be a substitute for professional medical advice, diagnosis or treatment. All content, including text, and images contained on news.AmoMama.com, or available through news.AmoMama.com is for general information purposes only. news.AmoMama.com does not take responsibility for any action taken as a result of reading this article. Before undertaking any course of treatment please consult with your healthcare provider.