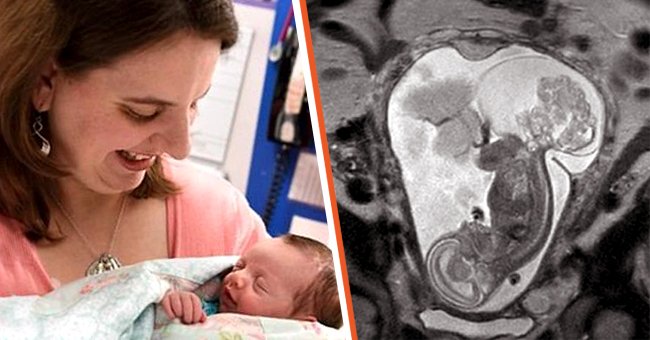 facebook.com/BIG987FM facebook.com/hongkongeconomicjournal
Doctors Take Baby Out of the Womb to Save Its Life, Then Return It to Be Delivered Again
A woman was thrilled to be pregnant with her third child, but sadly the joy turned to worry during a routine scan. Medical professionals offered her options that came with significant risk—now, she is happy they persevered.
The miracle of welcoming a new life into the world is something many couples dream about, but sometimes this experience is plagued by illness and complications.
When a mother's routine check-up proved concerning, she was left with difficult decisions. A few doctors suggested termination, while others gave her a lifeline that involved tricky surgery and possible dangers.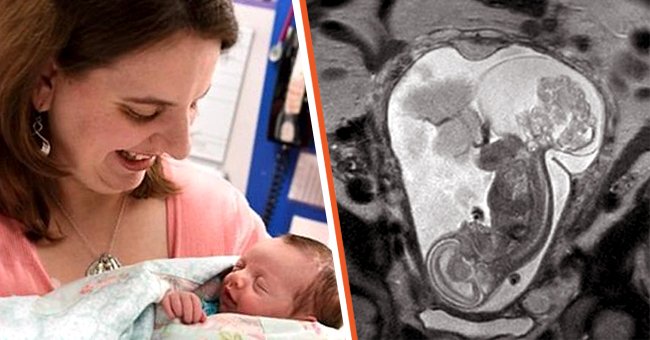 [Left] A woman with her baby girl who was born twice; [Right] The baby's ultrasound. | Source: facebook.com/BIG987FM facebook.com/hongkongeconomicjournal
THE DEVASTATING DOCTOR'S APPOINTMENT
Margaret Boemer's pregnancy journey took a turn for the worse at the 16-week scan. Doctors noticed her unborn baby, LynLee had a health complication inhibiting her growth.
The Texas mom revealed: "They saw something on the scan, and the doctor came in and told us that there was something seriously wrong with our baby and that she had a sacrococcygeal teratoma."
"It was very shocking and scary because we didn't know what that long word meant or what diagnosis that would bring."
THERE WAS ANOTHER OPTION: FETAL SURGERY
The condition is seen in one out of 30,000 to 70,000 live births, and unfortunately, Boemer's baby girl was part of that statistic. The mother had already lost one of her twins in the womb, so the news came as a second blow for the family.
While doctors suggested Boemer terminate the pregnancy, the mom listened to Dr. Darrell Cass, co-director of Texas Children's Fetal Center. Together with his team, the doctor offered them the option of fetal surgery.
IT WAS AN EASY DECISION FOR THE MOM
The surgery would not be easy and had many dangers, but the mother knew what she wanted to do. For Boemer, there was only one option: protecting LynLee and saving her life.
" LynLee didn't have much of a chance. It was an easy decision for us: We wanted to give her life."
The concerned parents knew the baby's health condition was stealing her chance of survival, so they didn't hesitate before giving the operation a chance—no matter how risky.
Boemer was 23 weeks and five days pregnant when doctors operated and tried their best to save the infant's life. They removed her from the mother's womb and treated the concerns.
Thanks to their team of excellent healthcare professionals, they miraculously placed the infant back in her mom's womb, where she remained for another 12 weeks.
The surgery left Boemer on bedrest until she delivered a healthy little girl at 36 weeks. It was a challenge, but it was worth every pain for the proud and doting mom.
LynLee weighed 5 pounds and 5 ounces at her second birth, and the little fighter left everyone in awe. When she was eight days old, doctors removed the rest of the tumor, and a few weeks later, she went home to recover with her loved ones.
THE BABY FACED A FEW CHALLENGES
Dr. Cass shared that the baby was doing beautifully, but she faced a few struggles in her development post-birth. While she was healthy, the condition left her dragging her left leg and struggling to sit up.
However, Boemer was happy to report the youngster was improving every day. She could sleep through the night and met various other milestones. The couple also takes LynLee to regular doctor's appointments to ensure she is healthy.
SHE IS A BLESSING TO HER FAMILY
The parents cannot imagine their lives without LynLee, and they are grateful to the staff at Texas Children's Fetal Center, who offered them a life-changing option.
"If we had not found Texas Children's and doctors who were willing to give us hope and to do the surgery we wouldn't have her here today."
The adorable child is a blessing, and the mom believes God has big plans for her life. Boemer expressed that she was stunned by LynLee's significant progress and knew that there was a big and bright future ahead of her.
THEIR STORY IS GIVING OTHERS HOPE
Boemer is passionate about helping other moms who are walking the same journey she did. She is delighted whenever she receives a message from a family who came across LynLee's story and found solace in it.
The mother doesn't want other parents to view the health condition as a death sentence. While she doesn't sugarcoat the challenges, she hopes to educate people about the many options and doctors who can assist them.
LynLee's story is inspiring and showcases the power of a mother's courage. Click here for another family's miracle story. They proved doctors wrong and encouraged us to keep hope alive no matter how weary the circumstances appear.
Please fill in your e-mail so we can share with you our top stories!
The information in this article is not intended or implied to be a substitute for professional medical advice, diagnosis or treatment. All content, including text, and images contained on news.AmoMama.com, or available through news.AmoMama.com is for general information purposes only. news.AmoMama.com does not take responsibility for any action taken as a result of reading this article. Before undertaking any course of treatment please consult with your healthcare provider.