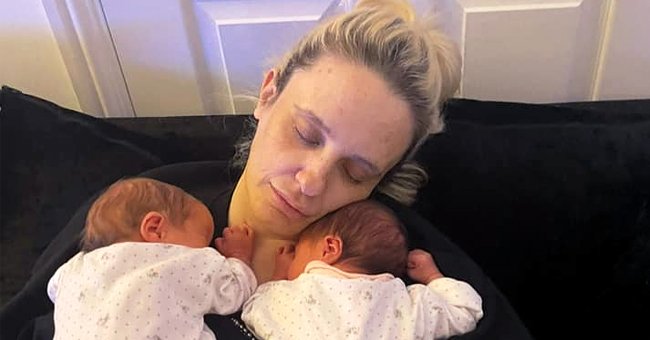 Facebook.com/Emma Privilege
Woman Thinks She Had a Miscarriage, Late Grandfather Tells Her Babies Are Still Alive in a Dream
Most people believe that some dreams are revelations of events, and this story proves that this belief is somewhat valid. Continue reading to know how a surprising dream changed the life of a pregnant woman.
The experience of pregnancy loss can be so heartbreaking, and the grief is hard to navigate because it is so intangible. A woman may have a positive pregnancy test or ultrasound photos to remind her of the life that lived inside her.
But unfortunately, there are no tangible objects–usually no gravesite to visit, no clothes that smell like the baby she has lost, and nothing she can quite grasp as an outlet for her grief.
This is why most women are likely never to remain the same after a miscarriage. While some women decide to try to get pregnant again, others do not. They never get past the grief and the fear of recurrent miscarriages.
The latter was the case of entrepreneur and business trainer Emma White. She had suffered a series of miscarriages and opted for surrogacy.
However, she had a change of heart and got pregnant again. But another miscarriage and a somewhat surprising dream about her grandfather were waiting for her. Here are the details of the story.
EMMA'S EXPERIENCES WITH MISCARRIAGES
Emma was only 18 years old when she had her first miscarriage. It was a terrible experience for her, but it was nothing compared to the grief she would feel after suffering more miscarriages in the following years.
The woman suffered 12 more miscarriages and was never given the reason for the heartbreak. But in 2010, she welcomed her daughter, Mollie Rose. After the child was born, Emma vowed never to try to get pregnant again for fear of further miscarriages.
"I had my one child. I'm an only child myself. I thought that was it for me after Mollie Rose. After all the pain and worry, I was content," Emma explained.
Emma kept to her decision for the next few years, but everything changed in 2019 when she met her husband and jewelry importer, Joe White. She explained that Joe had told her he wanted babies from the onset. Emma said she was hesitant initially, but she was deeply in love after two weeks and wanted to try again.
Unfortunately, following her decision, she would suffer two more miscarriages. Then in 2020, Emma took in again, this time with twins. The couple was very excited, but six weeks into the pregnancy journey, Emma had a miscarriage. Emma confessed:
"After I'd lost the twins, I knew that was it. I just couldn't do it again. Joe completely understood."
THE FINAL PREGNANCY JOURNEY
Then in January 2021, by pure chance and without trying, Emma found out she was pregnant again. While the pregnant woman was over the moon, she was terrified that the pregnancy would end in tragedy again.
Emma recalled checking herself in the toilet now and again, and she was scared to make the slightest movement. Sadly, the fear and caution could not stop the pain that was to come. At six weeks, Emma began shaking and bleeding profusely and feared that she had miscarried again.
Immediately, she was rushed to Liverpool's Women's Hospital, ran tests, and was told to return for a scan in two days. As instructed, Emma returned for the scan in two days. She recounted the experience thus:
"I got in there, lay down, and the sonographer didn't turn the screen around. I'd been in so many times before, and I knew it meant more bad news."
After the scan, Emma was told she had an ectopic pregnancy — a situation that happens when a fertilized egg implants itself outside the womb — and had to have one of her fallopian tubes removed.
So, Emma went in for surgery, and after she woke up from the operation, she learned her pregnancy was normal and had a blockage in one of her fallopian tubes.
A few days later, a scan revealed that Emma was not expecting one child but quadruplets. The woman said she was shocked and could not believe it; however, her joy was short-lived.
Emma began to bleed profusely at week 9, and a few days later, she stood up and "felt something fall out." She was taken to the hospital, and the doctors confirmed her worst fear — there was no sign of pregnancy.
Emma said she believed the doctors because she saw the babies and knew they were gone. Then, she shared the heartbreaking story on Facebook for support, and a woman offered to be Emma's surrogate.
THE SHOCKING DREAM & TWINS' BIRTH
A few weeks later, Emma had a dream that confused her. In the dream, her late grandfather appeared and told her she was still pregnant. Emma said she woke up with a jerk.
It was baffling as her grandfather had died when she was four, and Emma had never had such dreams. Without hesitation, she grabbed a doppler, placed it on her stomach, and listened. To her greatest surprise, there was a whooshing sound.
Despite Joe's skepticism, Emma went to the hospital and insisted on being scanned. The scan showed the woman was still pregnant with two babies.
In an incredibly rare phenomenon, Emma's quadruplets – two sets of identical twins – suffered a condition called vanishing twin syndrome.
The condition happens when one set of twins dies in the uterus, and the embryos are reabsorbed into the body. Emma lost one from each set of identical twins – leaving her with two non-identical twins – and had passed the embryos.
Emma, already 12 weeks pregnant, rushed to tell her stunned husband the news. At 37 weeks, the doctors induced labor, and on October 2, 2021, Emma and Joe welcomed twins Aurora Azalea and Ophelia Lili.
It was indeed a surreal experience. Emma hopes to encourage women who are going through difficult experiences. She noted:
"I just want all the women out there to know there's no shame in it. There are so many of us suffering, thinking we're mad, terrified every time we get pregnant. I hope my story can give some hope."
Hopefully, Emma's story will inspire women and couples worldwide not to give up, as light is at the end of the tunnel.
Please fill in your e-mail so we can share with you our top stories!
The information in this article is not intended or implied to be a substitute for professional medical advice, diagnosis or treatment. All content, including text, and images contained on news.AmoMama.com, or available through news.AmoMama.com is for general information purposes only. news.AmoMama.com does not take responsibility for any action taken as a result of reading this article. Before undertaking any course of treatment please consult with your healthcare provider.