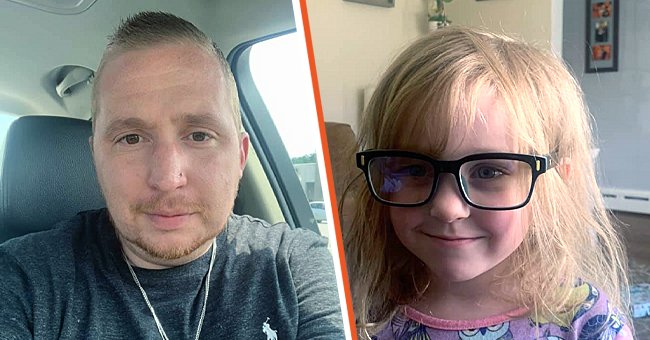 Kyle Semrau | Macie Semrau | Source: Facebook.com/kyle.semrau.12
Girl Begs to Skip School to Stay Home with Dad, Sees Him on the Floor a Few Hours Later
Children are a blessing; having those tiny humans run around can be exciting, but watching their kids tackle life issues is even more impressive to a parent. Six-year-old Macie stunned her father after skipping school. This move saved his life. Here's the story.
Studies show that the best time to impact a child is between 0 to 5 years. Kids are quick to absorb at this age, and it cuts across their personal routines and life at school.
Consequently, helping your kids understand life and how to navigate it does not end with providing them with regulated comfort or giving them the best gifts when they act right. Instead, it also boils down to teaching them some antics like quick thinking and how to handle emergencies.
That is precisely what Kyle Semrau, resident of Eliot, Maine, a father of two, is doing with his kids. Kyle, who works as a general farmer and head chef, was found unconscious by his 6-year-old, who thankfully saved his life using her smartness learned from daddy.
MACIE DECIDES TO SKIP SCHOOL
It all began when Macie, a kindergartener, decided not to show up at school on April 12, 2022. She wanted to see her father, whom she claimed to miss, and somehow, her parents allowed it, even though they never welcomed their child missing school.
Luckily for the 6-year-old, she had her dad home all day. Earlier on, Kyle, who returned from his overnight shift, complained about feeling light-headed.
This presented the perfect opportunity for the kids to bond with their dad. His wife, Kate, left for work, leaving 4-year-old Caleb and Macie with him.
Kyle opted to rest, but instead of the discomfort going away, he felt worse. Soon, the kids heard him shouting in the basement. They rushed down to see their dad falling in and out of consciousness.
Caleb tried to console his dad, while Macie quickly grabbed his phone and attempted to call for help. Her brilliance in maintaining calmness was impressive.
She waited for her father to regain consciousness and asked him to recite his phone password. Once she gained access, Macie googled the city's police by typing "Elliot Poliz."
Immediately the information popped up, Macie clicked on the dial button and was transferred to Judy Smith, the department's administrative assistant, who worked as a dispatcher with the Sanford police agency.
The kindergartener captivated the responder with her preparedness after she wittingly disclosed her family's Goodwin Road address. Next, she explained her dad's condition, and within two minutes, the police came knocking on her door.
When it was time to open the front door, the kids teamed up to protect their dad. They shut the basement door to prevent their pets from getting to Kyle while Macie answered the main entrance.
The Eliot Police Chief, Elliot Moya, showed up, assuring the kids of their dad's safety. Kyle experienced difficulty breathing and was taken to Wentworth-Douglass Hospital, where he spent three days regaining sound health.
GOING OVER THE EXPERIENCE
When the storm was calm, both father and daughter had no problem recounting the experience. Macie claimed that her dad was yelling. Even though she displayed courage, to the young heroine, it felt as if her dad would die. She added:
"I don't want to say this, but I thought he was going to die."
Moya, who attended to the emergency, made many heart-melting comments about the brave toddler. He also believed that everything worked out perfectly for the family. He said:
"Macie potentially saved a life. It sounds like the moon and the stars aligned."
Kyle agreed that it was a peculiar event as it happened on the first anniversary of Macie's maternal great-grandmother. The family considered it to be divine intervention.
HOW KYLE AND KATE TRAIN THEIR KIDS TO BE EXCEPTIONAL
The father-of-two confessed that he was stunned at how mature his kids acted to save his life. Thankfully, this was because of the much he invested in them.
While discussing parenting, he explained that they are intentional. According to the head chef, Kate monitors screen time even though the kid tablets contain school work, including reading and math questions.
They also teach them practical life lessons that the classroom does not talk about. Kyle wants his kids to be aware of their surroundings and gain vital skills that help them in real-life situations.
Moya complemented his tactics, adding that it seemed to be panning out. Following the event, the Police Chief gifted the life-saver a gift card to a candy store, treating the kids to an enjoyable candy experience; after all, they deserved it!
Three days after the near-death experience, Kyle shared his story via his Facebook page. He gushed over his daughter's wits and confidence and added a word of advice to parents. He wrote:
"Teach your kids emergency scenarios, teach them life events that school might not cover, street smarts, and being alert. Life is short, but mine just got longer because of Macie, my daughter."
Ultimately, this beautiful story shows that youngsters can be of great help, especially when they have a credible foundation and parents willing to spend time molding them into influential individuals in society.
Please fill in your e-mail so we can share with you our top stories!
The information in this article is not intended or implied to be a substitute for professional medical advice, diagnosis or treatment. All content, including text, and images contained on news.AmoMama.com, or available through news.AmoMama.com is for general information purposes only. news.AmoMama.com does not take responsibility for any action taken as a result of reading this article. Before undertaking any course of treatment please consult with your healthcare provider.