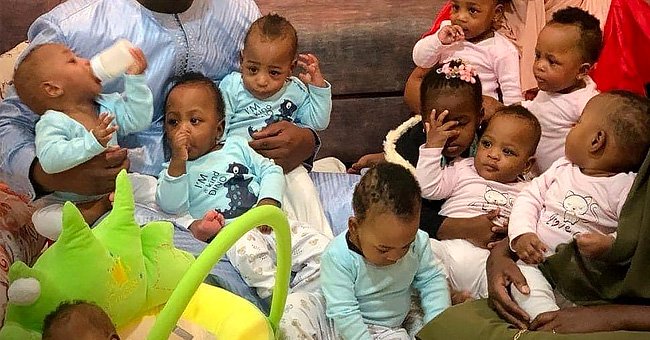 facebook.com/pyfctv
Parents Need 75 Diapers and 100 Bottles of Milk Every Day, Say Their Children Are 'Blessings from God'
The world is full of miracles, which most times turn out to be unbelievable situations. This story proved this fact to be true after a Guinness World Record was broken most unexpectedly. Continue reading to find out more.
Children or babies are the blessings bestowed by nature, and a mother is no less than a miracle to be able to give birth to new lives with strength. Giving birth is painful, and it starts from the wave of emotions that hits a woman through her pregnancy period.
Then, it is followed by various hardships and pain of labor. Yet childbirth remains one of nature's best blessings in life. The natural birth of a child compliments the transformation of women into strong, competent, capable mothers.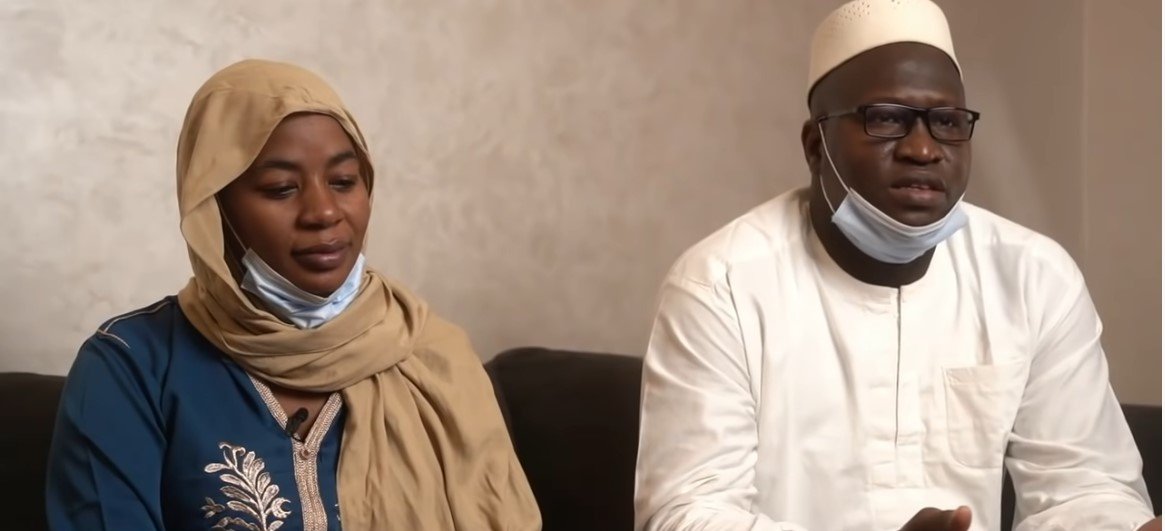 Picture of the parents, Abdelkader Arby and Halima Cisse | Source: Youtube/ ABC News
While most mothers welcome only one child during delivery, other women are fortunate to receive multiple babies. The latter was the case of Halima Cisse, whose story grabbed a lot of attention in Morocco after she gave birth to nonuplets (nine babies) at once. Here are the details of the story.
CISSE'S PREGNANCY JOURNEY
Abdelkader Arby, an officer in the Malian army, and his 26-year-old wife, Halima Cisse, are doting parents to ten children. They welcomed their three-year-old daughter, Souda, in 2019, and unknown to the couple, they would have ten times more in two years.
At the early stages of Cisse's second pregnancy, an ultrasound in her home country, Mali, revealed that the couple expected seven babies. Due to the severity of welcoming multiple children at once, the Malian government intervened.
Picture of the parents, Abdelkader Arby and Halima Cisse pointing at one of the babies in the incubator | Source: Youtube/ ABC News
They flew the expectant mother to Morocco, where another ultrasound would confirm that she was, in fact, pregnant with sextuplets. Although carrying multiple babies comes with many health complications, including early birth, the doctors in Morocco were able to delay Cisse's delivery for five weeks.
INSIDE THE SURPRISING DISCOVERY/BIRTH OF THE BABIES
Cisse was ready to welcome her sextuplets via cesarean section at thirty weeks. However, the medical practitioners discovered something during the delivery — an additional two babies.
"You can imagine our surprise when we discovered nine of them during the birth. Luckily, this didn't faze us since we have one of the largest neonatal resuscitation services in Morocco," the clinic's Dr. Youssef Alaoui said.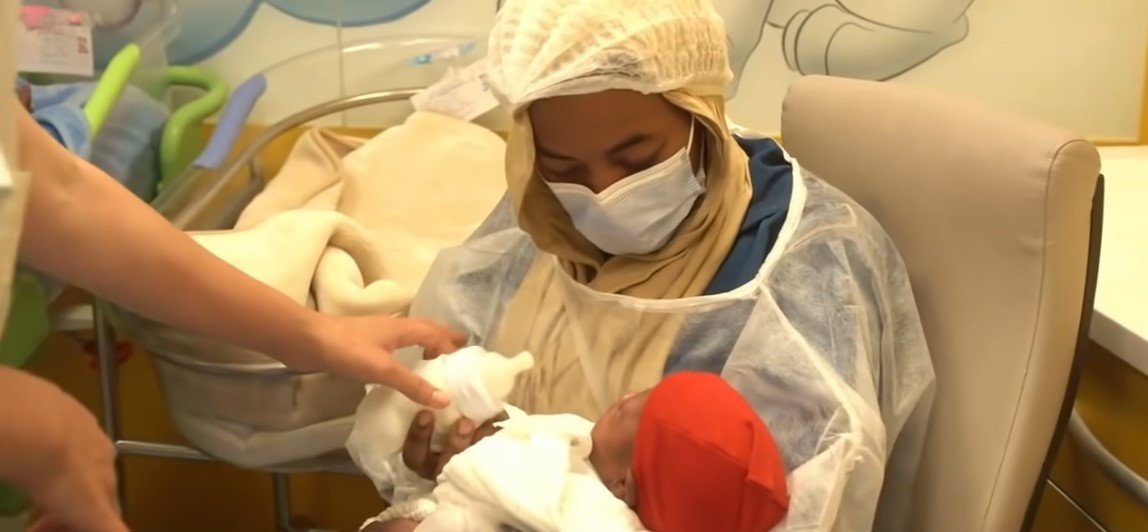 Picture of Halima Cisse feeding one of her babies | Source: Youtube/ ABC News
Determined to save the lives of the mother and children, the medical practitioners sprung into action. With the help of 10 doctors and 25 nurses, Cisse welcomed her nonuplets (five girls and four boys) safely on May 4, 2021.
Each weighed between one pound, one ounce, and two pounds, two ounces. Speaking about the first time occurrence in their hospital, Alaoui told TODAY's parents:
"At the Casablanca Ain Borja Clinic, we've seen all sorts of complicated medical situations, but I have to say that the birth of nonuplets ... that's a first for us."
Apart from being the clinic's first nonuplets, the babies achieved the Guinness World Record title for the most children delivered at a single birth to survive. They broke the previous record held by eight babies, born to Natalie (Nadya) Suleman, also known as "Octomom," in 2009.
THE LIFE OF THE PARENTS AND BABIES AFTER BIRTH
After the nonuplets were born, they were placed in incubators for several months to ensure their survival. In addition, the nonuplets were left in the care of the Moroccan clinic in a specially equipped flat. They were also placed on a strict diet to help them receive all the nutrients needed to grow properly.
Throughout the period, Arby remained in Mali to take care of his three-year-old daughter. In October 2021, he finally reunited with his family in Morocco and had this to say about his babies, "All of them are getting on very well and are a joy to look after."
On May 4, 2022, the nonuplets celebrated their first birthday, and their parents could not be happier. During an interview, the father often opened up about the children's progress. He said:
"They're all crawling now. Some are sitting up and can even walk if they hold on to something."
Arby also confessed that each child has a unique character. In his words, "They all have different characters. Some are quiet, while others make more noise and cry a lot. Some want to be picked up all the time. They are all very different, which is entirely normal."
According to Arby and his wife, taking care of Mohammed VI, Oumar, Elhadji, Bah, Kadidia, Fatouma, Hawa, Adama, and Oumou is not an easy feat. Thankfully, they have a team of nannies to help look after the babies.
The clinic staff has revealed that they use about 75 diapers and 100 bottles of milk each day. Nevertheless, Arby and Cisse will not have it any other way. They consider the nonuplets "a blessing from God" and constantly remain grateful for them.
Please fill in your e-mail so we can share with you our top stories!