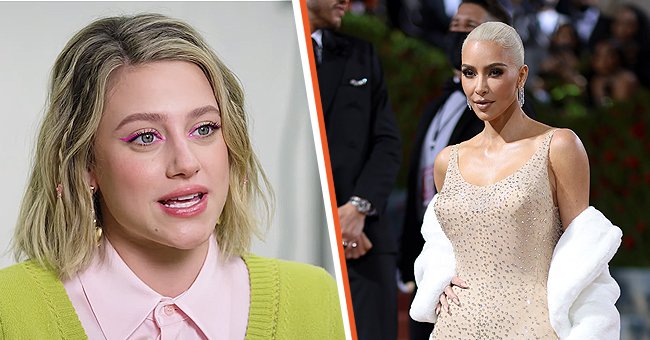 Getty Images | YouTube/People
Lili Reinhart Slams 'Starving' Met Gala Celebs after Kim Kardashian Said She Lost 16lbs to Fit Into Her Dress
Lili Reinhart spoke against celebrities doing extreme diets to fit into event dresses, claiming it is wrong to send the message that it is okay while millions of young men and women watched. Her rant on social media came after Kim Kardashian revealed she lost 16 pounds to fit her Met Gala gown.
Every year, A-lister celebrities prepare for the highly anticipated fashion event, the Met Gala, to be in their best shape and most beautiful outfits.
However, some of these preparations may go too far, and it can spark a wave of outrage from those who are against extreme methods. So what happened at this year's Met Gala? Let's take a closer look at the situation.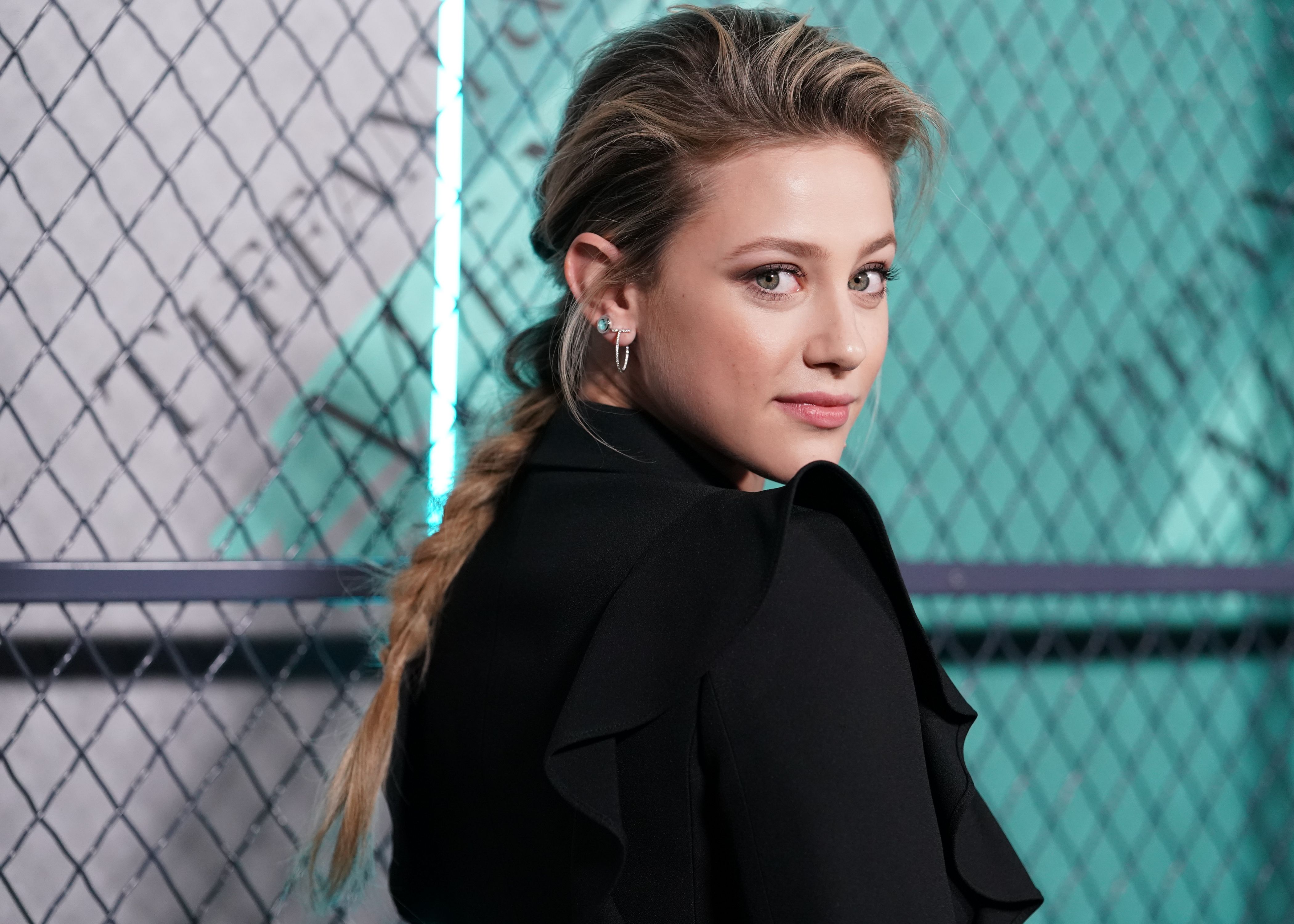 Lily Reinhart during the Tiffany & Co. launch of the new Tiffany Men's Collections at Hollywood Athletic Club on October 11, 2019, in Hollywood, California. | Source: Getty Images
Lili Reinhart is among those who are tired of hearing how celebrities go through extreme dieting because their "entire image revolves around their bodies." She specifically spoke against starving oneself after Kim Kardashian admitted losing nearly 20 pounds to fit her gown.
KIM KARDASHIAN'S MET GALA DRESS – A CLOSER LOOK
Kardashian's was one of the most talked-about looks on the Met's red carpet, not only for its intricate design but also because Hollywood legend Marilyn Monroe once owned it. The beauty mogul said:
"The idea really came to me after the gala in September last year. I thought to myself, what would I have done for the American theme if it had not been the Balenciaga look? What's the most American thing you can think of?"
That was when the name Marilyn Monroe entered her thoughts. According to Kardashian, Monroe's look when she sang "Happy Birthday" to former President John F. Kennedy was the one she wanted to have.
Of course, fitting in a dress not made for the reality star took immense preparation. The iconic Jean-Louis gown could not be altered, and because it was skin-tight, Kim Kardashian had to fit into it.
The dress came to her Calabasas home with guards, and the Skims founder wore gloves to try it on. She shared:
"I always thought she was extremely curvy. I imagined I might be smaller in some places where she was bigger and bigger in places where she was smaller. So when it didn't fit me, I wanted to cry because it can't be altered at all."
However, Kardashian had already set her eyes on the dress. With only a few months left before the event, she went on a strict diet to slim down and wore a sauna suit twice a day. She also did a lot of cardio and removed carbohydrates and sugar from her diet. "I didn't starve myself, but I was so strict," she said.
WHAT DID LILI REINHART SAY ABOUT KIM KARDASHIAN?
After Kardashian's interview, Reinhart went on social media to share a series of thoughts about celebrities who starve themselves to fit a dress. Although she didn't name anyone, her words hinted at the "Keeping Up With The Kardashians" star.
According to the "Riverdale" actress, it is wrong for celebrities to openly admit that they starve to fit a dress, knowing that many young viewers look up to them.
"The ignorance is other-worldly and disgusting," she wrote in her Instagram story. "Please stop supporting these stupid, harmful celebrities whose entire image revolves around their bodies."
In a following post, Reinhart admitted that she could not stand the entertainment industry's toxicity, so she needed to speak up. Reinhard has previously opened up about suffering from body dysmorphia in 2018.
LILI REINHART'S MET GALA DRESS
Although Reinhart did not appear in this year's Met Gala, she was present at the 2021 event. That year, she wore a baby pink Christian Siriano gown with floral appliques flowing on the dress' train.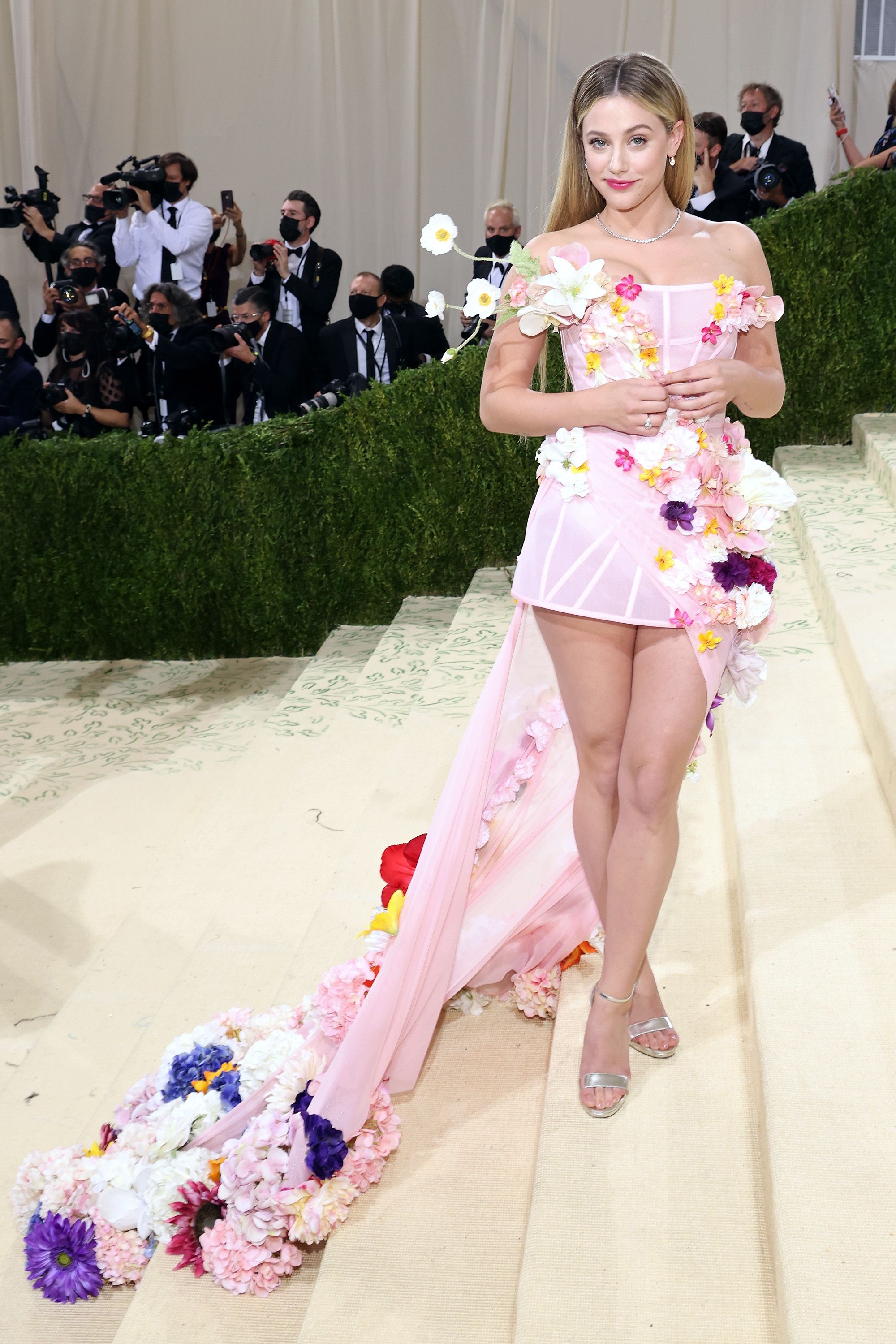 Lili Reinhart during the 2021 Met Gala benefit "In America: A Lexicon of Fashion" at Metropolitan Museum of Art on September 13, 2021 in New York City. | Source: Getty Images
The colorful flowers represented state flowers from the country's 50 states. Her look was undoubtedly eye-catching and had many talking about it on social media.
Please fill in your e-mail so we can share with you our top stories!