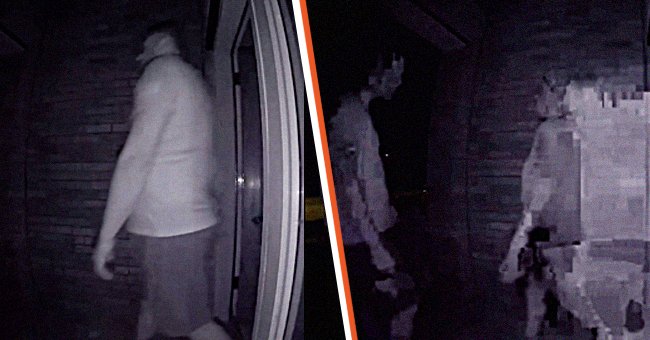 Kaylie Kristina's Husband Caught Cheating through the Ring Doorbell Camera, 2021 | Source: TikTok.com/@kaylie271
Woman Goes on Family Trip without Husband and Decides to Check Their Doorbell Camera
When her husband fell sick shortly before their family vacation, a woman understood why he needed to stay home. However, their doorbell camera revealed his true intentions behind skipping the trip.
Doorbell cameras have become increasingly popular, and in 2020, more than 400,000 of the Ring smart devices were sold by Amazon. The nifty gadgets help homeowners with safety and security, but that's not all they are helpful for.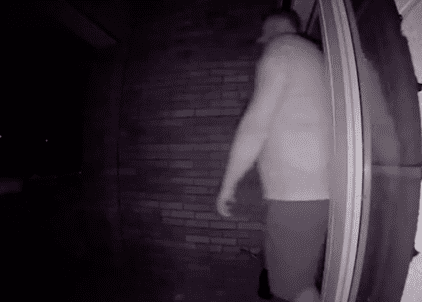 Doorbell camera shows a woman that there was a man on her porch. | Source: Tiktok.com/kaylie271
As one woman discovered, the doorbell camera also recorded the actions of family members, even when they least expected it. Read her story and find out what she saw on the app—it left her speechless.
Kristina's Husband Was Too Sick to Go On The Trip
Kaylie Kristina, known as @kaylie271 on TikTok, was excited for quality time with family and friends in 2021. The trip was booked for her family of four, a best friend, and her child. However, Kristina's son became sick shortly before they were set to leave.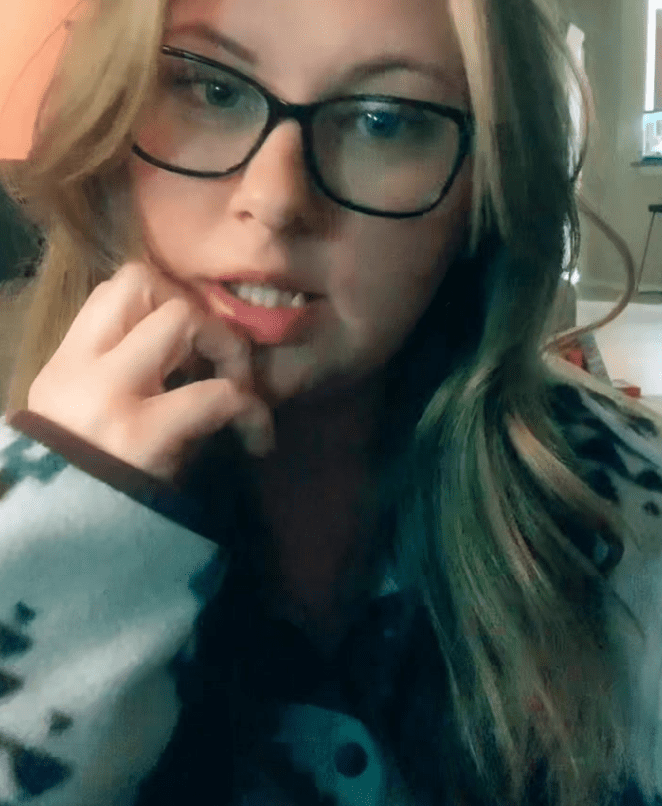 Woman reveals what she saw on her doorbell camera. | Source: TikTok.com/kaylie271
On the morning of their departure, Kristina's husband complained that he was also unwell. The couple decided it would be best for the father and son to stay home. The loving mother was sad to leave two of her loved ones behind but understood the circumstances. Little did she know that her husband had other plans up his sleeve.
Kristina Got a Doorbell Notification
The TikToker settled into their accommodation, and while away, she received an unexpected phone call from her husband. She shared that he told her their doorbell camera was not working.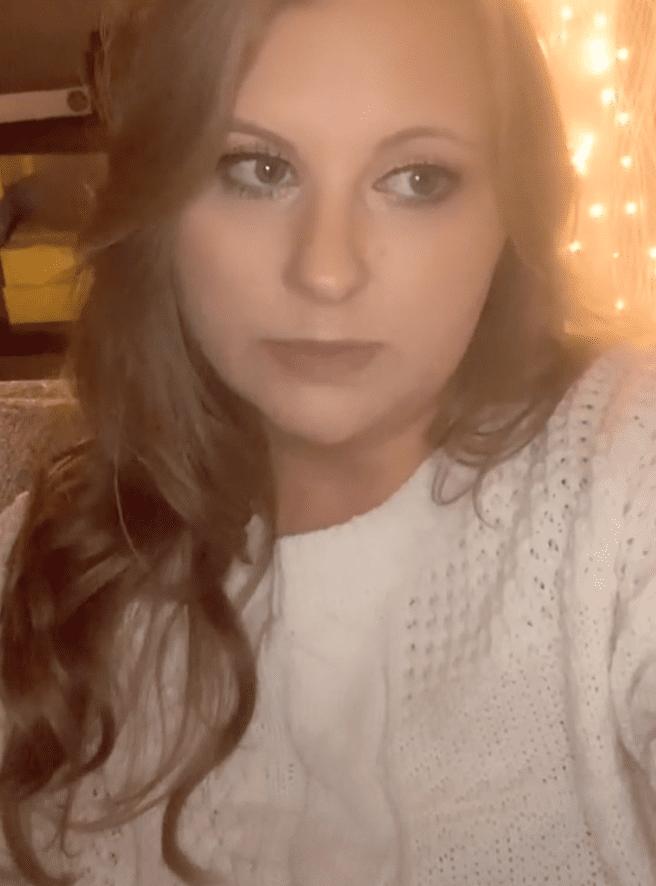 Mother-of-two shares what she saw on her doorbell camera. | Source: Tiktok.com/kaylie271
The family had changed internet service providers, so Kristina thought it was an issue on their side. However, later that day, she was surprised when she got a notification from her doorbell camera app.
The mother of two quickly checked the footage and was alarmed by what she saw on the recording. Kristina initially thought there were two strangers on their porch. She said:
"So I saw the video when I was away on a trip with our daughter. I called him because at first I just saw an image of two bodies on the porch and said, 'There are two creeps on the front porch go check it out.'"
The Devastating Discovery
When Kristina took a second look at the footage, she came to a devastating realization—her husband was one of the people in the video. She shared the clip on TikTok with a text overlay that stated
"When your husband is too sick to go on the family trip you planned."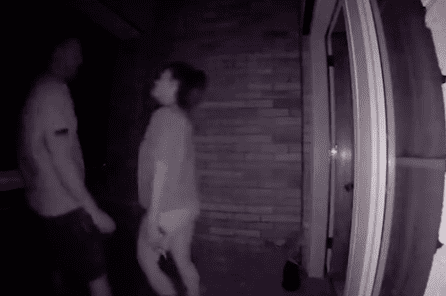 Doorbell camera shows a woman that there are two people on her porch. | Source: TikTok.com/kaylie271
The footage showed a man, her husband, walking out the door and observing the outside area. Then, an unknown woman appeared, and the pair shared a quick kiss before she left the premises. Per Kristina, the woman was one of her husband's colleagues from work.
'The Damage Is Done'
Kristina revealed that she immediately confronted her husband on the phone, and he initially denied the accusations of infidelity. In a follow-up TikTok video of her sitting in a car, she revealed what her husband said after she caught him cheating.
User and poster's comments dated June 30, 2022 | Source: TikTok.com/kaylie271
Using the chorus of Taylor Swift's "Safe & Sound," she revealed he told her, "Just close your eyes." A TikTok user replied to the post, laughing and shocked that Kristina's husband would say that, leading the mother of two to confirm he used those words.
She also shared that her husband claimed it "wasn't him" on camera. However, he eventually confessed the truth when she threatened to show him the video evidence of the incident.
The grainy black-and-white video, which had a timestamp of 10 p.m., quickly gained traction online. Many people wanted to know more, and the TikToker shared a series of follow-up clips notifying netizens about the developments.
She expressed: "His reaction to me finding out about the video was to first turn it around on me and all the things I did wrong in his eyes." He soon realized he was to blame and apologized for his actions. She added:
"But the damage is done."
Kristina Kicked Him Out of Their House
Kristina gave her husband five hours, the time it took her to travel home from their vacation spot, to pack his things and leave. She added that "the locks have been changed, and he no longer resides here."
The TikToker also revealed plans to file for divorce and said she blamed her spouse for opening the door to infidelity. But, she also placed responsibility on the woman. Social media users had questions for Kristina, and others shared their views.
He Had No Respect for His Family
When a viewer asked Kristina why her husband would cheat if he knew about the doorbell camera, she replied: "Ask him." Another netizen added their opinion and offered a reason for the infidelity. They stated:
"Some people just don't care. Obviously, he has no respect for his wife, home, and children, to bring [his mistress] to his house where they live."
In another video, Kristina also said she was disgusted that her husband brought someone into their home while her son was present. After getting a lot of support from social media users, the parent shared her gratitude.
The Mother Appreciated the Online Support and Is Now Thriving
Kristina was grateful for the overwhelming support from people worldwide. She revealed that being a single mother was challenging, but she was doing great with her children. The TikToker expressed:
"Going viral has been a very surreal experience. I don't know what about my video interested everyone because people cheat all the time. [Most] people have been very supportive, which I really appreciate."
On March 29, 2022, Kristina celebrated reaching the halfway mark in her divorce proceedings against her husband. Speaking through a voice-over clip, she said she didn't like talking about things before they were finished, but so far, it was a "masterpiece."
On November 27, 2022, she gave another update about her life via TikTok by sharing that she'd started dating again. Sharing a screenshot of her conversation with a man, she revealed that her car was hit by a truck while trying to find parking at a mall where their first meeting was meant to happen!
In late October 2023, Kristina shared a TikTok clip revealing that it has been two years since her divorce, and now she is "free" and has "missed sparkling." The video showed her clubbing, going on trips, and living her best life!
Kristina's story showcased the shattering reality of cheating—it breaks families apart and leaves everyone heartbroken. Hopefully, her story will encourage partners to think twice before they are unfaithful to their loved ones.
Click here for another story about a spouse caught in a lie. When a husband came home early to surprise his wife, he saw something suspicious.
Please fill in your e-mail so we can share with you our top stories!