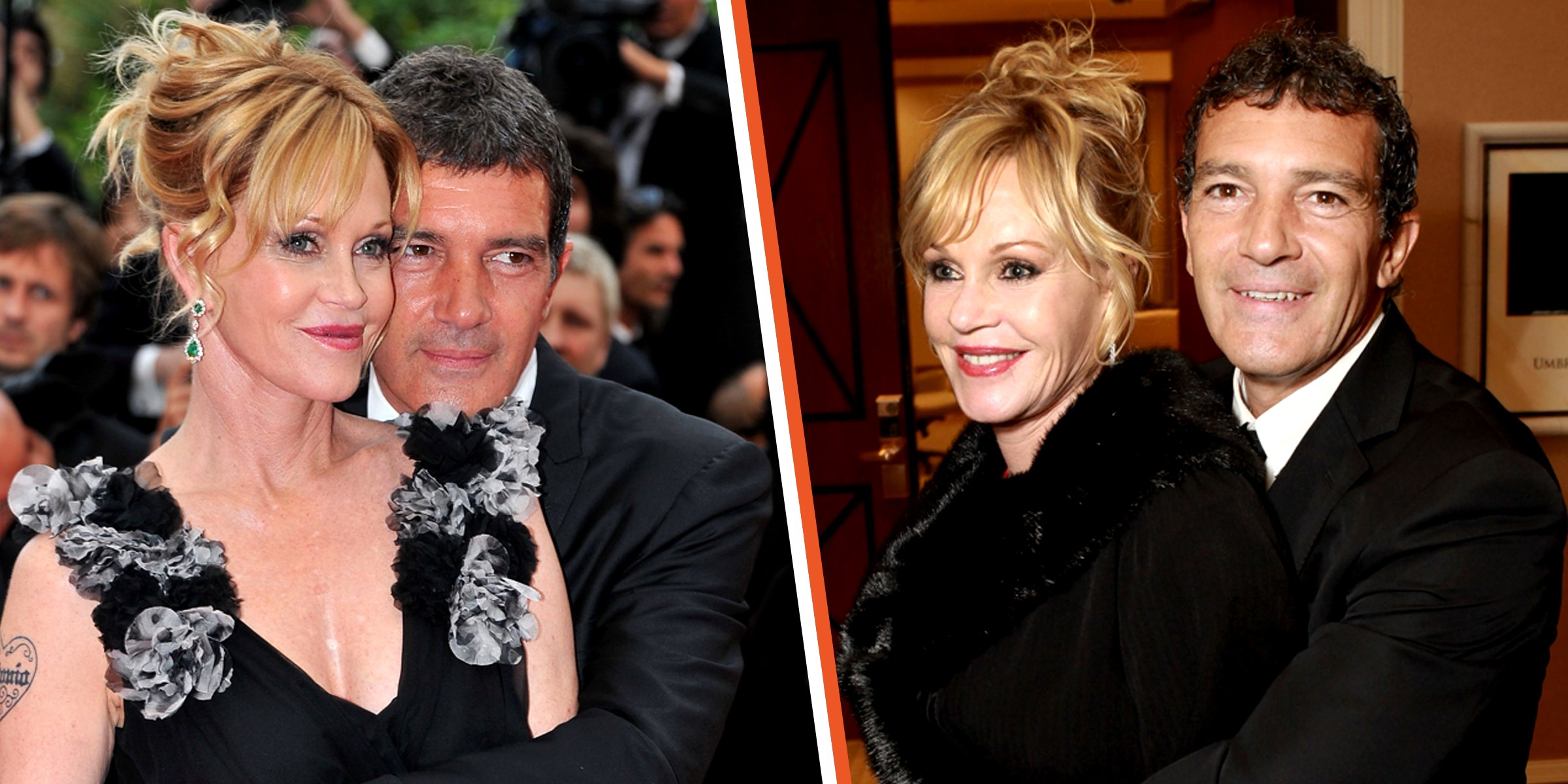 Getty Images
Melanie Griffith 'Was Stuck' in Marriage with Antonio Banderas Who 'Will Love' Her until the Day He Dies
Hollywood stars Melanie Griffith and Antonio Banderas were once a power couple ruling the industry in love. Although their union ended, Antonio knew he would love her forever.
Amid controversy and drama, movie stars Antonio Banderas and Melanie Griffith kindled a love life that lasted as a decades-long marriage. The duo had been in previous marriages, but this was hardly against their romance.
Melanie was married three times before she and Antonio found love in each other's arms, two of which were to the same man, Don Johnson. However, she and Antonio fell in love and were a couple for a long time. Even after the divorce, Antonio keeps cherishing their time together.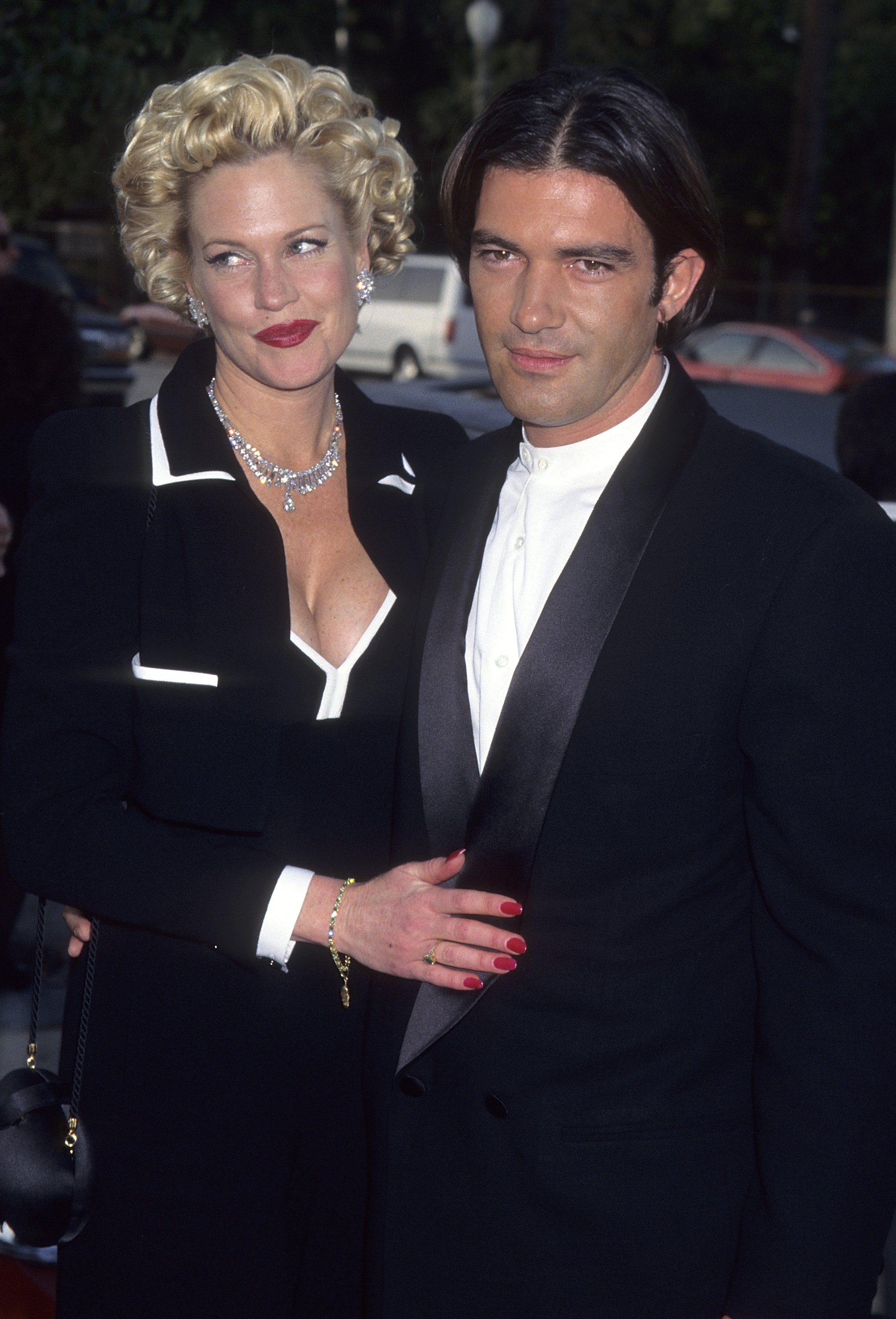 Melanie Griffith and actor Antion Banderas attend the First Annual Blockbuster Entertainment Awards on June 3, 1995 | Source: Getty Images
MELANIE WAS ACCUSED OF STEALING ANTONIO
Melanie Griffith and Antonio Banderas are Hollywood icons in their rights, and it is safe to say that they move in the same social circle. However, back in the day, it took attendance at the Academy Awards for Antonio to meet Malanie.
Once in an interview, he recalled gracing an Oscars Award event and spotting the blonde beauty in a sea of heads. At the time, Antonio's movie, "Women on the Verge of a Nervous Breakdown," had been nominated.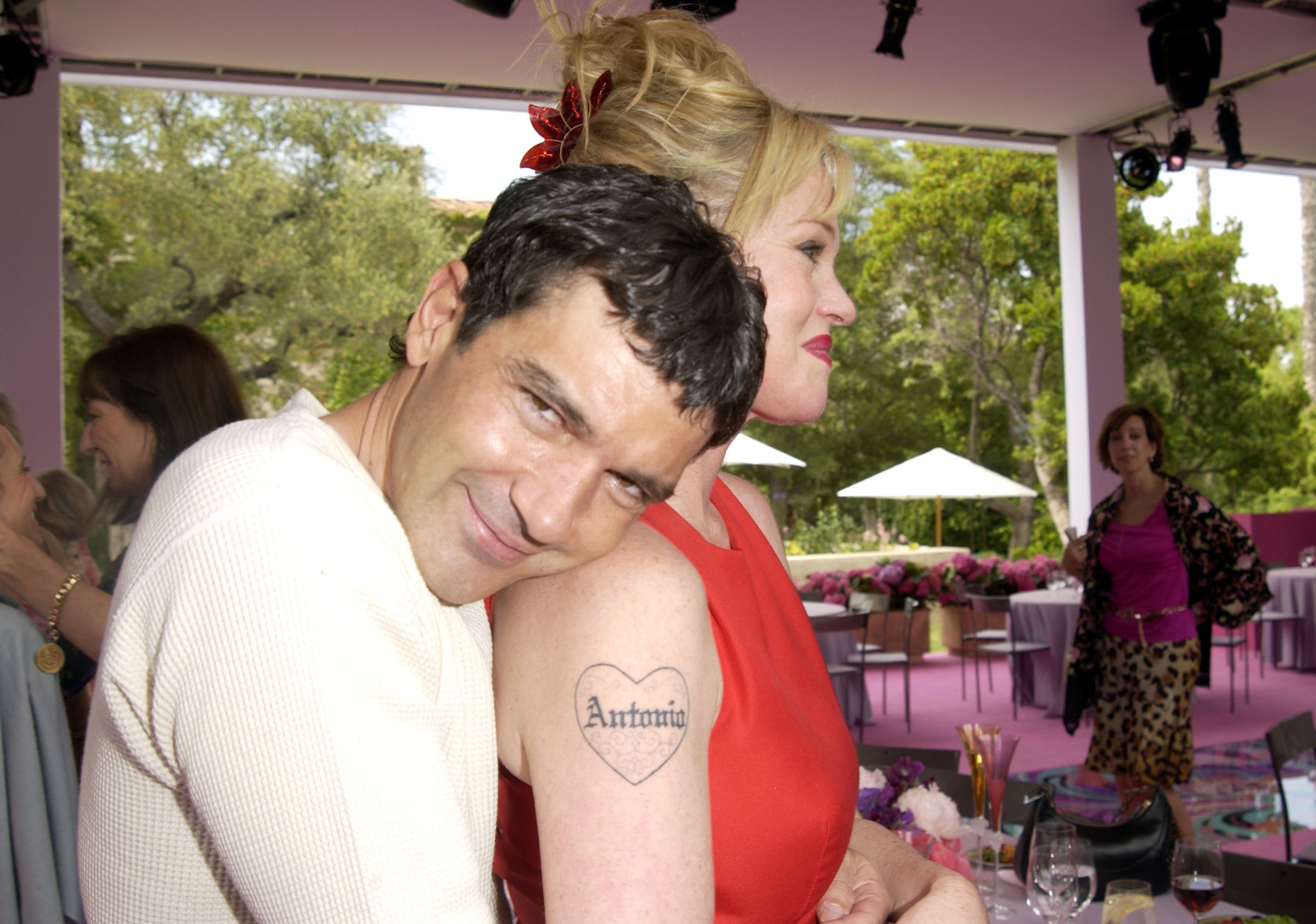 Antonio Banderas and Melanie Griffith during Versace Luncheon to Benefit Children's Action Network-Westside Children's Center Sponsored By "InStyle" Magazine on May 30, 2002 at Private Home in Los Angeles, California | Source: Getty Images
He recalled being transfixed by her sight and being unable to place her face. He beckoned on director Pedro Almodovar who clarified that it was Melanie. Antonio stated that six years later, he married her.
However, their romance and union did not come without drama. Melanie had been accused of stealing Antonio from his then-wife, Ana Leeza. According to reports, Antonio and Melanie left their then-spouses to tie the knot in 1996.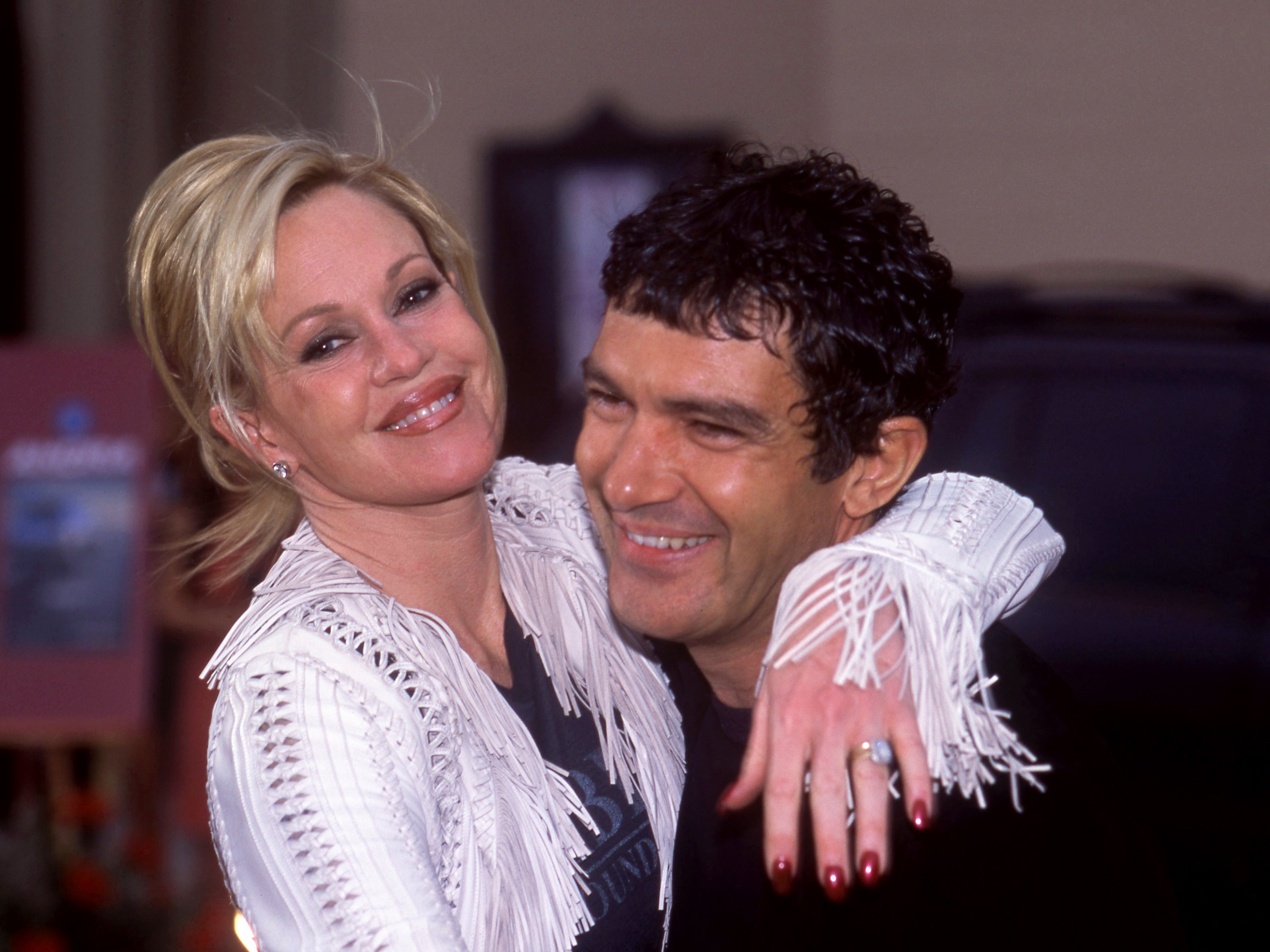 Melanie Griffith and Antonio Banderas, pose for a portrait before the 2002 American Latino Media Arts Awards on May 18, 2002 in Los Angeles, California | Source: Getty Images
Once speaking about his now-ex-wife, Antonio recalled admiring her long before meeting her. The star recalled seeing Melanie's movie "Working Girl," She had been in his memories since then. He shared:
"I had admired Melanie long before I met her. I remember seeing Working Girl in Madrid and thinking, "Wow, she's so beautiful, so special!"
They would later meet on 1995's "Two Much," where they co-starred when asked how they moved from professionalism to romance. Antonio stated:
"I think we were both unhappy with our different relationships at the time. And I saw this sweet, vulnerable soul, funny, also very smart and generous. I saw her with her kids, and she was so beautiful as a mom."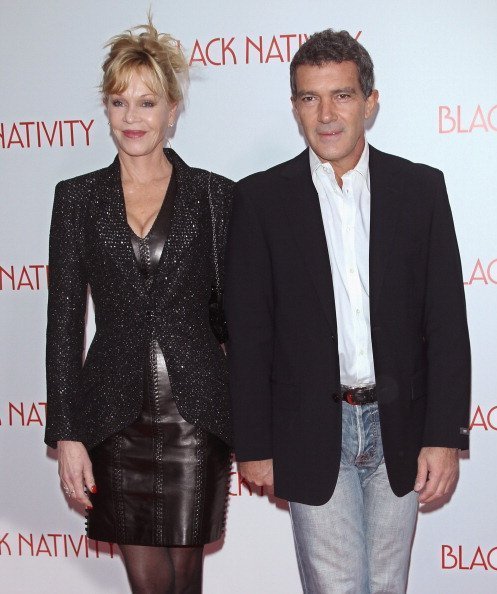 Actors Melanie Griffith and Antonio Banderas attend the "Black Nativity" premiere at The Apollo Theater in New York City | Source: Getty Images
Melanie also shared her bit about their love story, recalling what attracted her. The "Lolita" actress relayed that "everything" about him fascinated her. She shared:
"Everything, really. His way. He's very funny. The first thing he asked me was my age. I said, "That's the rudest thing anyone has asked me first." But there was something about him. Still is. I just love him."
ANTONIO CHANGED THE LIVES OF MELANIE'S KIDS FOREVER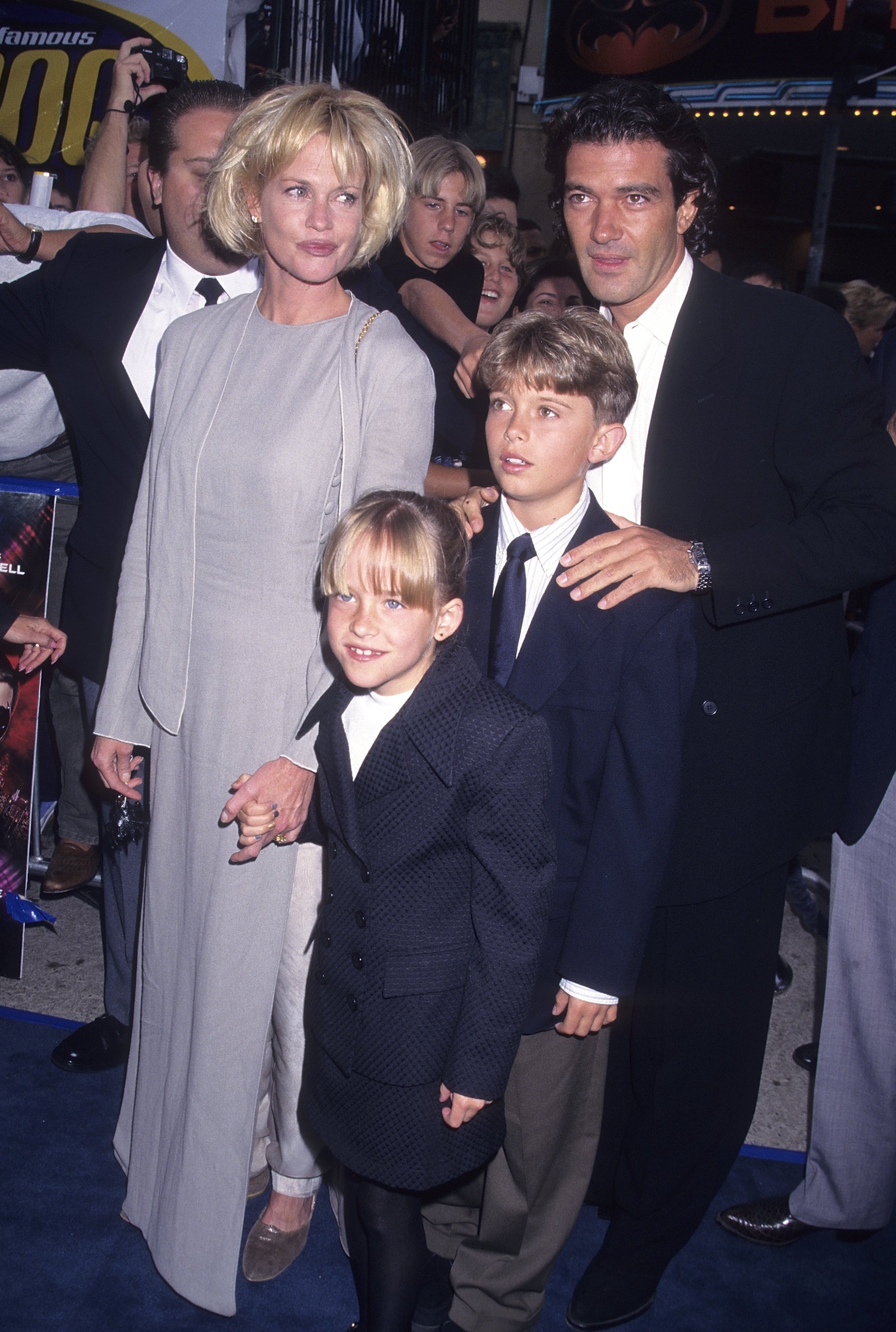 ctress Melanie Griffith, actor Antonio Banderas, Melanie's daughter Dakota Johnson and Melanie's son Alexander Bauer attend the "Batman & Robin" Westwood Premiere on June 12, 1997 at the Mann Village Theater in Westwood, California | Source: Getty Images
In their marriage, Antonio not only impacted his ex-wife's love life, but he also left an impression on her children. This was evident two years ago when his stepdaughter and Melanie's daughter, Dakota Johnson, sweetly homered.
Dakota, a sterling Hollywood actress herself, stepped on the Hollywood Film Awards stage, describing him as "vibrant, fun and funny." Dakota stated that Antonio loved her mother and the kids so fiercely. She shared:
"He loved my mother and my siblings and I so fiercely and so big and so loud that it would change all of our lives forever.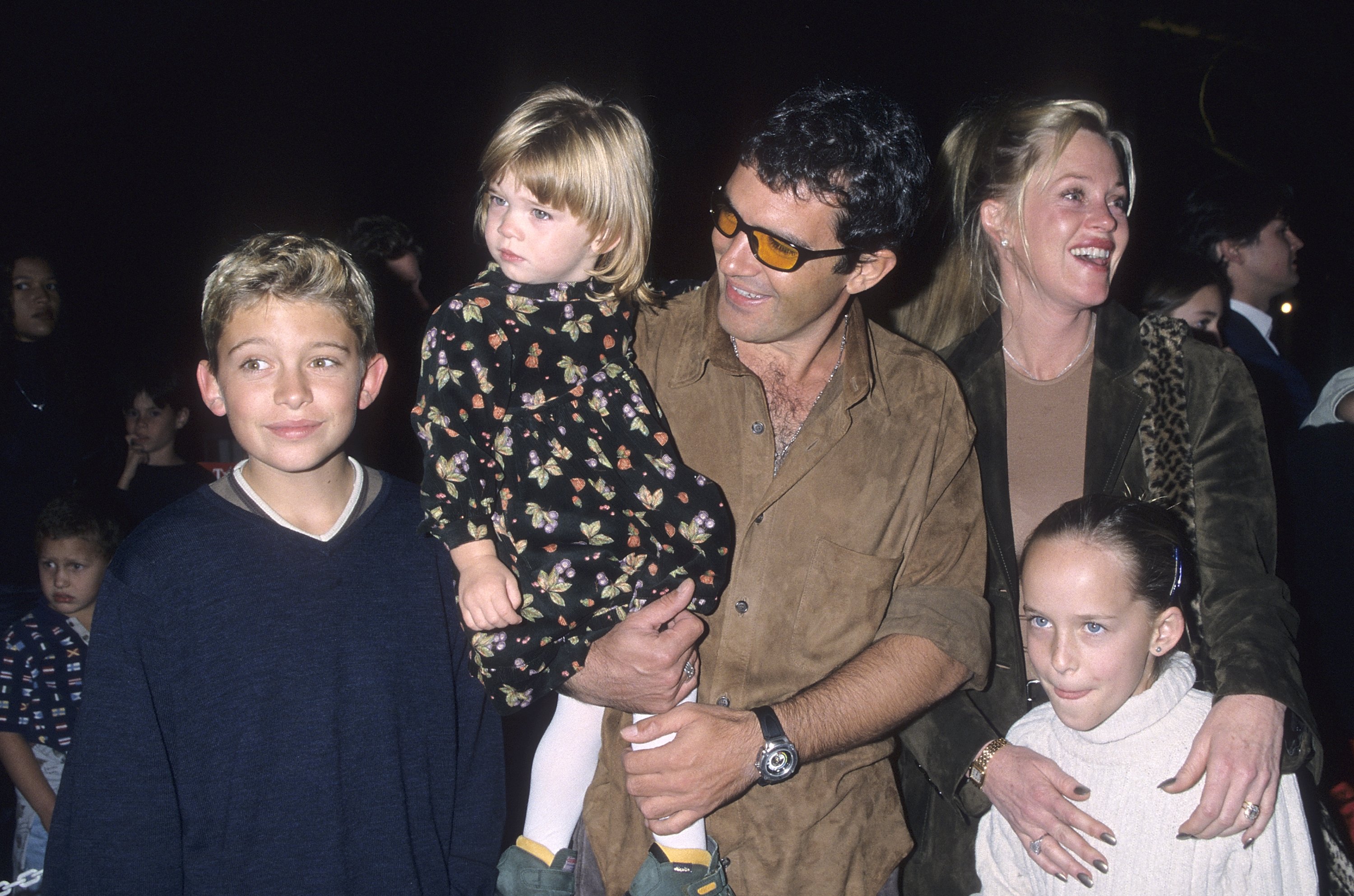 Actor Antonio Banderas, actress Melanie Griffith, daughter Stella Banderas, Melanie's son Alexander Bauer and Melanie's daughter Dakota Johnson attend "The Lion King 2: Simba's Pride" Westwood Premiere on October 20, 1998 at the Wadsworth Theater in Westwood, California | Source: Getty Images
The star dad also spoke in the same passionate manner when he talked about Dakota in an interview. The "Once Upon A Time In Mexico" actor stated that he met the "Fifty Shades" actress when she was five years old and proud of her adult achievements.
Melanie described his fatherhood approach as liberal compared to her disciplinary nature. She stated that the kids could talk to Antonio about deep things more than her. Antonio has also described life as a stepfather stating:
"... Suddenly I had a 6-year-old girl, a 10-year-old boy, and Stella came along almost immediately. I was, 'Oh, my God! They needed solid ground in which they could grow. As soon as I realized that, I started establishing my relationship, giving them security, little by little doing the father thing."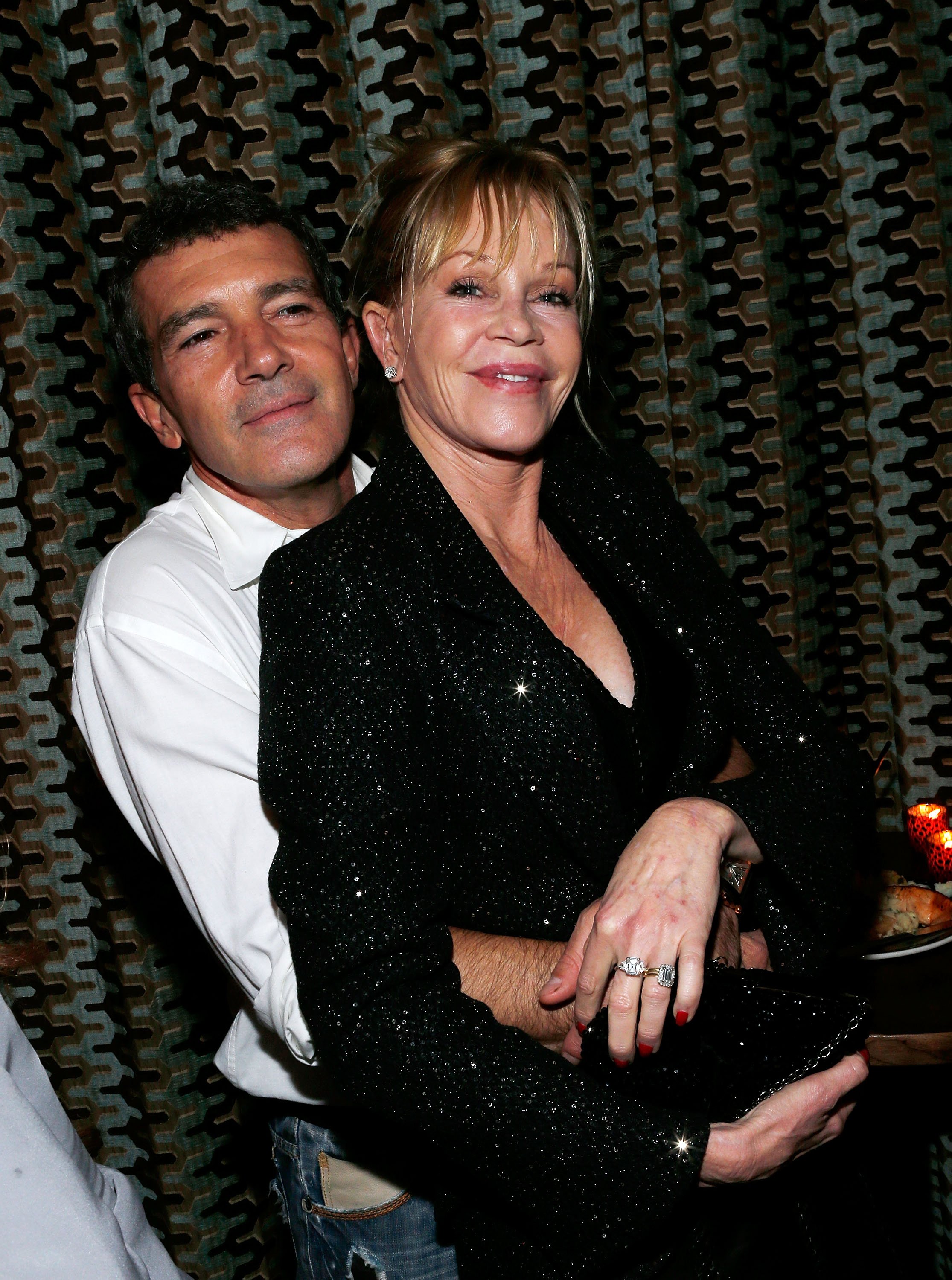 Actor Antonio Banderas and actress Melanie Griffith attend the after party for the "Black Nativity" premiere at The Red Rooster on November 18, 2013 in New York City | Source: Getty Images
Melanie and Antonio were married for 19 years, within which they had their own ups and downs. Speaking about how they kept their marriage going, Melanie sought the willingness to change as time went on. She said:
"We're willing to change with each other, let old things die and new things be born. But it's a constant endeavor."
The "Milk Money" actress opened up about when they had friction in their marriage. She has been dealing with addiction, and while she was in rehab, Antonio had not been with her.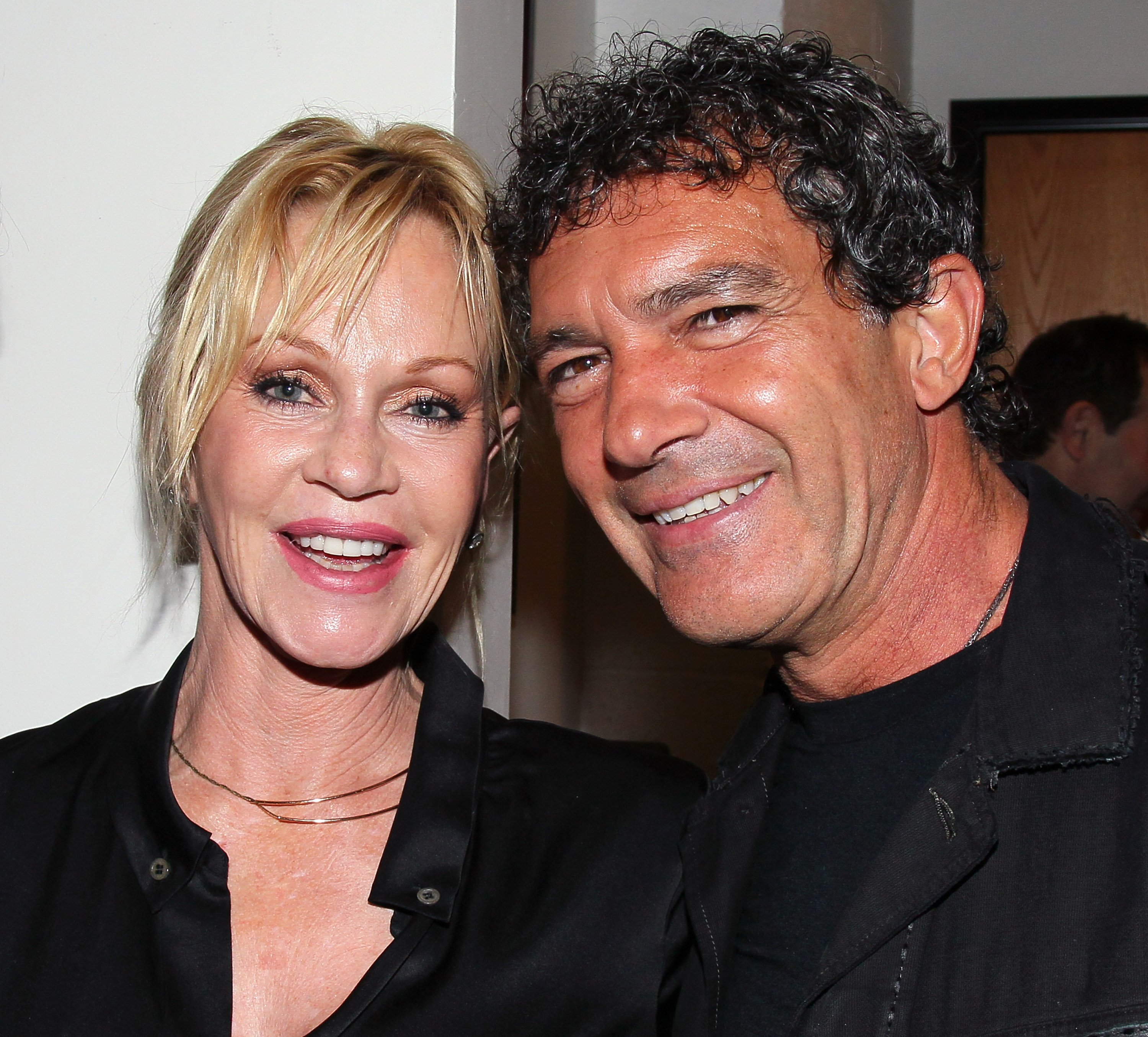 Melanie Griffith and husband actor Antonio Banderas posing at the opening night of "No Way Around But Through" at the Falcon Theatre on June 3, 2012, in Burbank, California | Source: Getty Images
She shared that because her history of addiction was strange, he could not deal with her rehabilitation. Yet, through it all, Melanie did not hold it against Antonio. Melanie also shared the secret to their long marriage:
"The secret is that we had failures before. We discovered the value and warmth of family, and what is home — that we can be stronger together. Even in crisis, we have been patient enough to detect that at the end of the tunnel was a light. We have had as many problems as anybody."
WHY MELANIE DIVORCED ANTONIO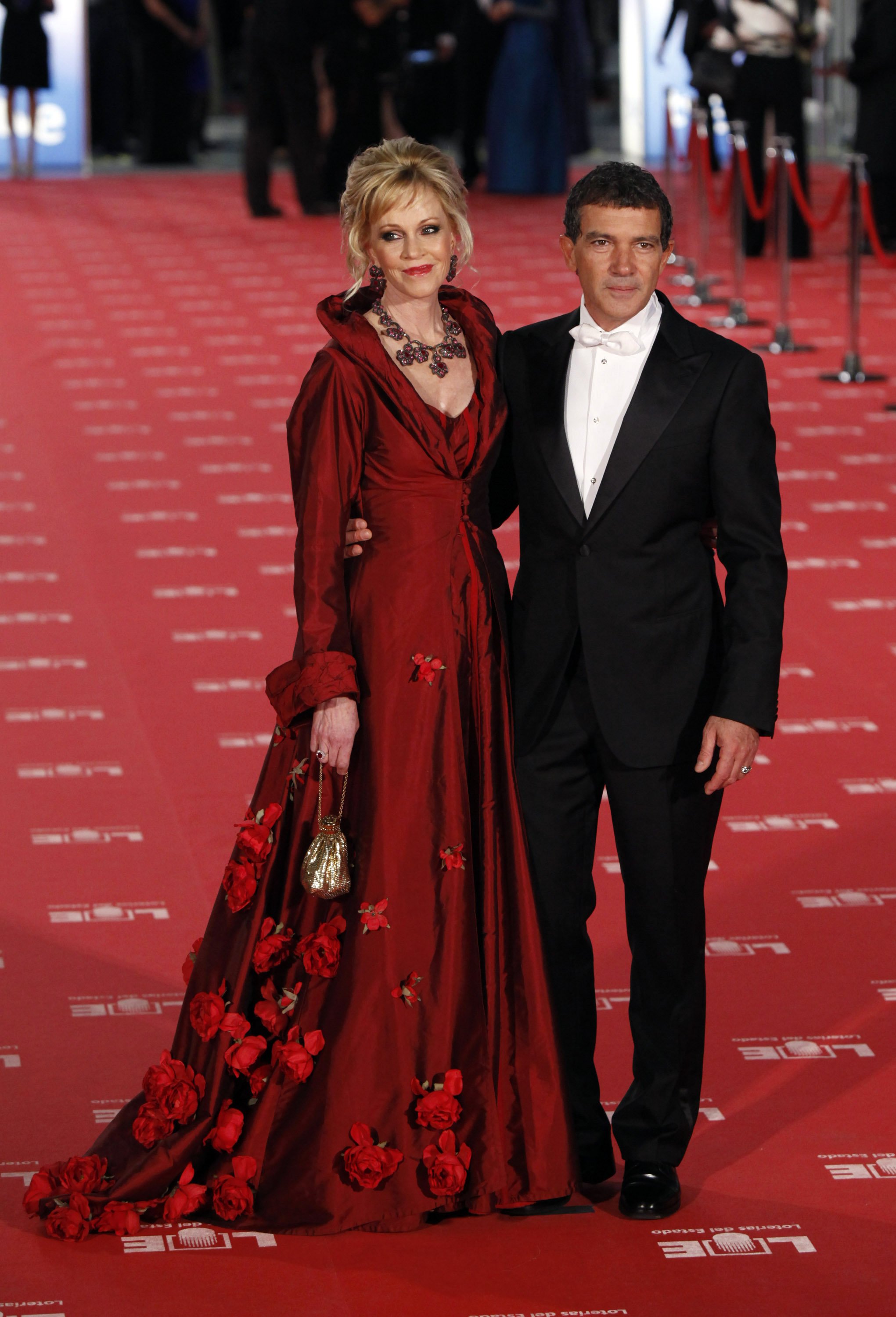 Melanie Griffith and Antonio Banderas arrive at the Goya Cinema Awards 2012 ceremony, at the Palacio Municipal de Congresos on February 19, 2012 in Madrid, Spain | Source: Getty Images
Melanie and Antonio were married from 1996 to 2014, and they had a child, Stella Banderas. Once speaking about how they decided to go their separate ways, Melanie mentioned:
"I think part of the reason my marriage to Antonio fell apart was because I was stuck; nobody else is to blame. It's just that I personally got stuck and I won't let that happen again, I want to enjoy life, I want to do whatever I want to do."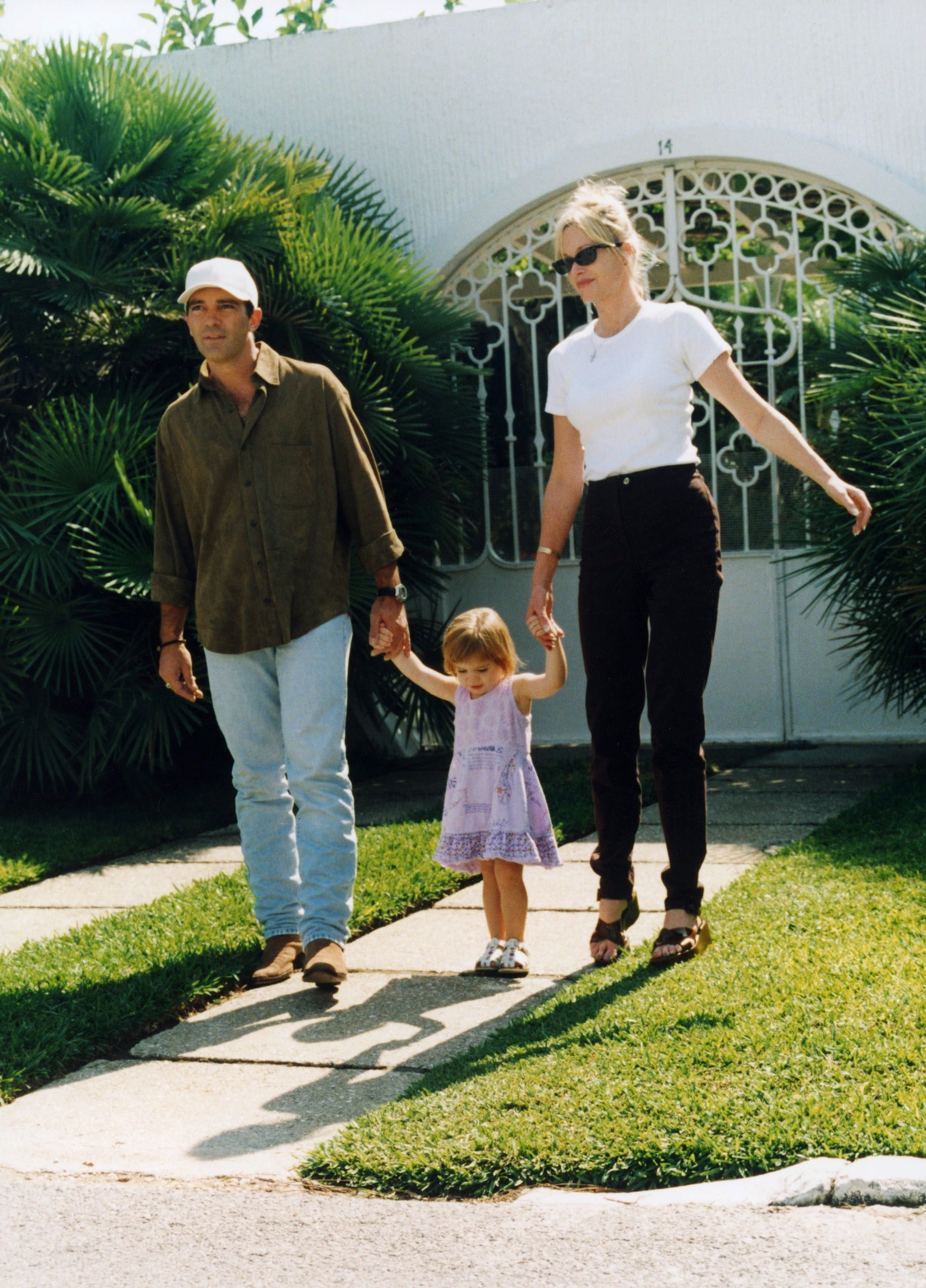 Antonio Banderas, Melanie Griffith & their daughter Stella Carmen. | Source Getty Images
The couple's divorce news went public after they shared a joint statement noting that they decided to end their marriage. The actress was said to have filed for divorce and sought spousal support.
ANTONIO WILL LOVE MELANIE UNTIL THE DAY HE DIES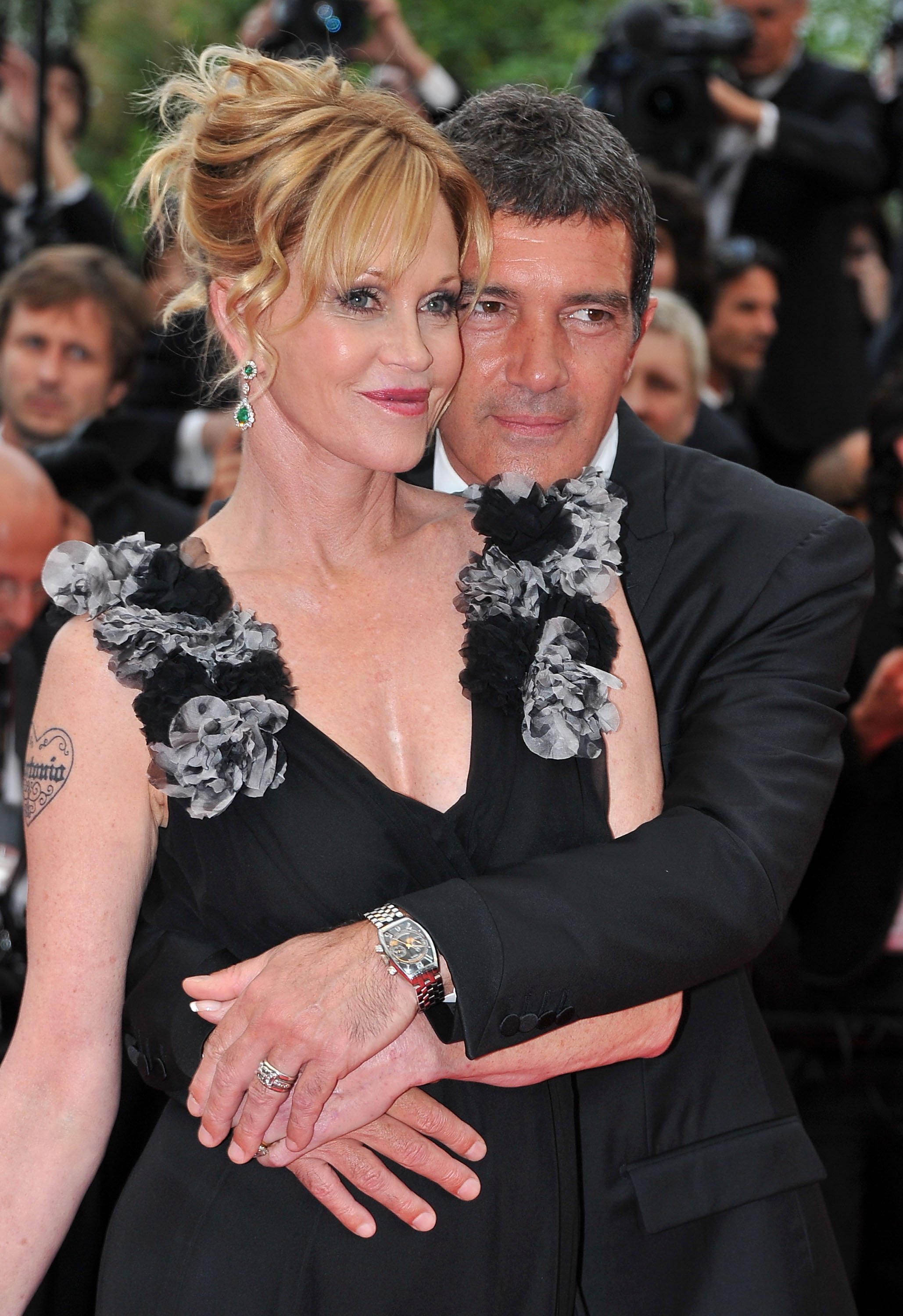 Actor Antonio Banderas (R) and actress Melanie Griffith attends the Opening Ceremony at the Palais des Festivals during the 64th Cannes Film Festival on May 11, 2011 in Cannes, France | Source: Getty Images
Two years after finalizing their divorce, Antonio shared with People that he would always love Melanie. The "Pain and Glory" actor candidly said about her:
"Melanie is not my wife anymore, but I think she is my best friend. I love her and will love her until the day I die. She's my family."
Since their split, Antonio has been involved with investment banker Nicole Kimp. Melanie, on the other hand, has remained single. She noted:
"I'm shy with men now, very reticent. I haven't met anyone in the almost two years we have been divorced," she said. "I don't go on dates, nobody has asked me on a date. I go out with my girlfriends."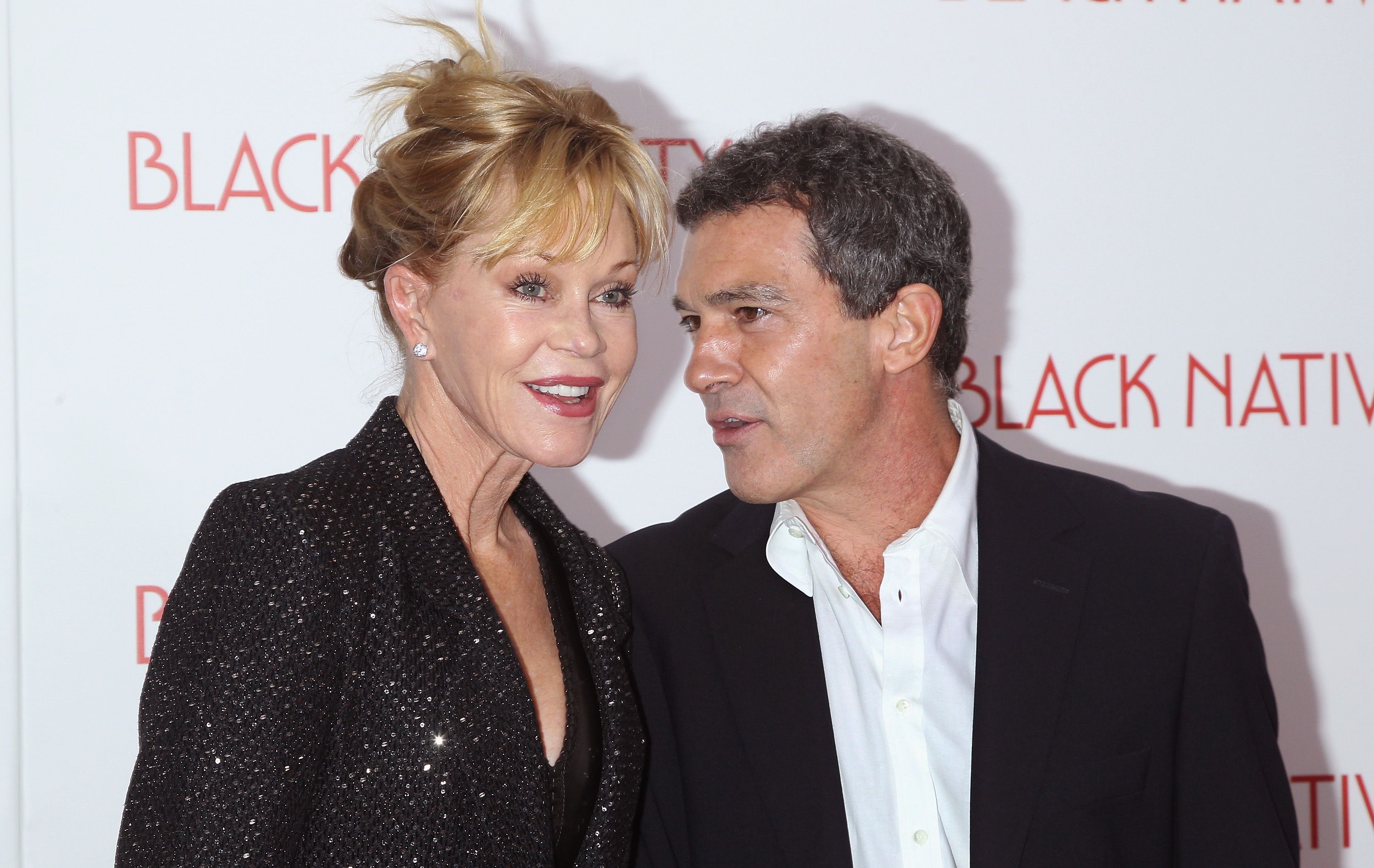 Melanie Griffith and Antonio Banderas at the "Black Nativity" premiere in 2013 in New York City | Source: Getty Images
She also once told Closerweekly that she did not see the need for another marriage. The star called attention to her age while adding that she had all she wanted, including her children.
Please fill in your e-mail so we can share with you our top stories!