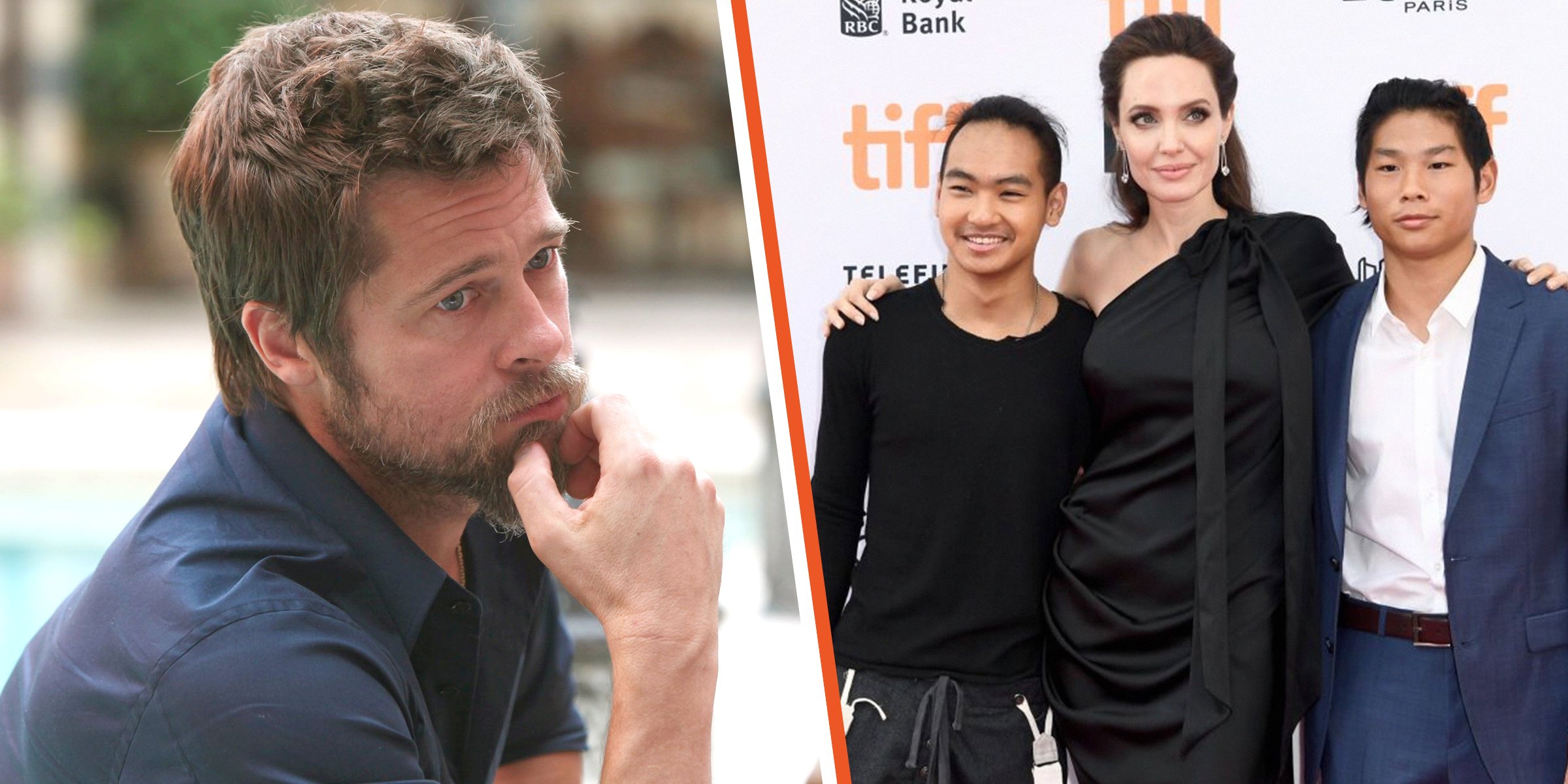 Getty Images
Brad Pitt's Relationship with Older Kids Is 'Nonexistent' after His Split from Angelina Jolie, Claims Source
Following his divorce from Angelina Jolie, Brad Pitt fought for joint custody of their kids and won. However, the actor's relationship with his older kids remains non-existent. Find out how estranged the father and his kids are.
Brad Pitt and Angelina Jolie's relationship was undoubtedly one of the most talked-about romances in the mid-2000s. Although the pair have been quite distant in recent years, they were once the A-list couple to look up to, with a fascinating love story.
Jolie and Pitt first met in 2004 on the set of "Mr. and Mrs. Smith." The former had recently filed for a divorce from her ex-husband, Billy Bob Thornton.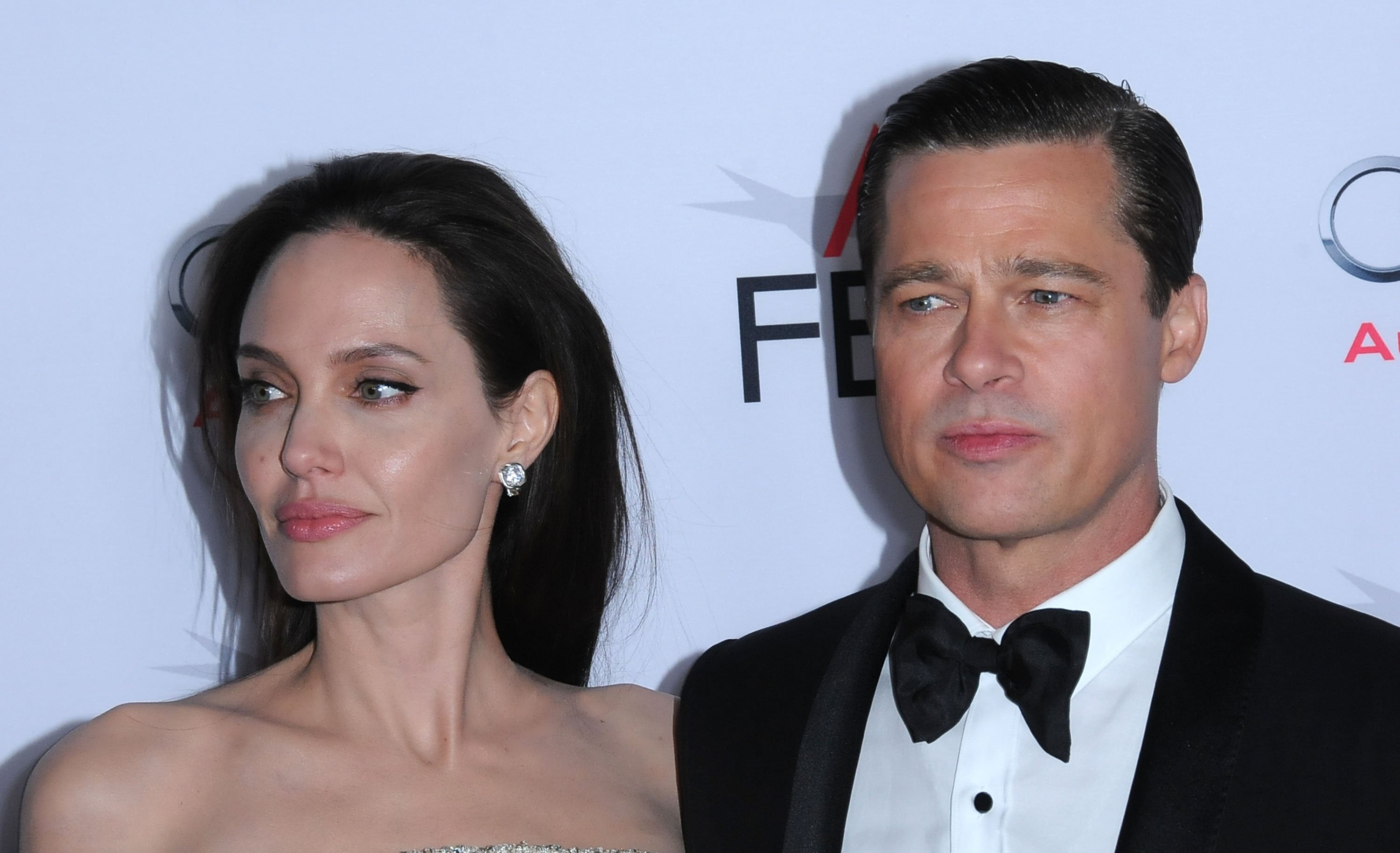 Actress Angelina Jolie and actor Brad Pitt arrive at AFI FEST 2015 Presented By Audi Opening Night Gala Premiere Of Universal Pictures' 'By The Sea' at TCL Chinese 6 Theatres on November 5, 2015 | Source: Getty Images
On the other hand, Pitt was still married to Jennifer Aniston. Despite their relationship statuses, the pair started developing feelings for each other.
Jolie explained that they had this strange partnership and friendship, which made her look forward to going to work at some point. However, the former lovebirds did not realize how deeply they felt toward each other until after the filming.
A few months after the filming, Pitt and Aniston separated. There were speculations that the pair's marriage crumbled due to the actor and Jolie's alleged affair on the movie set.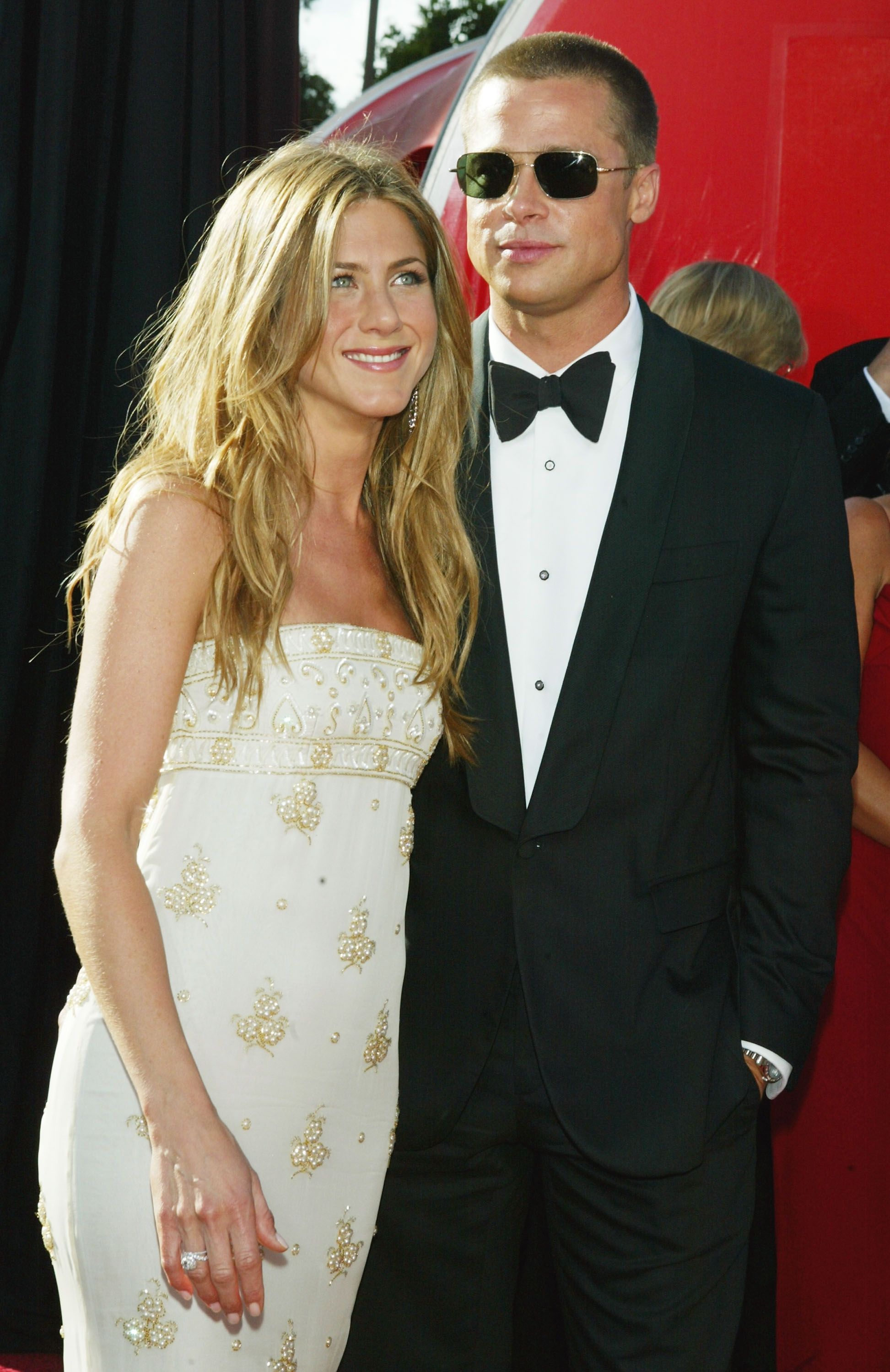 Jennifer Aniston and Brad Pitt during the 56th Annual Primetime Emmy Awards at the Shrine Auditorium September 19, 2004 in Los Angeles, California. | Source: Getty Images
However, Pitt and Aniston debunked the rumors, noting that their split was not connected to such speculations. Following their separation, Pitt and Jolie officially made their relationship public and were in the news now and again.
But in February 2010, the ex-couple made the headlines for the wrong reasons after the News of the World reported that Pitt and Jolie had broken up.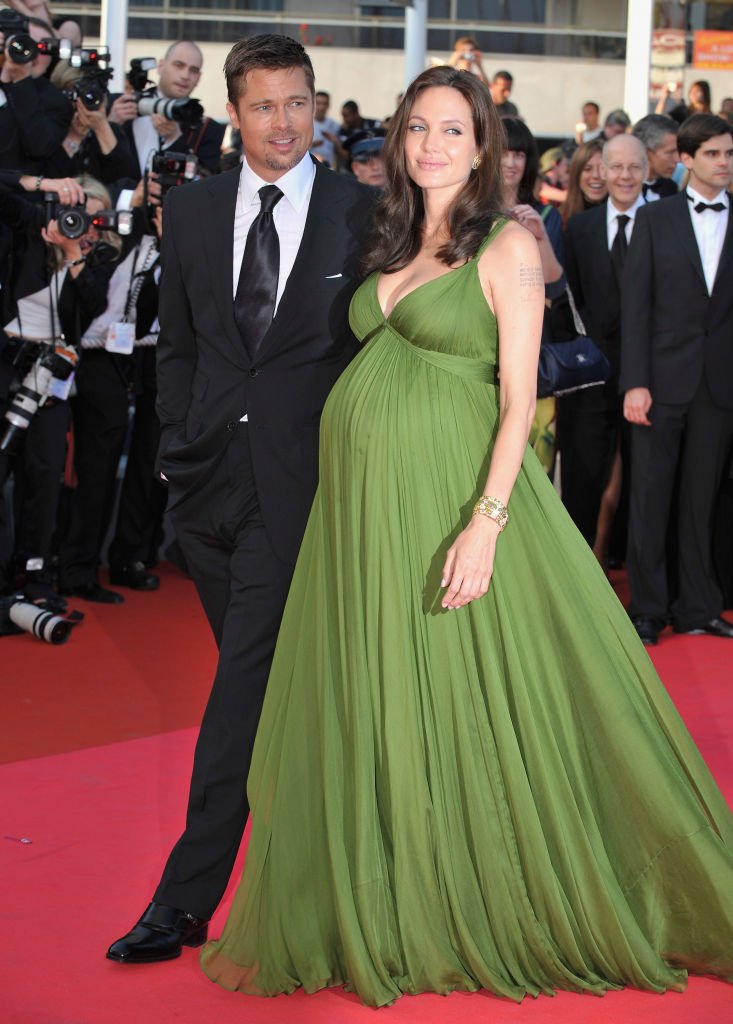 Actors Brad Pitt and Angelina Jolie attend the "Kung Fu Panda" premiere at the Palais des Festivals during the 61st Cannes International Film Festival on May 15, 2008 | Source: Getty Images
The news was untrue, and the movie stars sued the tabloid. In July 2010, the news outlet paid Pitt and Jolie damages, which they planned to donate to charity.
The Hollywood icons maintained their sweet relationship afterward, eventually walking down the aisle in 2014. Pitt and Jolie exchanged wedding vows in a private ceremony at their Chateau Miraval in France, with all of their six children involved.
JOLIE AND PITT'S CHILDREN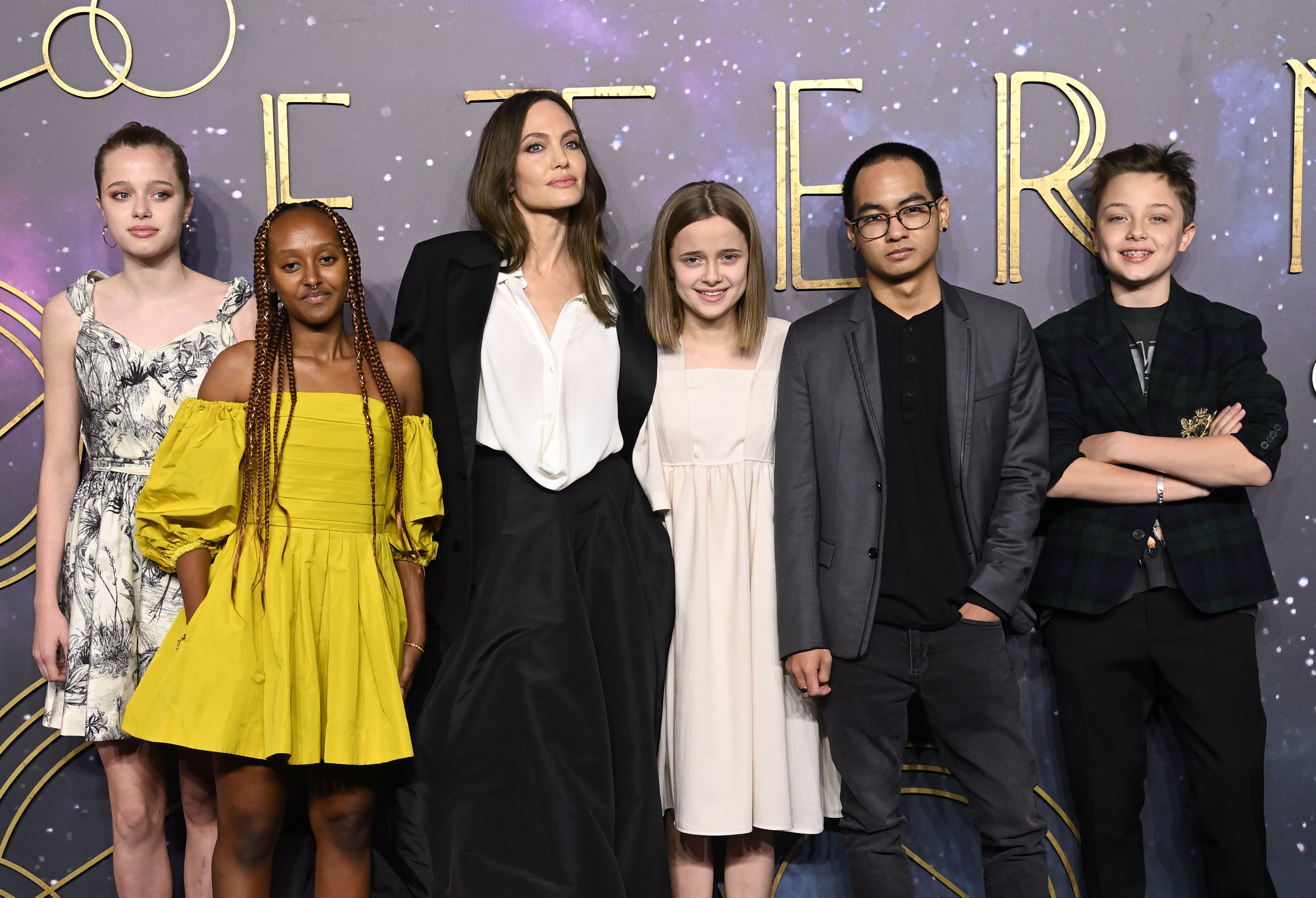 Shiloh Jolie-Pitt, Zahara Jolie-Pitt, Angelina Jolie, Vivienne Jolie-Pitt, Maddox Jolie-Pitt and Knox Jolie-Pitt attend the "The Eternals" UK Premiere at BFI IMAX Waterloo on October 27, 2021 in London, England | Source: Getty Images
Jolie and Pitt are doting parents to six children (three biological and three adopted) — Maddox, Zahara, Shiloh, Pax, Knox, and Vivienne. The oldest of the six, Maddox was adopted in 2002, after the "Mr. and Mrs. Smith" stars discovered him in a Cambodian orphanage.
Like his adoptive parents, Maddox looks forward to establishing a career in the movie industry. He has production credits in the movies, "By The Sea" and "First They Killed My Father: A Daughter of Cambodia Remembers."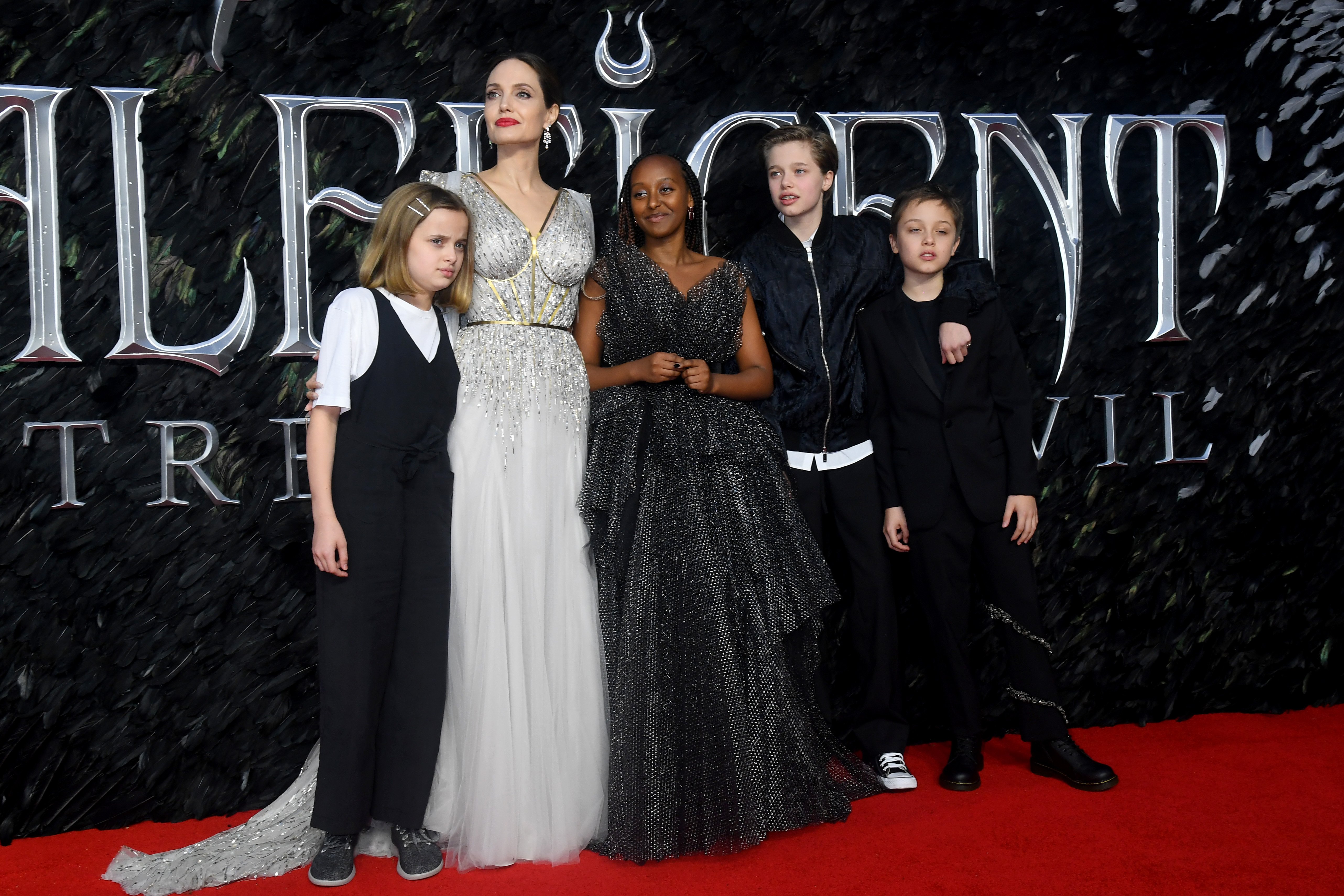 Angelina Jolie with children Vivienne Marcheline Jolie-Pitt, Zahara Marley Jolie-Pitt, Shiloh Nouvel Jolie-Pitt and Knox Leon Jolie-Pitt at the European premiere of "Maleficent: Mistress of Evil" at Odeon IMAX Waterloo on October 09, 2019 in London, England. | Source: Getty Images
Maddox's sister, Zahara, arrived in 2005. Originally an Ethiopian orphan, she was adopted at six months. In recent years, she has proven to be an embodiment of talent and hopes to showcase it in her future movie career.
For now, her movie credits include a voice-over of a minor character in "Kung Fu Panda 3." One year after Zahara arrived, Pitt and Jolie welcomed their first biological child, Shiloh, in Namibia.
Over the past few years, reports have revealed that Shiloh wants to be a boy and wishes to be called John. However, the speculations are yet to be confirmed.
Pax, a Vietnam native, and the former couple's fourth child, joined the family in 2007 when he was three years old. Since his adoption, Pax has struggled to cope with fame and prefers to stay out of the spotlight.
Jolie and Pitt's last two biological kids, Knox and Vivienne, were born a few months after Pax's adoption in 2008. The twins are still young and are yet to be immersed in the entertainment world.
INSIDE JOLIE AND PITT'S DIVORCE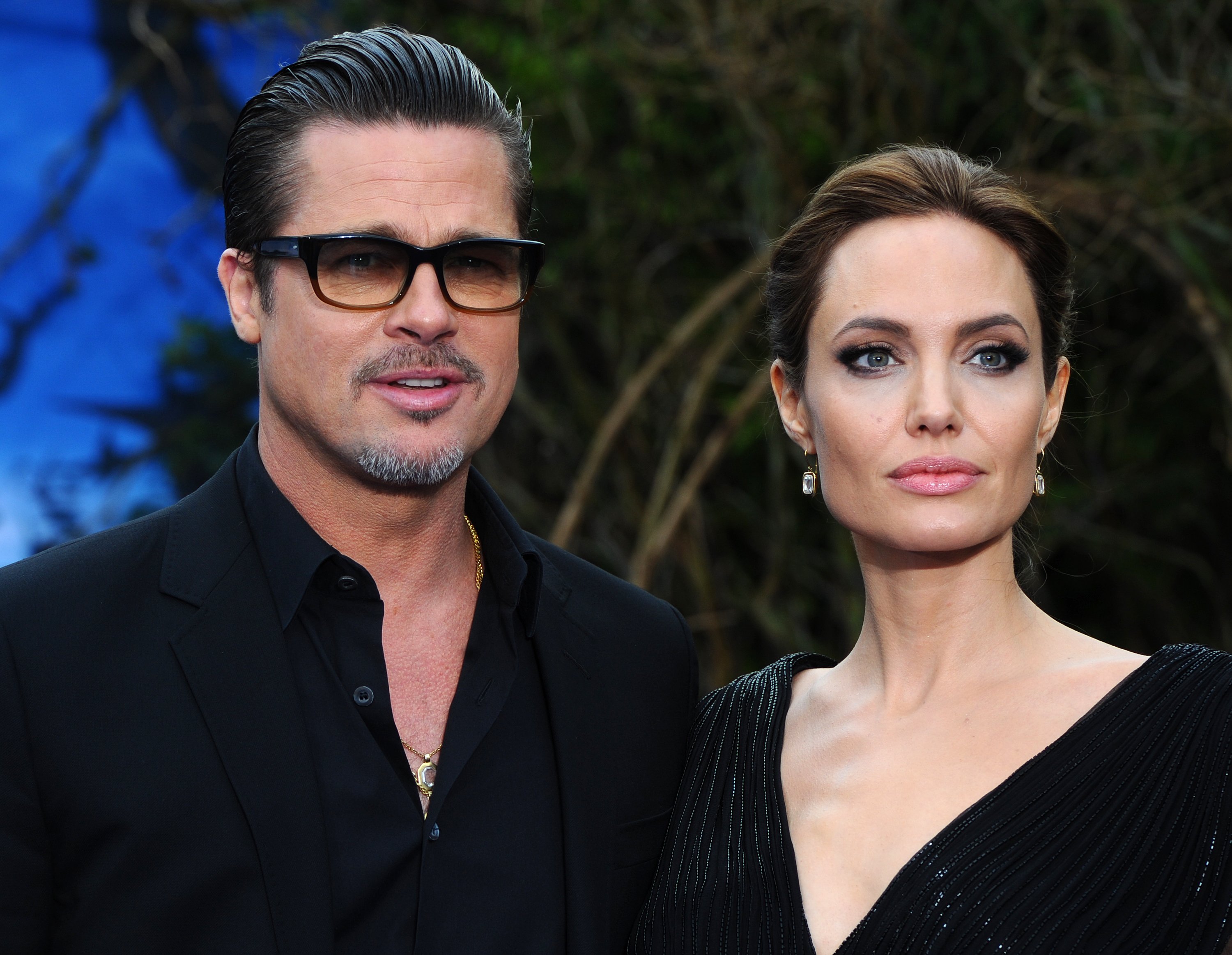 Brad Pitt and Angelina Jolie attend a private reception as costumes and props from Disney's "Maleficent" are exhibited in support of Great Ormond Street Hospital at Kensington Palace on May 8, 2014 in London, England | Source: Getty Images
After staying married for two years, Jolie filed for divorce in September 2016, citing irreconcilable differences. In a statement, Robert Offer, one of the actress's lawyers, explained that Jolie's decision was for the family's health.
Following Jolie and Pitt's shocking divorce news, the latter released a statement expressing his sadness. In the "World War Z" star's words:
"I am very saddened by this, but what matters most now is the wellbeing of our kids."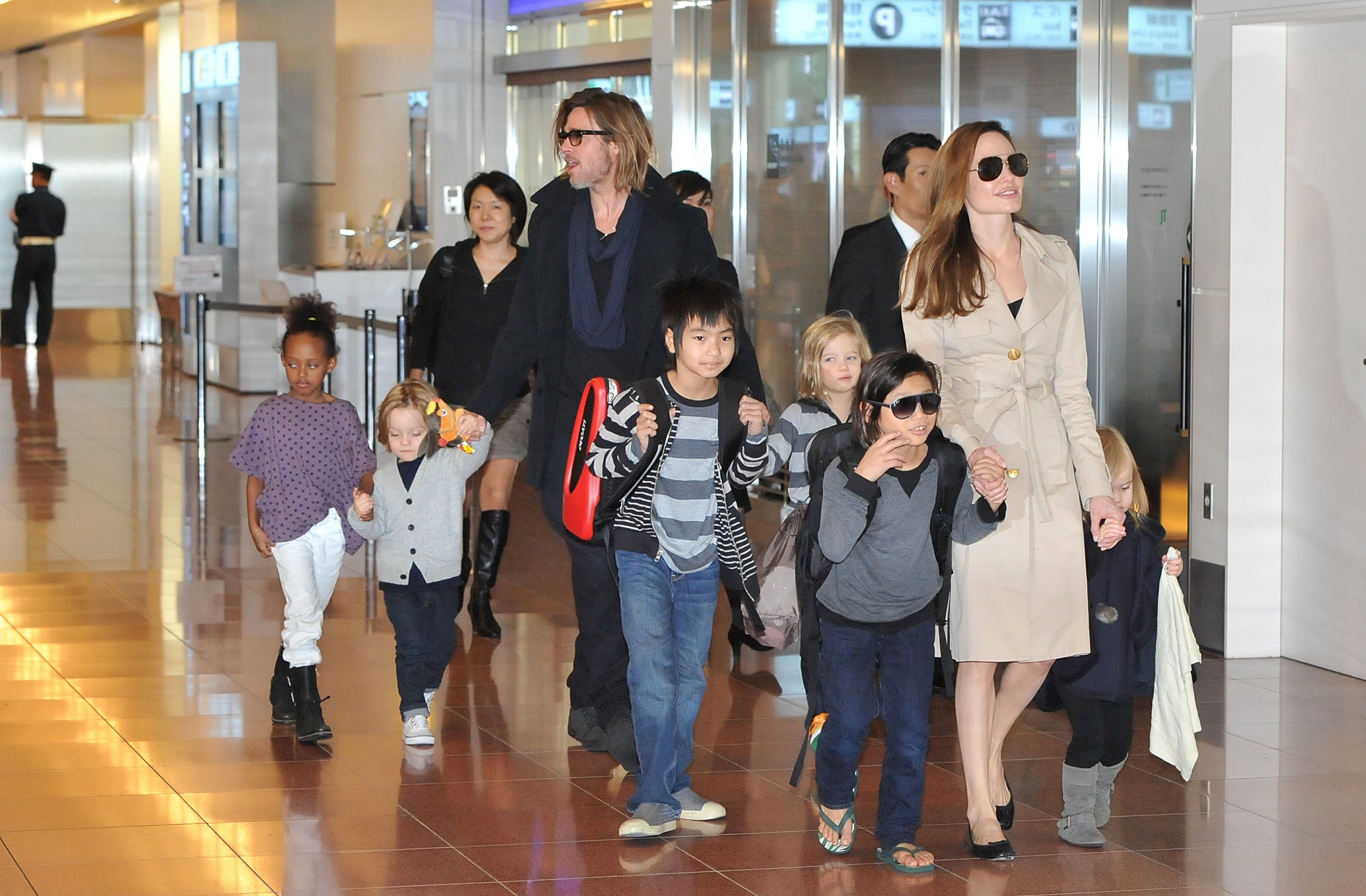 Brad Pitt, Angelina Jolie and their six children Maddox, Pax, Zahara, Shiloh, Knox, and Vivienne arrive at Haneda International Airport on November 8 in Tokyo, Japan | Source: Getty Images
Unfortunately, while the split ended Pitt and Jolie's marriage, it was only the beginning of the actor's broken relationship with his older kids. Following their divorce, the court granted Jolie primary custody of the children, while Pitt was granted unrestricted phone access to his kids.
However, the court documents explained that the custody arrangement was subject to change. In 2021, the change came, and Pitt won a joint custody agreement with his ex-wife.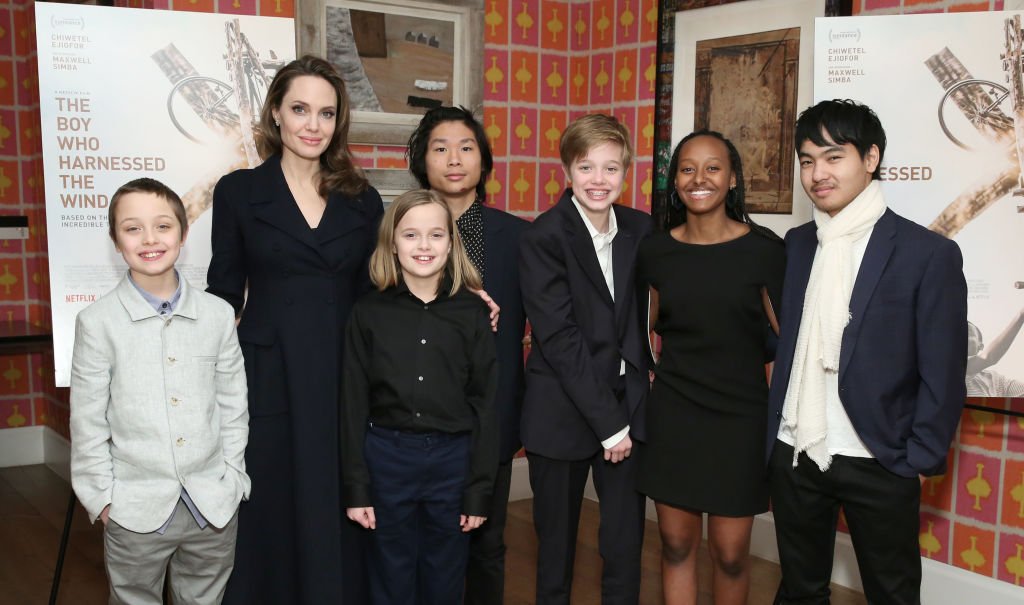 Angelina Jolie with children Knox Leon Jolie-Pitt, Vivienne Marcheline Jolie-Pitt, Pax Thien Jolie-Pitt, Shiloh Nouvel Jolie-Pitt, Zahara Marley Jolie-Pitt and Maddox Chivan Jolie-Pitt attend "The Boy Who Harnessed The Wind" Special Screening at Crosby Street Hotel on February 25, 2019 | Source: Getty Images
Nevertheless, a source made it known that the actress would continue the fight to gain sole custody of the kids. Unfortunately, while Pitt and Jolie fought for custody, the actor's relationship with his older kids was not getting any better.
DETAILS OF PITT'S NONEXISTENT RELATIONSHIP WITH HIS OLDER KIDS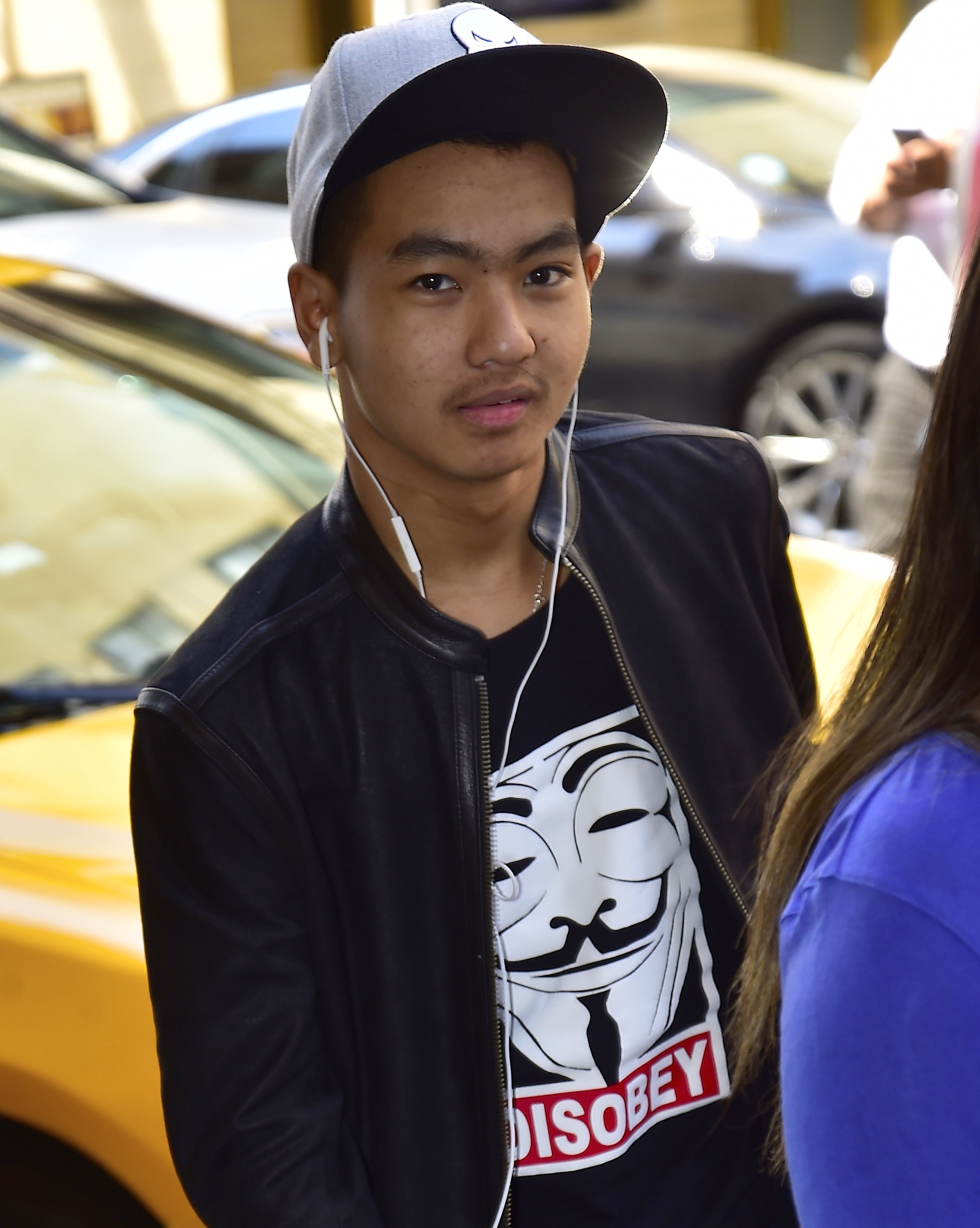 Maddox Chivan Jolie-Pitt is seen in Midtown on June 19, 2016 | Source: Getty Images
To date, Pitt and Maddox are estranged, and at the same time, the actor is not in a talking relationship with his son, Pax. In 2020, a source exclusively spoke to Us Weekly about Pitt and Maddox's relationship thus:
"That relationship continues to be nonexistent."
The Yonsei University student has not been receptive to his father, and Pitt considers their fallout a "tremendous loss." The father and son have grown so far apart that even during the custody battle between his parents, Maddox testified against Pitt.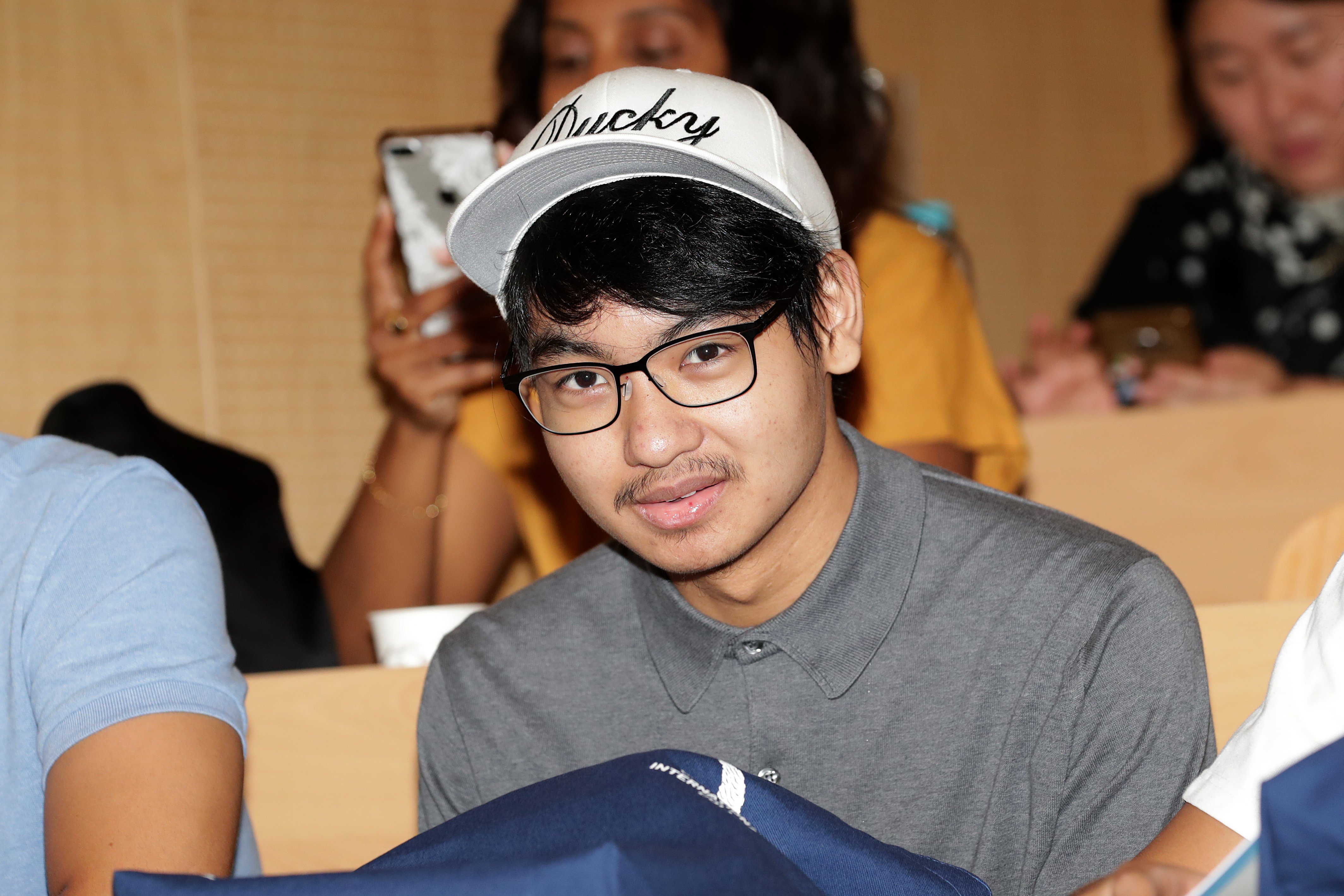 Maddox Jolie-Pitt is seen at the entrance ceremony for Yonsei University on August 26, 2019 in Incheon, South Korea | Source: Getty Images
"Maddox has already given testimony as [an] adult in the ongoing custody dispute, and it wasn't very flattering towards Brad," a source revealed in 2021.
"He doesn't use Pitt as his last name on documents that aren't legal and instead uses Jolie. Maddox wants to legally change his last name to Jolie, which Angelina has said she doesn't support," the source added.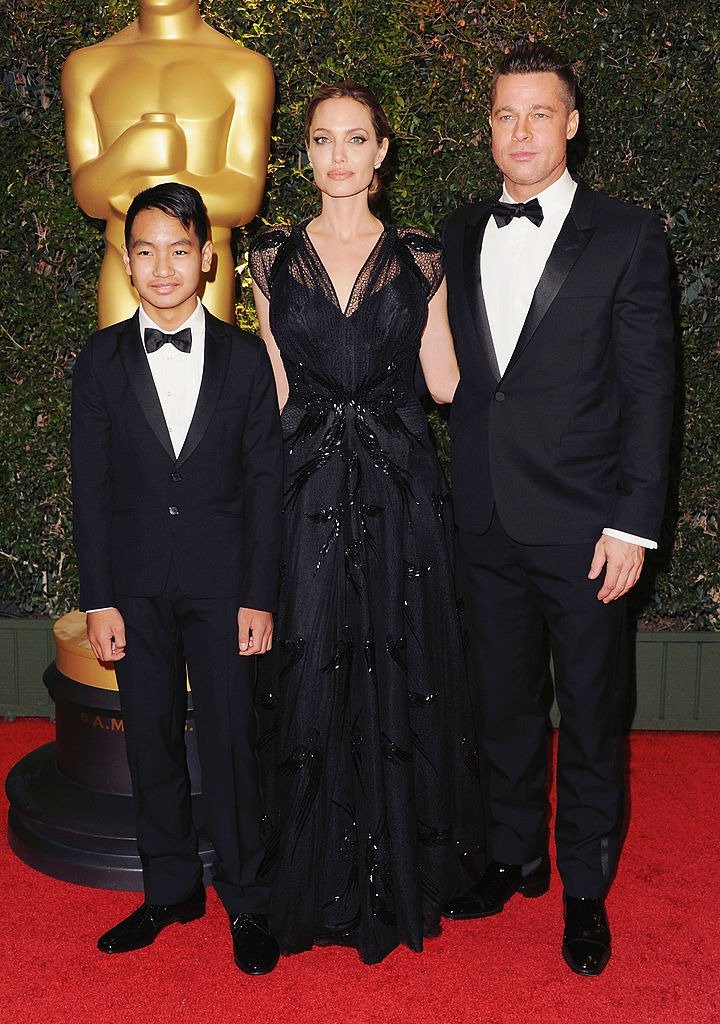 ) Actor Brad Pitt, actress Angelina Jolie and son Maddox Jolie-Pitt arrive at The Board Of Governors Of The Academy Of Motion Picture Arts And Sciences' Governor Awards at Dolby Theatre on November 16, 2013 | Source: Getty Images
Many believe that Pitt and Maddox's estranged relationship began following an altercation on a private jet in September 2016, which ended physically. Following the incident, the actor was accused of child abuse but was later cleared of all allegations.
PITT'S THOUGHTS ON FATHERHOOD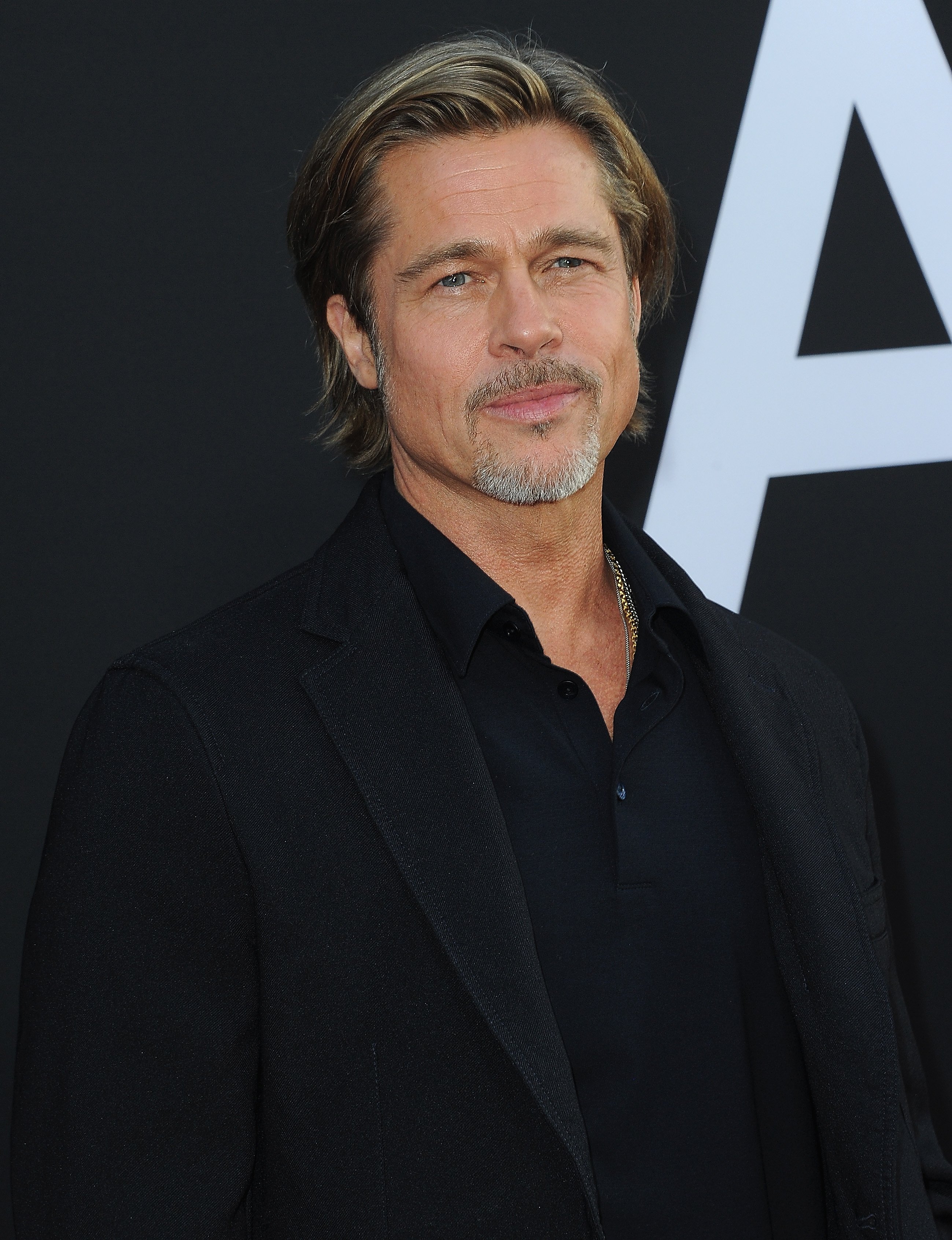 Brad Pitt attends the Premiere Of 20th Century Fox's "Ad Astra" held at The Cinerama Dome on September 18, 2019 in Los Angeles, California | Source: Getty Images
Pitt's divorce from Jolie, custody battle, and his relationship with his kids sent him into a dark phase, forcing him to go to therapy, which he said he enjoyed.
"You know I just started therapy. I love it. I love it, I love it. I went through two therapists to get to the right one," Pitt confessed.
Although the actor was affected by the turnout of his marriage and the events that followed, it was nothing compared to how his children felt. The father of six relayed that he knew it was shocking for his kids to have their once happy family ripped apart.
US actor Angelina Jolie holds daughter Zahara as husband and actor Brad Pitt (C) carries son Maddox during a stroll on the seafront promenade at the historic Gateway of India, outside their hotel in Mumbai, 12 November 2006 | Source: Getty Images
More importantly, Pitt said he was worried for his kids, as the terrible incidents could change their perception of their parents and themselves. So, all he desired was to shield them from such negativity.
More than anything, Pitt wanted to be a better father to his kids. He knows kids are delicate creatures that need to be held and listened to. Pitt wanted to be a better father who would listen to his children despite his busy schedules. Pitt noted:
"I gotta be more. I gotta be more for them. I have to show them. And I haven't been great at it."
The actor's fight for custody proved how much fatherhood meant to him. Although his relationship with his older kids remains estranged, fans are optimistic that someday, they will reconcile.
Please fill in your e-mail so we can share with you our top stories!