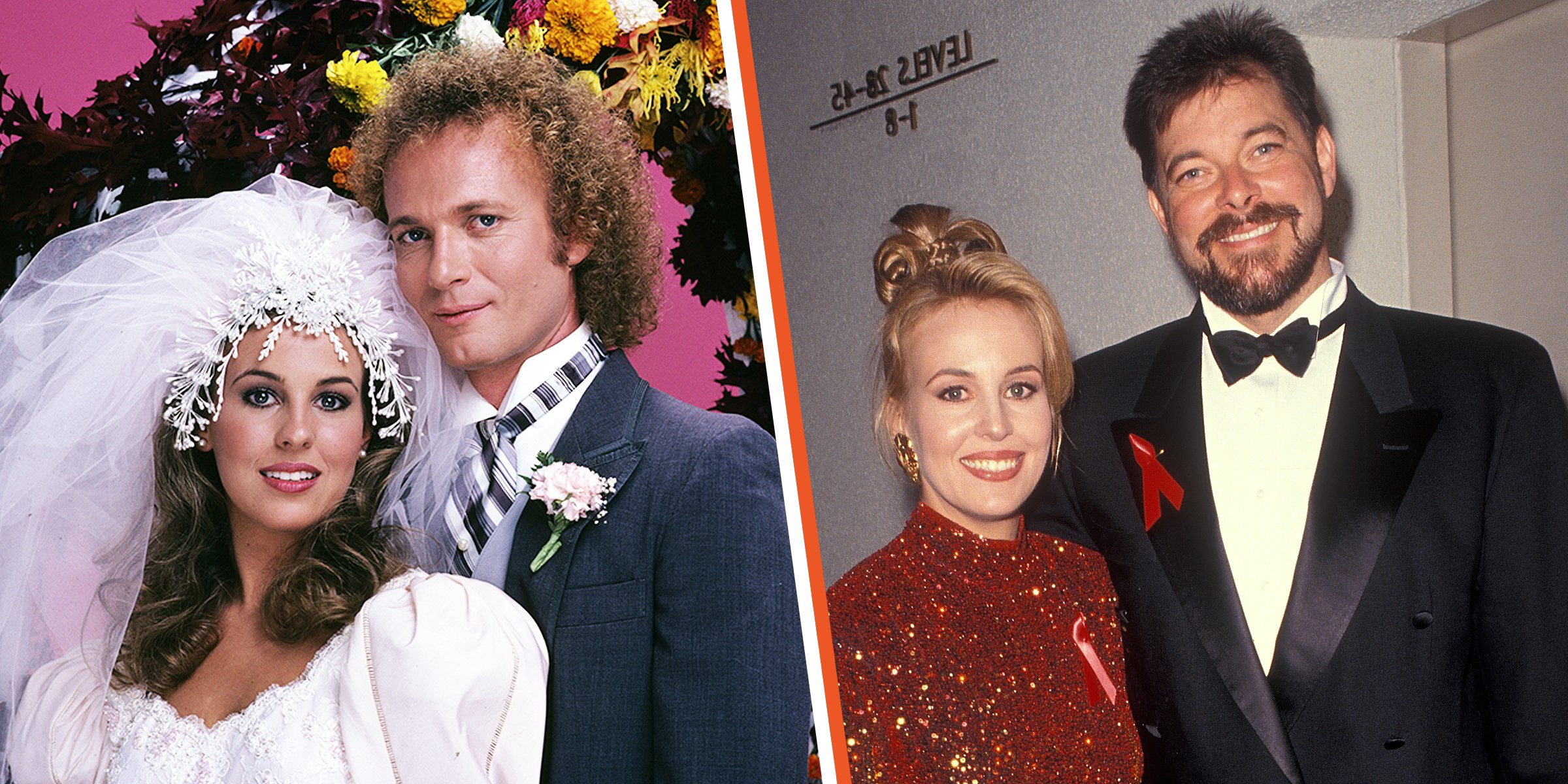 Genie Francis and Anthony Geary | Genie Francis and Jonathan Frakes | Source: Getty Images
'General Hospital's' Genie Francis Rejected Co-star Husband's Date Proposal Yet Had 'A Big Crush' on Him
Before Genie Francis and Jonathan Frakes got married, she put her acting career on hold at one point, and when he wanted to be with her, she rejected him. The reasons for both decisions were quite shocking.
Genie Francis was born Eugenie Ann Francis on May 26, 1962, in Englewood, New Jersey. Before marrying her long-term husband, Jonathan Frakes, the pair starred together in 1982's "Bare Essence" and "North and South."
Frakes is not only an actor like his wife, but he's also worked as a director. Ironically, before Francis married him, she used to keep a photo of "Mr. Spock" from 1966's "Star Trek" on her refrigerator.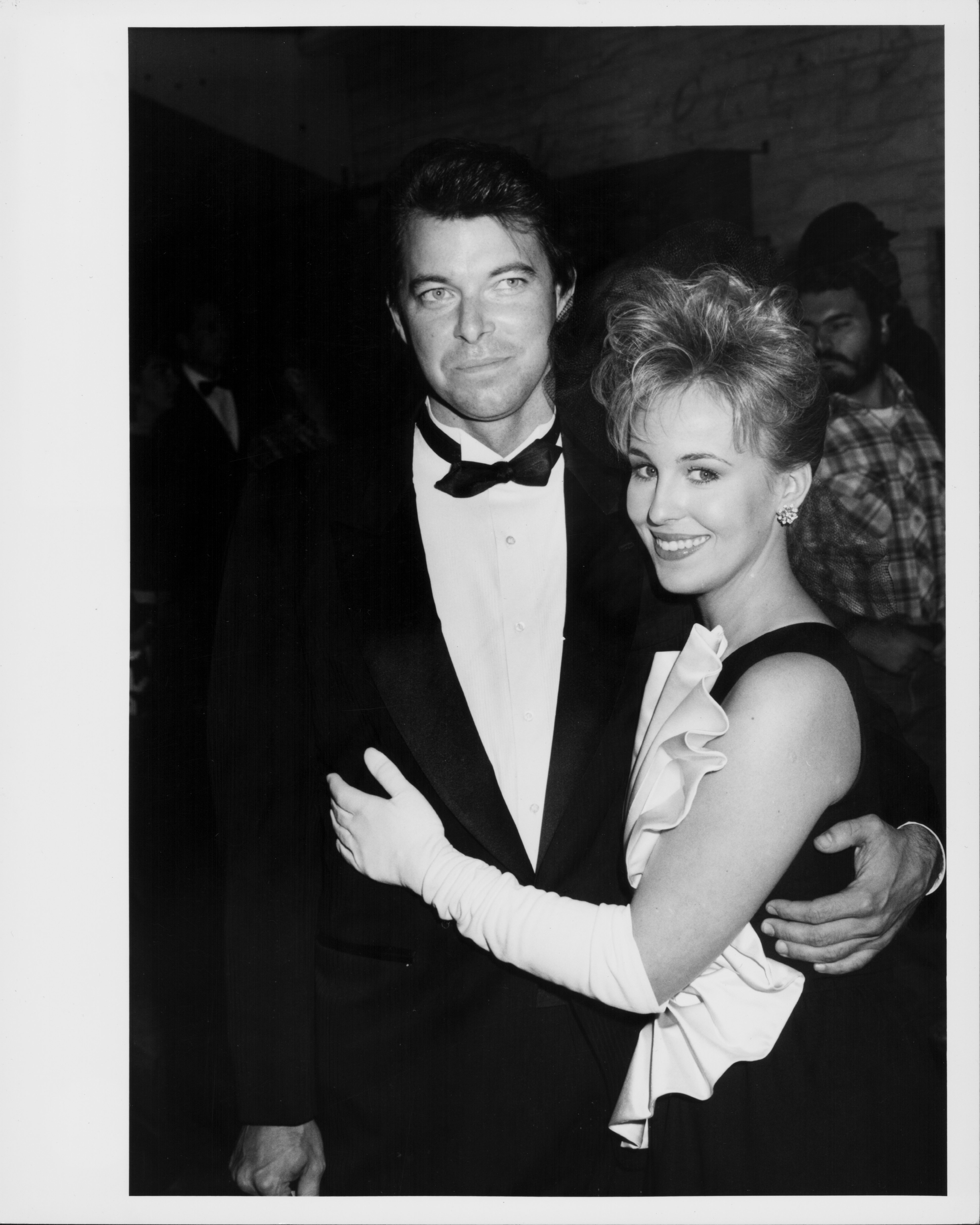 Jonathan Frakes and Genie Francis at the Soap Opera Awards, in Hollywood, California, on November 16, 1986. | Source: Getty Images
He later got to star in the famous 1987 television series "Star Trek: The Next Generation." Frakes' directing debut was in the feature film "First Contact." He later got to do a "Star Trek" movie.
When he directed "Contact," he was given more than $300,000. However, he also got to play the part of Commander William Riker in "Star Trek," earning him a paycheck that was around $1 million!
GENIE AND JONATHAN'S LOVE STORY AND MARRIAGE
In 1985, Francis got to star alongside Frakes in the miniseries "North and South." Something appeared to be in the air on the set of the Civil War miniseries as it led to real-life romances—and marriages—of three couples who met on the show.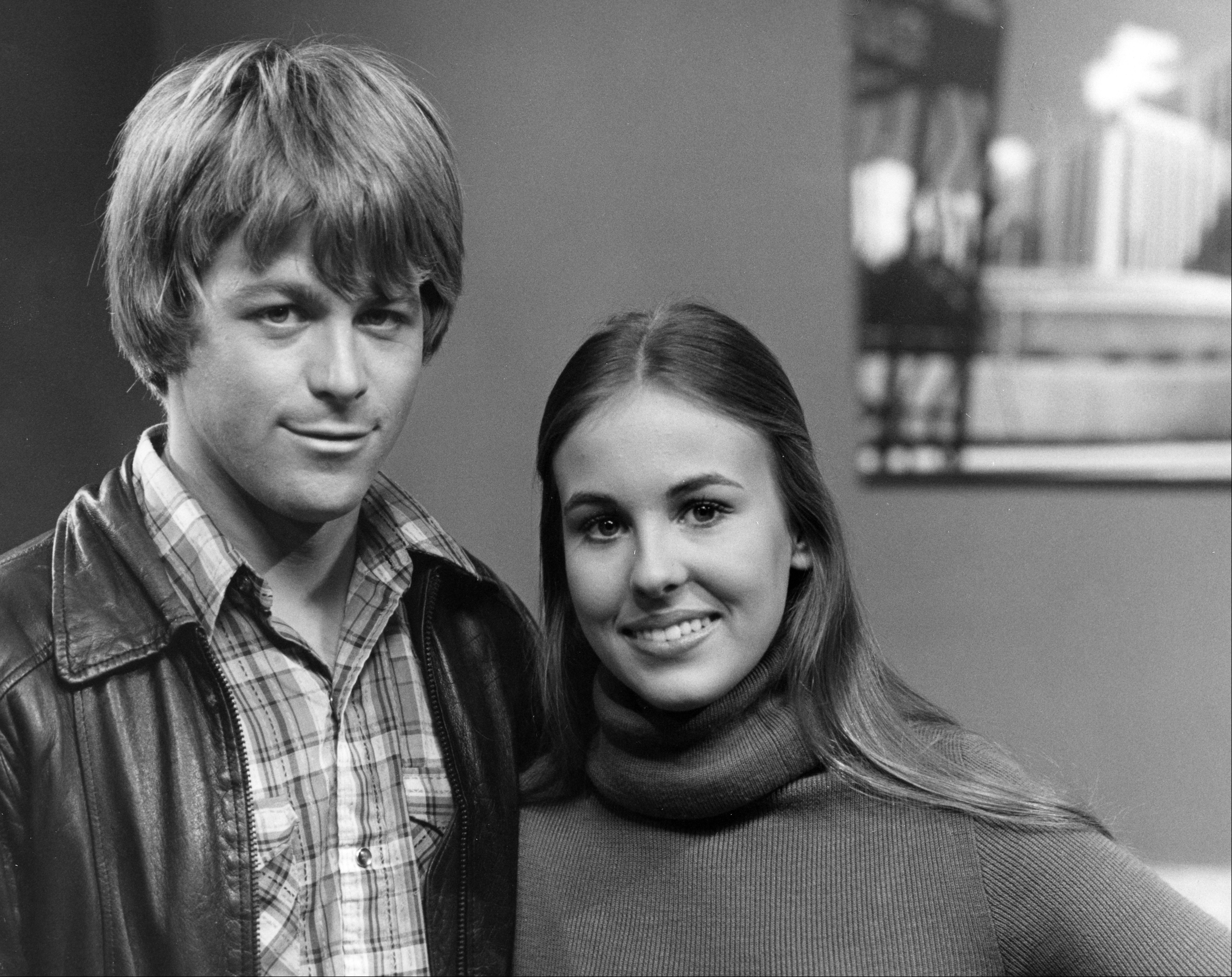 Kin Shriner and Genie Francis on "General Hospital" with a December 21, 1977, shoot date. | Source: Getty Images
Frakes played the role of Stanley Hazard, while Francis starred as the star's character's sister-in-law, Brett Main Hazard. Speaking about the romance that sparked between him and his wife, the director said:
"The period garb helped."
His wife agreed with him, saying, "The guys looked so dashing, and the women looked so gorgeous. We all looked good!" However, Frakes and Francis had initially met in 1983 when they co-starred in "Bare Essence."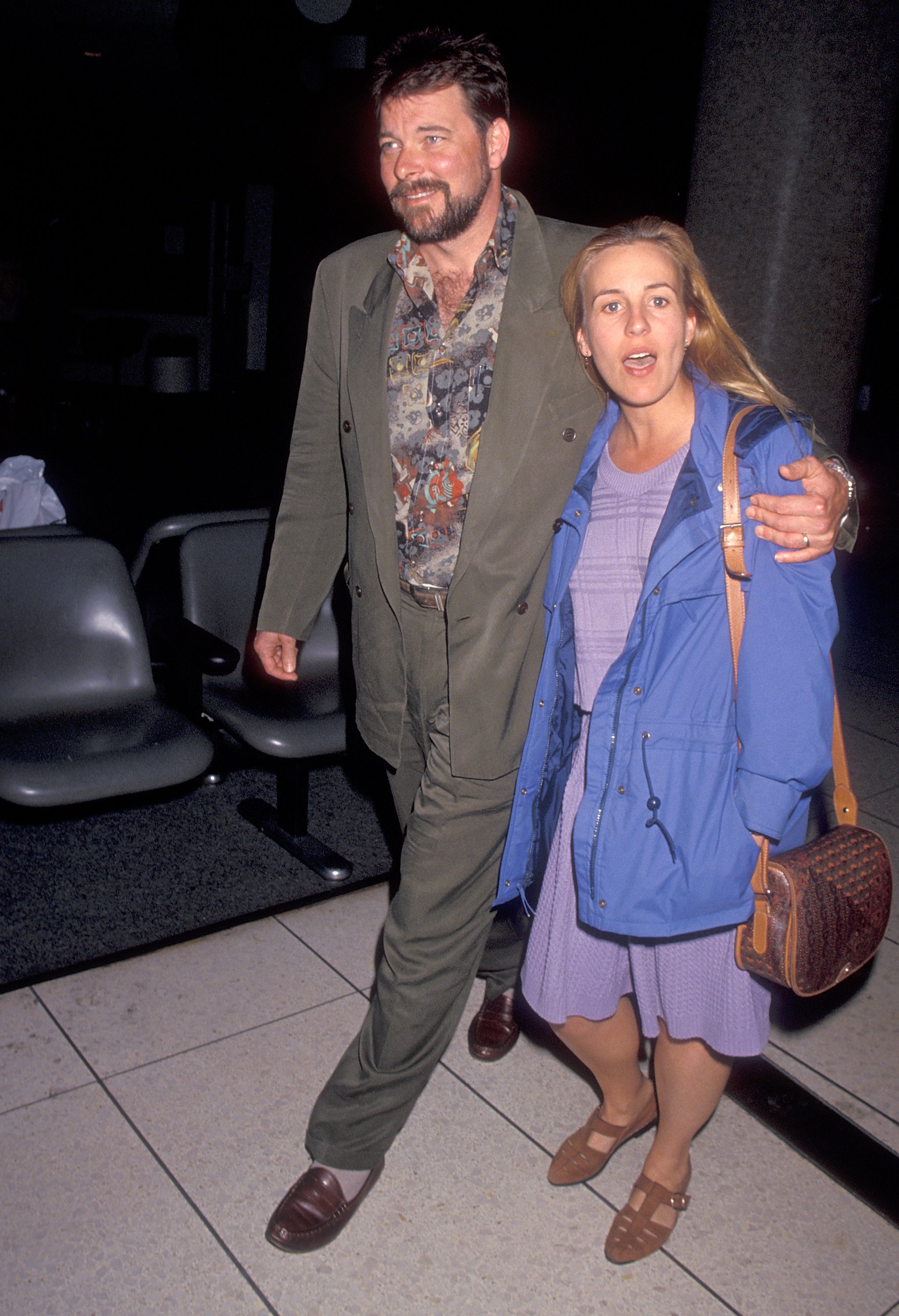 Jonathan Frakes and Genie Francis on January 2, 1994, at the Los Angeles International Airport in Los Angeles, California. | Source: Getty Images
The actress, who once starred with Kin Shriner on "General Hospital," recalled how she'd loved that he'd treated her like "one of the guys." However, things changed while they worked on "North and South," as she found herself developing "a big crush" on him.
Francis flirted with him by giggling, giving him meaningful looks, and fanning herself! When Frakes and other men took her to a Bourbon Street strip club to celebrate her 23rd birthday, the actress couldn't help but blush!
She found the whole thing embarrassing and not funny at all. A week later, while on a weekend getaway, Frakes showed her how much he was in love by proposing, but she refused because she was scared and inexperienced in romance!
Instead, the actress who played Laura Spencer, wife of Luke Spencer in "General Hospital" since 1977, suggested they go out on an old-fashioned date. The pair went to a McDonald's restaurant and then sat at a church parking lot where they got to talk.
A year after they finished filming "North and South," Frakes moved in with his girlfriend. In 1987, he went down on his knees to propose to Francis a second time and got the answer he'd wished for!
The couple solidified their relationship the following year, on May 28, 1988. One thing Frakes and Francis had to contest in their marriage was the actress' self-image issues and her battle with alcoholism.
Francis, who quit "General Hospital" when she was younger, had spent two decades sober until becoming jobless in 2002 and living in London. The actress was struggling and thought she could have one wine glass while eating dinner before going home – but she couldn't.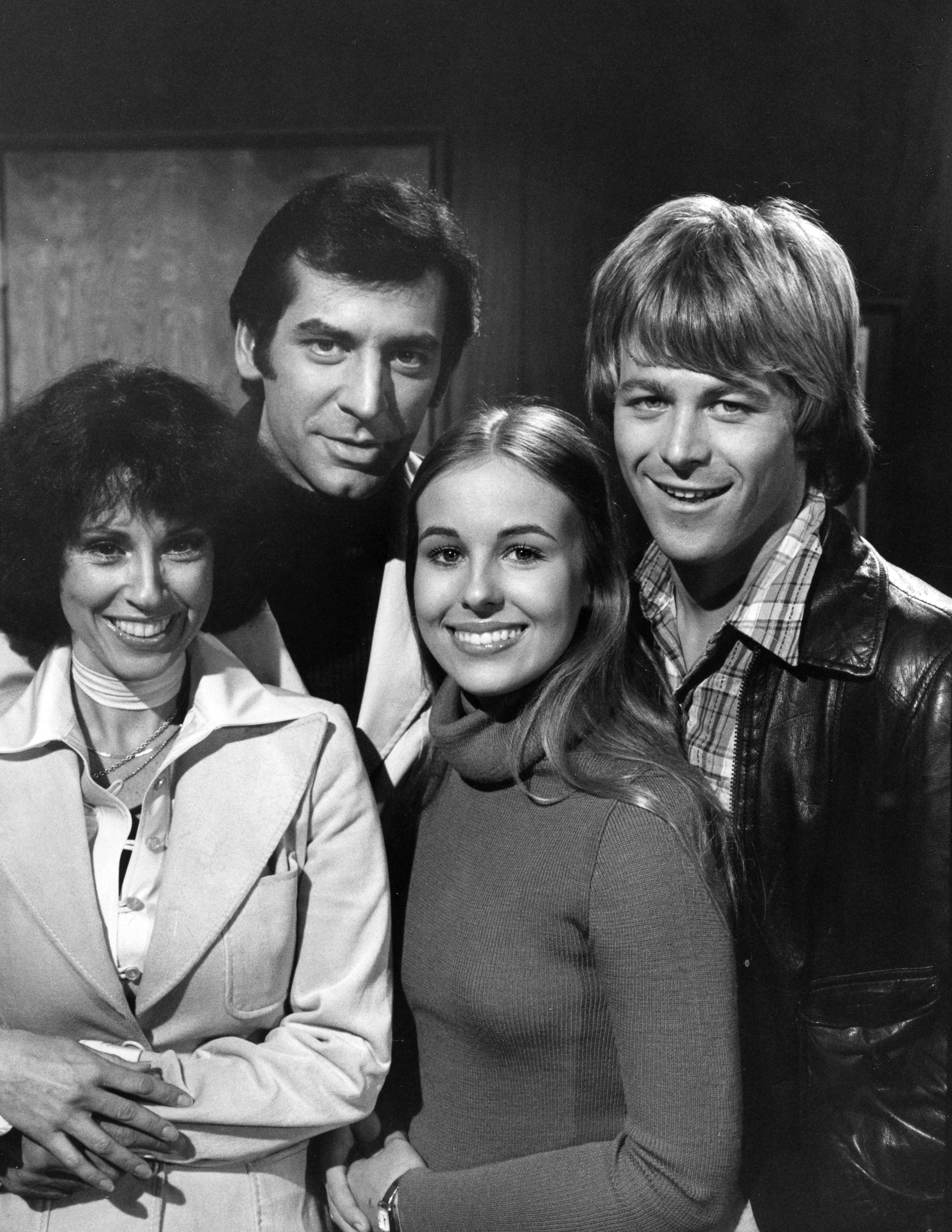 Denise Alexander, Michael Gregory, Genie Francis, and Kin Shriner on "General Hospital" with a December 21, 1977, shoot date. | Source: Getty Images
She went to rehabilitation for 21 days and got back on track. However, Francis, who once left "General Hospital" because she felt disposable, gained weight and became a size 16 after eating a lot because she couldn't drink; ironically, Frakes saw her differently, saying:
"She's a good-looking woman at any size! I don't see that she has 30 lbs. to give, but I'm supportive and keeping sugar out of the house."
The director's love for his wife has seen her through her lowest moments. This included when her "General Hospital" guest role contract wasn't renewed; Francis suffered from sadness and stopped dieting until she got a trainer.
GENIE AND JONATHAN'S KIDS AND HOW THEIR MARRIAGE IS DOING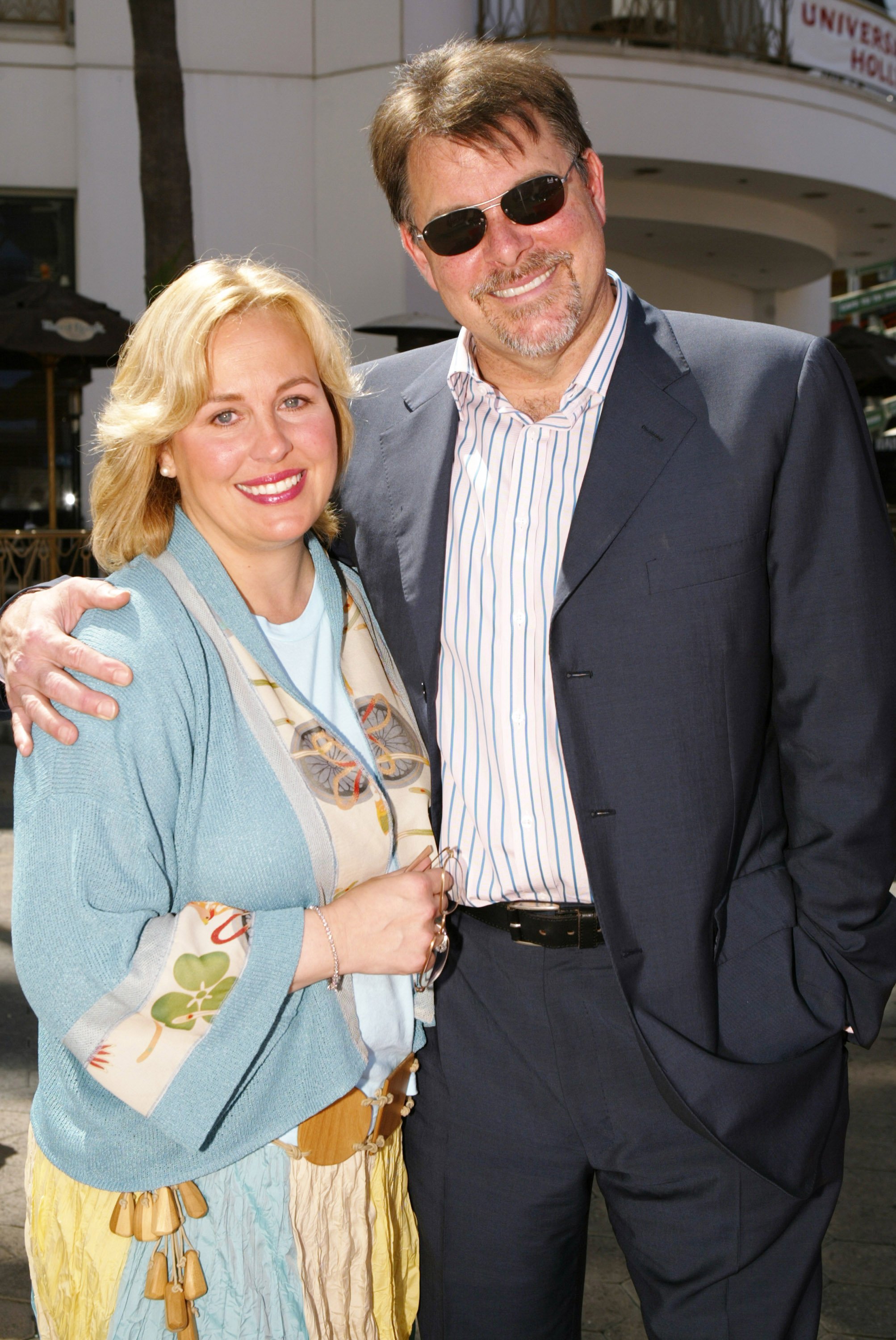 Genie Francis and Jonathan Frakes at the "Thunderbirds" Los Angeles premiere on July 24, 2004. | Source: Getty Images
For Mother's Day in May 2019, Francis opened up to Daily Mail about her children with Frakes. The couple welcomed two children, Jameson and Eliza, now adults.
The actress revealed that having children allowed her to forget herself and focus more on their well-being. Francis noted how the "coolest thing" about having a child was that they were a gift that kept opening up.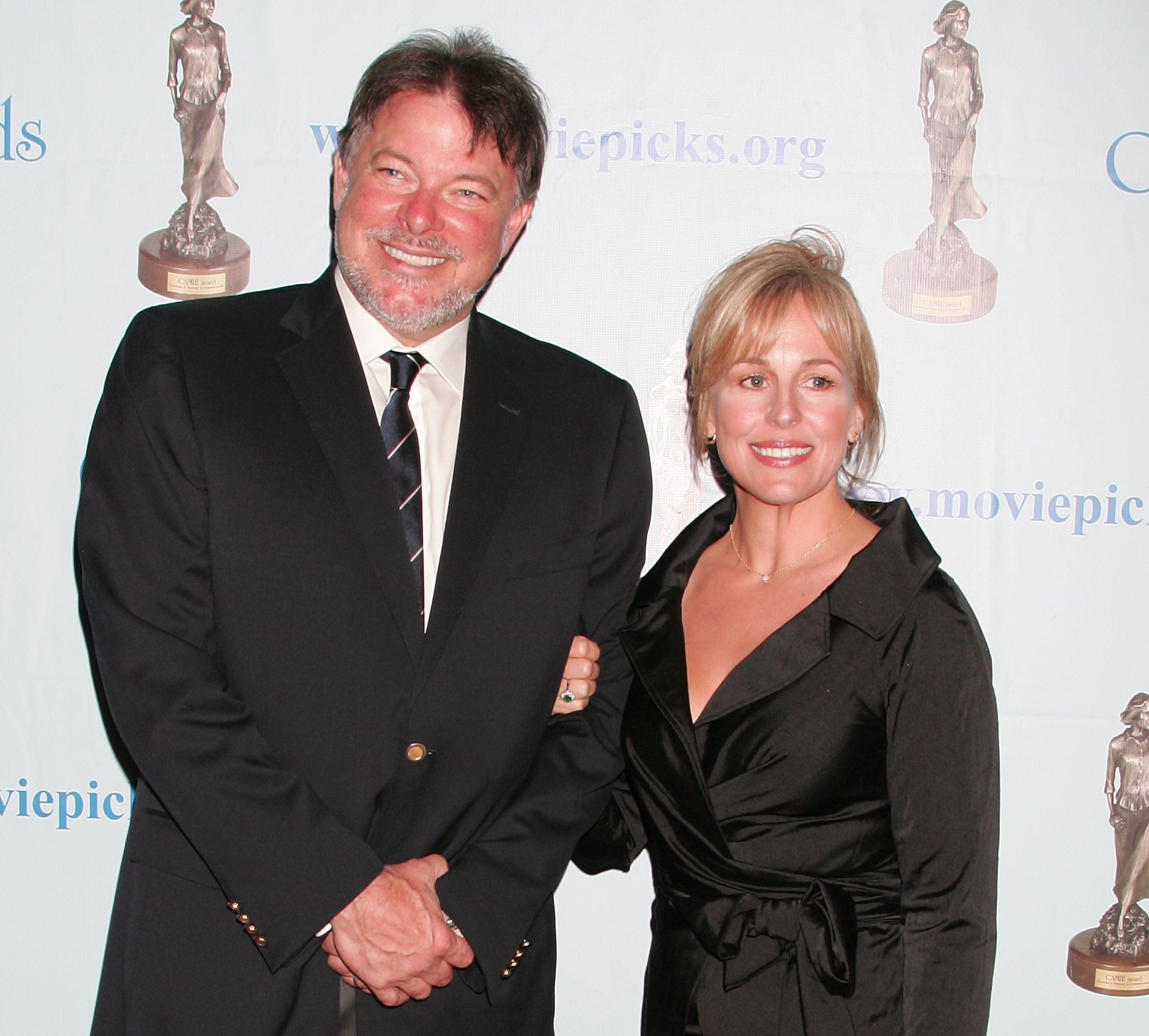 Jonathan Frakes and Genie Francis at the Camie Awards on May 3, 2008, in Beverly Hills, California. | Source: Getty Images
The star noted how this was possible because, at every stage, one's children were different, all the way into adulthood. "The Young and the Restless" actress revealed how she loved spending Mother's Day at home with her family.
By 2018, Francis and her husband were now living alone at their Los Angeles home and had become empty-nesters. The "Days of Our Lives" star was working on a house she bought in the 1980s.
Somehow, the project of modernizing the home was taking her forever. Francis loved to work on it but had no intention of living on the property as she intended to sell it when it was done.
[Genie] Francis now enjoyed "the camaraderie of the teams," and some of the excellent plays!
The actress and her husband already had a second home in Maine, where they also once owned a cottage-furnishing store called the Cherished Home. In 2018, the couple celebrated 30 years together!
Francis told The Philadelphia Inquirer that she and her husband didn't have a secret about their long-lasting marriage. Instead, she shared the words her grandmother had told her:
"To stay married a long time, you have to be willing to have a couple of really bad years. And you may have to have them more than once."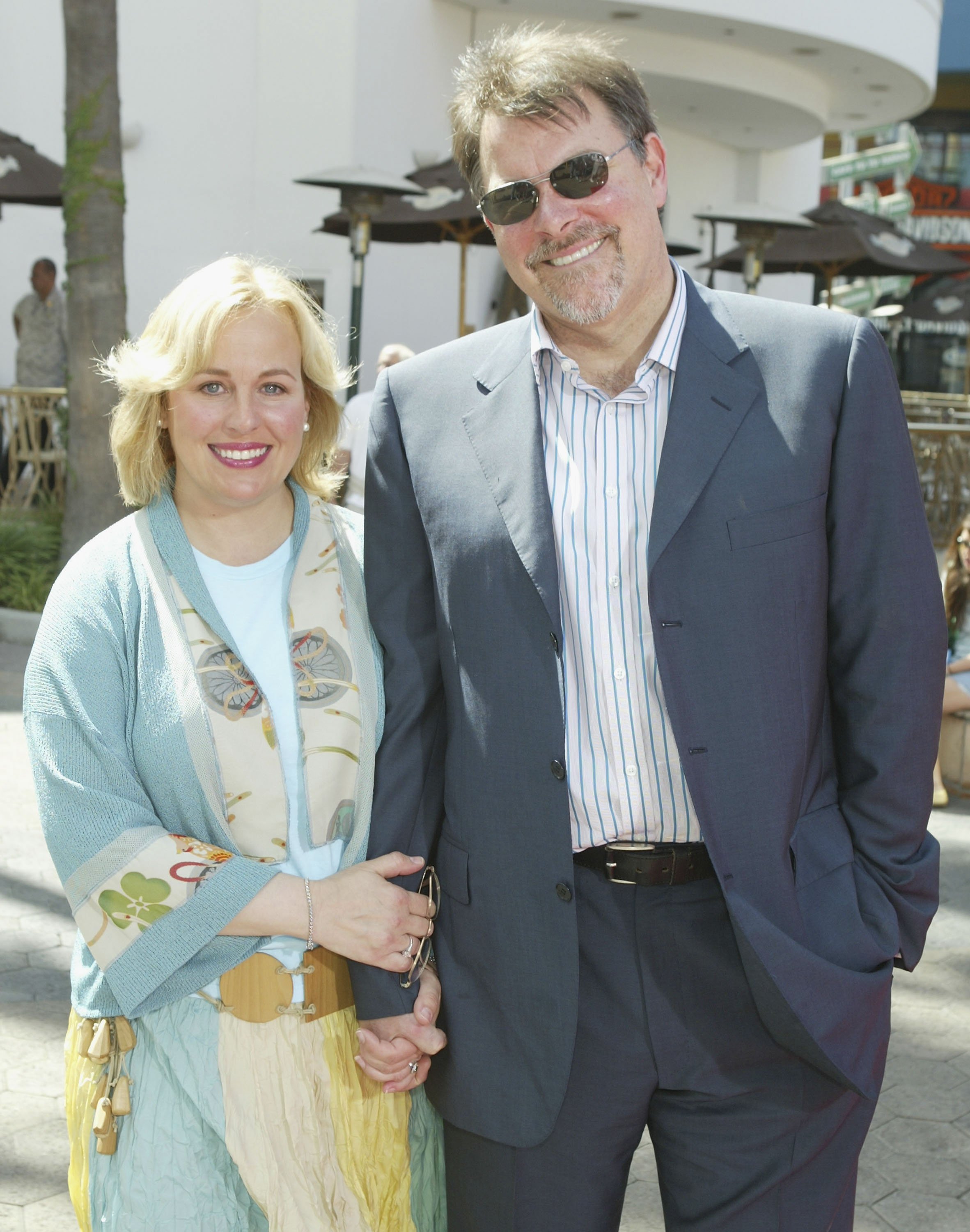 Genie Francis and Jonathan Frakes at the premiere of "Thunderbirds" on July 24, 2004, in Los Angeles, California. | Source: Getty Images
Becoming empty-nesters also left Frakes and Francis feeling closer than ever. The actress was happy not to split her love and attention like when their children still lived with them.
The couple also had more time to do simple things together like shopping, walking the dogs, and eating lunch. Francis also hilariously confessed that she was more tolerant of Frakes' desire to watch sports!
The star admitted that the habit used to anger her, but now she could stay in the room while her husband watched. She'd keep herself busy with knitting instead.
Francis, who once rejected her partner's proposal, now enjoyed "the camaraderie of the teams" and some of the excellent plays! In 2023, the couple had been in love and together for more than 34 years!
Please fill in your e-mail so we can share with you our top stories!
The information in this article is not intended or implied to be a substitute for professional medical advice, diagnosis or treatment. All content, including text, and images contained on news.AmoMama.com, or available through news.AmoMama.com is for general information purposes only. news.AmoMama.com does not take responsibility for any action taken as a result of reading this article. Before undertaking any course of treatment please consult with your healthcare provider.