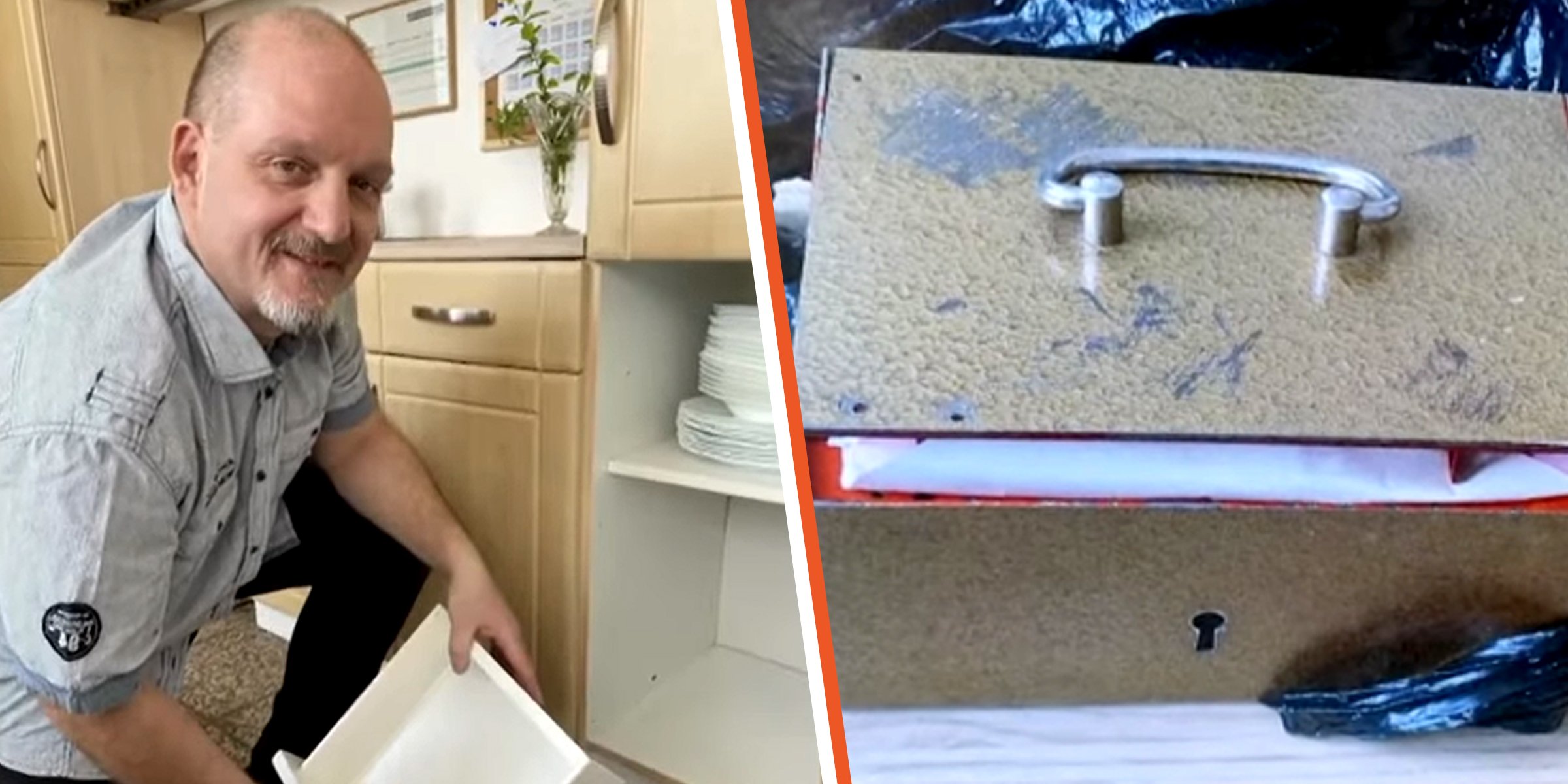 Facebook / Bild
Man Buys Used Cupboard from an Elderly Widow's Home, Finds $159,000 Inside
After bringing home his bargained second-hand cupboard from an online auction site, Thomas Heller refurbished his kitchen with it. He found two secret boxes hidden deep inside the cabinet a few days later and froze after seeing the contents.
When was the last time you found a second-hand online deal tempting? If you did buy something like a piece of furniture, did you find a life-changing jackpot hidden in it? Well, not everyone can be as lucky as 50-year-old Bitterfeld native Thomas Heller.
Thomas was just going about his business as a social worker when he saw an ordinary kitchen cabinet put up for an affordable deal on eBay. He decided to buy it and went ahead without much thought. But little did he know that this mediocre second-hand oak veneer cupboard hid an enormous bonanza that could change his life overnight.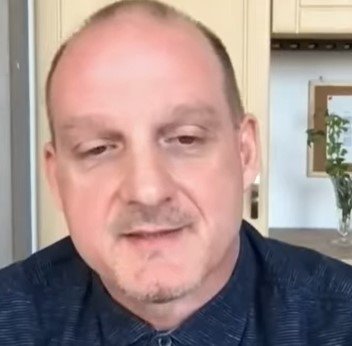 Thomas Heller | Source: Facebook / Bild
AN ATTRACTIVE ONLINE DEAL
The cabinet in question came from an elderly couple's estate in Halle, East Germany. As soon as Thomas saw the item put up for sale on an auction site, he decided to get it blindly. There were no second guesses or thoughts because he just wanted to own them and add something valuable to his kitchen.
Thomas successfully negotiated the deal from $316 to around $253 and bought the cupboard on April 14, 2022. One could tell he was excited about his purchase. He'd saved nearly $50 and managed to bring home a new addition from a treasured past.
However, a few days after the purchase, something peculiar caught his attention. Thomas couldn't believe his eyes when he saw two hidden boxes deep inside the cupboard. Curious, he checked them to find out what was inside.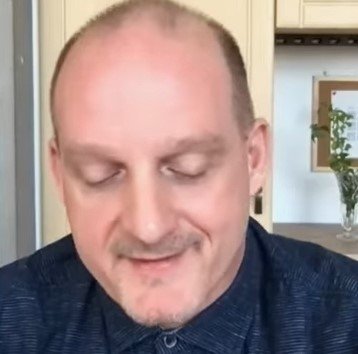 Thomas Heller | Source: Facebook/Bild
THE MINDBLOWING DISCOVERY
He peeped into the boxes and was stunned to see them stashed with cash. It wasn't just a handful of money that could be easily counted in seconds. It was a considerable amount, stowed in two parcels!
The case was then dragged to the district court, followed by a probe to find the cabinet's original owner. In the process, more astonishing details surfaced.
Thomas couldn't believe he'd just retrieved so much money. He gaped in awe and surmised that the bills could've been placed there long ago and forgotten about.
It was an out-of-this-world experience for Thomas. The cabinet had been installed in his kitchen for several days, and he had no idea that they hid such an enormous fortune. He revealed:
"One was open, and a lot of €100 bills were looking at me."
Undoubtedly, most would have colorful dreams about what they would do with a surprise jackpot like this. But Thomas thought from a different perspective, and he knew this money was of no use to him.
Instead of pocketing the cash and remaining tight-lipped about the bonanza, he headed to the cops straight away and informed them about his finding. Thomas added:
"They opened the second, locked cupboard in front of my eyes. There were larger bills in the envelopes. Two hundred, five hundred."
The officers were stunned after finding the money. Moreover, Thomas's honesty left them speechless. The case was then dragged to the district court, followed by a probe to find the cabinet's original owner. In the process, more astonishing details surfaced.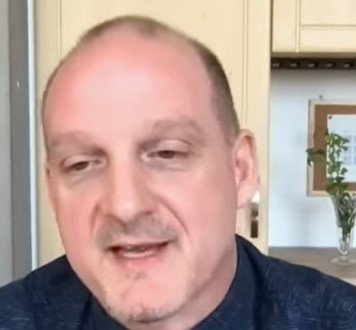 Thomas Heller | Source: Facebook/Bild
According to a police spokesperson, the cupboard was auctioned from an estate liquidation that belonged to an elderly couple. While that was a known fact, further investigation revealed that the cash Thomas found actually belonged to a 91-year-old woman who was nursed in a retirement home.
After her husband's passing, she had left behind everything while her grandson took care of the estate. It was he who sold the cabinets to Thomas. The spokesperson explained:
"The two cash boxes were well hidden in areas of the furniture that were difficult to see."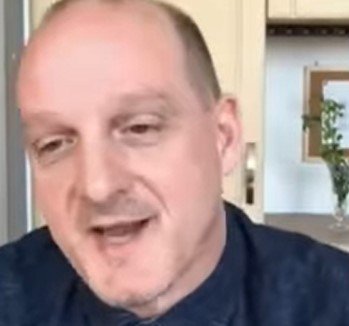 Thomas Heller | Source: Facebook/Bild
Eventually, Thomas's story amassed widespread media attention. He became the talk of the town for his honesty. On the other hand, the elderly couple's grandson clarified that he had no idea about the hidden money inside his late grandparents' cupboard.
Under German law, it's a criminal offense to keep found money worth $10 or more. The report suggests that violation of the rule could lead offenders to face up to three years in prison.
Thomas eventually became a man of honor. As a token of appreciation for his loyalty, the Good Samaritan was rewarded a three percent finder's fee worth $4,700. However, it's unknown how Thomas wished to spend this money!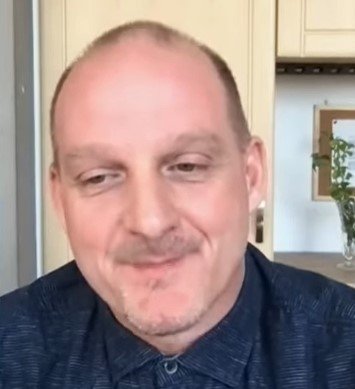 Thomas Heller | Source: Facebook/Bild
What would you do with the hidden jackpot if you were in Thomas's shoes? Would you keep the money or return it to its rightful owner?
Click here to read about a couple that bought a second-hand bedroom set for a lower price and found a secret compartment stashed with money.
Please fill in your e-mail so we can share with you our top stories!