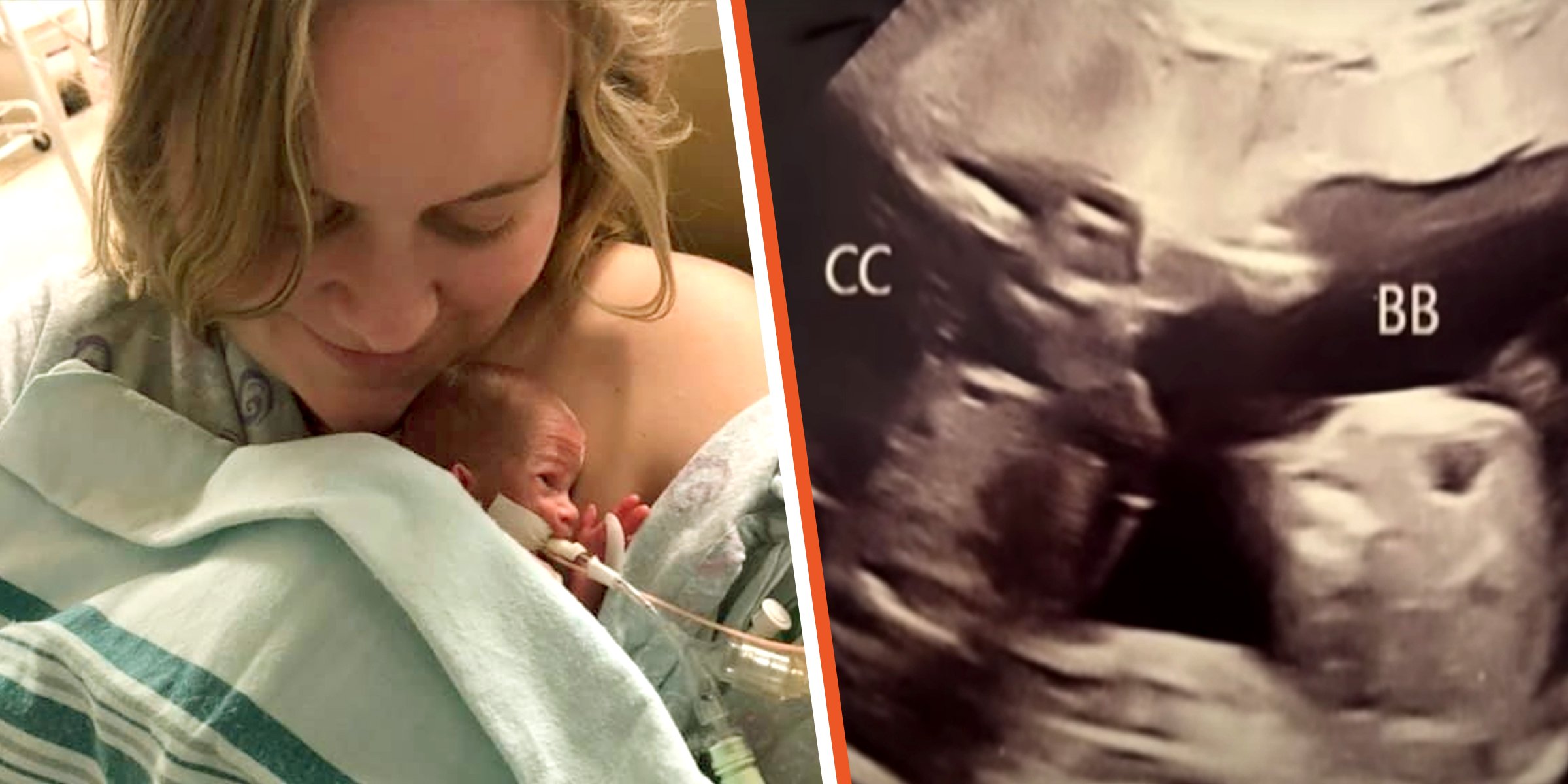 youtube.com/Guinness World Records | facebook.com/kaylie34
Mother Is Told Her Triplets Will Likely Not Survive, Delivers the Children in Different Years
After struggling to conceive, a woman finally got pregnant. Her prenatal scan showed she was carrying triplets, but the doctors told her the chances of delivering them were slim. Defying all odds, the woman gave birth to three children in different decades and set a new world record.
Motherhood is a journey that not all women are lucky enough to experience because of several health complications and infertility issues. However, modern medical science offers treatments that may help resolve infertility issues, allowing women to embark on the beautiful journey of becoming mothers.
In some cases, even after undergoing fertility treatments, women cannot conceive, or they miscarry their baby. The woman in today's story was also disturbed by the fear of losing her babies after learning she was carrying triplets whose chances of survival were very low.
AN EXTREMELY PRETERM BABY
Before jumping to the main story, it's essential to know that a baby born at 39 weeks is called full-term, while babies born before 37 weeks of pregnancy are considered preterm. Moreover, if a baby is born before 32 weeks, medical professionals consider the child as "very preterm," and before 25 weeks is called "extremely preterm."
Suppose a baby is born before 23 weeks of pregnancy. In that case, healthcare organizations usually do not try to revive the baby because the child is susceptible to disabilities and diseases while growing up.
The mother in today's story, Kaylie DeShane, gave birth to her first baby at 22 weeks, thinking her little one won't survive. Little did she know that she would deliver the remaining babies in her womb the following year.
The New York couple, Kaylie and Brandon DeShane, looked forward to building their family after getting married. At first, they tried to get pregnant naturally, but it did not work out for them.
Soon, they realized it would be best to consult a fertility clinic if they wanted to have babies. The DeShane couple took the leap of faith to have babies through IVF.
After four years of trying to get pregnant, Kaylie and Brandon finally got the news they had been waiting for. They were all set to become parents after their IVF treatment worked and Kaylie was pregnant.
Going to the hospital for scans and check-ups had become a norm for Kaylie. She desperately wanted to get pregnant, and now that her wish had come true, she did everything to ensure a smooth pregnancy.
At her 6-week scan, the doctor told her something she hadn't expected. The scan showed identical twins and another baby in her womb. She was all set to have triplets.
However, the doctor also told the DeShanes something they didn't want to hear: the survival chances of their triplets were only 1.7%.
Since the babies' survival chances were close to zero, the fertility clinic suggested Kaylie terminate the identical twins and give birth to one baby. Kaylie recalled:
"I started crying because the [IVF] clinic had told us that we couldn't carry three."
Instead of accepting the suggestion, Kaylie and Brandon decided to continue the pregnancy despite knowing things could go south at any time.
Fortunately, the initial months of Kaylie's pregnancy went well. She didn't face any complications and was excited to welcome her babies in a few months. She recounted:
"I didn't have any symptoms, I never got sick - I actually felt great. I loved being pregnant because I wanted to be pregnant so badly."
Little did she know that a few weeks later, she would have to endure a lot of pain and discomfort. At Kaylie's 16-week scan, the doctor told her that her cervix could dilate anytime, increasing the risk of an early delivery that threatened her babies' health.
After studying her condition, the doctor presented two solutions to Kaylie's problem. Either she could miscarry the babies on her own or undergo a surgical procedure that would prevent preterm delivery.
Kaylie chose the second option and underwent successful surgery. Brandon stood by her side during the tough times and understood that having triplets wasn't an easy job. He said:
"When they told us three expecting, I knew things weren't going to go as smoothly as everybody thought they were going to go."
Six weeks after her surgery, Kaylie's water broke unexpectedly when she was just 22 weeks pregnant. Brandon rushed her to the hospital, and a team of doctors and nurses quickly took her in.
After discovering one of the babies had entered the birth canal, the doctors decided to get him out. Things started to get complicated because the doctors couldn't get the baby's heartbeat. Meanwhile, the doctors asked Kaylie and Brandon what they were allowed to do to save the babies. The couple replied:
"Everything. Everything you can do, do all of it."
On December 28, 2019, the couple's first baby, Cian DeShane, was born with a survival chance of 9%. He had a very low heart rate and was born extremely preterm.
While little Cian spent his time in the NICU, Kaylie remained in the hospital bed for five more days because she was still in labor. The frequent contractions and excruciating pain made things difficult for the new mother.
Five days after Cian's birth, Kaylie developed an infection which compelled the doctors to deliver the other two babies immediately. They told the couple that the chances of their triplets surviving were next to zero.
On January 2, 2020, Kaylie gave birth to Declan and Rowan, who joined Cian in the NICU. The triplets spent months there because they had developed a life-threatening disease. Brandon described what he felt during his time at the hospital:
"I was just there for her. I didn't even have a chance to think of what I needed or what was going on with me. It was just focus on Kaylie, focus on the babies."
After spending four months in the hospital, the DeShanes finally brought their triplets home. The babies still had their respiratory support and monitors, but they didn't have to be kept under observation.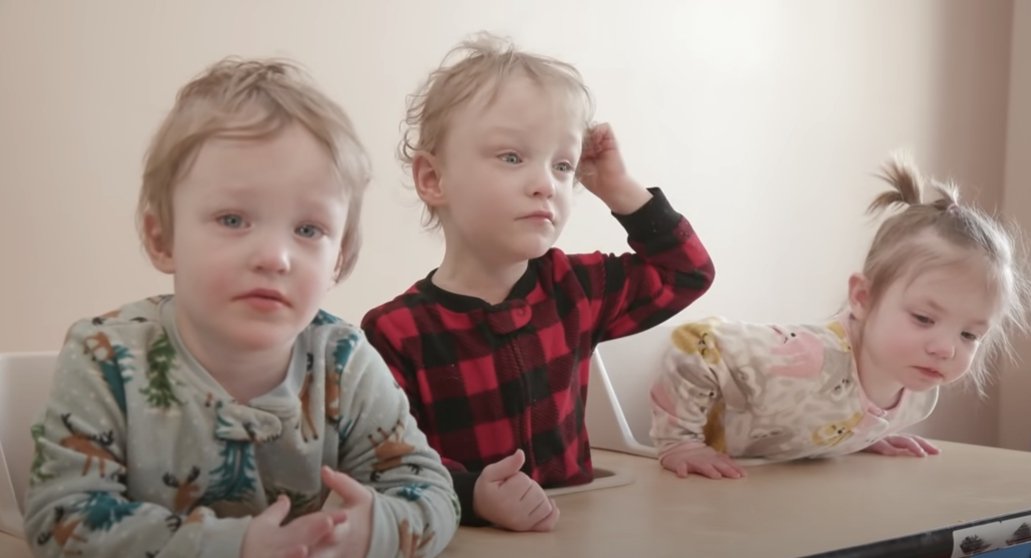 Declan, Cian, and Rowan DeShane. | Source: youtube.com/Guinness World Records
Kaylie knew her motherhood journey wasn't easy, but she had no idea she had set a new world record. It took her some research to realize that she could apply for the Guinness World Record for the longest interval between births of triplets.
On January 13, 2021, the DeShanes had officially set a world record that no one had broken in 60 years. Brandon felt proud of his wife and children for coming out so strong. Meanwhile, Kaylie said:
"I'm proud of them. They fought and survived. They have scars all over from all the needles, and they are the warriors, not me."
Kaylie's exemplary story proves people can achieve anything they want, given that they remain persistent in their efforts. What the mother went through was painful, but she made sure not to give up because having babies was a dream for her.
Click here to read another story about a woman who became a mother to babies born 12 weeks apart after struggling with infertility for years.
Please fill in your e-mail so we can share with you our top stories!
The information in this article is not intended or implied to be a substitute for professional medical advice, diagnosis or treatment. All content, including text, and images contained on news.AmoMama.com, or available through news.AmoMama.com is for general information purposes only. news.AmoMama.com does not take responsibility for any action taken as a result of reading this article. Before undertaking any course of treatment please consult with your healthcare provider.