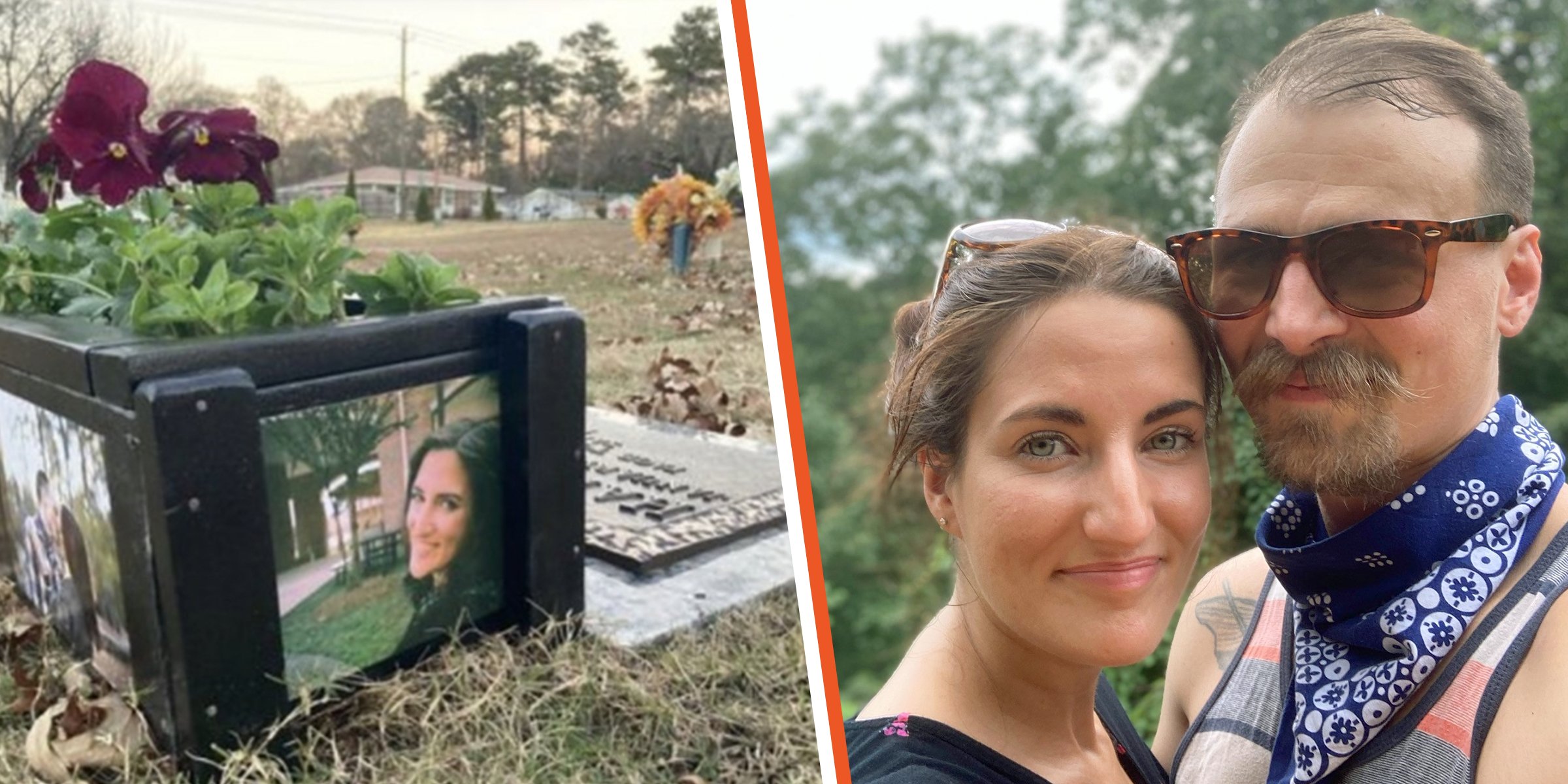 facebook.com/winston.hagans
Grieving Widower Put Flowers on His Fiancée's Grave, Gets Arrested for Littering
In a strange turn of events, a 27-year-old grieving widower was arrested after putting flowers on his fiancée's grave. He was shocked to find out who had filed a complaint against him for littering, knowing he was going through a difficult phase of his life.
Losing a loved one, especially if it's a person's partner, can bring them immense pain that sometimes lasts a lifetime. During their grieving period, friends and family give them space and try not to bother them unnecessarily.
On the other hand, some people intentionally say and do things that hurt the grieving person. The man in today's story also experienced the same when the police arrested him for littering based on his heartfelt gesture of leaving flowers on his fiancée's grave.
When Winston "Winchester" Hagans talked to Hannah Ford in a coffee shop in Montgomery, Alabama, for the first time, he thought there was something special about her. For the next two months, they "accidentally" kept sitting next to each other in the same coffee shop.
Hagans and Hannah had similar interests. They bonded over classical music and records and shared their love for plants. They even had the same religious interests, helping them strengthen their relationship. Hagans said Hannah talked to him every day. He recalled:
"We shared everything with each other."
After dating for some time, Hagans and Hannah told their families about their love interests, but things didn't go as planned for Hannah. Her father disapproved of their relationship, while Hagans' family welcomed her with open arms.
The couple had planned to get married on May 1, 2021, not knowing they would have to part ways soon.
During their relationship, there was a period of 30 days where the couple had no contact because Hannah's father had told her to stop talking to Hagans. That month was the only time they didn't speak to each other during their entire relationship.
Despite knowing her father disapproved of her relationship with Hagans, Hannah wanted to keep dating him. While her relationship with her father went downhill, she was delighted to be reunited with Hagans after 30 days of no contact. Hagans recalled:
"We jumped through all of his hoops to be together. We had to figure out if going through the craziness was worth it."
Soon after realizing they were ready to spend the rest of their lives with each other, Hagans and Hannah decided to get engaged. On December 5, 2020, the couple exchanged rings and soon began to prepare for their wedding.
Hannah uploaded a photo on Facebook and penned down a heartfelt caption with it, confessing that she couldn't wait to be Hagans' wife. The couple had planned to get married on May 1, 2021, not knowing they would have to part ways soon.
Hagans and Hannah started planning for their big day, and one of the first things they had to do was book a venue. Later, they had to finalize the guest lists, invites, and stamps.
Almost a month after their engagement, the couple excitedly drove to multiple wedding venues to select the one they liked the most. Little did they know that would be the last time they enjoyed each other's company.
On January 16, 2021, Hagans and Hannah visited a barn venue. After inspecting the location, they discussed that they still had many things on their to-do list while walking toward their cars. Before leaving the venue, Hannah said:
"I love you so much. I hate leaving you."
Hagans sat in his car and headed towards his home in Opelika, while Hannah took the road that led to her house in Montgomery. At around 7 p.m., Hannah met a deadly accident at an intersection on her way home, where another vehicle at high speed crashed into her car.
After getting home, Hagans messaged his fiancée, but she didn't reply. When he called her, he was directed to her voicemail. After waiting for her response to no avail, he contacted Hannah's roommate because he was sure she must have gotten home by then.
When her roommate said Hannah hadn't arrived, Hagans immediately grabbed his car keys and headed towards Montgomery. On his way, he saw police vans and ambulances parked at an intersection. When Hagans got out of his car and inquired about Hannah, the paramedics took him to a crushed car, making him weak in the knees. He recounted:
"I was thinking, 'there's no way she could be gone.' "
Just a mile from her house in Montgomery, Hannah passed away after the high-impact collision. Hagans found it hard to believe that the love of his life had left him alone a few months before their wedding.
Moreover, he felt worse knowing Hannah's family had banned him from attending her funeral. Having no choice, he had to stay home while Hannah's family bid farewell to her.
After Hannah's family buried her, Hagans visited her grave multiple times while he grieved for her. He often brought flowers for her until the day a police officer showed him an arrest warrant in his name.
Almost a year after Hannah's death, Hagans stopped at a traffic signal in Opelika, where he was pulled over by police. Soon, three police cars surrounded him, and an officer told him they came to arrest him for littering.
While Hagans sat in the backseat of the police car, he read Hannah's father's name on the arrest warrant. He had filed a complaint against Hagans for leaving planter boxes on Hannah's grave.
Hagans felt his late fiancée's father should have warned him before signing the arrest warrant. He knew the grave was Hannah's family's property, but he had no idea the police would arrest him a year after her death.
Tom Ford, Hannah Ford's father, said he had picked ten wooden planter boxes from his daughter's grave during the past year. He recalled that the first planter fell apart when he picked it. He said:
"It was a rotten piece of wood with some pictures on it, so I discarded it."
At the court hearing, Tom said that the cemetery didn't allow such things and that he had conveyed his message to Hagans through a friend. He filed a complaint when he still saw planter boxes on the grave. The police arrested Hagans after he put the 10th box on the grave. Tom said:
"I find no joy to be here, and I did everything I could not to be here."
Hagans was ordered to pay about $300 as a fine. The judge also suspended a 30-day jail sentence as long as Hagans didn't put flower boxes on his fiancée's grave again.
What would you do if you were in Tom Ford's shoes? Would you contact Hagans before filing a police case? We'd love to know what you think about this story!
Click here to read another story about a bride-to-be who wore her white wedding dress to her fiancé's grave instead of walking down the aisle.
Please fill in your e-mail so we can share with you our top stories!