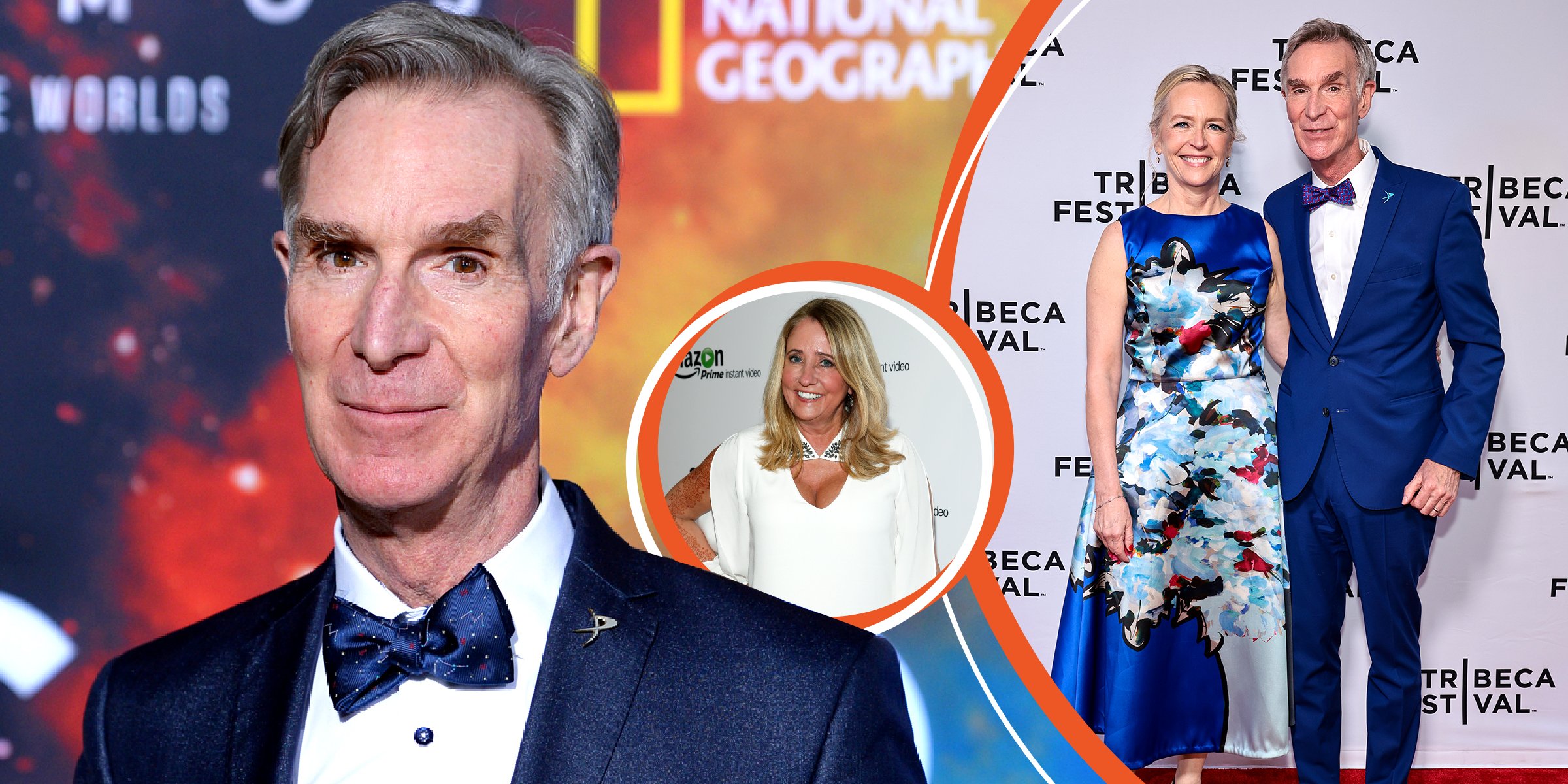 Getty Images
Bill Nye the Science Guy Marries Again at 66 after 1st Marriage Ended with a Restraining Order Years Ago
The beloved jack of all trades, William Sanford Nye, better known as Bill Nye the Science Guy, never thought he would find love again after his first marriage ended in disaster. However, fate had unexpected plans for him.
The trained mechanical engineer, science communicator, comedian, and television host always impressed spectators with his awe-inspiring experiments. Still, there was one equation that had a less than ideal outcome.
Nye's relationship with the equally multi-talented Blair Tindall started with romance and spontaneity when he announced their engagement on "The Late Late Show with Craig Ferguson."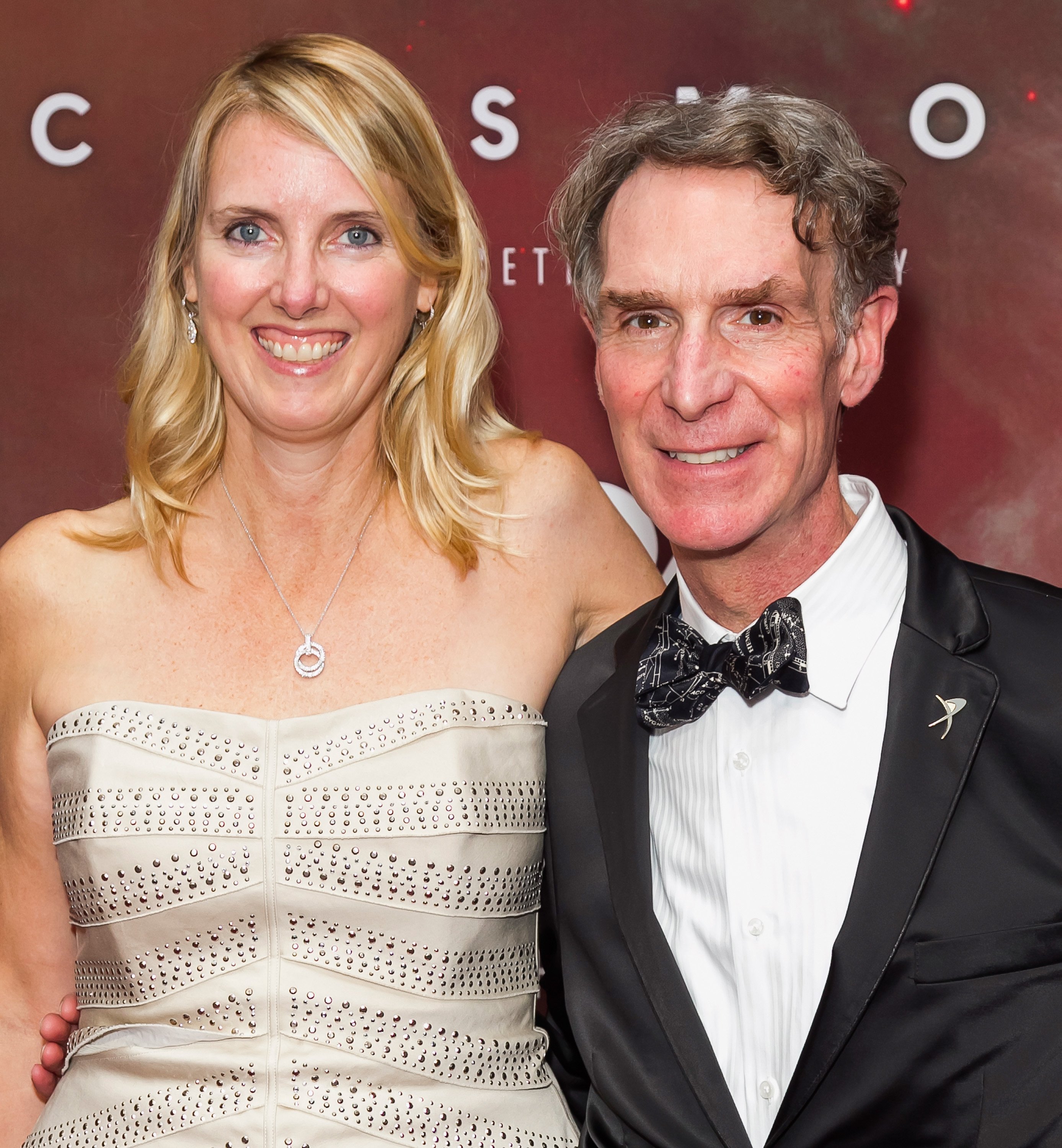 Oboist Blair Tindall and comedian Bill Nye at The Greek Theatre on March 4, 2014 in Los Angeles, California. | Source: Getty Images
THEY RECEIVED A SHOCKING LETTER
The couple tied the knot in 2006 during a ceremony officiated by the famed Pastor Rick Warren. Nye's relationship with the writer, motivational speaker, and oboist took a few unexpected turns after they made a startling discovery.
Nye and Tindall revealed that the State of California never recognized their nuptials. While neither party disclosed why their union didn't get the approval they thought it had, Nye stated:
"We were never married. We got a letter from the State of California, with the great seal affixed, that we were never married. So shortly afterwards we both agreed it was not a good idea."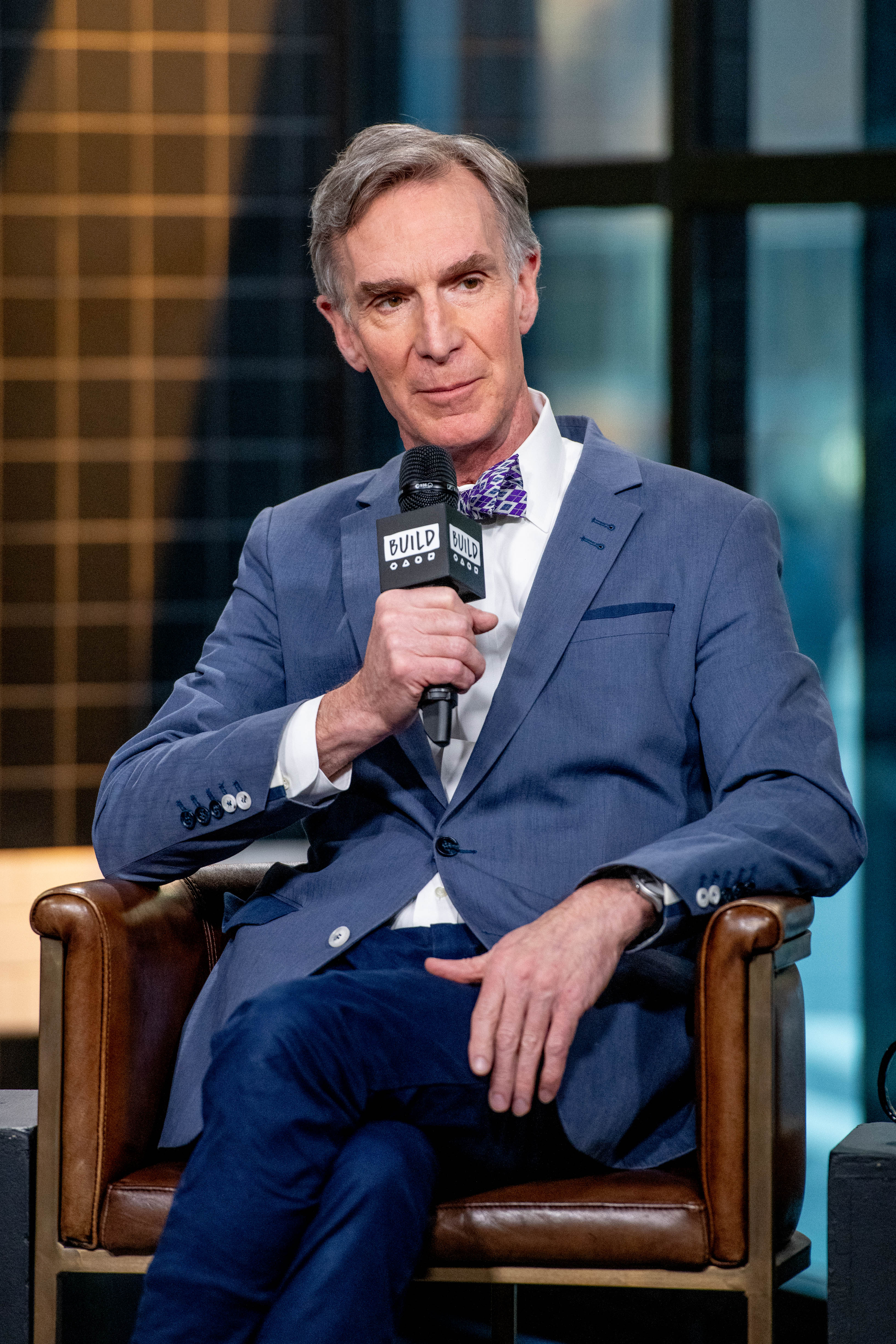 Television host Bill Nye at Build Studio on April 18, 2018 in New York City. | Source: Getty Images
The news left Tindall distraught and led to shocking consequences. Nye shared that his ex reacted dramatically to the separation. While trespassing on his property, she poured a toxic weed killer onto the garden they once shared.
Dressed in black and wearing an unmissable hat, Tindall fled the scene. She later stated: "I became very angry, and could only think of destroying the rose garden, so he couldn't give another woman the roses I had cared for."
There were claims that she had planned to throw the chemicals into Nye's eyes, but Tindal denied the allegations. She said:
"I meant to hurt his flowers only, not him."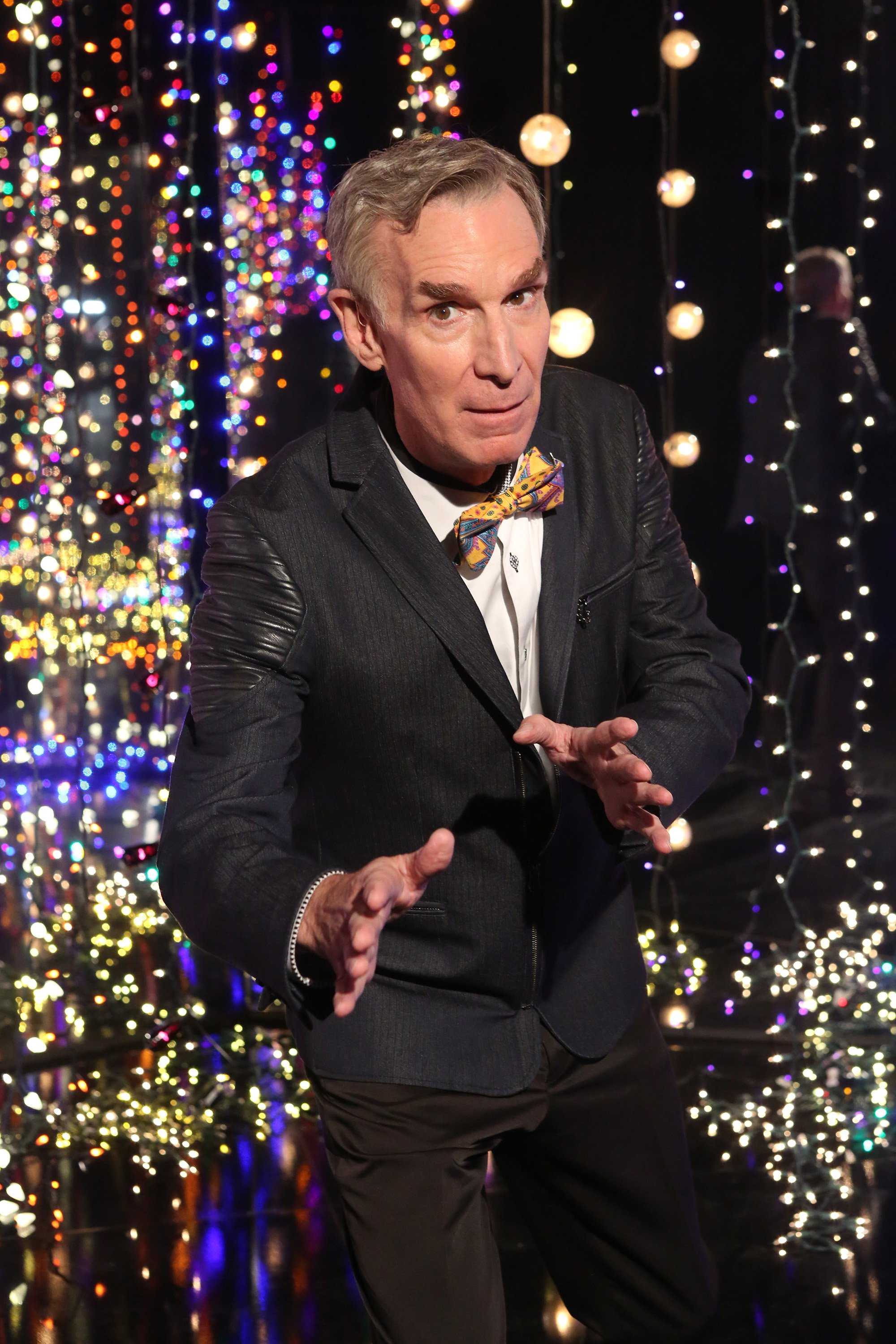 Bill Nye during an episode of the "Hollywood Game Night" in California, circa 2018. | Source: Getty Images
Following the incident, Nye took steps to ensure his safety. He filed a restraining order against Tindall in 2007, but she claimed that "stress" and "fatigue" made her act against her better judgment and wanted the restraining order to be lifted.
However, Nye pressed on, and court documents outlined why he wanted protection from his faux spouse. He stated that Tindall arrived at his Studio City, Los Angeles home carrying two big bottles of poisonous solvent and feared for his safety.
However, Tindall accused him of "emotional cruelty" and revealed that seeing Nye on the "Living with Ed" TV show, talking about being single and giving a rose to Ed Begley's wife made her angry. She remained adamant there was no threat to Nye.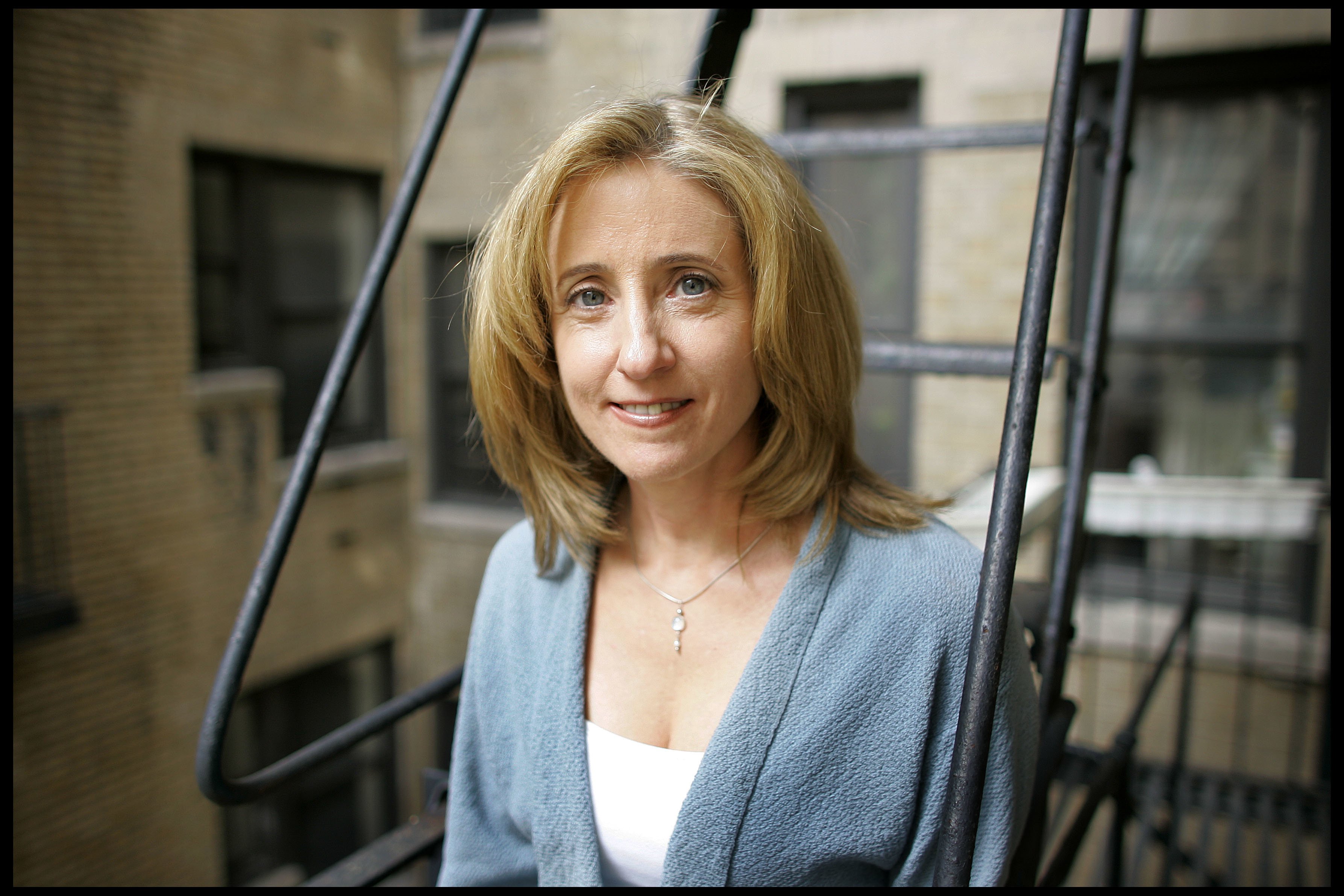 Musician and author Blair Tindall at her Allendale apartment in Manhattan, circa 2005. | Source: Getty Images
NYE'S LOVE LIFE TOOK A BACKSEAT
After issuing the restraining order, Nye was relieved to leave his past behind. While he wasn't particularly interested in another romantic commitment, he gave an ambiguous answer when asked if he was single.
"Looking back, it would've been better to get married and have kids. But I was doing this other thing."
The "other thing" the TV host was referring to was his noble desire to change the world. He spent most of his time working on endeavors that moved him closer to his goal, and he believed everyone could help make the earth a better place.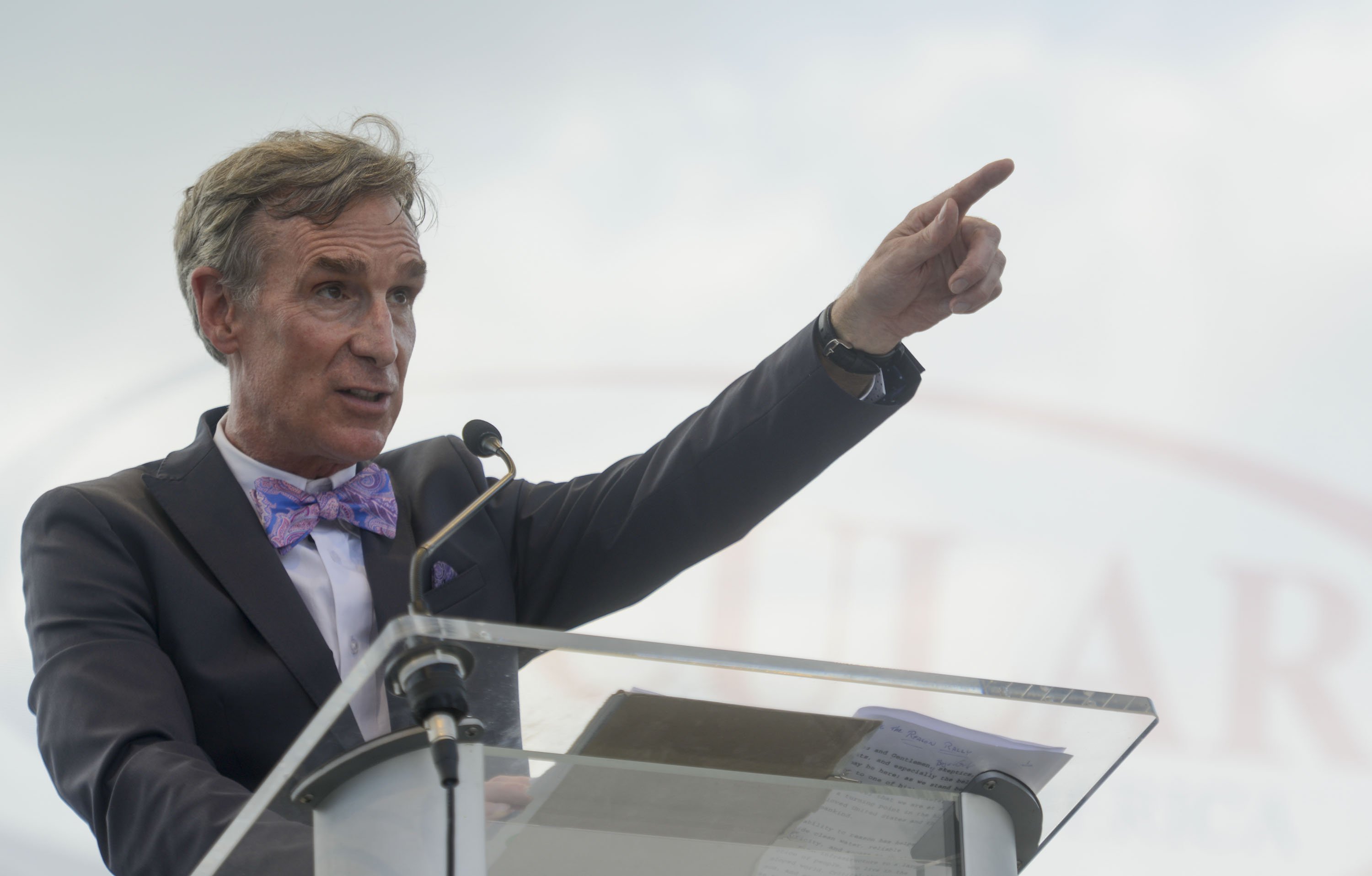 Comedian Bill Nye talks during the Reason Rally at Lincoln Memorial on June 4, 2016 in Washington, DC. | Source: Getty Images
MARRIAGE WAS NOT ON THE CARDS
The TV host was a happy bachelor and didn't pay much attention to the idea of getting married again. His previous experiences had taught him to enjoy his single life, but everything changed in 2017.
His path crossed with an award-winning journalist and New York Times-bestselling author that shared his passion for knowledge and learning.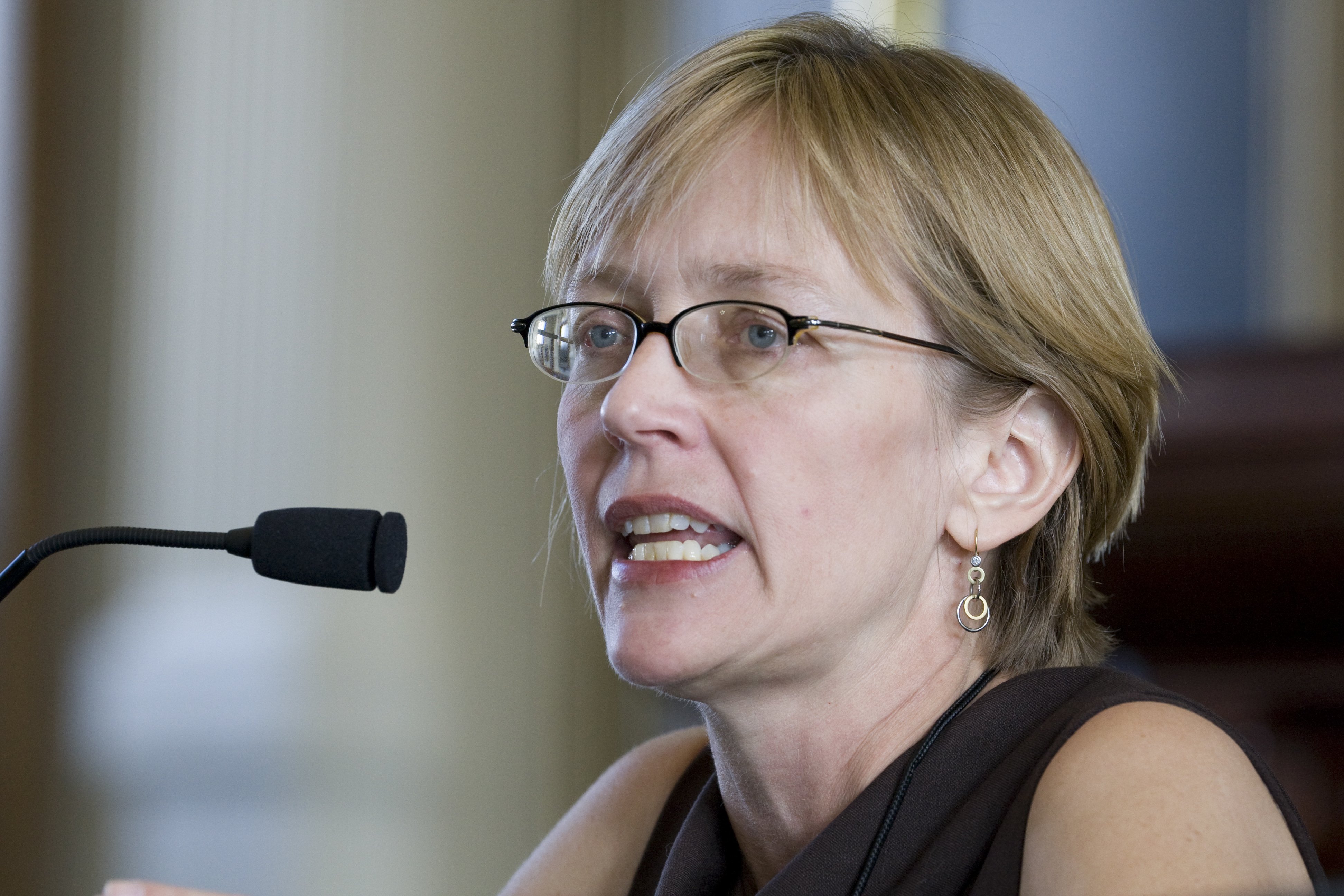 Author and journalist Liza Mundy speaking at the Texas Book Festival in Texas, circa 2008. | Source: Getty Images
Liza Mundy made mention of Nye's late cryptanalyst mother, Jacqueline Jenkins-Nye, in her book. Nye noticed the book "Code Girls: The Untold Story of the American Women Code Breakers of World War II" and contacted Mundy via email.
He was impressed with her work, and once they started speaking, they realized they had countless things in common. Their friendship quickly turned into a romantic relationship that surprised them both.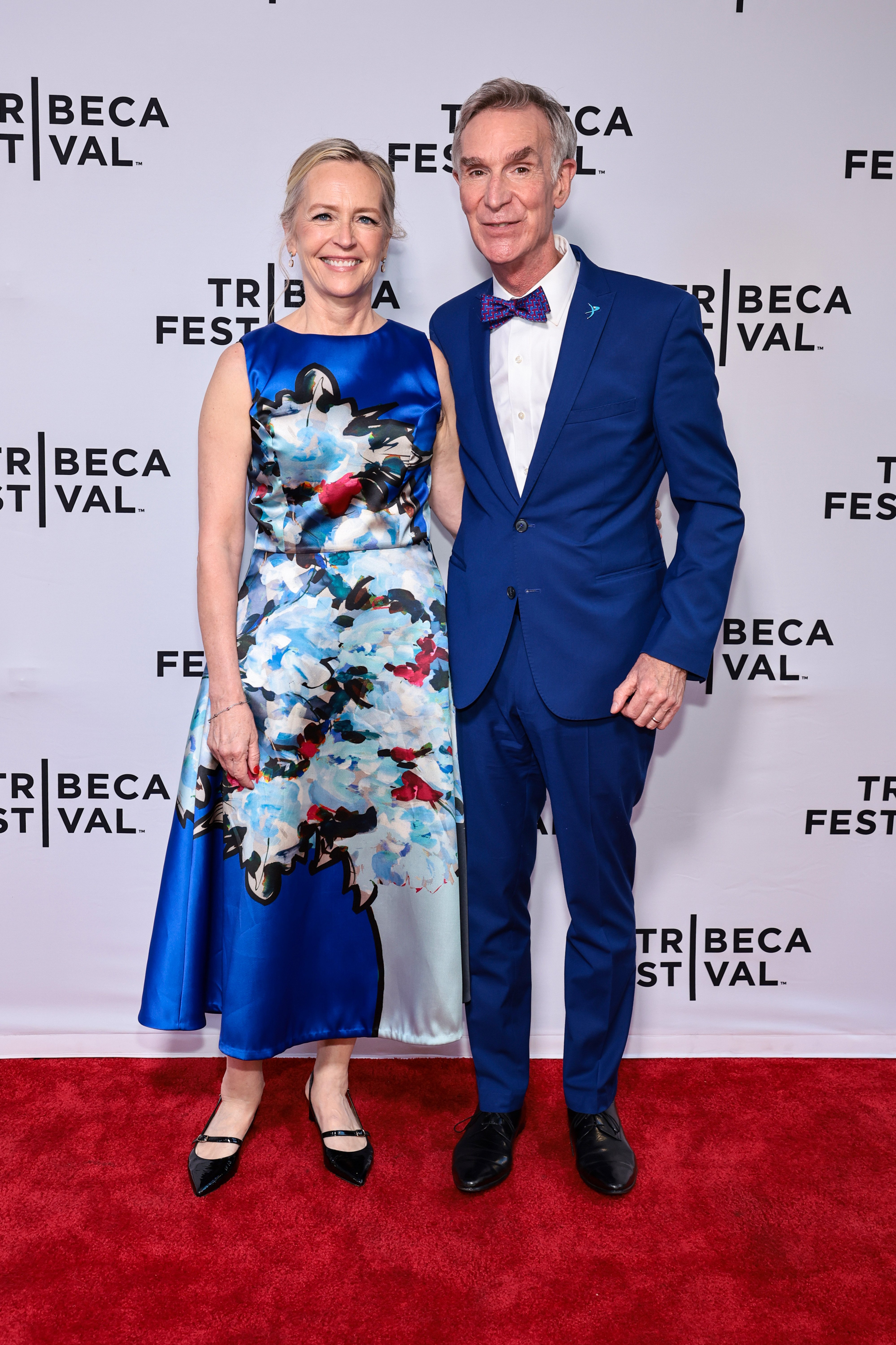 Liza Mundy and Bill Nye attend the Tribeca Festival at SVA Theater on June 17, 2022 in New York City. | Source: Getty Images
AN EMOTIONAL MESSAGE ABOUT HIS MOTHER
Mundy couldn't have imagined that mentioning Nye's mother in her work would lead to something beautiful, but it did. The TV host adored his mom and credited her for raising him and gearing him with essential life skills.
His love for her was evident in a post he wrote in her honor. Nye expressed:
"My mom taught me to cook, sew and think. She will always be a hero to me. So today, on #internationalwomensday, and every day, take the time to celebrate the amazing women in your life."
NYE'S FIRST OFFICIAL MARRIAGE
It took Nye a few decades to get the algorithm for his love story right, but he eventually found perfect chemistry with Mundy. The beloved TV host married for the first time in the eyes of the law, and it was a beautiful day.
He committed himself to Mundy in May 2022 at the Castle Building's Haupt Garden at the Smithsonian Institute in Washington, D.C. The guest list was star-studded, and the couple's officiant was none other than Star Trek's Robert Picardo.
The loved-up duo also shared personal vows they wrote themselves, and a source noted their words were "equal parts moving and comical."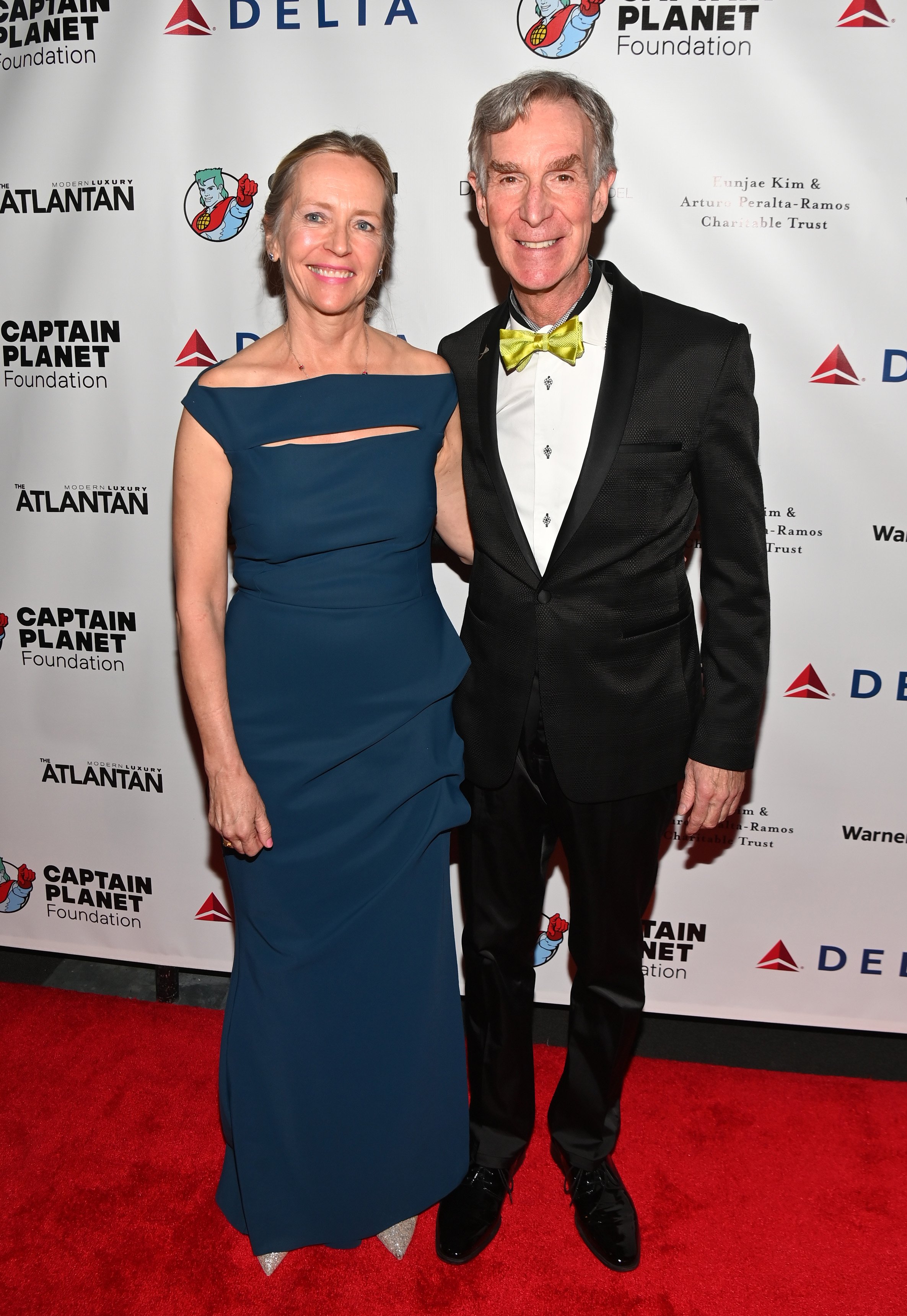 Liza Mundy and Bill Nye at the Captain Planet Foundation 30th Anniversary Gala on March 19, 2022 in Atlanta, Georgia. | Source: Getty Images
The 66-year-old television host didn't hold back on the elegance and looked dapper wearing a black suit. He accessorized with cufflinks that belonged to his dad, and they featured small blue stones in the center.
His bride, 61, looked breathtakingly regal, and she donned a classic white satin sleeveless gown. The mermaid hemline and jeweled belt added the finishing touch and suited Mundy perfectly.
The duo opted for bright and bold flower arrangements, with the bride carrying a colorful bouquet and her husband wearing an orange boutonniere.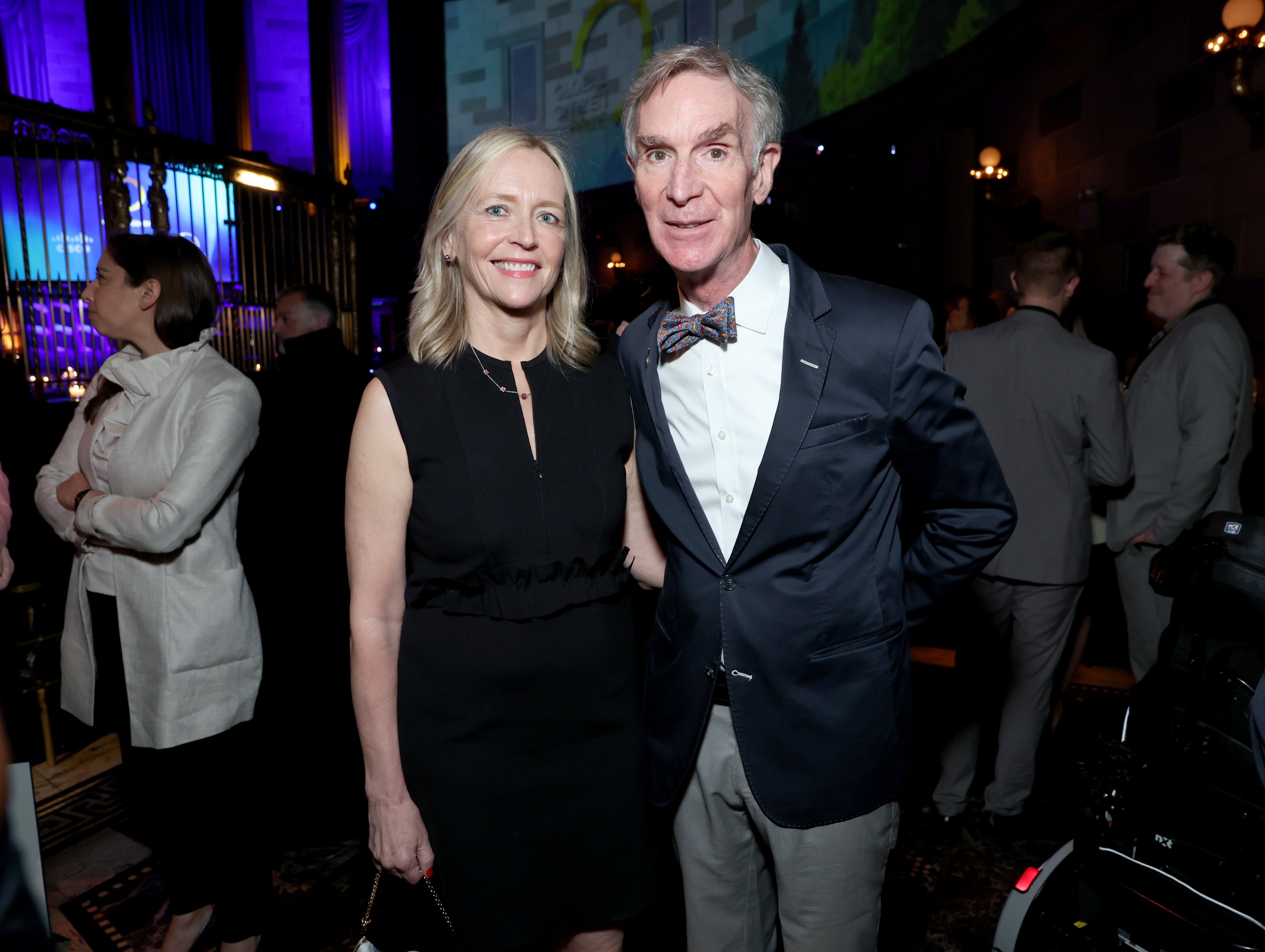 Liza Mundy and Bill Nye at the Global Citizen Prize event on May 22, 2022 in New York City. | Source: Getty Images
SURROUNDED BY THEIR NEAREST AND DEAREST
Nye and Mundy enjoyed spending their romantic day with close family and friends. In attendance was Mundy's daughter, Anna, who gave a toast. Nye's brother, Darby, was also present, as was Brian, the groom's friend of more than five decades.
Brian congratulated the couple, showed his support, and wished them well for their future together. Mundy changed into a set of dazzling sneakers for their reception and had a ball dancing with her new husband.
For their first dance, they swayed to Sam Cooke's version of "What a Wonderful World," adding an extra touch of emotion and joy to their already magical day.
Please fill in your e-mail so we can share with you our top stories!