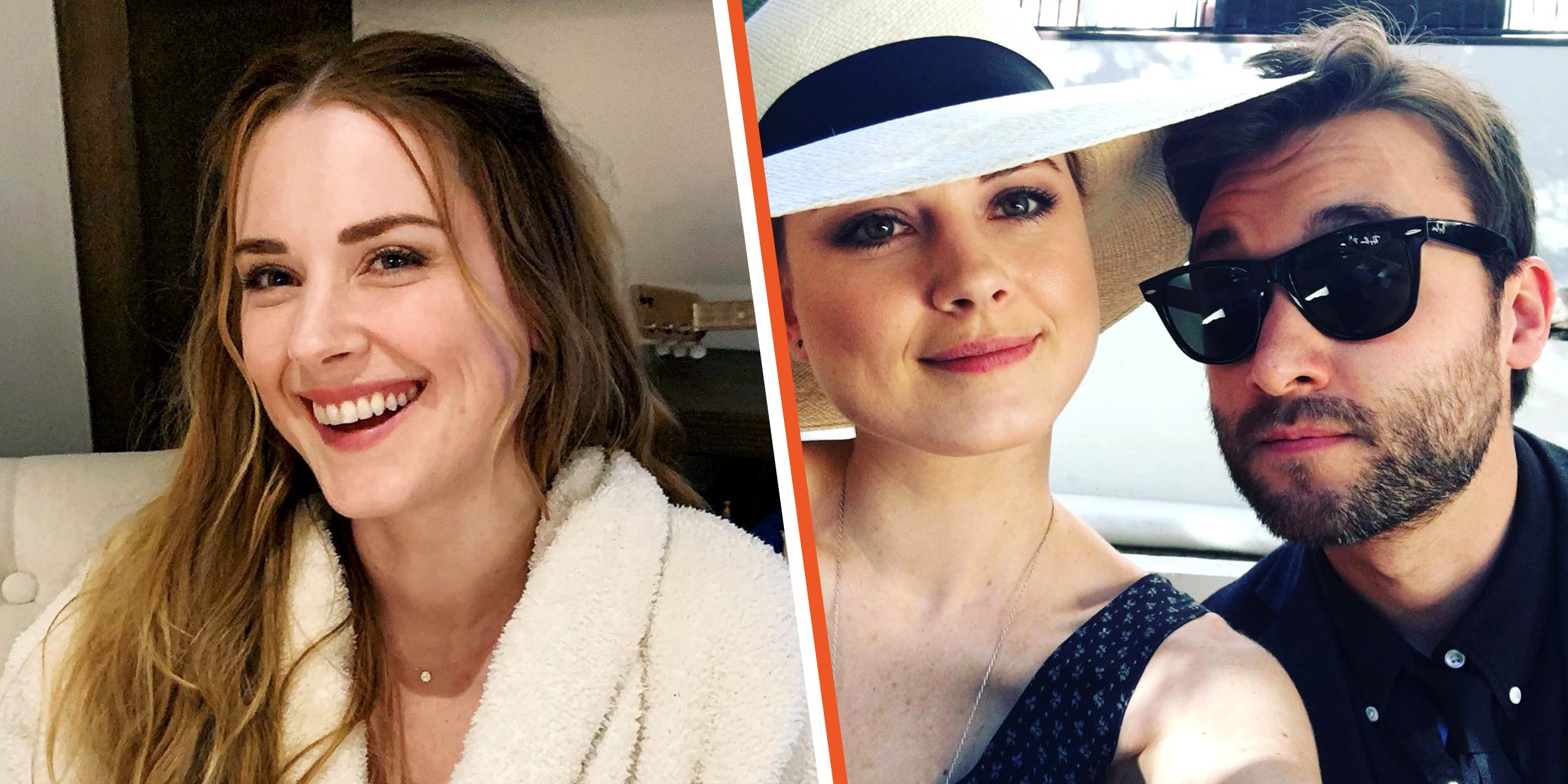 instagram.com/alexandrabreck
Inside Alexandra Breckenridge's Relationship with Husband Casey Hooper
Actress Alexandra Breckenridge's husband of six years, Casey Hooper, seems to be a well-known artist in his own right. Hooper is a guitarist for one of the most recognized and famous musicians in the music scene.
Born in Des Moines, Iowa, on July 16, 1986, Casey Hooper is clearly a very talented musician as he's Katy Perry's guitarist. Hooper has been the lead guitarist for the well-known and award-winning pop star for years and has traveled worldwide with the artist.
The talented musician not only plays the guitar, but he's also a performer. In 2015, Hooper performed during Perry's Super Bowl halftime show. He has even been featured in Perry's documentary "Katy Perry: Part of Me."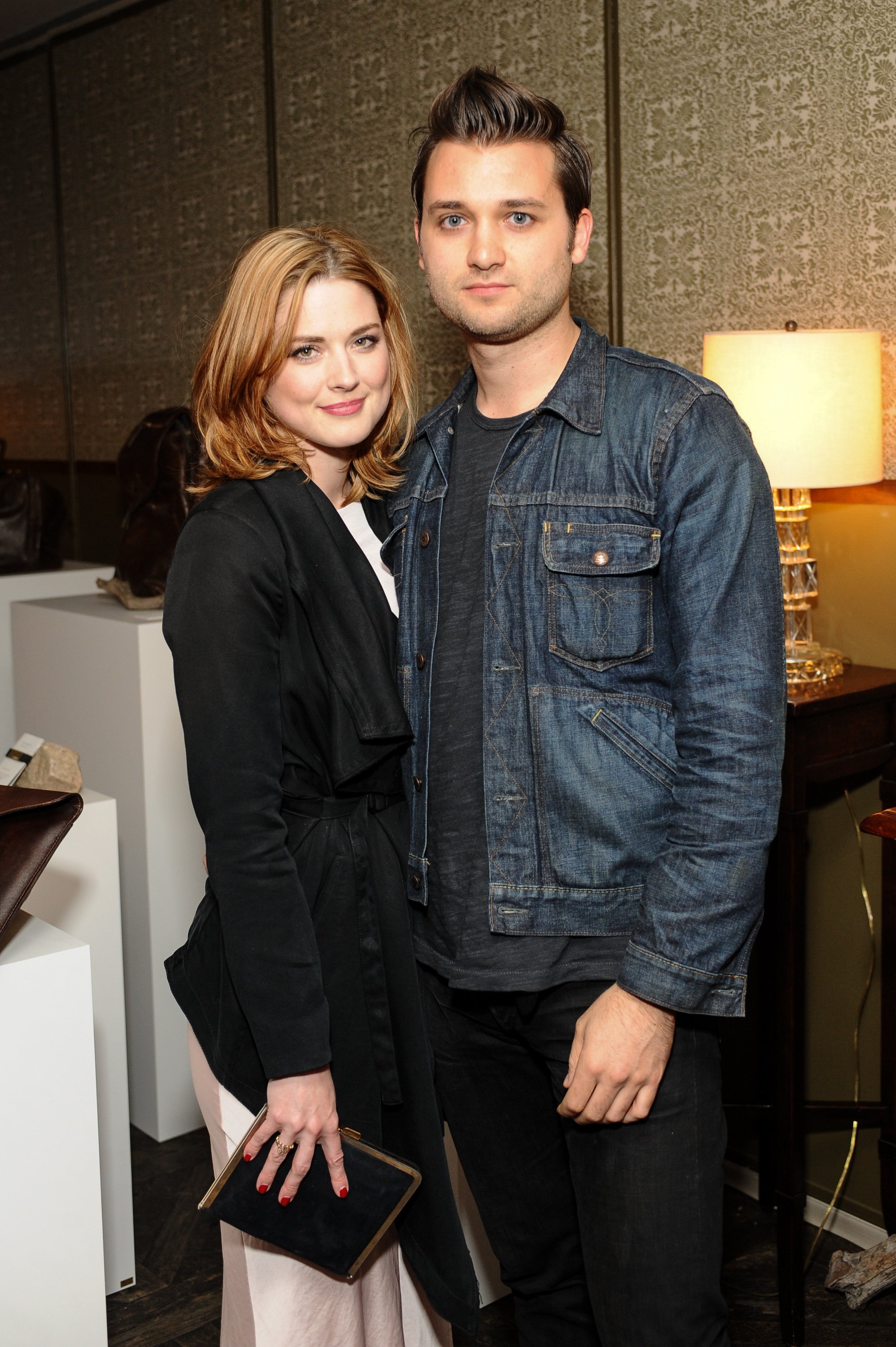 Alexandra Breckenridge and Casey Hooper attend REVISIT Launch Party on April 3, 2014 in Los Angeles, California. | Source: Getty Images
Hooper seems to be winning on most fronts when it comes to his career but is the artist's personal life just as successful. Here's a timeline of his relationship with American actress Alexandra Breckenridge.
We have heard many extraordinary, funny, and amazing stories of how some Hollywood stars met each other and ended up being couples, or even husband and wife. Casey Hooper and "The Walking Dead" star Alexandra Breckenridge's love story began after they first met at a Grammys afterparty.
When they first met, the actress and the musician were both pursuing their respective careers in California. Being a guitarist for such a famous singer, Hooper was, of course, doing worldwide tours with Perry at the time the two crossed paths. And as they say, the rest is history.
It wasn't long before Alexandra Breckenridge and Casey Hooper realized they wanted to spend the rest of their lives together and decided to be tied together for life. They had a very simple yet beautiful intimate wedding in Dunton Hot Springs, Colorado, in September 2015.
Breckenridge and Hooper chose not to have an extravagant wedding as most people do; the pair instead shared their special day with just their close family and friends. They also took the uncommon route of choosing a unique location. The couple's gorgeous wedding took place in a very isolated area that turned out to be the perfect location.
Breckenridge and Hooper tied the knot in the middle of a field, with breathtaking views of mountains and stunning greenery in the background. With nature as the backdrop of their wedding décor, the pair couldn't have chosen a more fantastic way to make their wedding more memorable.
To end the perfect day, the newlyweds ended the celebrations with fabulous fireworks that started their journey as husband and wife with a bang. Their wedding definitely turned out to be an unforgettable affair for them and everyone else – how lovely!
Breckenridge loves posting special messages on her social media to celebrate the couple's wedding anniversary. In 2016, the "This Is Us" star posted a beautiful black and white image of her and Hooper on their wedding day, looking all loved-up. She captioned the photo:
"One year ago today I married my best friend. I can't imagine life without him. @caseyhooper"
In another post Breckenridge shared in 2017, she can be seen in an image with her husband and their wedding guests during the ceremony. She simply said in the caption, "2 years ago today."
Fans usually express their excitement that the couple is still going strong and congratulate them on their union. One said, "Wish you the best life foreverrr," with another commenting, "Aww you guys are sooo adorable together."
Breckenridge and Hooper didn't take long to start a family after they got married in 2015. Nearly a year after the "Virgin River" actress and her guitarist husband tied the knot, they welcomed their child, a baby boy. Their child was born on September 3, 2016, weighing 9 pounds, 1 ounce.
Their healthy newborn was delivered in the hospital with the help of a doula and midwives, and Breckenridge described it as a smooth birth. Breckenridge had been sharing her preparations for her baby's birth with her fans on Instagram, including posts about her picking eco-friendly diapers and choosing the perfect stroller.
Breckenridge and Hooper named their first born Jack Breckenridge Hooper; however, this was not the name the couple initially chose. According to Breckenridge, she and her husband picked out a name before their son was even conceived, but she ended up changing it when she was pregnant.
The first time mom instantly fell in love with her bundle of joy. Speaking about her son's birth, Breckenridge said:
"When I first held my baby, the world melted away, and I knew he was the most important thing I'd ever do."
The actress usually posts sweet images of her son on social media, especially on his birthday. On Jack's second birthday, Breckenridge once shared how special her son is and how he has made her a better person. She also expressed she was blessed to know him and proud to be his mother.
DO THEY HAVE A SECOND CHILD?
The "Christmas Around the Corner" star and her other half do have another child, who they were more than happy to welcome not too long after welcoming their son Jack. Breckenridge announced the exciting news that they were expecting their second child in a lovely post in August 2017.
The actress shared a selfie of herself in a maxi dress that showed off her baby bump on Instagram. She accompanied the photo with a funny caption:
"We made another one!! Baby Breckenridge Hooper coming this winter."
By late 2017, just a few months after Breckenridge's pregnancy announcement, she became a mother-of-two after she and Hooper welcomed their baby girl on December 6. Their little cutey reportedly weighed 7 pounds, 13 ounces.
The couple named the new addition to their family Billie Breckenridge Hooper, and she was born when their eldest child Jack was 16 months old.
The birth of Breckenridge's second child was an answered prayer as the star reportedly admitted she was hoping to have a baby girl. This was not because she didn't love boys but another reason, which she revealed by saying: "I was just scared of having another [boy] because Jack has so much energy and I just thought with two of them I'd never be able to keep up."
The doting mom is also smitten with her little girl Billie and loves sharing adorable images of her. She once posted a cute snap of them together with the pair wearing black sunglasses – what a fantastic mother-daughter duo.
THEIR HOME IS A SWEET FAMILY NEST
Alexandra Breckenridge's husband and the actress have built a sweet family nest as a home. The "American Horror Story" star and guitarist Hooper reside in a serene community outside Atlanta, Georgia.
They live in an exquisite two-story home that they revamped after Breckenridge described the style of the house as "more traditional." With the help of Hooper's mom, Rebecca Cartwright, an interior designer, the couple made the house more modern and relaxed.
The look of the house is said to be highly influenced by the California lifestyle and has "an eclectic, boho look." It's filled with the perfect personal touches such as beautiful photos and stunning wallpaper.
Breckenridge has created a cozy and loving home with her husband and two kids. She has expressed how much she values her family – especially how lucky she is to have Hooper as her partner.
The actress is not scared of being vocal about having a husband like Hooper by her side. In early 2018, she told Good Housekeeping:
"Let me also say that my husband is incredible — I'm a lucky girl!"
Breckenridge frequently shares how happy the couple is by posting sweet images on social media. One particular picture she posted was of her and Hooper dancing together. In the caption, she said: "Danced into 2021. More like danced till 9:30 and wanted to pass out."
Clearly, the amazing couple has a lot of fun together and is enjoying the beautiful love they share. We hope they stay happy together for a long time to come.
Please fill in your e-mail so we can share with you our top stories!