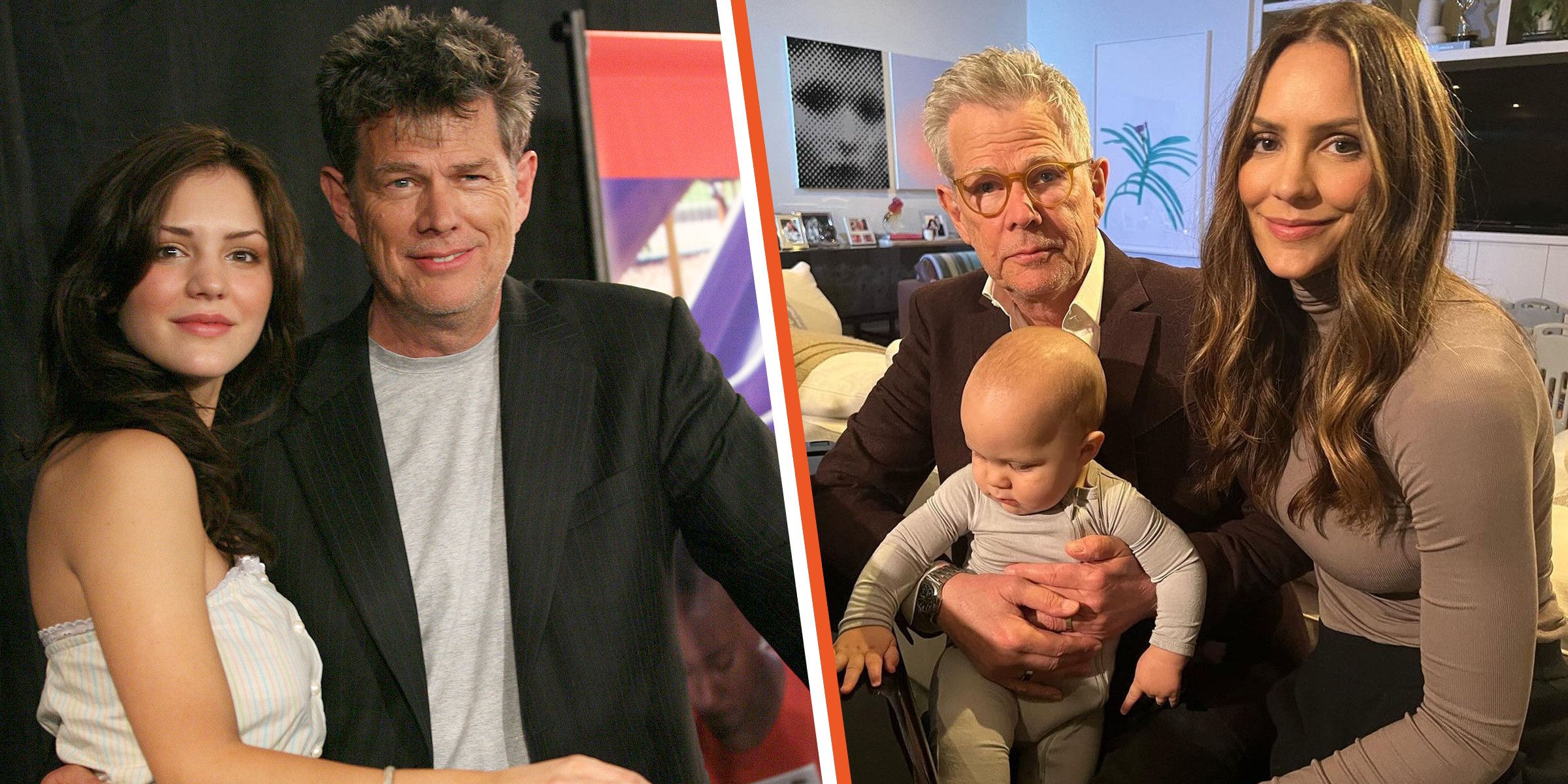 Instagram.com/katharinefoster - Getty Images
David Foster Was Invited to Wife's 1st Wedding — Years Later They Wed & Had a Son despite Their 35-Year Gap

Music composer David Foster and his wife, Katharine McPhee, worked together as friends for years before establishing a romantic relationship. After they divorced their respective spouses, they realized they had feelings for each other.
Canadian musician David Foster met his future wife, singer-songwriter Katharine McPhee in 2006 when she was a contestant on season 5 of "American Idol." She was 21 at the time.
McPhee performed a song by the late Whitney Houston, "I Have Nothing," which he wrote. Foster and operatic tenor Andrea Bocelli helped McPhee with practice.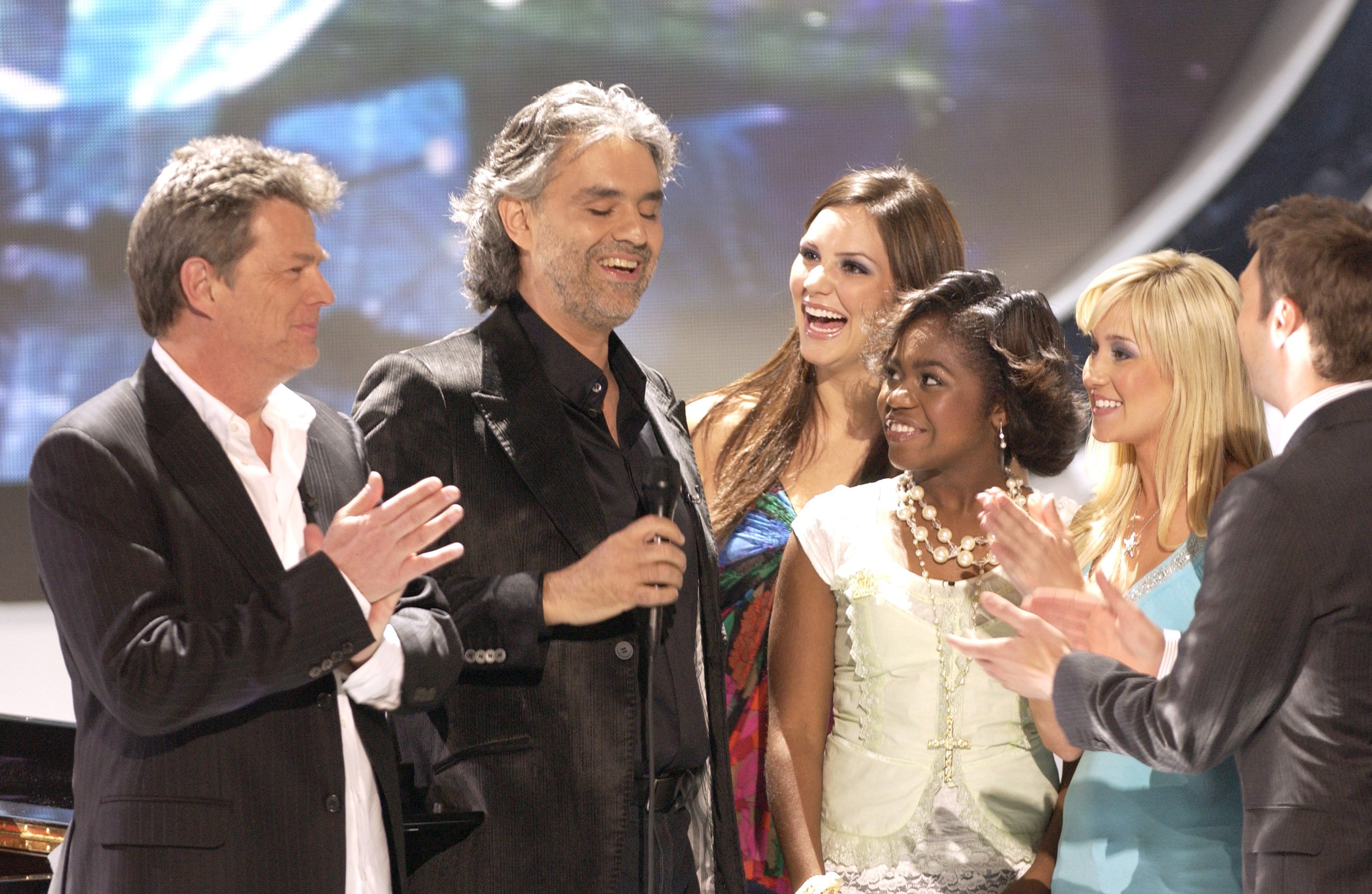 Musicians David Foster, Andrea Bocelli pictured with the top 6 finalists, Katharine McPhee, Paris Bennett, Kellie Pickler, and TV host Ryan Seacrest during "American Idol" Season 5. | Source: Getty Images
McPhee finished as a runner-up in the singing competition, and soon, she and Foster were pictured side-by-side at several public events between 2006 and 2008.
Foster also produced the California native's first post "Idol" single, a cover of "Somewhere Over the Rainbow," released in June 2006. From thereon, the duo formed a friendship.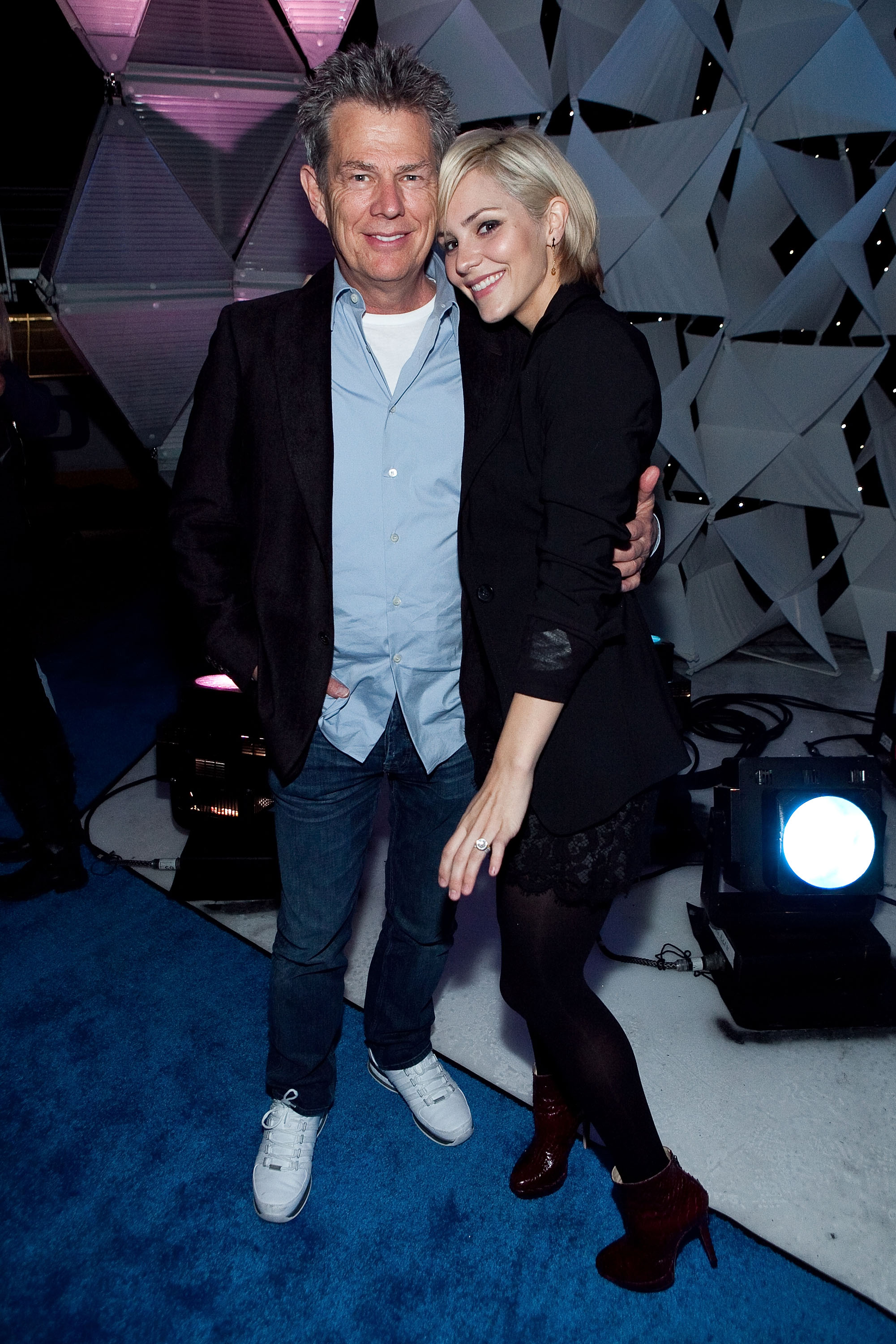 Music producer David Foster and singer-songwriter Katharine McPhee at the "Kaleidoscope" at Verizon Center on November 16, 2009 in Washington, DC. | Source: Getty Images
When McPhee married her first husband, producer Nick Cokas in February 2008, she invited Foster to their wedding. As she serenaded her then-spouse with Natalie Cole's "Unforgettable" rendition, the actress had Foster play the piano.
She sang while standing on the staircase beside the grand piano, wearing her lace bodice wedding gown, as Foster focused on playing the musical instrument.
Around this period, Foster was in a relationship with Dutch model Yolanda Hadid, whom he started dating in 2006 and married in 2011.
FOSTER & MCPHEE DIVORCED THEIR SPOUSES
Unfortunately, McPhee filed for divorce from Cokas in 2014 following a year of separation. Their divorce was finalized in 2016, per E! News.
In 2015, Foster and his wife, reality star Hadid, divorced after four years of marriage. Their legal separation was finalized in 2017.
During that same period, Foster and McPhee made public appearances together. The pair attended and performed at the Grammy Museum's third annual gala in September 2017, held at The Novo in Los Angeles.
Per People, Foster's daughter, Erin, who is notably older than McPhee, posted photos of the duo from the event on her Instagram Story. She wrote that she was "excited about my new step mom" and "my parents."
In response to the social media post, an anonymous insider told People that the record producer and the "Over It" singer were not an item.
The source explained that Erin's posts were mainly playful and primarily directed at people who suggested that Foster and McPhee were more than colleagues.
Be that as it may, McPhee and Foster made their relationship official at the Met Gala in May 2018. They got engaged the same year in July 2018 while on a European vacation.
The "Carrie" star confirmed the news on Twitter by sharing a ring emoji. McPhee later posted a text exchange with Just Jared founder Jared End wherein she revealed that the 16-time Grammy Award winner proposed at the top of a mountain in Anacapri.
THE COUPLE FACED BACKLASH OVER THEIR ROMANCE
Though she seemed thrilled they were engaged to be married, McPhee admitted on "Dr. Berlin's Informed Pregnancy Podcast" in March 2021 that she was initially skeptical about pursuing a relationship with Foster.
The hesitation came with the fact that they have a 35-year age difference. McPhee said she was more worried about what people might think about their relationship:
"It took me a while to kind of come around to really want to have a real serious relationship because I was very concerned with what people would think, and I wasn't there yet either."
McPhee explained that she had been single for a year before pursuing a romance with Foster. But because they had known each other for so long and knew that he liked her, it still took some time for her to digest their newfound love.
"The House Bunny" star shared it is easy for people to take things at face value and judge. Hence, she said that she understood where the judgment came from:
"I totally get the judgment initially, but things are never as they appear, things are never exactly as they appear, and I'm in love with our love story, and that's all that matters."
Meanwhile, her husband told People in February 2022 that he was unfazed by all the scrutiny surrounding their romantic relationship because they had things figured out.
Foster revealed that people always reference him and his wife whenever the subject of the age gap comes up. He noted that a significant age gap could become a factor in a marriage falling apart.
"There are so many things that can bring a marriage down, and the age difference is just one of them. There are so many things that can go wrong. We think we have it pretty together," said Foster.
Moreover, there have been allegations that McPhee married him for money. But she defended herself from the accusations saying her relationship with Foster was complete the opposite of what people were perpetuating.
FOSTER & MCPHEE ARE HAPPILY MARRIED WITH A CHILD
Despite the constant nay-saying, McPhee and her spouse are happily married. The couple wed on June 28, 2019, and just hours before the wedding, the then-bride-to-be posted a throwback video of her singing on stage.
The clip featured a band and Foster playing the piano while McPhee sang her heart out to "Somewhere Over The Rainbow," a song she divulged was produced by the music executive:
" Life is full of beautiful coincidences, isn't it? Thank you for taking me over the rainbow, David."
The lovebirds wed in the South Kensington district of West London at the Church of St. Yeghiche and had their ceremony planned by Charlotte Kent at Banana Split.
The bride donned a custom-made gown by Zac Posen that featured a strapless sweetheart neckline, including multiple layers of antique white striped tulle.
Meanwhile, the groom wore a tux by Stefano Ricci for their special day, which consisted of 150 guests, including his five daughters from previous marriages.
Foster and McPhee started their own family when they welcomed their first child together, a son named Rennie, in 2021. "Kat McPhee and David Foster are the proud parents of a baby boy," her rep told Us Weekly at the time.
Foster is currently in his seventies, and apart from having five adult daughters, he also has seven grandchildren. When talking about being a father again at his age, "The Best of Me," singer said it felt good being a dad.
The arranger explained that even though it may sound too cliché to say that he had more time, the fact was that he does have more time with his only son, whom he loves equally to his other older kids.
Now that they have settled and are enjoying parenting as a married couple, his wife said she has no regrets about giving their relationship a chance to blossom.
"There was never one day that I ever doubted my decision to be with him. Even if we had an argument or whatever, I'm so crazy in love with him and so grateful. I loved being around him before we were married," McPhee said.
Please fill in your e-mail so we can share with you our top stories!