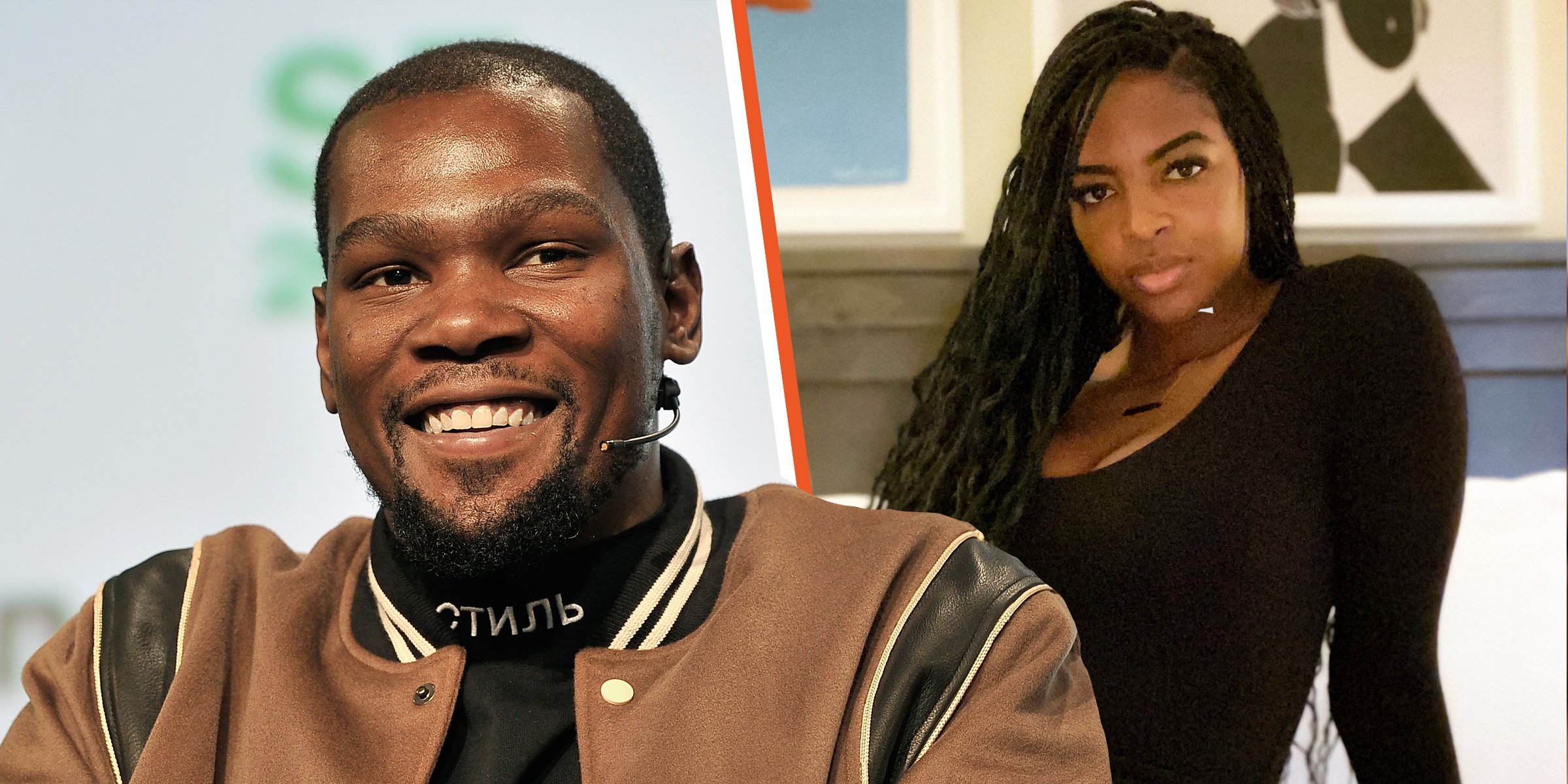 Getty Images | Twitter.com/kiss_dababy
Kevin Durant Girlfriends: NBA Star's Dating History Including Monica Wright & Cassandra Anderson Rumors

As one of the most dominant NBA players, Kevin Durant's girlfriends and personal life frequently make headlines, especially when he is linked to athletes and adult film stars.
Two-time NBA champion Kevin Durant is very private about his love life, but he is no stranger to attracting people's attention on and off the court.
He currently plays for the Brooklyn Nets, but other teams, including the Boston Celtics and the Phoenix Suns, are willing to trade for him. While we wait for Durant to decide where to go, read on and learn about his girlfriends and failed engagement.
KEVIN DURANT'S GIRLFRIEND CASSANDRA ANDERSON – HIS LATEST HIGH-PROFILE RELATIONSHIP
The woman who celebrated with Durant when he won the 2018 NBA Championship with the Golden State Warriors was Cassandra Anderson.
Born in Bakersfield, California, Anderson went to Bakersfield High School and played volleyball. In May 2007, her coach Tom Clarke pointed out that she was the "most dominating player" in Bakersfield.
He described her as a cerebral and athletic player with an impressive reaction time and room for improvement. She was in the top 50 high school prospects in the States and attracted the attention of a few colleges.
The University of Southern California, Las Vegas, and Washington State wanted her to join their teams. However, she committed to the University of Florida.
Anderson visited the campus and loved the players and the coaches, but she also considered that their volleyball team had succeeded before.
At the University of Florida, Anderson studied tourism and recreation and became friends with Doc Rivers' daughter, Callie, who also played volleyball. Anderson was one of the team's most important players and even made it to the SEC academic honor roll. She graduated in 2012.
The first time Cassandra Anderson was described as Kevin Durant's girlfriend was in January 2018, when she began posting photos and videos of the NBA player on her Snapchat profile.
Anderson, a real estate agent for Berkshire Hathaway in California, was spotted in multiple Golden State Warriors games supporting Durant and attended parties with other players' girlfriends and wives.
Lana Rhoades hinted that she went on a date with the future Hall-of-Famer.
FORMER BASKETBALL PLAYER MONICA WRIGHT WAS ENGAGED TO KEVIN DURANT
Durant doesn't share details of his love life, so it is unclear when he and Anderson parted ways. One of the reasons the NBA star is so private about his girlfriends is probably related to his failed relationship with Monica Wright.
Wright played as a point guard for the Minnesota Lynx from 2010 to 2015 before being transferred to the Seattle Storm. She is now focused on her coaching career.
Monica Wright was more than just Kevin Durant's girlfriend. He proposed in 2014 after feeling "the energy" and desire to pop the question. She said yes, but their engagement was short-lived as they broke up a few months later. Durant explained:
"I really didn't know how to, like, love her, you know what I'm saying? We just went our separate ways. […] I didn't love her the right way."
Wright also addressed their separation and admitted she faced criticism for leaving Durant. People thought she was "crazy," but she had to decide on "compromising [herself] as a woman."
The former WNBA player, who is an enthusiastic Christian, felt backed up by God. She said God would reward that she held to what she knew to be true instead of what others thought was a good catch.
Wright added that her engagement with Durant changed their relationship because she began moving in a direction that not many people would follow and sacrifice their lifestyle for.
WHO ELSE HAS BEEN KEVIN DURANT'S GIRLFRIEND?
Apart from Monica Wright and Cassandra Anderson, Jasmine Shine was Kevin Durant's girlfriend, but their relationship was so short that little-to-no information about them was available.
The internet has created multiple rumors about Durant's dating life. In March 2017, he supposedly dated model Brittany Elena. If they did, they kept things away from the spotlight.
[Durant] went on a date to Nobu in Malibu, California, with "The Bay" star Karrueche Tran.
Shortly after leaving Anderson, Durant was linked to Jaden Owens as he liked some of her Instagram posts. Owens is a basketball player for the Baylor University Bears.
Kevin Durant made headlines again in June 2021 after former adult film star Lana Rhoades hinted that she went on a date with the future Hall-of-Famer.
Rhoades revealed on her "3 Girls 1 Kitchen" podcast that she went on a date with a Brooklyn Nets player. Although she didn't name the athlete, she revealed he was a Libra.
Internet detectives looked at the Nets roster and discovered that Durant was the only Libra, so he must have been the mysterious man Rhoades dated.
The podcaster admitted their outing was not what she expected. The NBA star was "boring" and not "spicy enough" for her. If that wasn't enough, he took another woman with him as a "backup," Rhoades added. Durant never addressed Rhoades' claims.
DOES KEVIN DURANT HAVE A GIRLFRIEND NOW?
It is unclear if Durant is currently in a relationship. In June 2022, he went on a date to Nobu in Malibu, California, with "The Bay" star Karrueche Tran.
The actress wore a cut-out purple maxi dress and gold high-heels, while Durant put on a grey Nike shirt with a black collar and a matching hat. They were reportedly in "high spirits" throughout the evening and left the restaurant in different cars.
It is too soon to tell if Tran, who previously dated musician Chris Brown and NFL player Victor Cruz, is Kevin Durant's girlfriend. They would make a beautiful couple.
Please fill in your e-mail so we can share with you our top stories!