Getty Images
Roger and Mirka Federer's Relationship Timeline

Roger Federer is a top-ranked tennis player who has been happily married for over a decade. Mirka Federer and the tennis player tied the knot in 2009. Roger Federer's wife was also in the same sport as her husband before retiring in 2002.
Roger Federer has never been shy in talking about his wife's importance to him. With them both linked to the same sport, Roger and Mirka have become the most well-known couple in the tennis world.
Many would think that Roger is so grateful for his wife's presence in his life because he's so in love with her, but it's more than that. The tennis star revealed in an interview for Caminada how Mirka greatly influenced his career and was a positive force behind his success.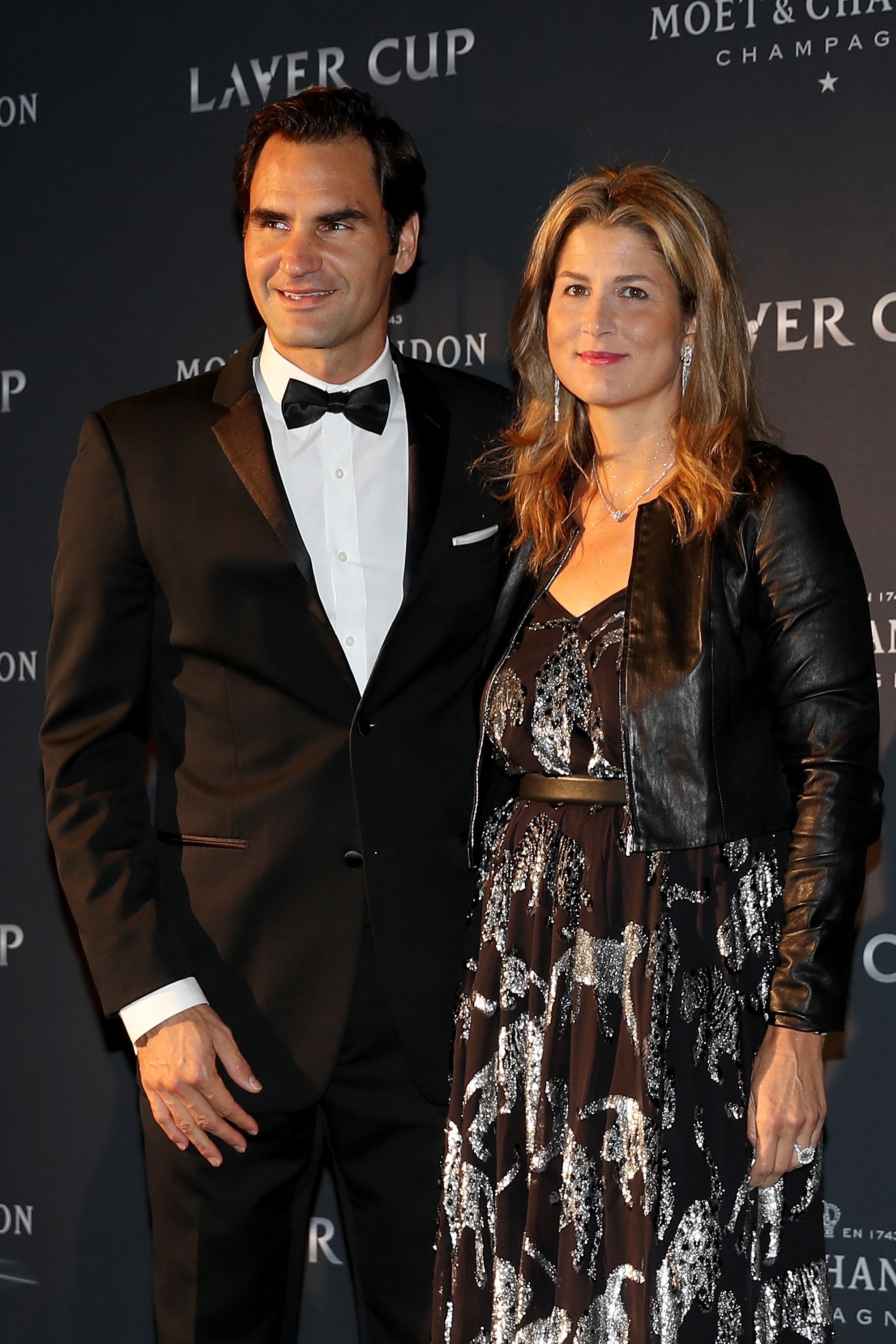 Roger Federer and spouse Mirka Federer arrive on the Black Carpet during the Laver Cup Gala on September 20, 2018 in Chicago, Illinois. | Source: Getty Images
He described his wife by saying, "She is a strong and intelligent woman who has had a huge impact on me both on and off the court. She trusted me and taught me to always do my best."
2000
Roger also spoke about how his wife has always done a fantastic job keeping their family and friends together and never allowing his career to interfere with their daily lives.
He said Mirka showed him the importance of following your path and not focusing on the detractors. Roger also mentioned that their lives are filled with excitement and they joke a lot.
Roger Federer and Mirka Federer met while doing the one thing both of them love – playing tennis. The two happened to be paired up during the Sydney 2000 Summer Olympics while competing as a doubles pair for Switzerland – and that was how their love story began.
Roger and Mirka were 18 and 22 respectively at the time, and after spending two weeks together, the pair eventually kissed in front of wrestlers at a dormitory.
2002
The pair did a great job hiding their relationship as their romance only became public two years later. This was when the couple teamed up for another mixed doubles match in Perth, Australia, at the Hopman Cup in 2002.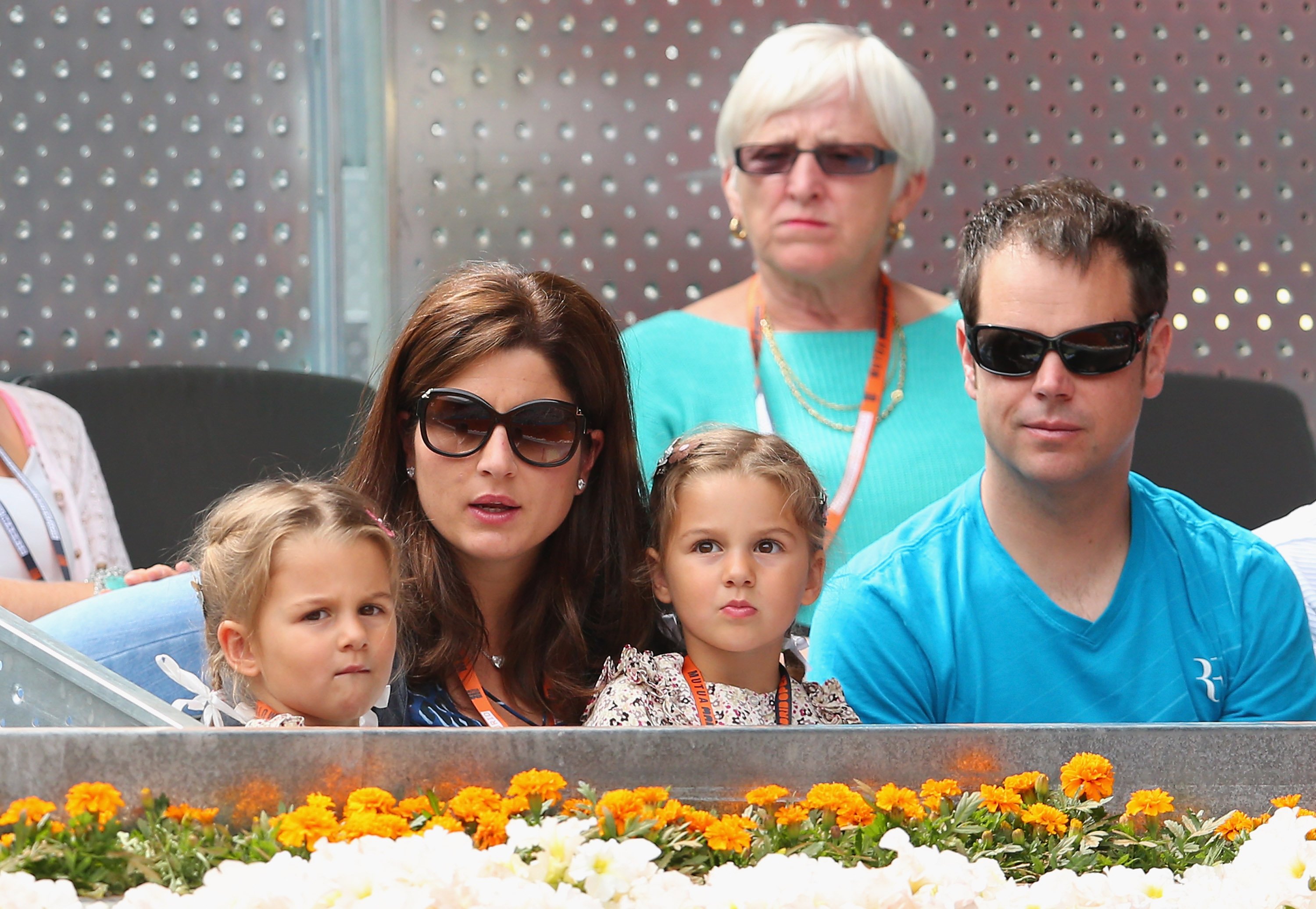 Myla Rose and Charlene Riva with mother Mirka Federer watch as Roger Federer plays during day four of the Mutua Madrid Open tennis tournament on May 7, 2013 in Madrid, Spain. | Source: Getty Images
2009
The one year that was exciting for Roger and Mirka Federer was 2009. This is because the two announced that they were expecting. And that's not all; the lovely couple also walked down the aisle just a few weeks after sharing their pregnancy news.
The expectant parents married on April 11, 2009, at Villa Wenkenhof in Riehen. The newlyweds welcomed twins a few months later. They named their beautiful daughters Myla Rose and Charlene Riva.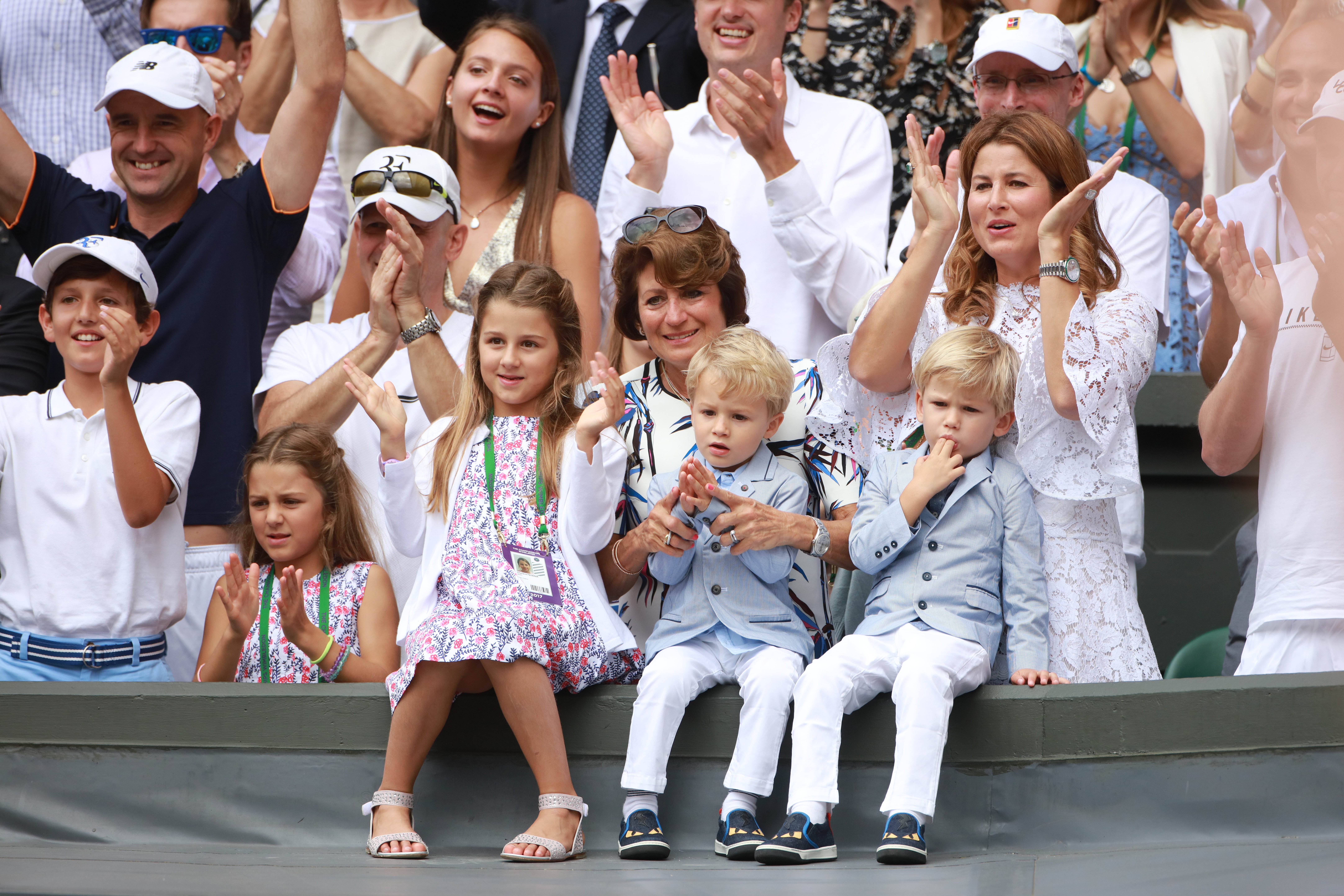 Roger Federer's wife Mirka Federer and their four children, twin daughters Myla and Charlene, twin sons Leo and Lenny, during the Wimbledon Lawn Tennis Championships on July 16, 2017 in London, England. | Source: Getty Images
2014
The next time the couple became parents was in 2014. And the amazing part about it is that they had twins again. This time, Roger and Mirka welcomed two baby boys, who they named Lenny and Leo – how lovely!
2020
In 2020, Roger revealed how he and Mirka have managed to stay married. In a Sunday Times interview, the tennis player said that the couple would have divorced if his wife hadn't retired from tennis when she did. This is because their schedules would have been so hectic that they wouldn't have had time to see each other.
The tennis star is so in love with his gorgeous wife that he also revealed something sweet about them. Roger said he could not sleep without his wife beside him – it must be true love.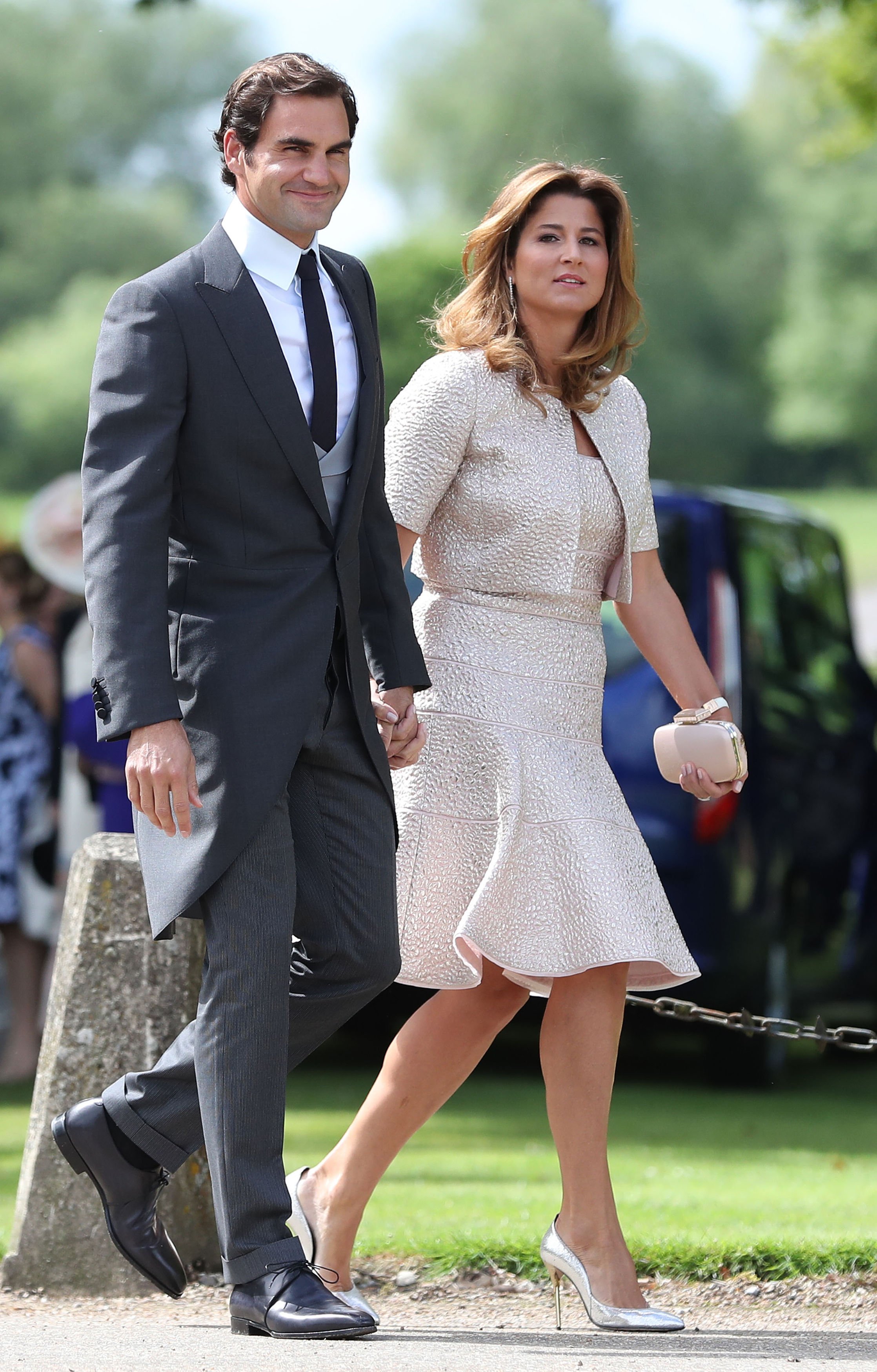 Roger Federer and his wife Mirka arrive ahead of the wedding of the Duchess of Cambridge's sister Pippa Middleton at St. Mark's church in Englefield, Berkshire. | Source: Getty Images
2021
The 20-time Grand Slam winner pulled out of the Tokyo Olympics in 2021; his reason was a knee injury at the time. However, he did express the difficulty of leaving his wife and kids home due to the pandemic and how it could impact his to go to the Olympics.
2022
The tennis star and his wife welcomed another addition to their family in 2022. Roger took to Instagram to share a cute picture of him and their adorable new dog, which they called Willow.
Roger has revealed previously that he was once scared of dogs; however, he said he loves them. Fans loved the post and flooded his comment section, telling them they were happy for him.
ROGER TALKING ABOUT HIS WIFE
Roger Federer continues to appreciate his wife's massive support for his career and revealed that he didn't have any title on the tour when they got together.
Over time, with his wife's guidance and her giving him the confidence to do his best, he started excelling in his career. Even during times when he lost, Mirka always comforted him.
Roger has always had a great support system and said he has his wife and many other people to thank for his huge success. The eight-time Wimbledon champion said:
"My wife has been one of the keys to my longevity, without forgetting all the coaches I have had by my side. I have always been very motivated, which is why I have stayed at a high level for so long."
Roger's wife has tried to ensure she and the kids travel with him whenever possible. The tennis player said his wife has "done a really great job" in his career. She became Roger's manager after she retired in 2002 before they had kids.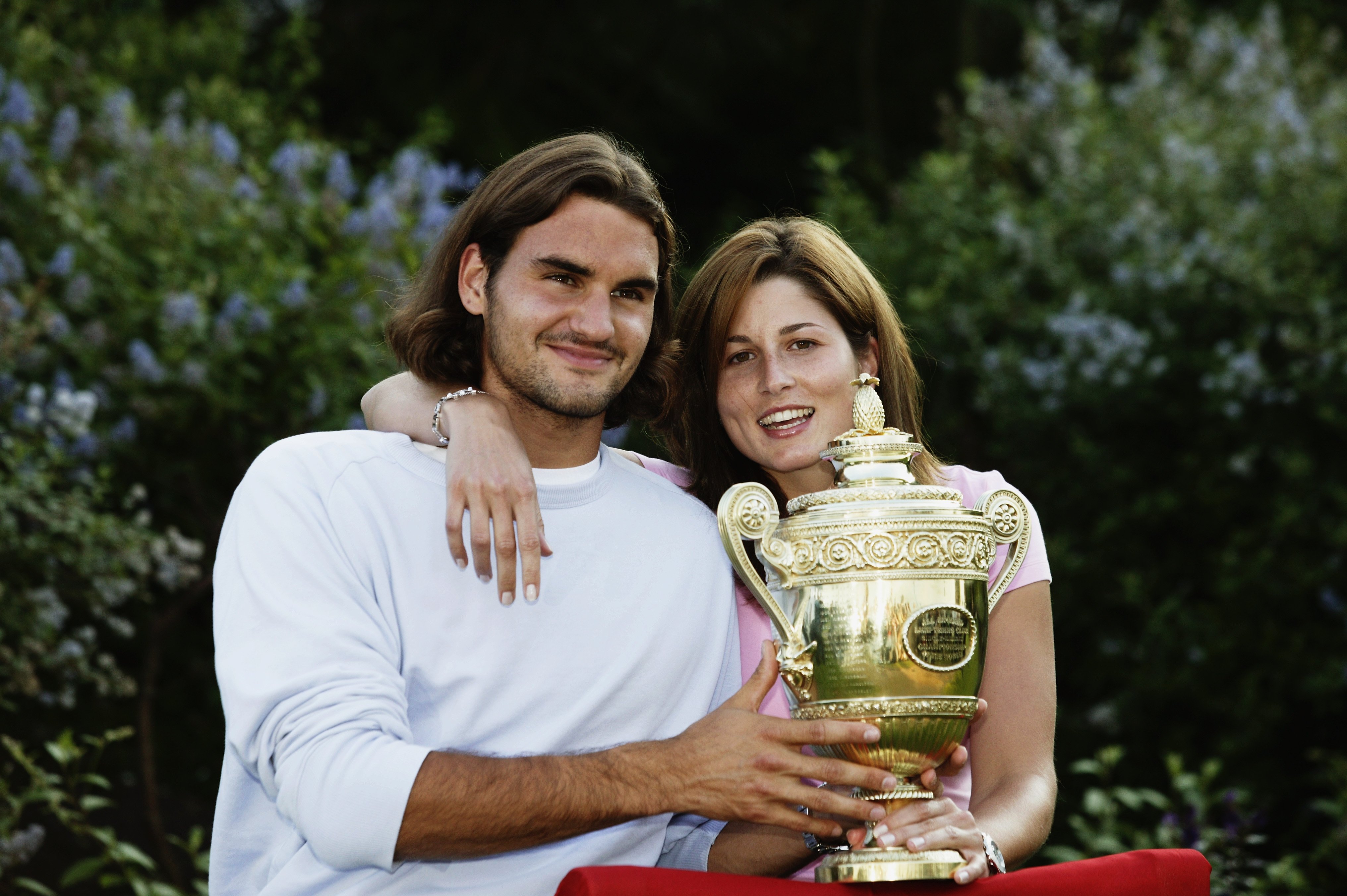 Men's Singles champion Roger Federer poses with Miroslava Vavrinec and the trophy after his victory in the Men's Singles Final during the final day of the Wimbledon Lawn Tennis Championships held on July 6, 2003 in Wimbledon, London. | Source: Getty Images
Roger said his wife has shown up and supported him at every match and training session. He expressed that his wife has always put him first in everything, which has helped them stay connected despite their busy lives.
He gave his wife credit for her incredible work, from raising their kids to supporting him and still having a healthy, happy marriage. According to him, the fact that they both came from a similar background in sports made it easier for them to navigate their lives.
Roger and Mirka definitely seem like the perfect match; we are so happy for them. May they continue to grow in love for each other and their children.
Please fill in your e-mail so we can share with you our top stories!