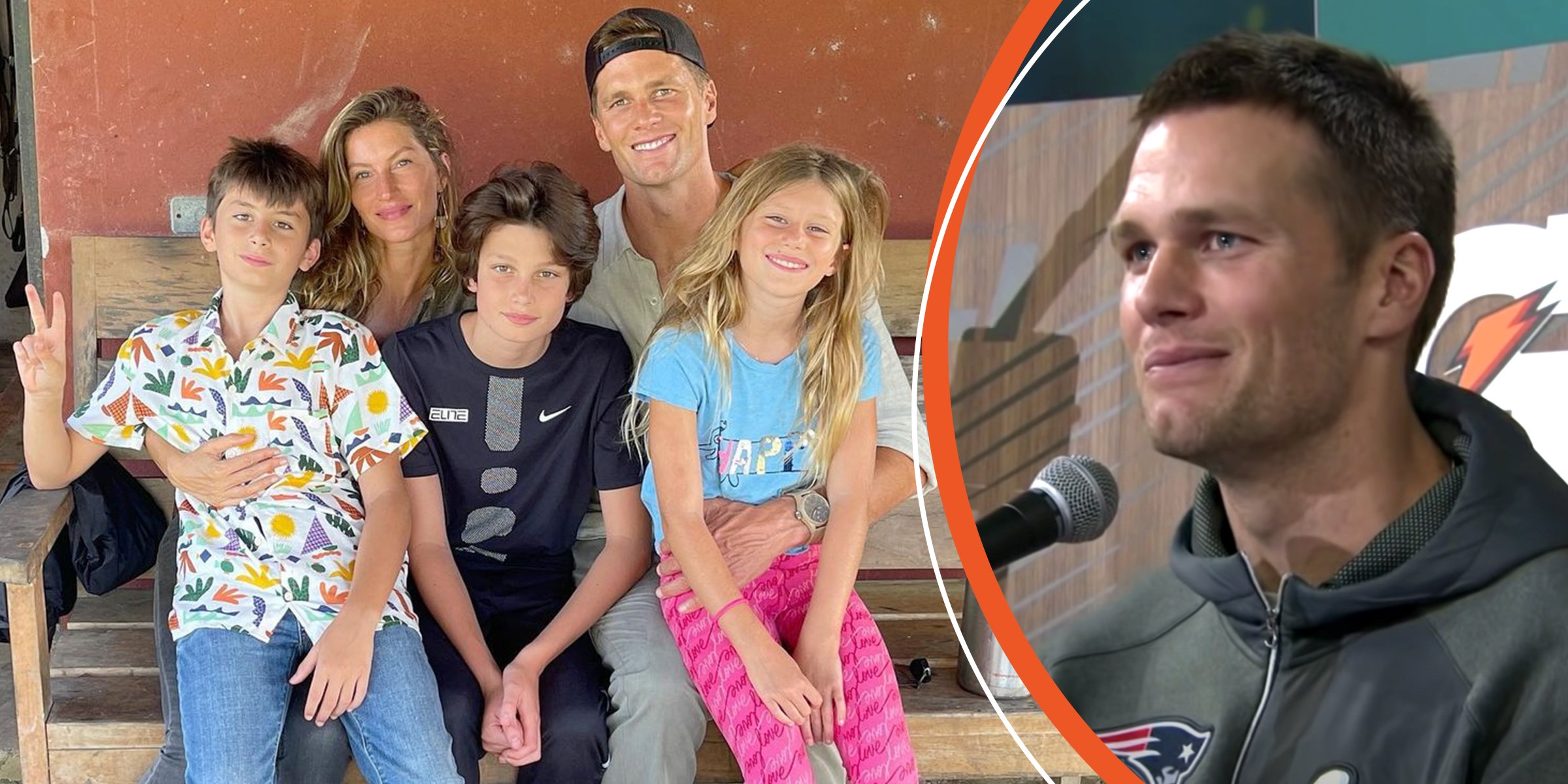 Youtube.com/CBS Boston - Instagram.com/gisele
Tom Brady Said Wealth Made Parenting 'Hardest Thing' after Admitting He's Not as Good of a Dad as His Father

Considered one of the highest-paid athletes in the world, Tom Brady believes his wealth got in the way of his fatherhood goals, making him fall short of his duties to his kids.
American football quarterback Tom Brady has excelled in his career, so much that he ranks among the wealthiest athletes in the country. Much like his career, he has also built a legacy off the field, with a beautiful family comprising three kids from two relationships.
The NFL star shares his two younger kids, Benjamin and Vivian, with model and businesswoman Gisele Bündchen. The duo tied the knot in 2009, welcoming their son, Ben, that same year. Their daughter, Vivian, joined the family three years later.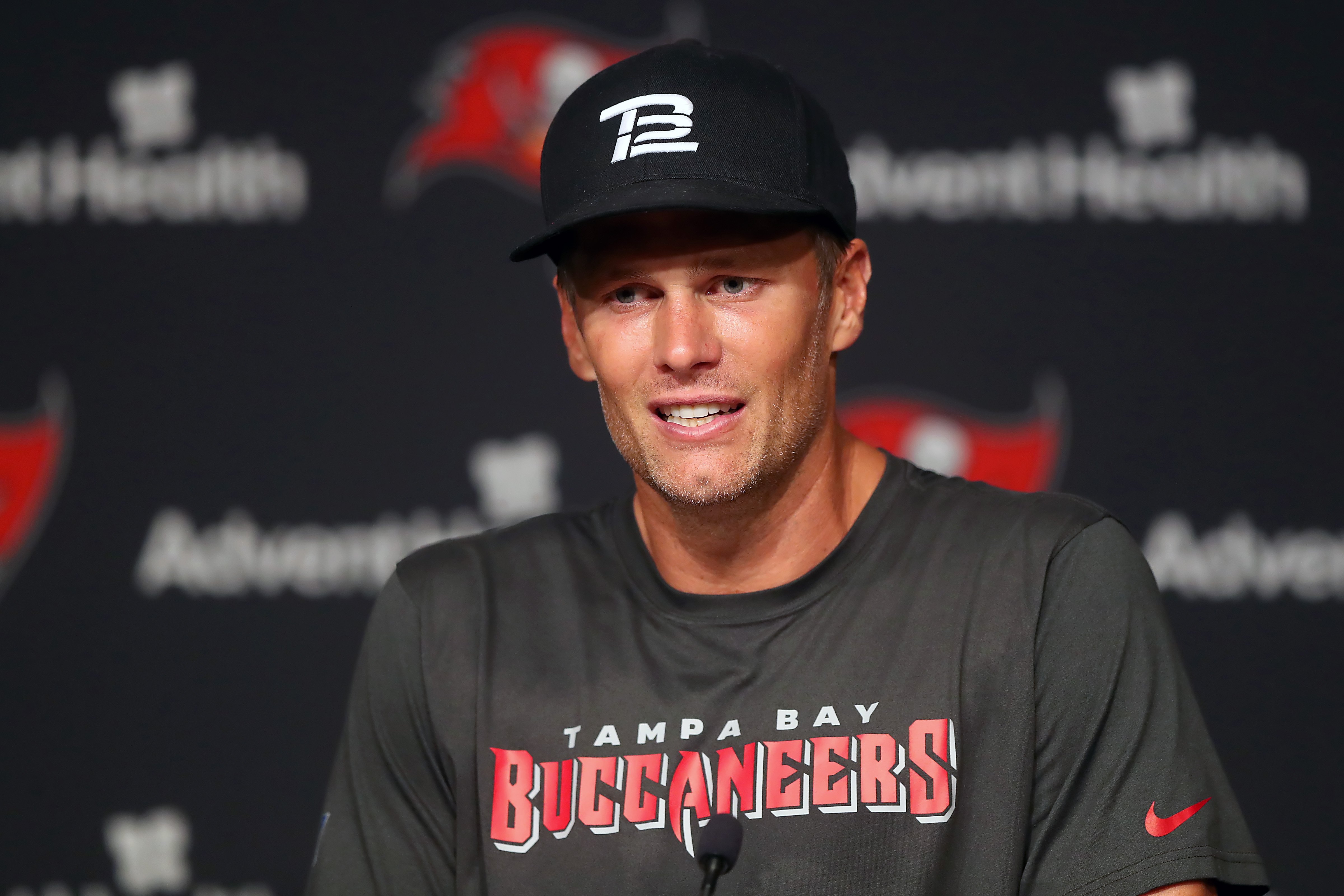 Tom Brady speaks to the media after the Tampa Bay Buccaneers Minicamp on June 09, 2022, at the AdventHealth Training Center at One Buccaneer Place in Tampa, Florida. | Source: Getty Images
Before that, the actor welcomed his eldest son with his ex-partner, Bridget Moynahan. Despite having different moms, Brady has managed to maintain a successful blended family.
His wife, Bündchen, accepts Jack wholeheartedly, who Brady welcomed while they were already dating.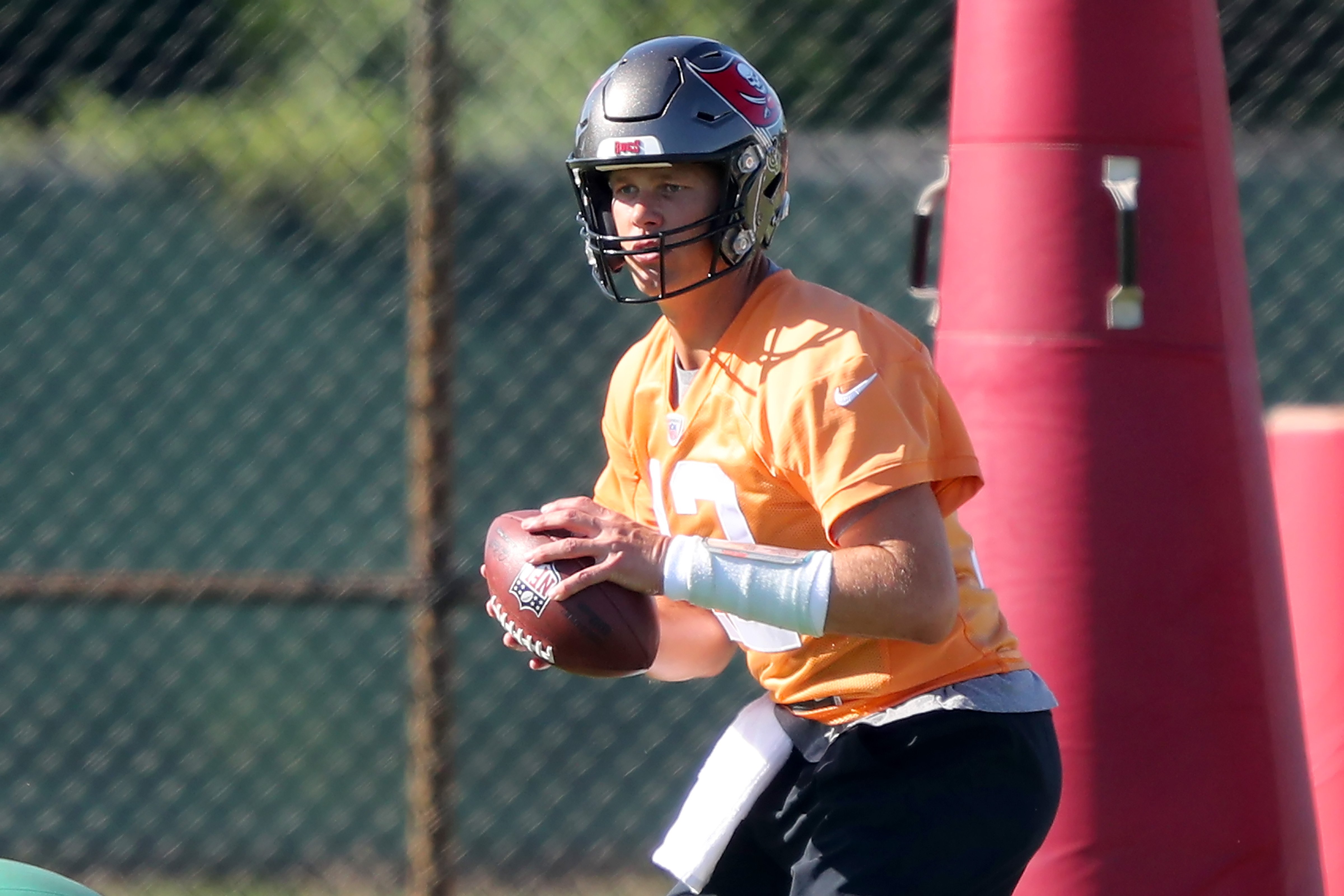 Tom Brady goes through a drill during the Tampa Bay Buccaneers Minicamp on June 07, 2022, at the AdventHealth Training Center at One Buccaneer Place in Tampa, Florida. | Source: Getty Images
Although the news of Moynahan's pregnancy hurt Bündchen at the time, she opted to stick with the football player. She never regretted that decision as she relishes every moment of being a stepmother to Jack.
The supermodel credits her stepson with helping her heart expand in ways she never thought possible. To date, she remains a proud mom and stepmom.
TOM BRADY'S APPROACH TO FATHERHOOD
Like his wife, Brady has also strived to be a great dad to his kids. However, he believes he has defaulted in that aspect despite being the best quarterback the NFL has ever seen.
Brady still struggles with the role with over 14 years of experience in the fatherhood department. The icon believes his career and fame are responsible for making him inadequate as a dad, unlike his dad, who led an exemplary life and was the epitome of a father.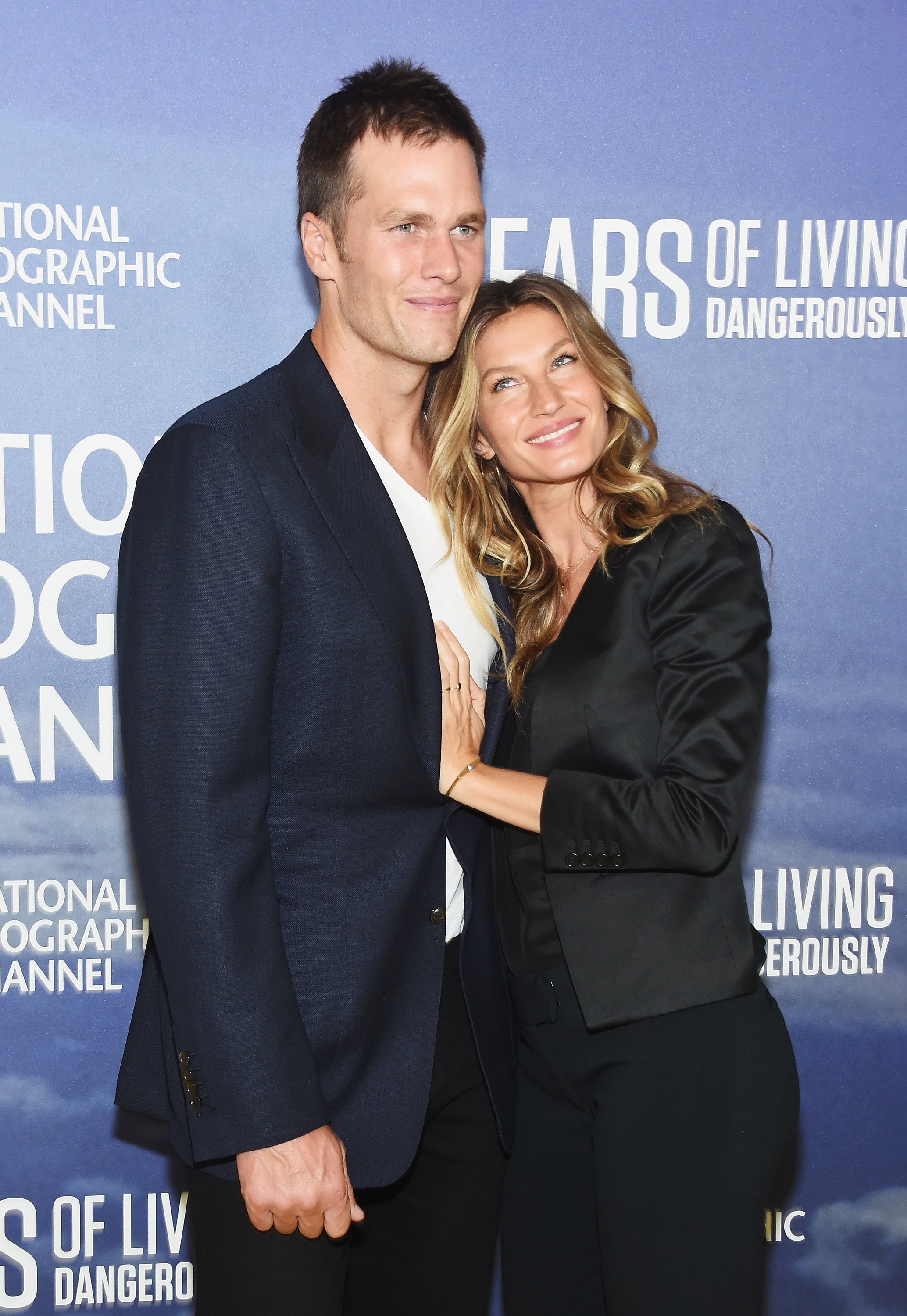 Tom Brady and Gisele Bundchen attend National Geographic's "Years Of Living Dangerously" new season world premiere at the American Museum of Natural History on September 21, 2016, in New York City. | Source: Getty Images
Brady has been open about his relationship with his dad, who was loving, caring, and supportive of him throughout his life. Despite growing up under his dad's guidance, he considers himself nowhere near Tom Brady Sr. He once reflected:
"I know I'm not as good a dad to my kids as my dad's been to me. I use him as my example of how to keep my family together and to care, support, and love."
Knowing his weaknesses, the star resorts to compromise. When it comes to family matters, the athlete gives the reins to his wife while focusing on his career.
So far, Gisele has done a great job at championing the family's well-being while managing her multifaceted career as a model, actress, and entrepreneur.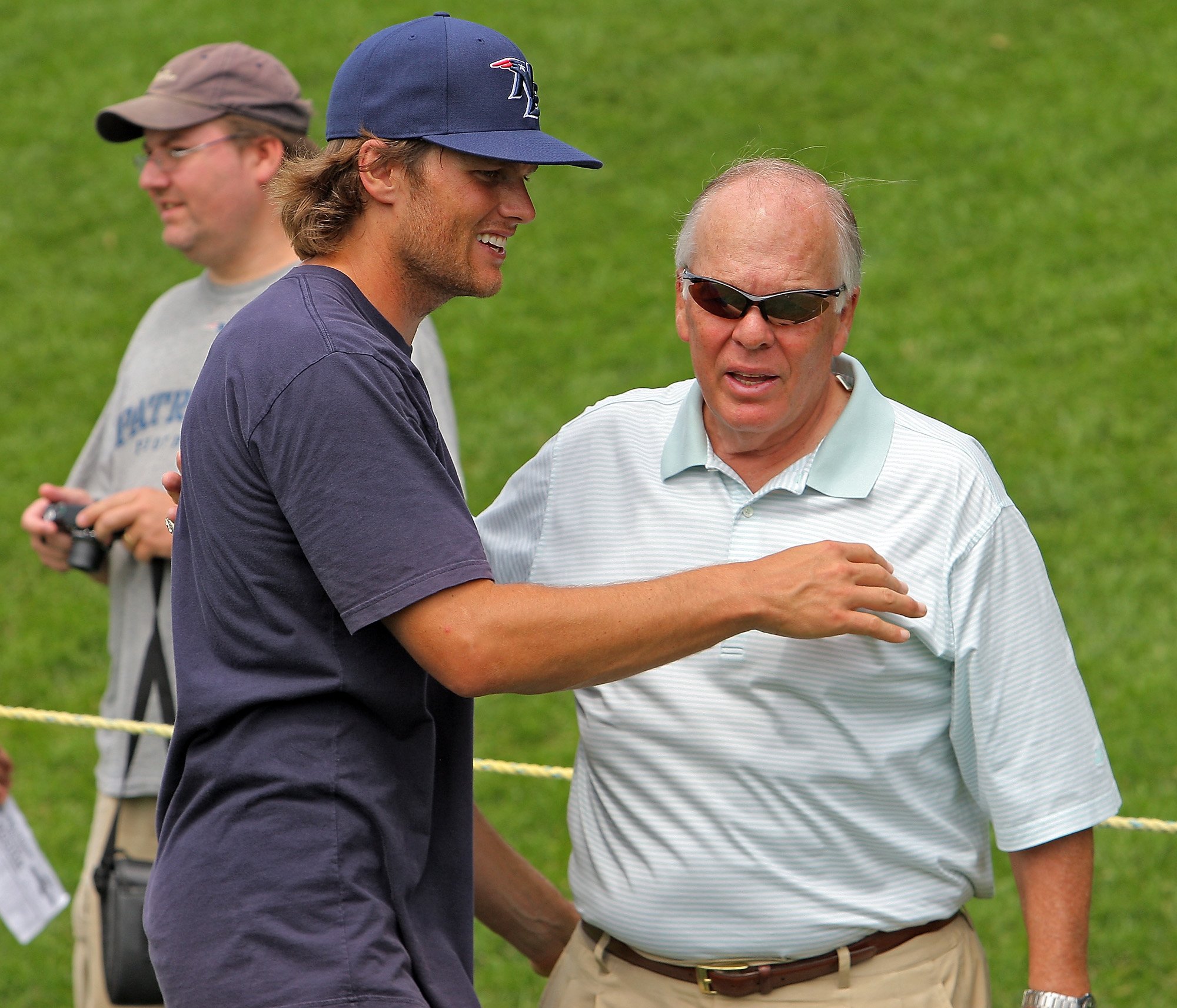 Tom Brady gets a birthday hug from his dad, Tom, at the end of the New England Patriots Training Camp morning session at Gillette Stadium Tuesday, August 3, 2010. | Source: Getty Images
She once was candid about how they handled their family affairs, saying she enjoyed handling the kids while her husband focused on his career. The proud mom appreciates her husband for letting her take the reins and trusting her decisions.
Brady does not mind doing so, knowing his kids are in good hands. In the end, he only wants the best for his kids, which has informed most of his fatherhood choices.
However, the Tampa Bay Buccaneer player feels he might have taken things to the extreme in his quest to do what was best for his children and raise them the right way. He once admitted:
"I think maybe I'd wish my children to find something they love to do like I have. But I think I have taken things to an extreme too."
Yet, he found comfort knowing his wife had his back and was always on hand to make up for the imbalances in his life.
HOW HIS WEALTH HAS AFFECTED HIS PARENTING JOURNEY
Brady and his wife consider their wealth the hardest thing about raising their kids. As a great athlete married to a successful model, Tom Brady's life with Gisele Bündchen meant the family enjoyed fame and affluence.
Having a lot of money at their disposal ultimately meant his kids were exposed to a privileged and luxurious lifestyle from birth.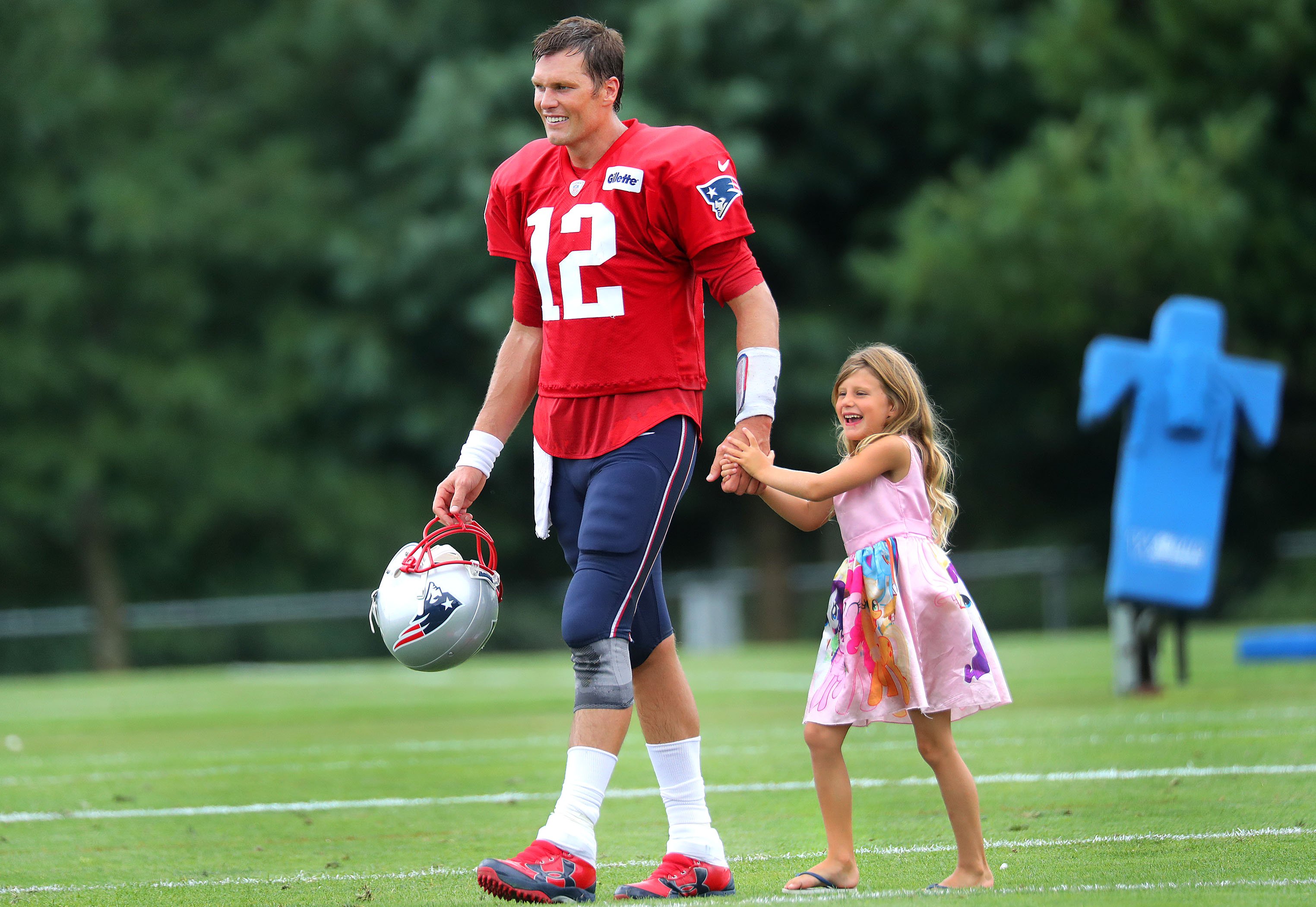 Tom Brady spends some time with his daughter, Vivian, 5, after Patriots training camp at the Gillette Stadium practice facility in Foxborough, MA, on August 1, 2018. | Source: Getty Images
As a result, the star worries his three youngsters will grow up not knowing what it means to lead a normal life. The actor has adopted various means to keep his children grounded. He once divulged:
"That's my kids' reality, which is the hard part to say, 'Guys, this is not the way reality is… What can we do about that?'"
As part of their quest to keep the kids grounded, the famous couple adopts experiences that reflect what most kids go through.
Yet, he realized his privileged children may not fully understand the value of their privileges because they would always have experiences most other kids can only dream of.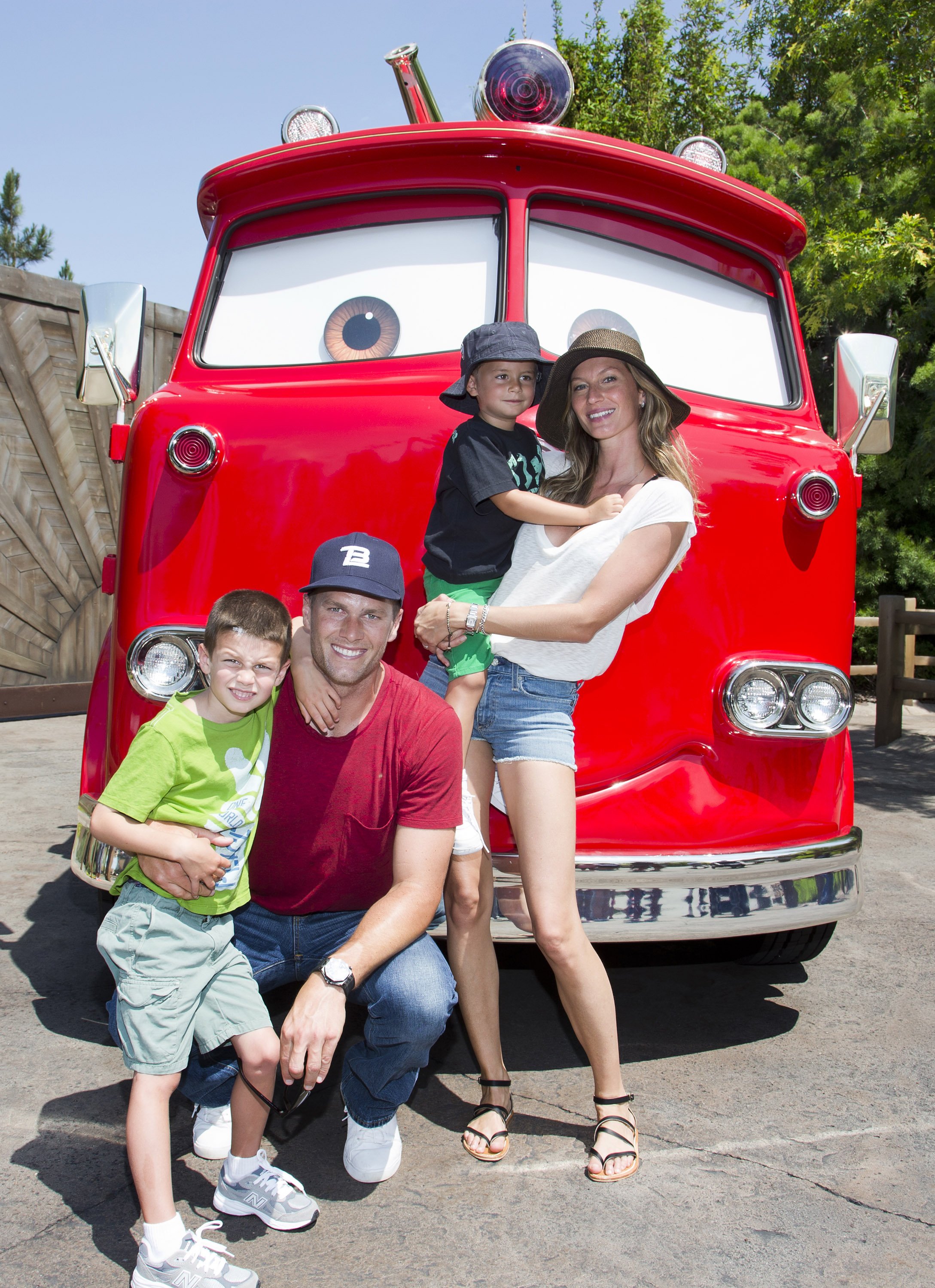 Tom Brady, his son Jack, 5, Gisele Bundchen, and their son Benjamin, 3, pose with Red the Fire Truck at Cars Land at Disney California Adventure park on July 2, 2013, in Anaheim, California. | Source: Getty Images
On the other hand, he and Gisele knew just that and what they have to the fullest, having come from humble beginnings.
Notably, Bündchen, now one of the most famous models in the world, grew up in rural Brazil, where she shared a bedroom with five sisters, while Brady grew up in a middle-class family in California.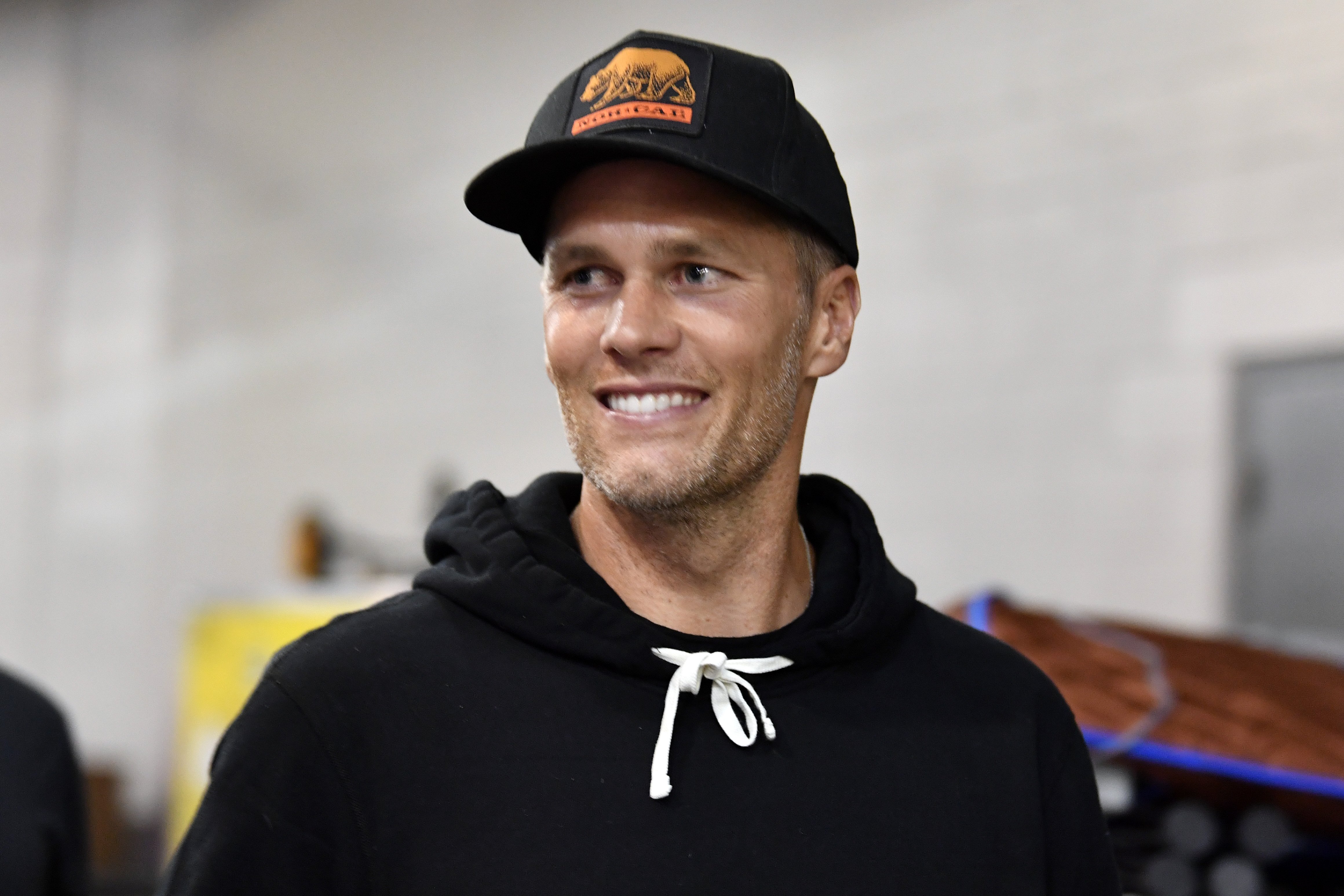 Tom Brady arrives backstage during the UFC 261 event at VyStar Veterans Memorial Arena on April 24, 2021, in Jacksonville, Florida. | Source: Getty Images
Despite what the duo learned while growing up with struggling parents, they have not managed to teach the same to their kids. Brady considers this a failure on his part, admitting he "screwed up a lot of things" regarding his kids' upbringing.
However, he realized his misgivings were only the reality of being a parent and could only hope his kids would recognize the luxuries they experience were just treats as they navigate the real world.
Please fill in your e-mail so we can share with you our top stories!