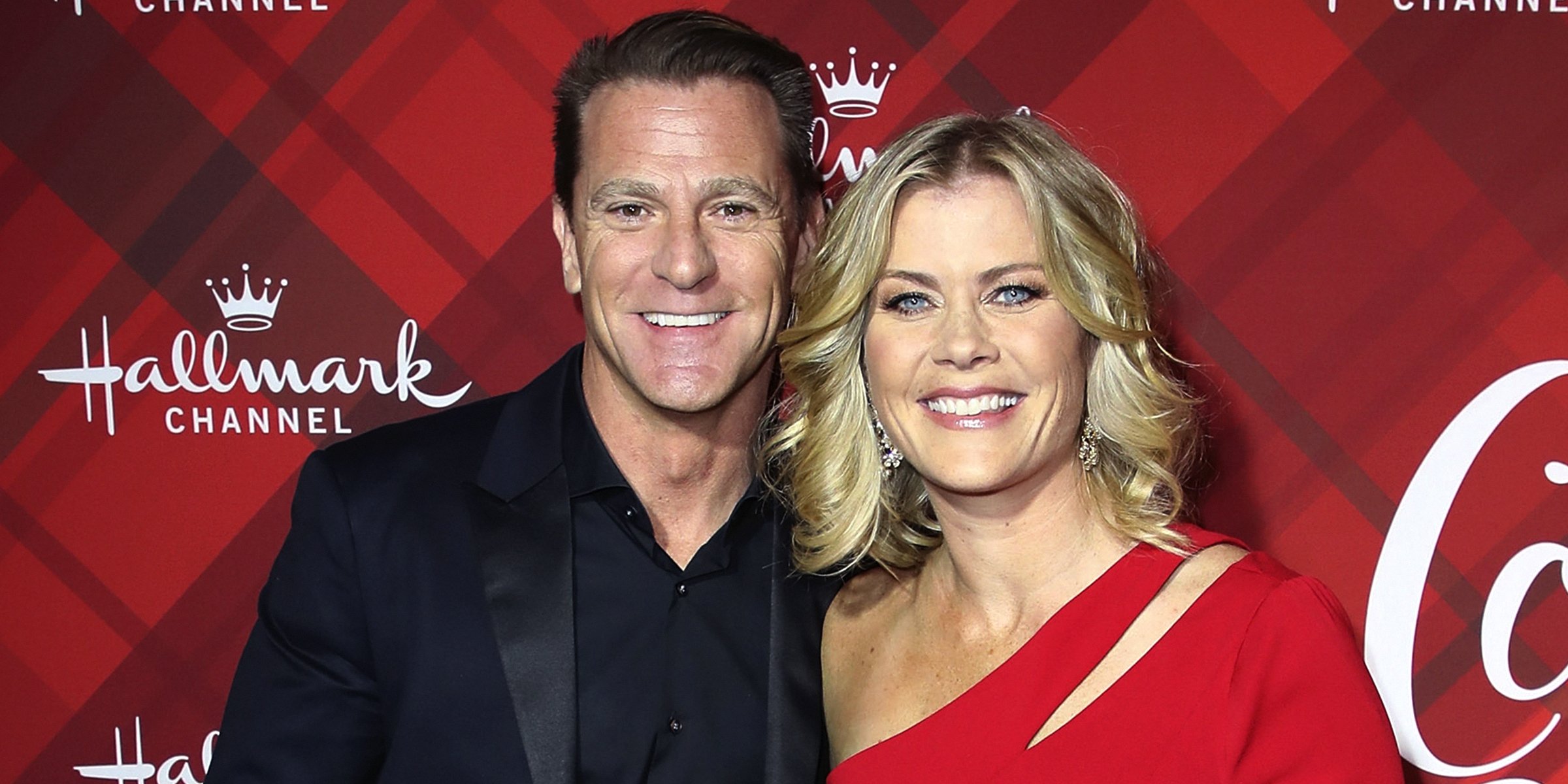 Getty Images
David Sanov Is Alison Sweeney's Husband: Facts to Know About Their Long Marriage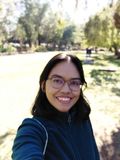 David Sanov, Alison Sweeney's husband, was the actress's childhood friend and her longtime crush. Without her mother's assistance, the couple would not have been together for 20 years. Here are the power couple's secrets to a long-lasting marriage.
Alison, who came to prominence on the soap opera "Days of Our Lives," disclosed one of the strategies that she and her husband use to keep their relationship: evaluating each other's work while celebrating their anniversary.
Some may consider it embarrassing, but Alison's technique proved flawless, and she and David are living testaments to a long-lasting marriage. The longtime pair share two adorable children - Benjamin and Megan Sanov.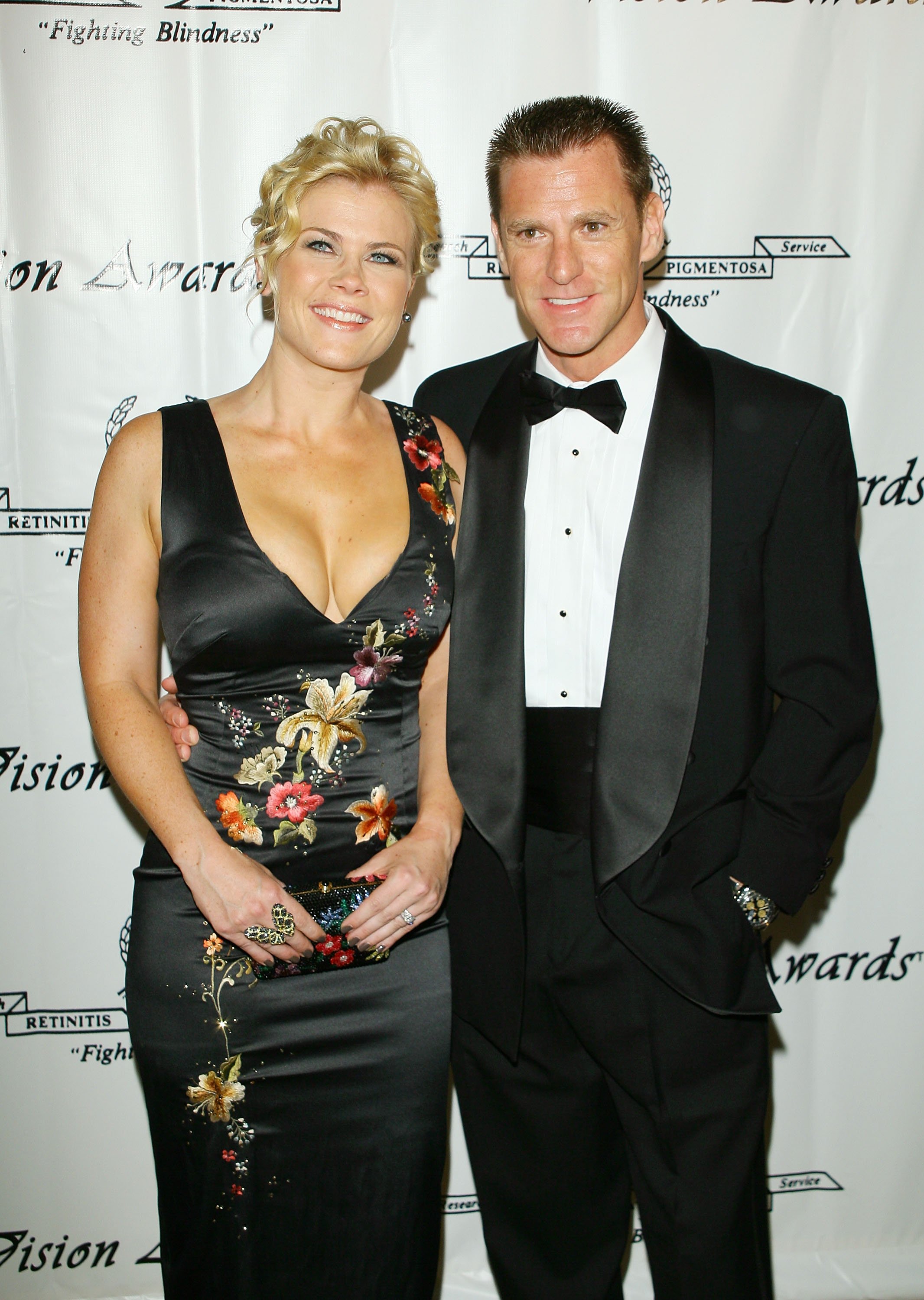 Alison Sweeney and her husband Dave Sanov attend the 36th Annual Vision Awards on June 27, 2009, in Beverly Hills, California. | Source: Getty Images
Alison explained how she and David would mark their anniversary by going out to dinner together every year so that they could reflect on their marriage. She suggested that they each jot down three things they admire most about the other during dinner. She said:
"We kind of give each other a job evaluation, which sounds a little embarrassing!"
They would also provide three more suggestions for areas where they might improve. Even though hearing each other's perspectives felt uncomfortable, the technique would help them grow as a couple.
DAVID SANOV AND ALISON SWEENEY HAVE KNOWN EACH OTHER FROM CHILDHOOD
Alison has been captivated by David for a long time. Most of Alison's supporters are unaware that she and her husband, a former California Highway Patrol officer, have known each other since they were children. She recounted her meeting with her husband:
"His dad and my mom play the violin for feature film soundtracks, so we've actually known each other our whole lives."
Alison and David both eventually became adults and went on to have quite different lives. When she found out that her childhood friend had grown up to become a police officer, she didn't waste any time approaching her mother for help in finding him.
Since they were kids, "The Wedding Veil" actress claimed that she had a massive crush on David. When they finally get in touch, their friendship eventually becomes something more.
THE START OF THEIR RELATIONSHIP AND WELCOMING CHILDREN
Since the late 1990s, Alison and David had been in a relationship, and they tied the knot in July 2000. The couple is proud parents of two adorable children, one of whom, as Alison pointed out, was a surprise.
While the longtime couple takes their parental responsibilities seriously, David and Alison also know how to have fun around their kids
Alison explained that when she went to the hospital for a checkup in January 2009, she did not expect to give birth. She was nine months pregnant then and had just finished filming for the TV show "The Biggest Loser."
What was supposed to be a random medical checkup turned into a plan to give birth immediately. Alison went to the doctor while still wearing makeup. The doctor was worried that her baby would stay in her belly for too long.
Alison, who is also a reality TV show host, shared that when her husband discovered she was about to give birth, he dropped everything and ran to the hospital. Her husband got to the delivery room just as she is about to give birth.
Alison's newest and youngest child, Megan Hope, was born following a labor-induced process. They first welcomed their son, Benjamin, in February 2005, before having a daughter.
It was clear that David and Benjamin were utterly smitten with the new family member. Alison said her son affectionately referred to his younger sister as "cutie pie."
The lives of Alison and her family have undergone a significant transformation. Even though she juggles different schedules, she makes it a point to put her marriage first, even if they now have two children of her own.
Even though they intended to have a wonderful time together, they couldn't help but argue at times. Alison said she had argued with David because she thought he had watched "Survivor" without her knowledge.
Alison thinks it's important for them to watch TV shows together, and David would wait for her at home when she got off work. Besides watching TV, the couple also enjoys traveling and attending concerts together.
ALISON SWEENEY LEFT WORK TO SPEND MORE TIME WITH DAVID AND KIDS
Alison and David do an excellent job of parenting their children together. The mother of two said she and her supportive husband form a "unified front" that Benjamin and Megan cannot play off of.
While the longtime couple takes their parental responsibilities seriously, David and Alison also know how to have fun around their kids. Alison said that their favorite activity to do together is take dance breaks, during which everyone stops what they're doing and dances to the music.
Additionally, the family produced some hilarious dancing videos and recorded them. Alison said it would be a good idea to capture these comedic snippets so they could use them as blackmail when their children are older. Megan is 13, and Benjamin is 17.
In 2014, Alison retired from filming "Days of Our Lives" to spend more time with her family. She made a brief appearance on the show that established her career, but she said that she would not be participating in the show permanently.
Although she liked playing her TV role, she had no plans to continue doing so full-time. Alison famously played the famous character Sami Brody in the widely-praised drama series.
Alison Sweeney is no longer an actor but works as a producer for Hallmark. In addition to taking care of her family, she is responsible for various other activities, such as content creation for the network, which she now finds enjoyable.
Please fill in your e-mail so we can share with you our top stories!