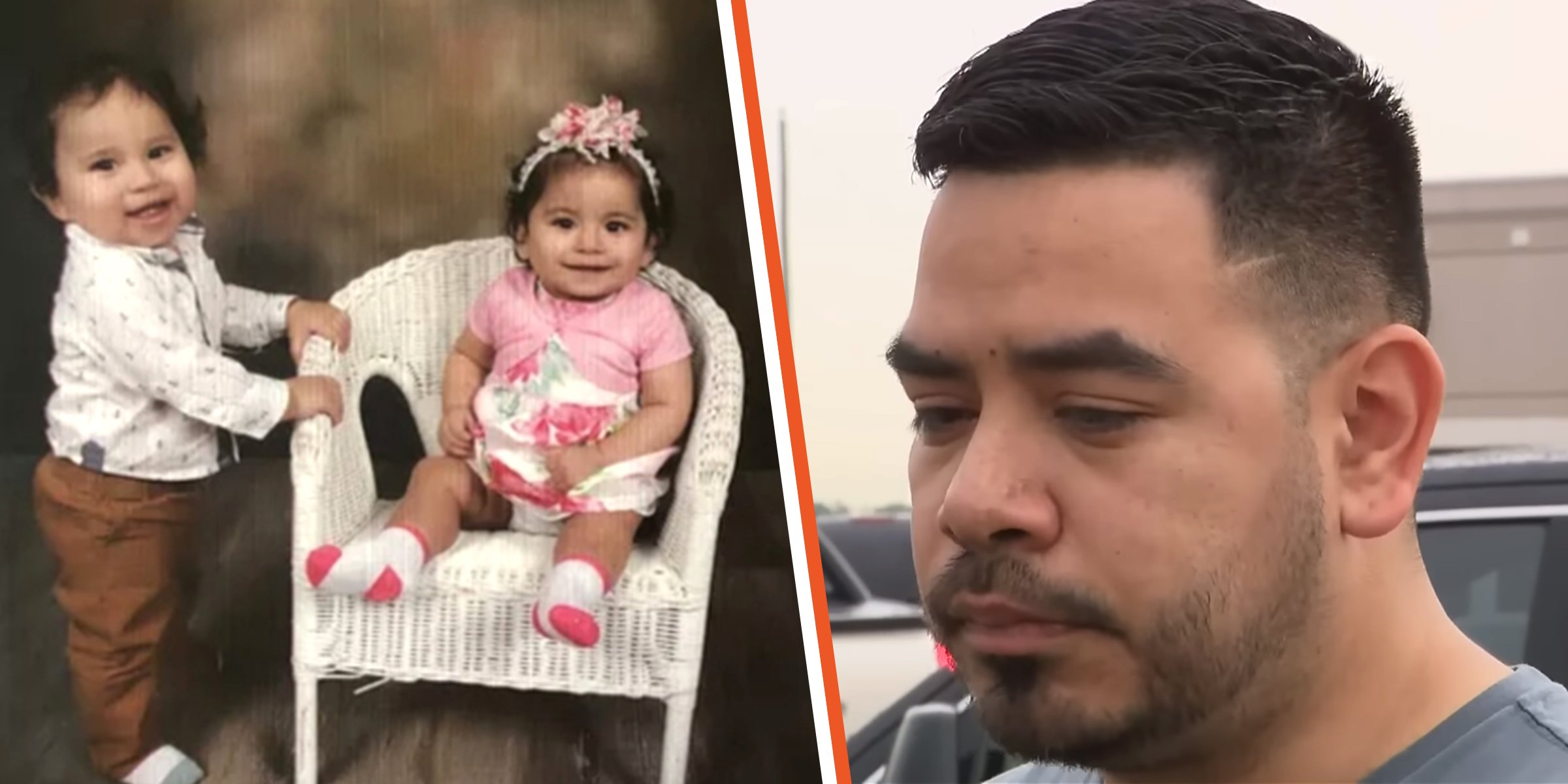 youtube.com/KPRC 2 Click2Houston | gofundme.com
22-Month-Old Boy Dies in Texas Car Crash – Hero Stranger Saves His Twin Sister

Life can often take us by surprise in moments we least expect it. Something similar happened to a family of four when an unspeakable tragedy struck their world one day, turning their lives topsy-turvy.
Nothing lasts forever. Every moment we experience eventually becomes a memory; no matter what we do, we can't rewind time or slow it down. Our only choice is to enjoy life to the fullest and cherish whatever time we have left on planet earth.
Still, there are some things in life we can never be prepared for, like saying goodbye and learning how to go about living our life with the growing pain and void left behind after losing a loved one. The family in today's story underwent something similar and incredibly life-changing.
A LIFE-ALTERING DAY
It was a typical day for the Resendiz family as they sat in the car driving on the roads of Houston, Texas. Grandma was behind the steering wheel with her daughter, Jennifer Resendiz, in the passenger seat and twin siblings — a boy and a girl — in their car seats in the back.
Feeling the pain and grief of the harrowing crash firsthand, Romo broke down and fought back tears as he tried to process what had befallen him.
None of them knew that August 5, 2022, would turn out to be a heart-shattering day that would change their lives most unexpectedly and become a painful memory they would never forget.
LOSING CONTROL
According to Harris County Sheriff's Department deputies, at around 2:30 p.m. on the same day, a female driver lost control of the cement truck she was driving, which eventually fell off an overpass and landed straight onto another vehicle.
Several onlookers at the scene were awestruck and badly shaken as they watched the truck swerve and block the path of other vehicles. One such witness was Raymond Romo, a father and an employee of Century 21.
THE HERO STRANGER
Romo's workplace was located near the Beltway 8 and Woodforest Boulevard intersection in east Harris County. It was a usual workday for him, but what happened that afternoon left a lasting impact on his mind.
The man said he saw the cement truck swerve on the highway to avoid another car on the Houston Parkway, after which it crashed into a concrete barrier. Romo explained that the truck briefly dangled from the overpass while the cars below tried to move out of the way.
As he rushed out of his office, he saw the truck falling forward and landing atop a Ford Expedition that was said to have been occupied by four people. Without thinking, Romo said he ran as fast as his legs would allow to save the family trapped inside the car.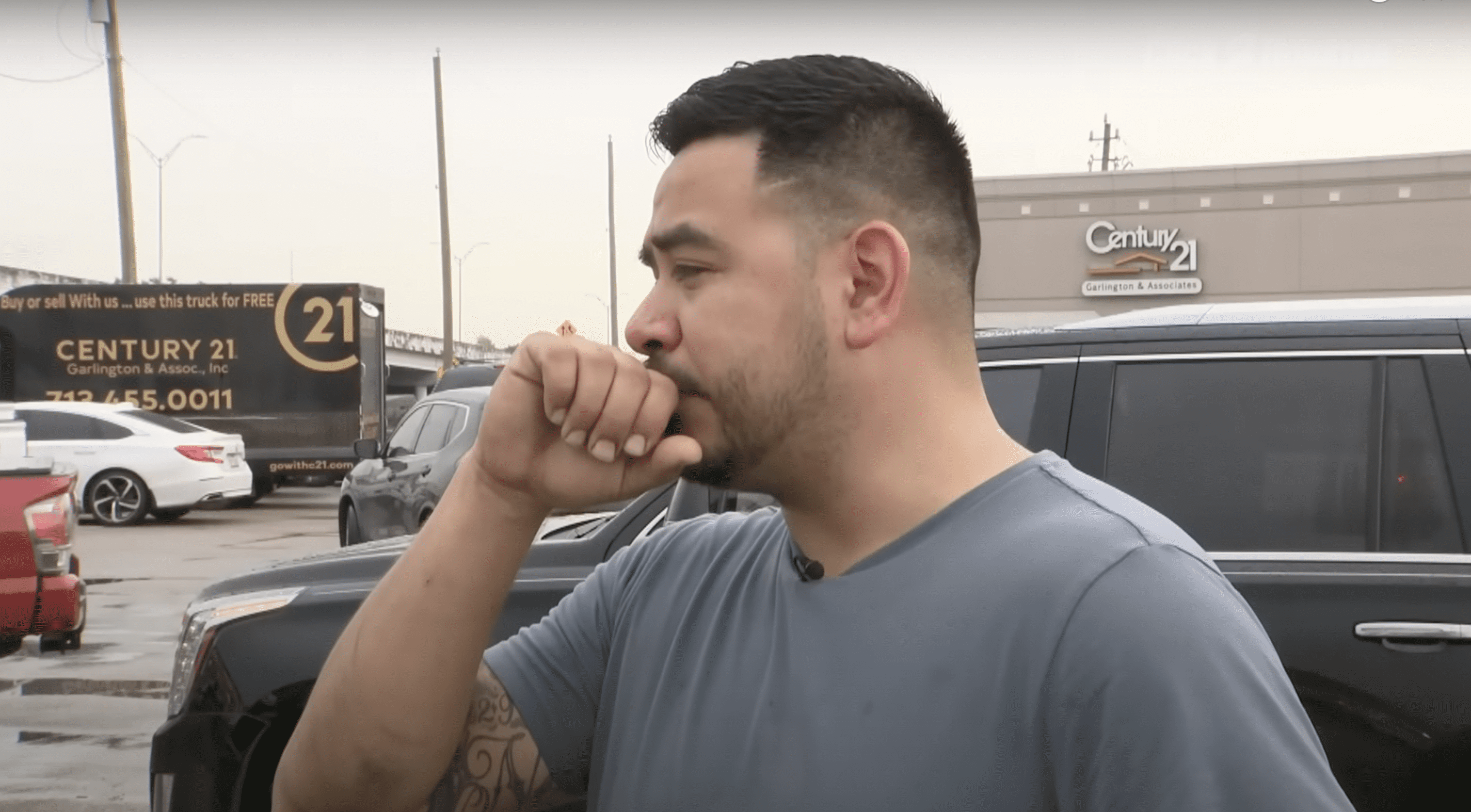 Raymond Romo gets emotional while recalling the horrific crash. | Source: YouTube.com/KPRC 2 Click2Houston
TO THE RESCUE
The Century 21 employee shared that he wasn't alone and had help from one of his dear friends. Together, the two Good Samaritans sprang into action. Romo added:
"We saw it when we were in the middle of the parking lot land on the vehicle. Instantly, me and my friend Joe, we went into action."
Per Romo, Joe, other witnesses on the scene, and deputies, four members of the Resendiz family occupied the car. The Texas man said the first thought that came to his mind was to help the driver's daughter, a 22-year-old female, out of the vehicle.
FIGHTING BACK THE TEARS
After that, Romo said he tried to pull out the 22-month-old twins strapped in their car seats in the back. While he successfully extracted one of the twins from the backseat, he couldn't get to the other baby in time. He recounted:
"Luckily, I was able to get out one of them. But, I couldn't get out the other."
Feeling the pain and grief of the harrowing crash firsthand, Romo broke down and fought back the tears as he tried to process what had befallen him.
LOSING AN ANGEL
Romo revealed that the car's driver, a 54-year-old grandmother, was able to come out of the mangled car and became incredibly hysterical following the horrific crash. He recalled:
"The grandmother... she just froze and she kind of stopped. When she stopped, that's why it landed towards the back of the vehicle."
According to Harris County Sheriff Ed Gonzalez, one of the toddlers survived while the other, later identified as Nicholas Resendiz, succumbed to his wounds. Little Nicholas was reportedly pronounced dead at the scene.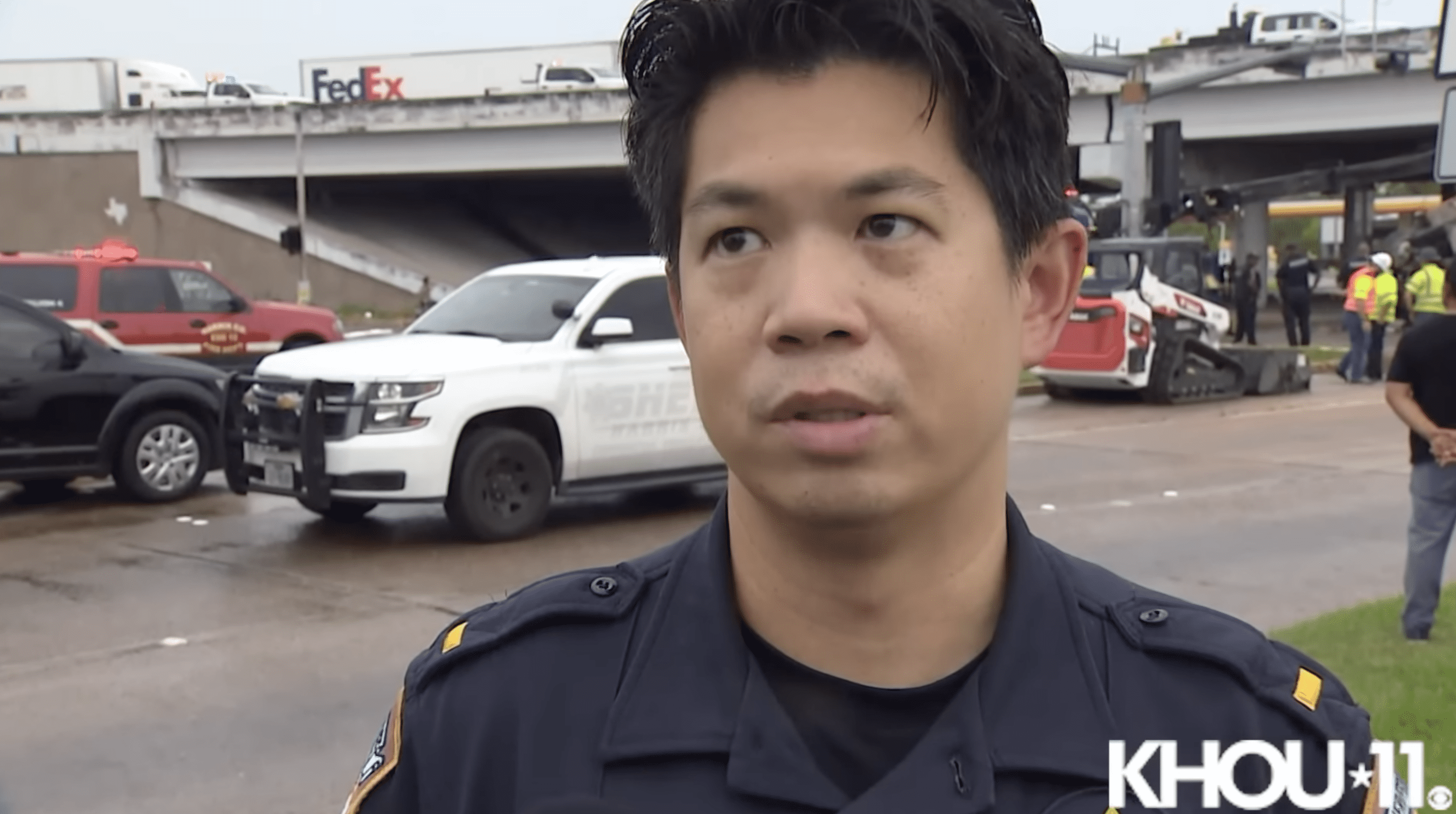 Harris County Sheriff Ed Gonzalez shares updates on the horrific crash. | Source: YouTube.com/KHOU 11
THE PROBABLE CAUSE
The survivors of the horrific crash were taken to the hospital and treated for minor injuries. The 36-year-old cement truck driver was also said to have been slightly injured, but she refused medical care.
Per investigators, the truck driver did not appear to be under the effect of alcohol during the accident, and officials were unclear whether the incident would result in any charges being pressed against her.
A preliminary probe revealed that the female driver tried to slow down the truck before she lost control. Officials shared that one of the probable causes of the crash could be the slippery roads following the rain, which resulted in the truck's swerving.
A HAPPY TODDLER
As was expected, the heart-rending incident crushed the Resendiz family, and they still have difficulty coming to terms with reality. A GoFundMe fundraiser has been set up to cover Little Nicholas's funeral and memorial expenses. As of August 9, 2022, $20,947 have been raised, surpassing the $15,000 goal.
Nicholas's mother, Jennifer, described him as a "happy, smart, and nice little boy." A part of her touching post on the online fundraiser's page read:
"Your prayers are much needed and appreciated. Any small donation that you find in your heart to give, no matter how small, will be a blessing for the family."
COMMENTS FROM USERS
Several netizens shared the Resendiz family's sorrow and left comforting messages on Daily Mail's Facebook post:
"So sad. Heartbreaking. Rest in Peace little one. Fly high with the angels gone to soon (sic)."

— (@roop.dookhie) August 7, 2022
"This is so heartbreaking. My condolences to her family and may God give them strength and peace in their hearts, and may their little Angel R.I.P."

— (@isabel.lucio.9469) August 7, 2022
"So tragic! Fly high Nicholas! God now has you in his arms!!"

— (@bill.justice.77) August 7, 2022
HEART-WRENCHING AND UNFORGETTABLE
Meanwhile, Romo, who is also a doting dad, expressed that he called his wife soon after the crash and asked her to kiss their children for him.
The teary-eyed stranger said he wished he could have done more to save the other toddler and ease the Resendiz family's pain.
Our deepest thoughts and heartfelt prayers are with Jennifer and her entire family as they deal with the pain of losing their beloved Nicholas. Shine on in the heavens, little angel.
Please fill in your e-mail so we can share with you our top stories!
The information in this article is not intended or implied to be a substitute for professional medical advice, diagnosis or treatment. All content, including text, and images contained on news.AmoMama.com, or available through news.AmoMama.com is for general information purposes only. news.AmoMama.com does not take responsibility for any action taken as a result of reading this article. Before undertaking any course of treatment please consult with your healthcare provider.