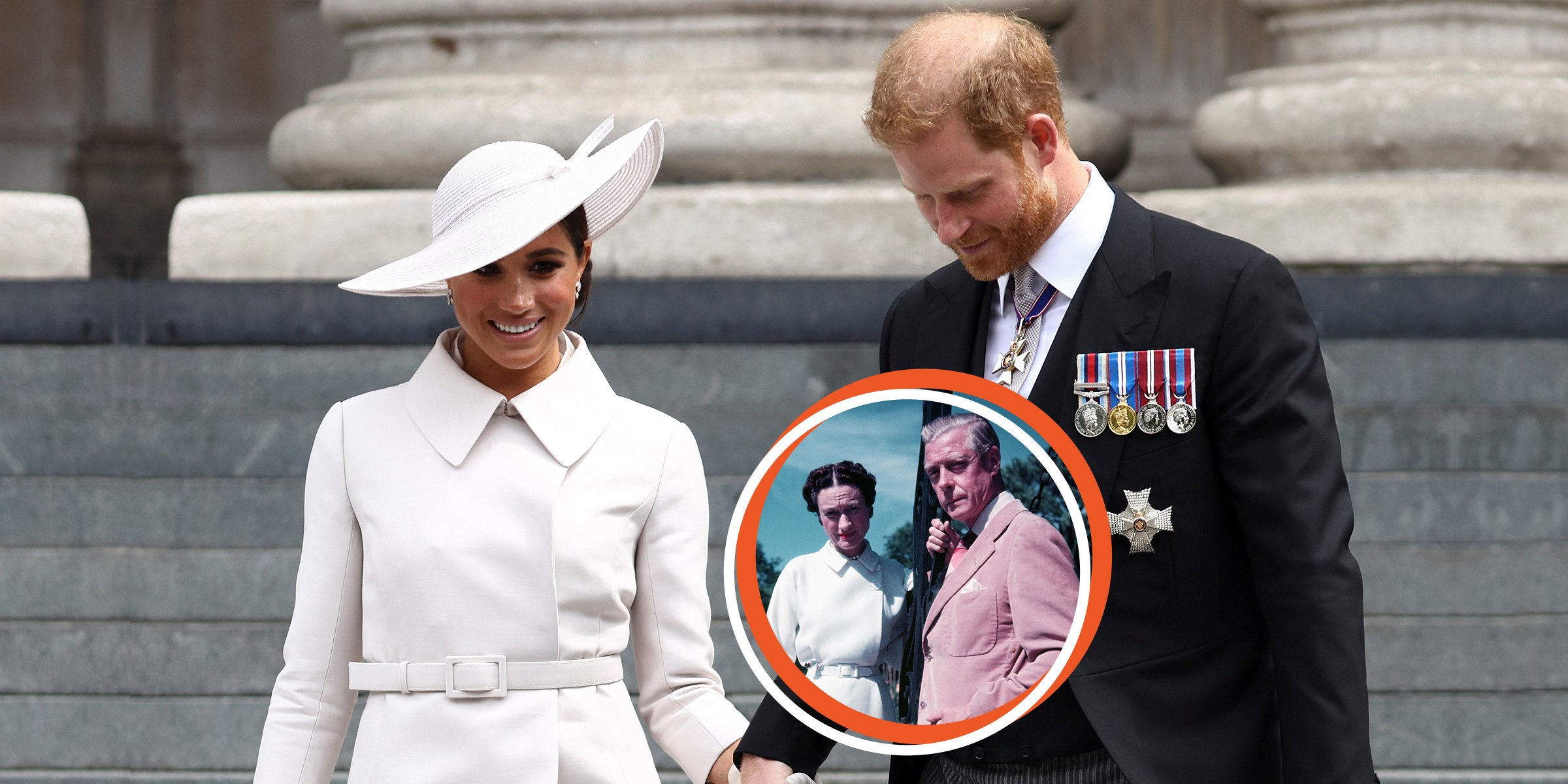 Getty Images
Meghan Markle Wore Nearly Identical Look to Wallis Simpson's 1951 Outfit — Fans Argued over Who Wore It Better

The Duchess of Sussex's outfit has been compared to King Edward VIII's wife, Wallis Simpson. Like the Duke and Duchess of Windsor, Meghan Markle and her husband, Prince Harry, have been shunned as royals.
Royal biographer Andrew Lownie penned a piece for the New York Post in June 2022, noting that Prince Harry's life is no different from the late King Edward VIII.
The young Edward VIII had a desire to modernize the monarchy. However, his choice to marry an American native – Wallis Simpson – a divorcee like Meghan Markle, cost him his future on the throne.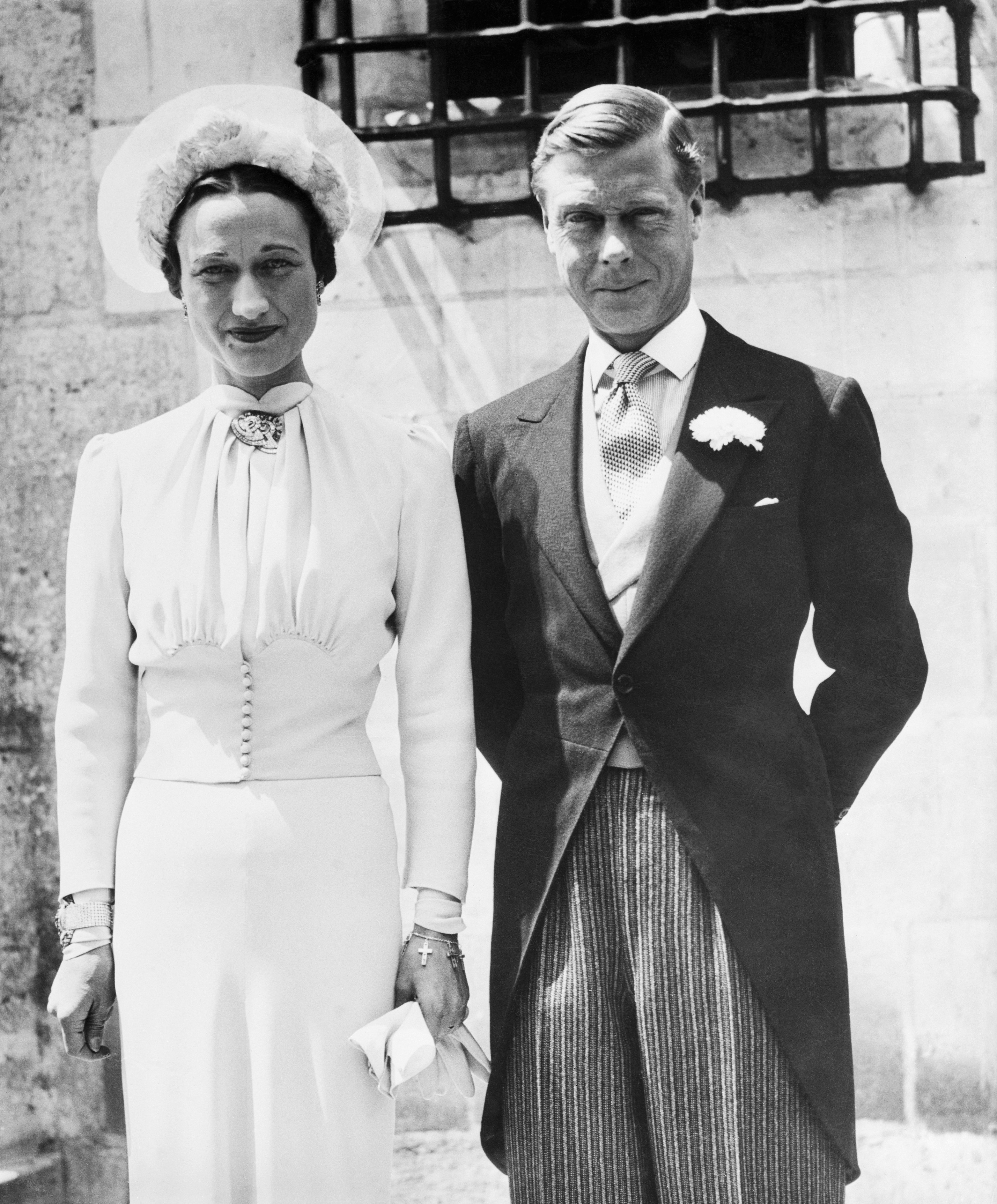 A portrait of Wallis Simpson and her husband King Edward VIII following their wedding ceremony at the Chateau De Cande in June 1937 in Monts, France. | Source: Getty Images
As such, he was alienated from the Royal Family and lost touch with friends. In 1936, King Edward VIII stepped down from royal duties and moved to France with his wife. However, that move consequently made people villainize him, and in the years that followed, he feuded with his family.
The first dispute since his relocation involved security, which Buckingham Palace saw befitting for the Duke of Windsor to pay out of his pocket. Despite the back and forth, the royal got police protection until his death – a privilege the Sussexes are only privy to when in the UK.
King Edward VIII also fought with his family over finances. Like the Duke of Sussex, he also inherited a fortune – including savings from the Duchy of Cornwall Estates. Still, like Prince Harry, that did not prevent him from complaining that he had been cut off financially by the Royal Family.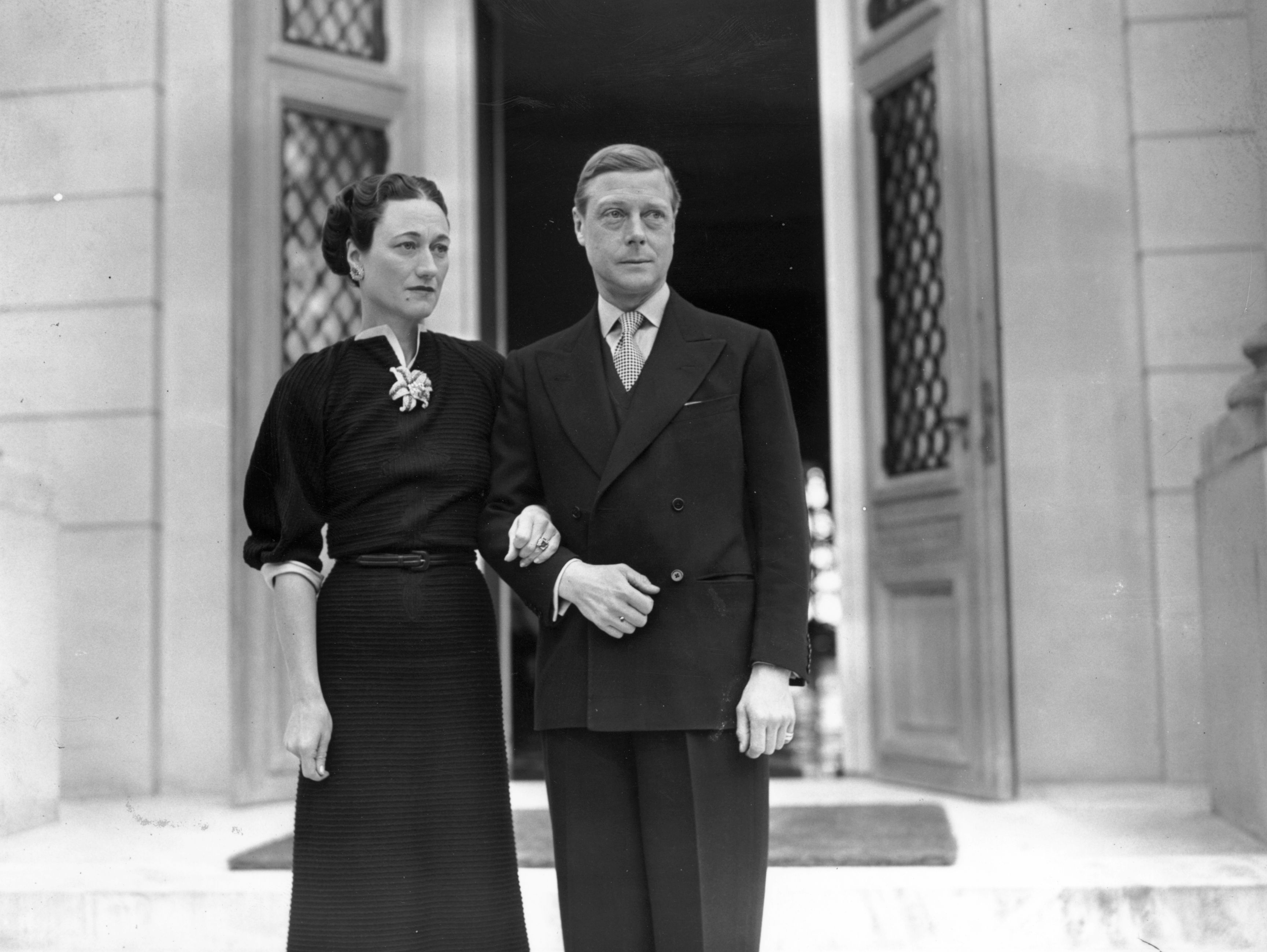 The Duchess of Windsor, Wallis Simpson and Duke of Windsor, King Edward VIII pictured at their home, the Villa La Croe in Cap D'Antibes on January 2, 1939 in Cannes in France. | Source: Getty Images
The issues led "to a breakdown of trust, and lingering tensions and suspicions with both the Duke and Harry complaining of poor parenting, fallouts between siblings and sisters-in-law," wrote Lownie. "King George VI's wife Elizabeth could only refer to Wallis as 'That Woman' - and accusations that the 'rogue royal' was trying to upstage the dutiful one," he added.
Notably, both royal couples used the media to air their grievances and partook in interviews that were detrimental to their situations, which according to Lownie, "were not always helpful."
When the Duke of Windsor returned to England, he proposed "to make statements to the press in America detailing all his grievances against the King and the British government."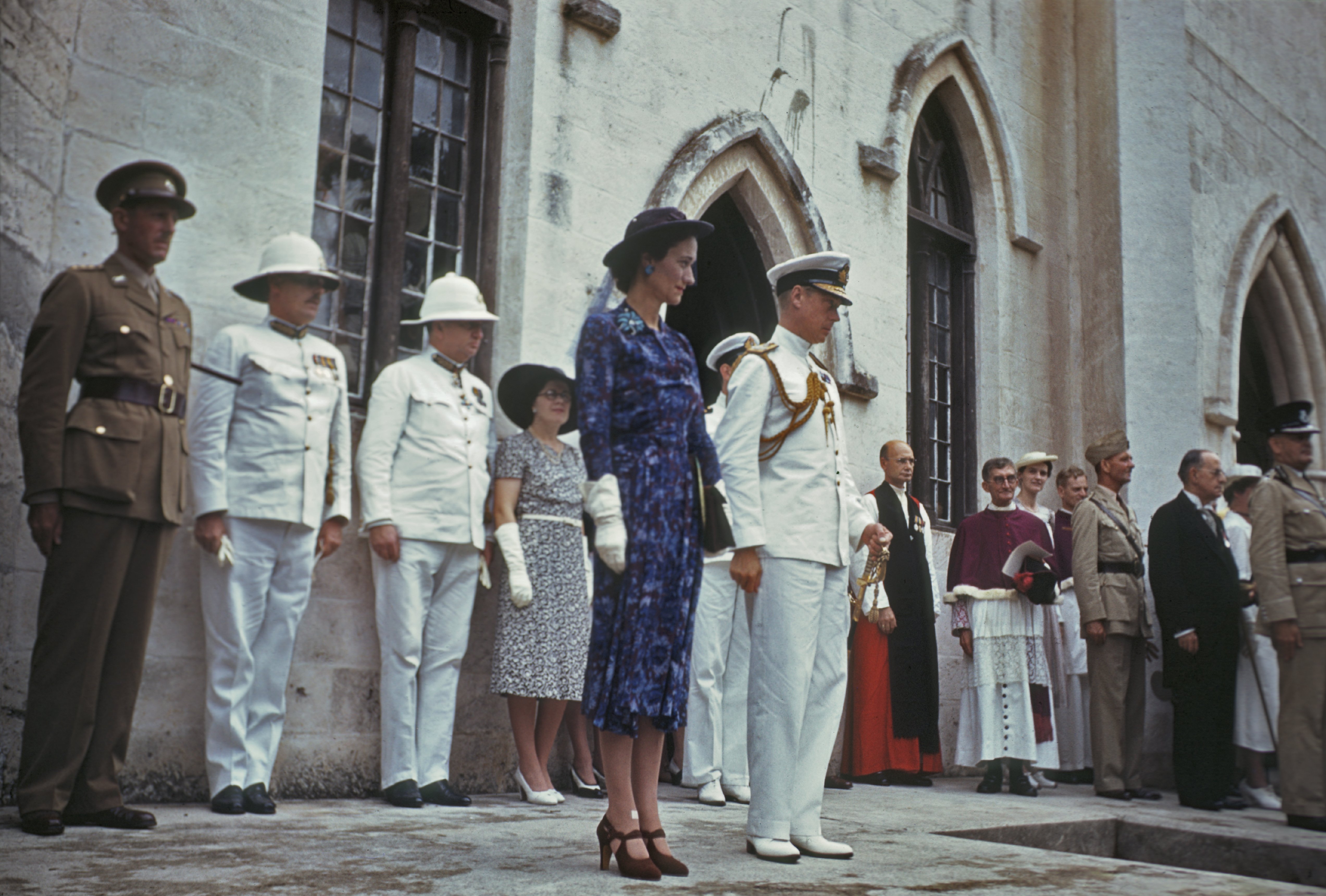 Wallis Simpson and King Edward VIII photographed outside Government House in in 1942 in Nassau, the Bahamas. | Source: Getty Images
Six months later, King Edward VIII contributed several articles about his career to the American Magazine Time Life. After earning huge chunks of money from the reports, he collaborated with the magazine's journalist, Charles Murphy, on an autobiography.
At one point, former Minister of Defence Walter Monckton of the United Kingdom convinced King Edward VIII to avoid signing a TV series contract in which he would re-enact the Abdication speech.
He and his wife exploited their public life status to earn money and used their brand name to dress collections and even cutlery. Meanwhile, Simpson launched a monthly US magazine column detailing her daily life activities, such as shopping and fashion, including the feud with the Royal Family.
MARKLE CHANNELED SIMPSON IN A WHITE DRESS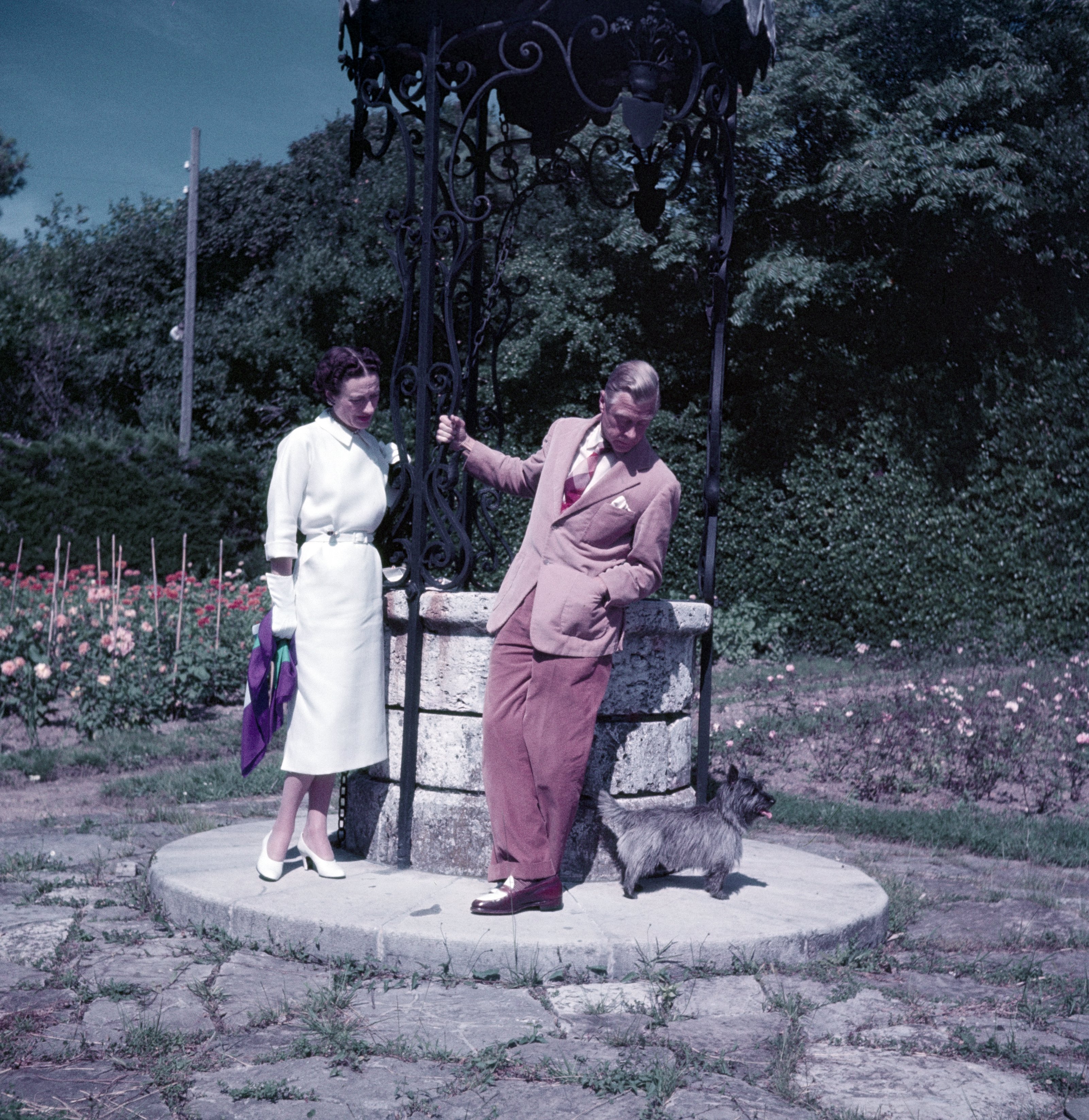 The Duke and Duchess of Windsor at a villa in Biarritz, in October 1951. | Source: Getty Images
In June 2022, Markle wore the same dress as Simpson's 1951 white attire when she attended Queen Elizabeth II's Platinum Jubilee celebrations in the UK.
The former American actress arrived at St Paul's Cathedral donning a bespoke Dior white belted haute couture coat dress.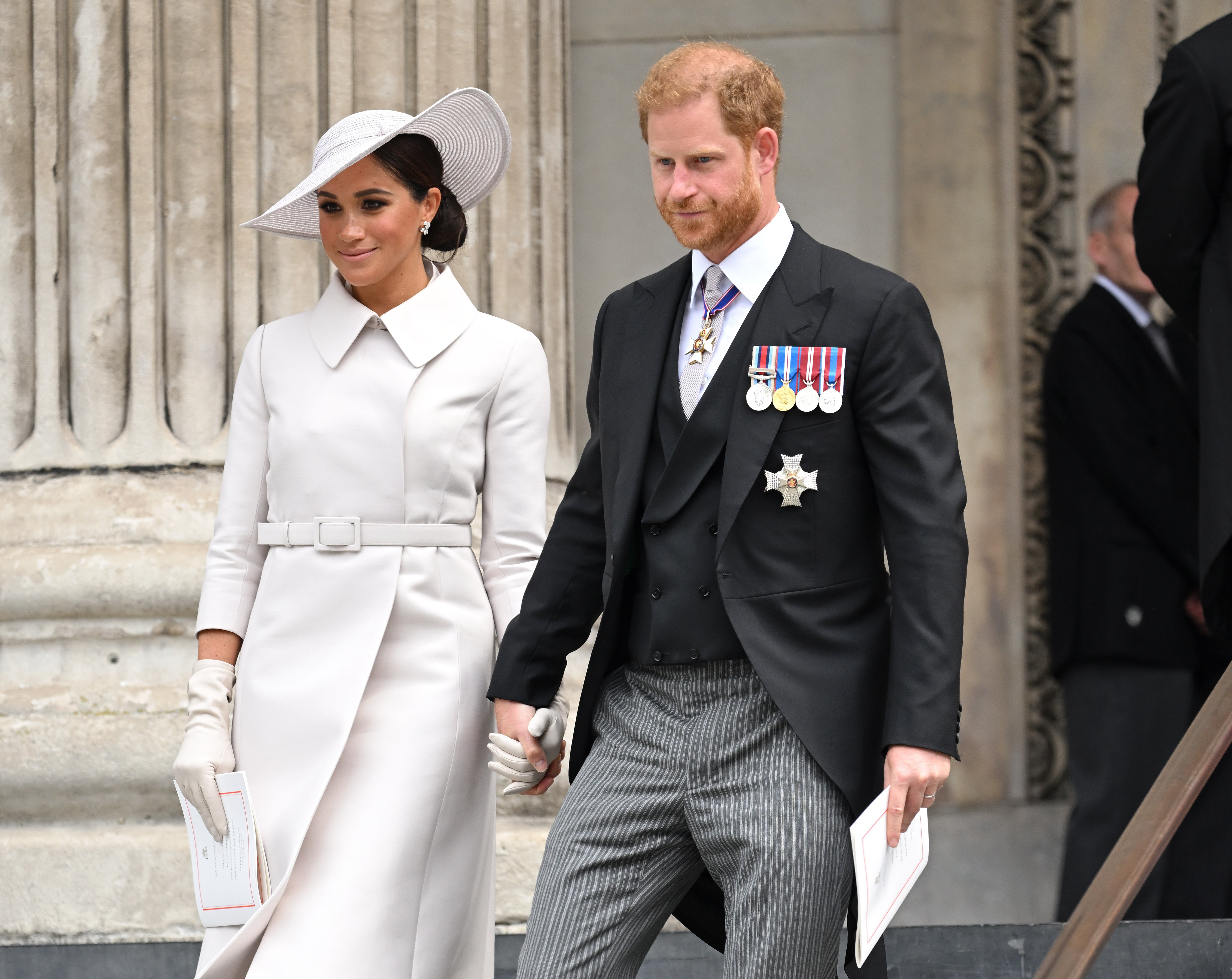 Meghan Markle and Prince Harry attending the National Service of Thanksgiving at St Paul's Cathedral on June 03, 2022 in London, England. | Source: Getty Images
She paired the outfit with matching gloves and a hat from the same brand. The Duchess of Sussex also wore shoes from Dior, which were D-Moi bone suede pump shoes.
While Simpson, a late American socialite, wore the same dress in the 1950s, it remains unclear whether Markle drew inspiration from her outfit. However, it is worth noting that the two attires are almost identical.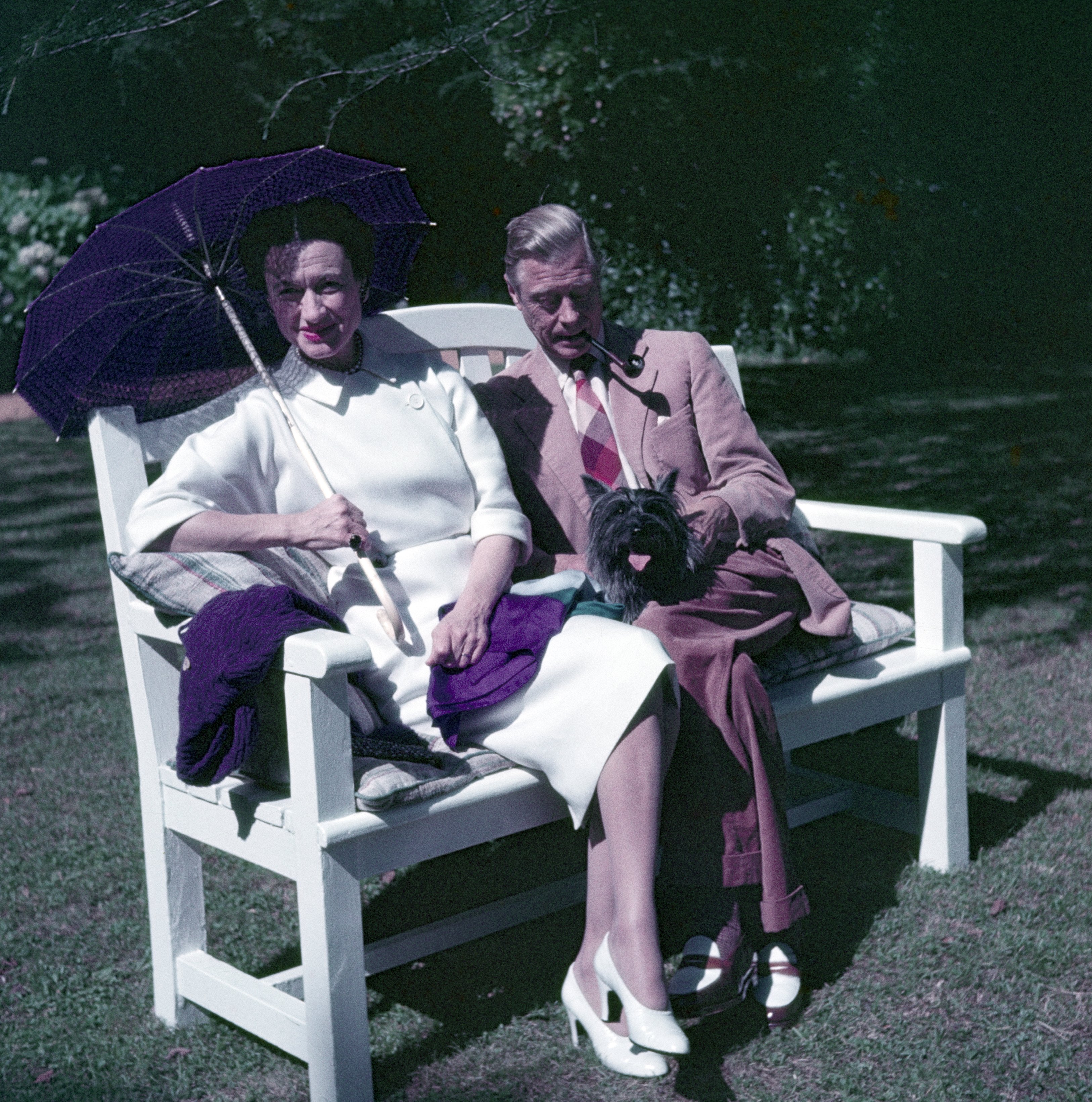 The Duke and Duchess of Windsor at a villa in Biarritz, in October 1951. | Source: Getty Images
Simpson posed for photos at a villa in Biarritz, wearing the same coat dress as the Duchess of Sussex's Dior version.
The get-up featured the same white collar and a matching belt. Notably, the Duchess of Windsor wore a coat dress from Givenchy and Balenciaga.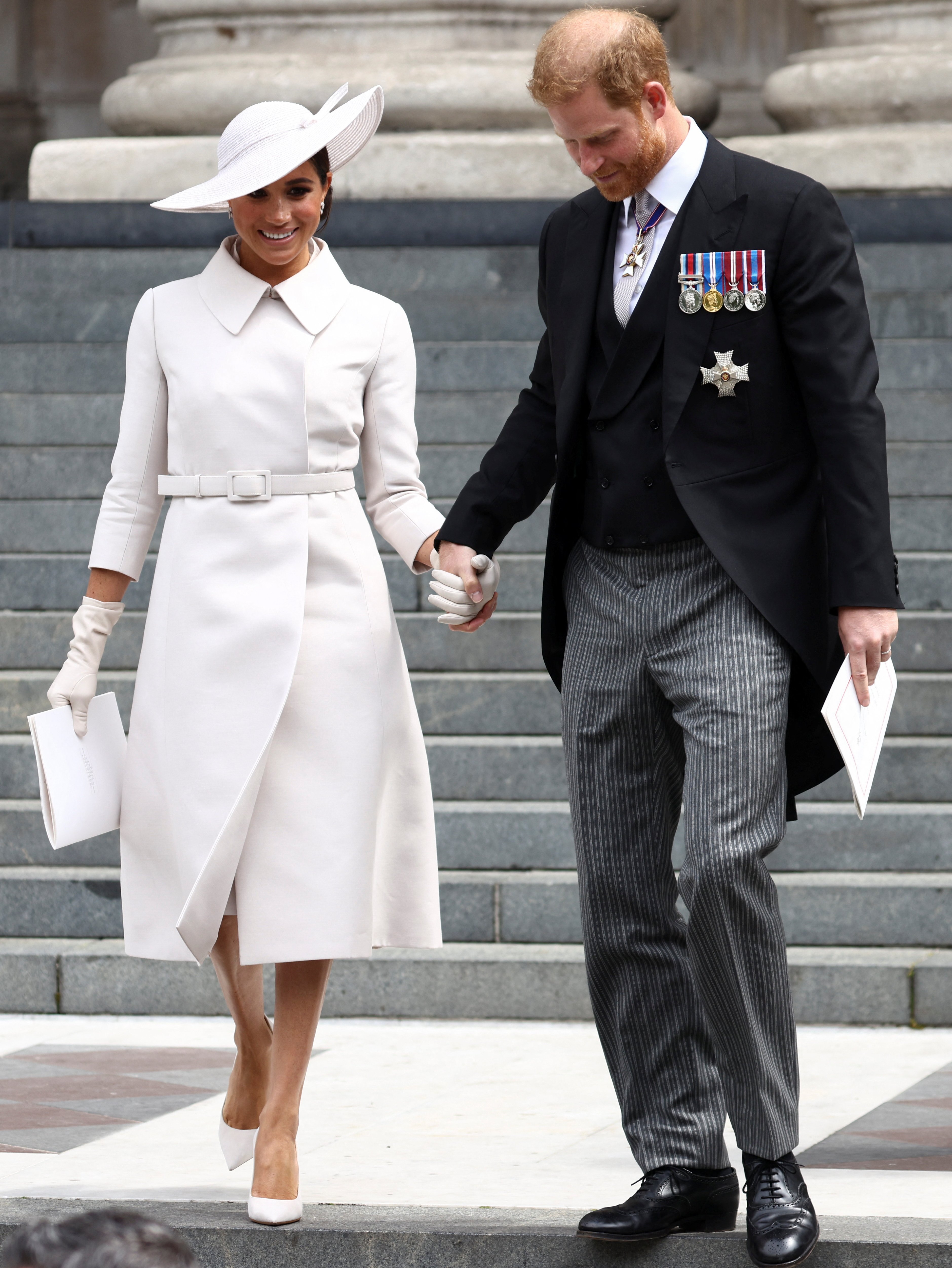 Meghan Markle, Duchess of Sussex and Prince Harry, Duke of Sussex pictured holding hands as they depart after the National Service of Thanksgiving at St Paul's Cathedral on June 3, 2022 in London, England. | Source: Getty Images
According to Express UK and some social media users' research, Givenchy launched his line of designs in 1951, respectively.
It is unclear whether Markle was trying to send a veiled message by wearing the outfit, was inspired by it, or wore it for some other reason.
FANS REACTED & COMPARED WHO WORE IT BEST
Express posted a side-by-side photo of the Duchesses wearing the said attires and tweeted, "Meghan Markle stepped out wearing the same outfit as Wallis Simpson – but one 'wore it better.'"
Twitter users reacted to the post from Express and began comparing both women in identical get-ups. Fans shared comments arguing about who wore the look better.
"Pathetic. Markle is sending her messages through her clothes. Unfortunately, they're all unattractive," said one impressed Twitter user.
Another begged to differ, saying both women pulled off the look sophistically: "Both women wore the outfit with great poise and dignity, and both looked fantastic. Being happily married plays a part too."
A third individual reckoned originality would have done Markle justice, noting that her look for the event was standard. "Meghan Markle looked very ordinary," said another person.
One Twitter user mentioned that the main difference between the two women's looks was that "Mrs. Simpson had a waist."
Meanwhile, Modern Monarchy tweeted that the Duchess of Sussex made a bad choice by wearing a coat dress similar to Simpson:
"H'oh boy, that's a bad look. #MeghanMarkle."
One Twitter user replied to Modern Monarchy by sharing a photo of Kate Middleton, the Duchess of Cambridge, donning a similar look.
However, the only difference with Middleton's outfit was the color of the coat dress, pump shoes, and headpiece, which were all beige.
Another social media user commented on the Markle-Simpson looks, saying that the outfit looked better on the Duchess of Windsor. "Lol. The style looked better on Wallis Simpson," wrote the user.
Meanwhile, other individuals who researched Simpsons dress replied to @DotRedding and @Express, noting that while they were honored that they used their research, the said publications could have at least credited them.
"While we are thrilled that you used our research, a credit would be super nice the next time you wish to use our work verbatim. Thanks so much!" they retweeted.
Please fill in your e-mail so we can share with you our top stories!