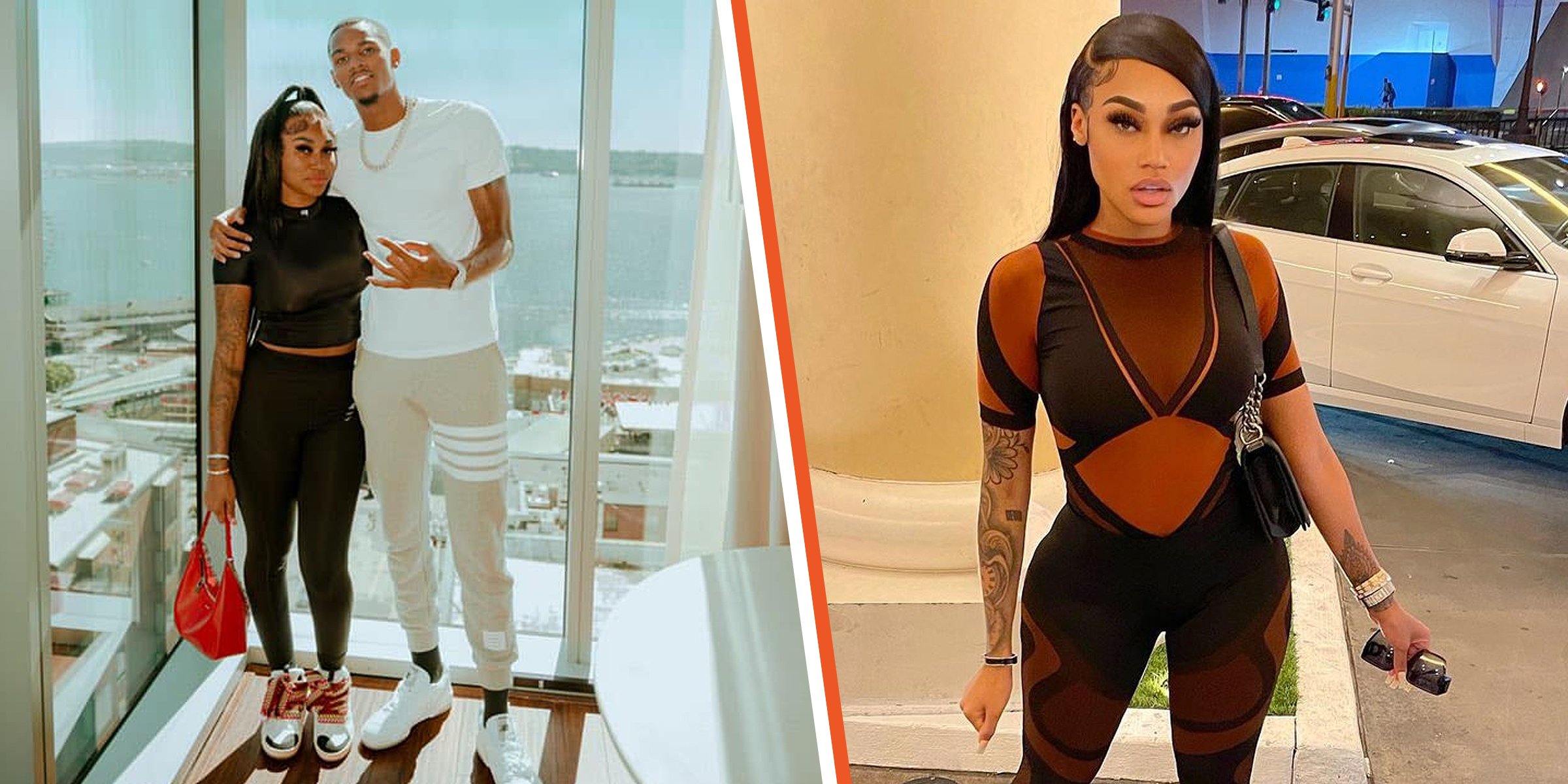 Facebook/JaniaaBaniaaaaa I Instagram/janiameshell
Dejounte Murray's Girlfriend Jania Meshell Opens up about Their Relationship: 'Happy I Found You Again'

Dejounte Murray is a professional basketball player; all the attention is on the fantastic player's career. However, his relationship with his girlfriend Jania Meshell also gets attention.
Jania Meshell's boyfriend, Dejounte Murray, is a basketball player for the Atlanta Hawks. The professional player made headlines after a video went viral.
Murray had an altercation with another player during a game in Washington. According to reports, Murray hit Paolo Banchero, a rookie for Orlando Magic, with an impressive fake-out move at the Zeke-End pro-am basketball tournament.
The highlight play is said to have shocked even some of his teammates. But what about Murray's rollercoaster relationship with his partner Jania Meshell?
DEJOUNTE MURRAY'S GIRLFRIEND JANIA MESHELL AND THEIR RELATIONSHIP
Dejounte Murray began dating Jania Meshell after a high-profile breakup with Jilly Anais. Murray and Meshell's relationship developed in front of the public, and so did all their quarrels.
Dejounte Murray's girlfriend said in a Facebook post in April 2022 that money is not important to her and that she'll be happy spending time with the one she loves. It is different from how Murray's relationship was with his previous girlfriend.
The pair's breakup was revealed in early May 2022, but they quickly began to appear on social networks together again. Meshell shared a post about the split on Facebook, saying they broke and got back together three hours later.
Regarding breakups, the basketball player's partner revealed she got "PTSD from how quickly someone can love you and switch on you the next minute."
Meshell likes posting about her relationship; she took to Twitter again in mid-May and said her romance has gone from being "just a relationship" to "building our life together." She also posted a loved-up photo of her and Murray that same month on her Twitter account and said, "So happy I found you again."
About a month after sharing images of the couple looking in love, Meshell posted on her Facebook page at the beginning of summer that the pair broke up and got back together again.
Murray and Meshell's relationship is a roller coaster. Judging by her tweets, they did break up for a while, then got back together and are happy now. She recently shared pictures of them; all loved up again.
WHO IS DEJOUNTE MURRAY'S GIRLFRIEND, JANIA MESHELL?
Dejounte Murray's girlfriend, Jania Meshell, is an influencer who actively maintains her social media pages. Meshell has over three million followers on Instagram and two million followers on TikTok, where she shares videos.
Her other social media account is on YouTube, where she posts videos on everything from vlogs to fashion. Her YouTube channel has more than 600 000 subscribers.
That's not all that Meshell does; she also sells wigs. The influencer's also the mother of a three-year-old boy. Her son, Kacey, was born on February 13, 2019, and she shares with rapper NBA YoungBoy. Meshell constantly talks about her love for her son on social media.
ONE OF THE MOST IMPORTANT GIRLS IN DEJOUNTE MURRAY'S LIFE
Just like Meshell, Murray also has a child from a previous relationship. His daughter was born on July 14, 2017, and Murray loves her very much.
The 25-year-old likes sharing pictures of his daughter on his Instagram page. It's interesting to know that even his current girlfriend has not received such an honor.
The doting dad shared an adorable post on his Instagram to celebrate his daughter's birthday in 2021.
The loving dad shared lovely images of his daughter and cute pictures of the father and daughter. Part of Murray's caption to the photo said:
"HAPPY 4TH BIRTHDAY TO MY CHILD, As It Still Feels Like July 14, 2017 [...] I Was Scared And Not Ready For A Child When It Happen Because I Was Still Finding Myself [...] Come To Find Out RILEY MURRAY Was The Best Thing To Ever Happen To Me.
Murray and Meshell may have a rollercoaster relationship; however, it's incredible to see how the two parents adore their kids. We wish them luck in their relationship in the future.
Please fill in your e-mail so we can share with you our top stories!