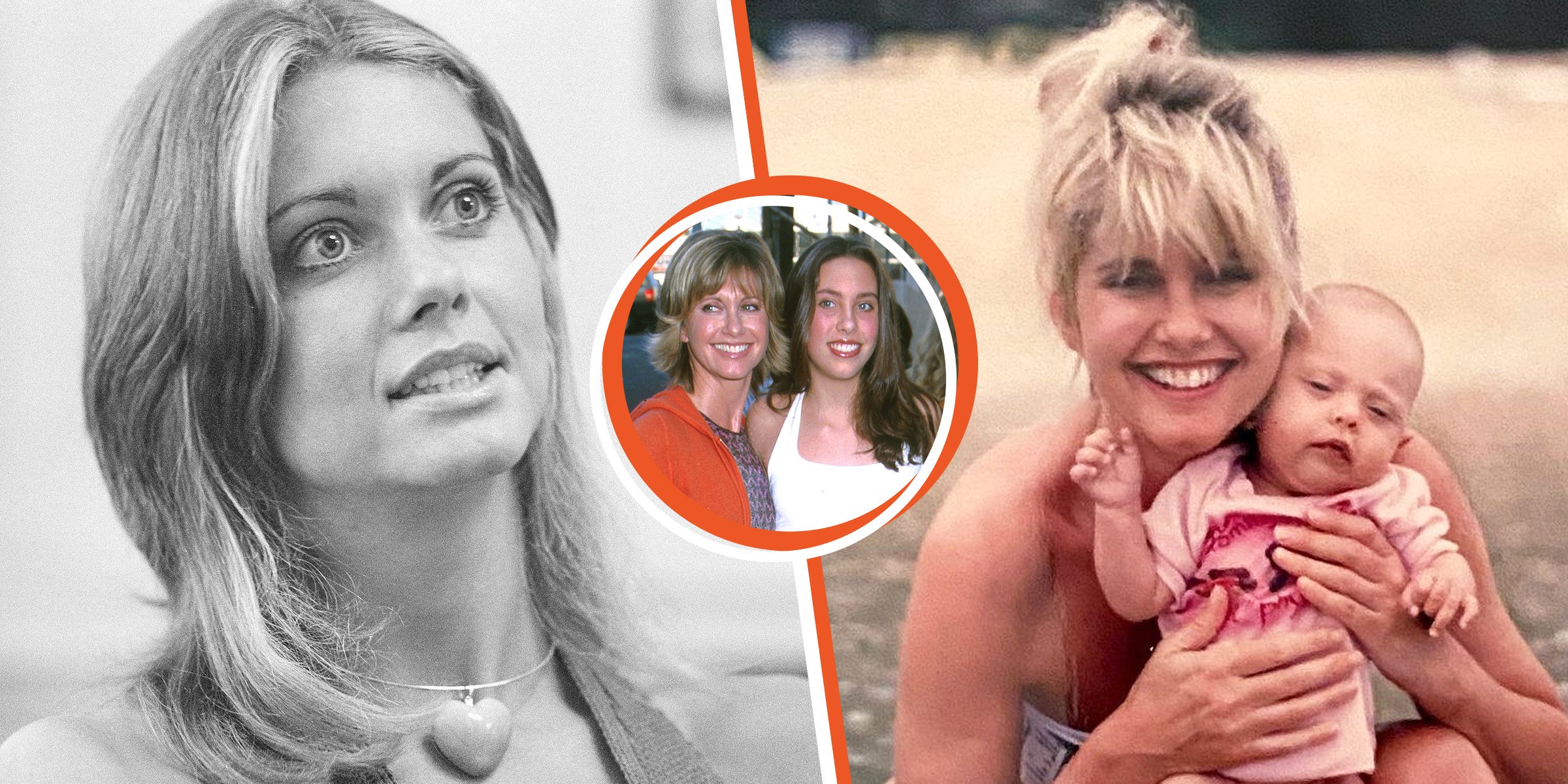 Getty Images | Instagram/Olivia Newton-John
Olivia Newton-John Went Broke after She Paused Career to Raise Her Child Who Came 'First, No Matter What'

Despite a thriving career in music and films, legendary musician Olivia Newton-John put it all on hold to raise her long-awaited daughter, Chloe. She supported her family with proceeds from her prosperous clothing business, Koala Blue before things took a drastic turn in 1991.
Newton-John and Lattanzi met on the set of "Xanadu" in 1979, and from the onset, they seemed incompatible. Newton-John came from a well-off family, born to a father who was a professor of German literature. On the other hand, Lattanzi was the son of a maintenance foreman from Oregon.
They also took an interest in different activities. While Newton-John preferred meditating and sipping on herbal tea, Lattanzi's idea of a good time was hanging out with the boys, scuba diving, and fishing.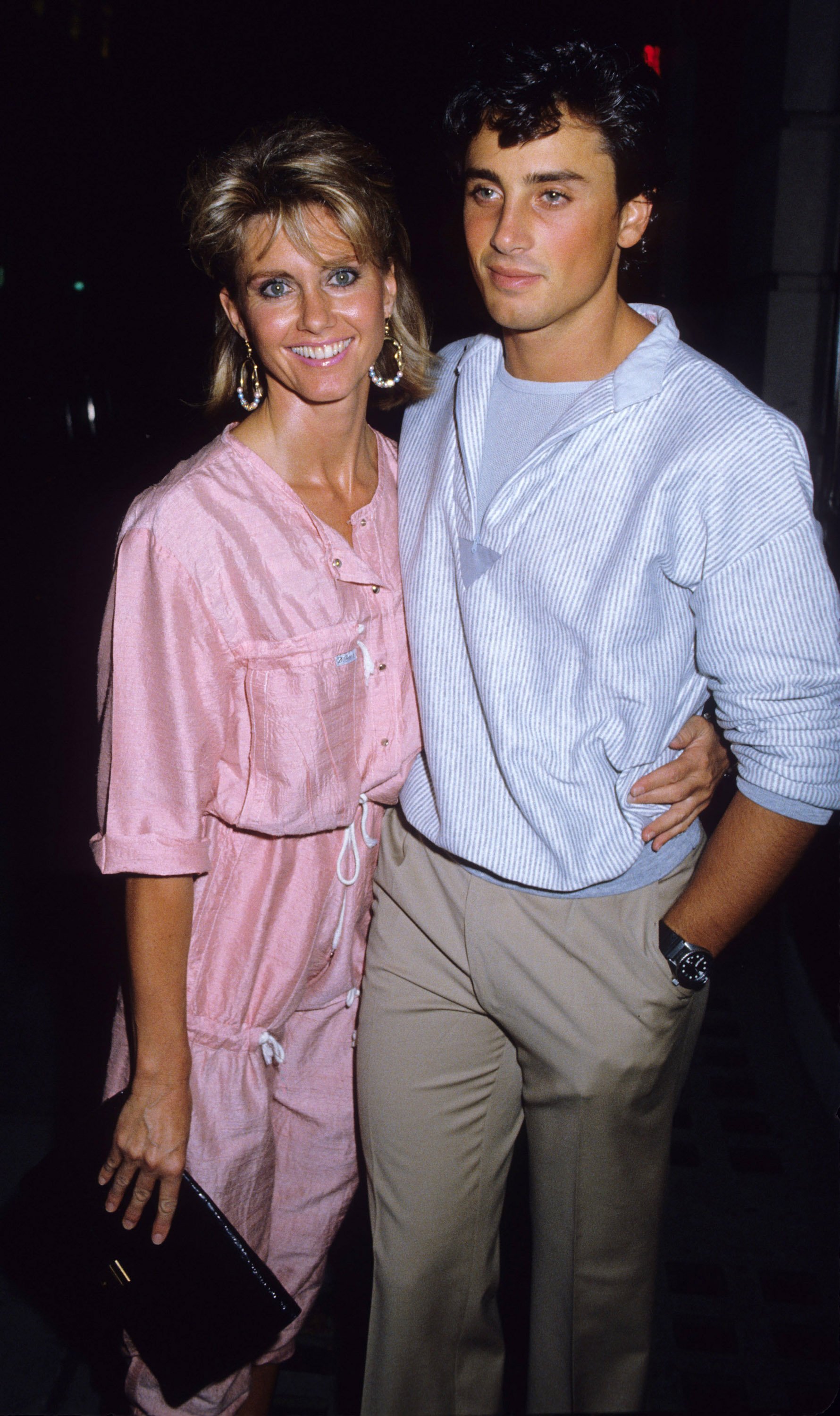 Olivia Newton John and husband Matt Lattanzi during Olivia Newton John and husband Matt Lattanzi arrive at Langan's Brasserie for her 35th Birthday Party at Langan's Brasserie in London, Great Britain | Source: Getty Images
Even so, they fell in love, and three months after meeting, Lattanzi took the actress out on their first date. Initially, they tried keeping their relationship private, but soon, it was out in the open.
They married in 1985 and welcomed their little bundle of joy, daughter Chloe Rose, in 1986, thirteen months after walking down the aisle. Olivia Newton-John was thrilled to be a mother and was as dedicated as they come.
Despite Newton-John's initial reservations about getting married, she always knew she wanted to be a mother, and Chloe became a blessing and her parent's pride. The actress shared, shortly after her daughter's birth:
"The baby is so exciting I hardly dare think about it. I waited so, so long, and now I can't remember why I waited."
OLIVIA PUT HER HOLLYWOOD CAREER ON HOLD FOR CHLOE
At the time of Chloe's birth, Newton-John was at the peak of her career. She had just released her new album "Rumour," whose title was written by Elton John, and had several TV appearances.
However, after having her daughter, she decided she did not want to do any more music or movies. She wanted to spend more time with her daughter, who she put before anything else. She would confess:
"Since I have had my baby, I've become a lot more aware. I've come to a time in my life when I don't want to do another frivolous pop album."
Even as her husband started involving himself in choreography, Newton-John shifted her focus on raising her daughter and enjoying the easy home life.
On the flip side, staying home meant she did not have income from her music or movies, but Newton-John was prepared. Long before she quit the entertainment industry, Newton-John, alongside a friend, Pat Farrar, had opened an LA-based Australian-style sportswear company named Koala Blue.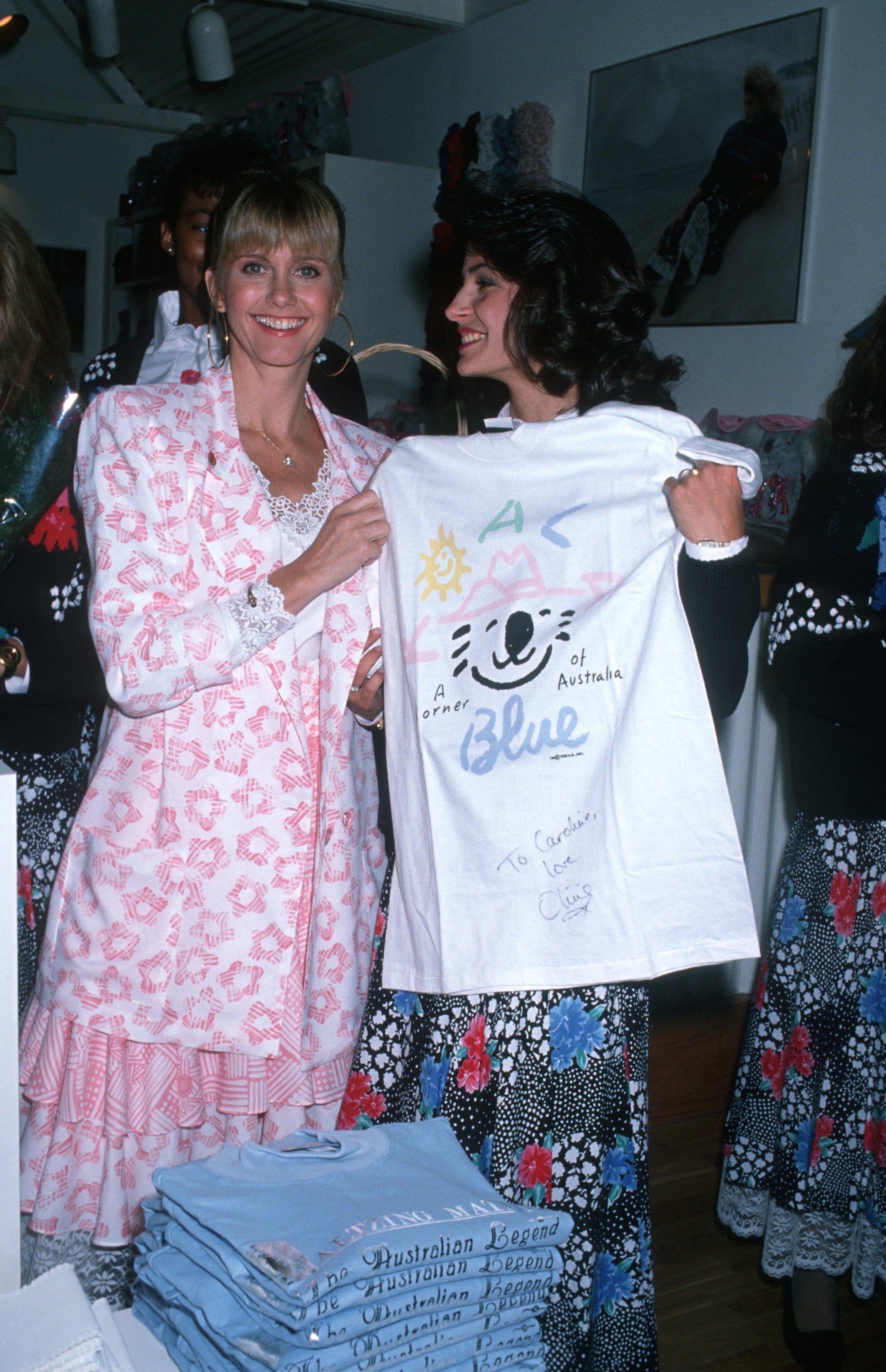 Olivia Newton John and Guest during Opening of Koala Blue - November 21, 1988 at Koala Blue in Hollywood, California, United States. | Source: Getty Images
The store became so successful it brought in more than $14 million annually and opened over 49 stores on four continents. Newton-John could comfortably raise her daughter with the proceeds from the stores and additional help from her husband.
Life was good, and Newton-John loved it. Unfortunately, her happiness would not last very long. In the early '90s, everything fell apart and left the "Magic" singer devastated.
DIVORCED AND BANKRUPT YET SHE REMAINED DEDICATED TO CHLOE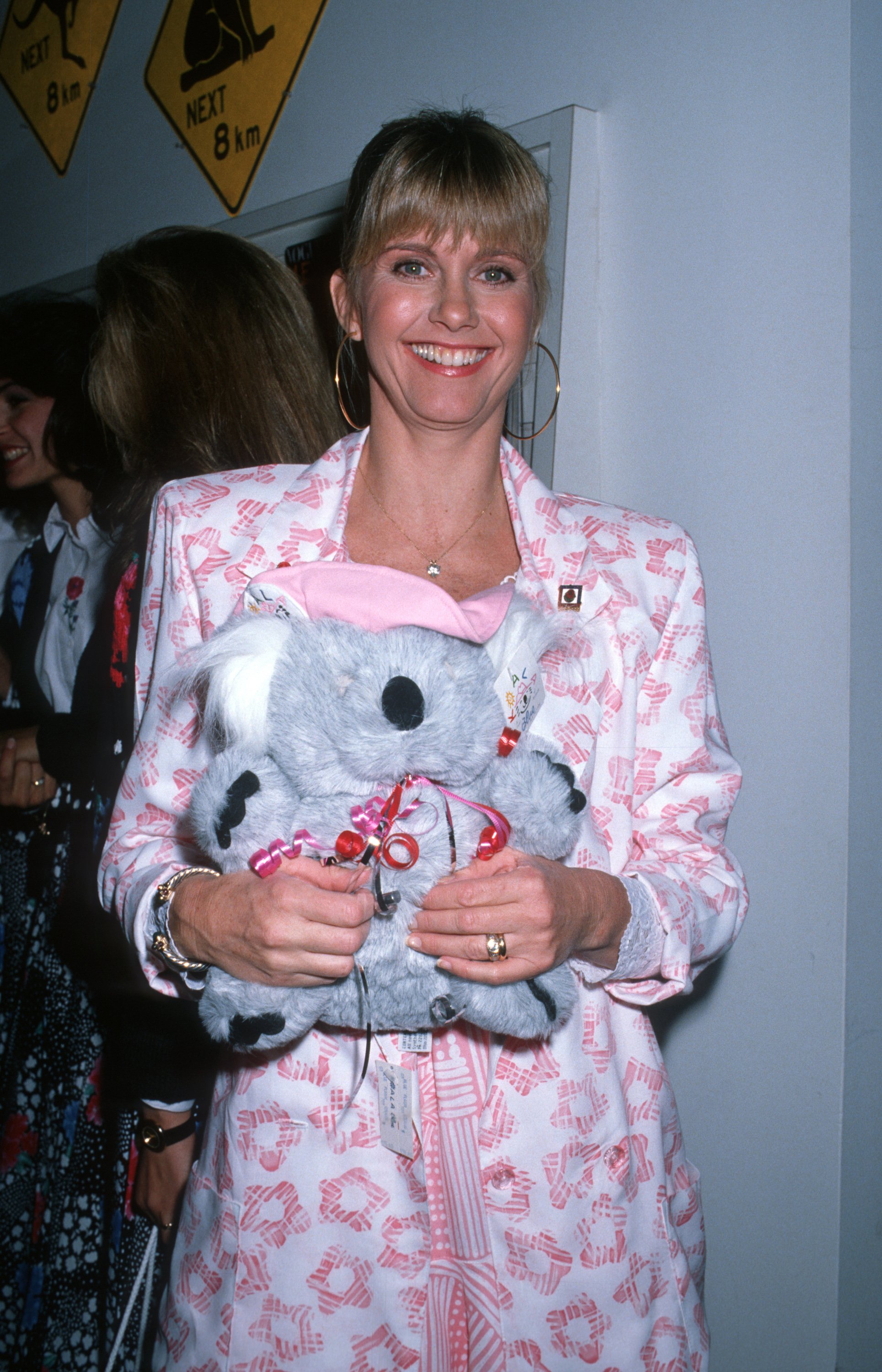 Olivia Newton John during Opening of Koala Blue - November 21, 1988 at Koala Blue in Hollywood, California, United States. | Source: Getty Images
Sadly in 1991, her chain stores filed for bankruptcy. While Newton-John blamed the economic recession, investors in the business blamed her for poor management, late deliveries, and shoddy merchandise.
The investors also blamed the bankruptcy on arguments between the home office and licensees, while a vice president, Daniel Zuckerman, said the bankruptcy filing stemmed from expanding too rapidly. Soon after filing, she closed all her stores.
Yet, her troubles were only beginning. A year later, the actress faced more devastating news when she was diagnosed with breast cancer. To add salt to injury, she learned that her father had passed away the same day she got her diagnosis.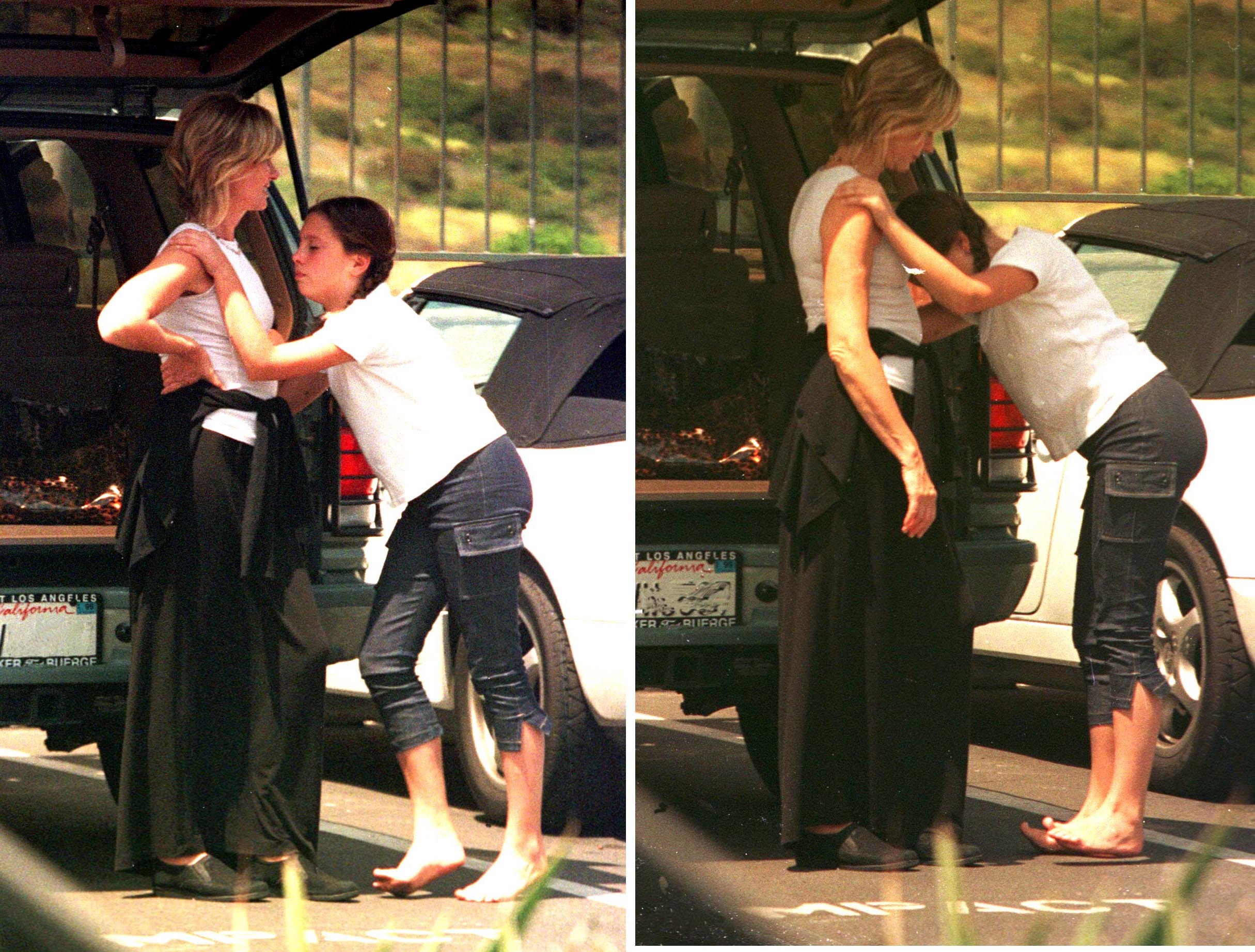 Actress Olivia Newton-John and her daughter Chloe in Malibu California on May, 24 1999 | Source: Getty Images
Through it all, Newton-John had to remain strong for her daughter, who was only seven. Even though she was still battling the illness, she became her daughter's pillar of strength. Lucky for her, she was declared cancer free after nine months of chemotherapy.
Misery loves company, and Newton-John would soon realize that her marriage of ten years was on the verge of collapse. The union had fallen so much apart that attending couple's therapy was insufficient to mend it.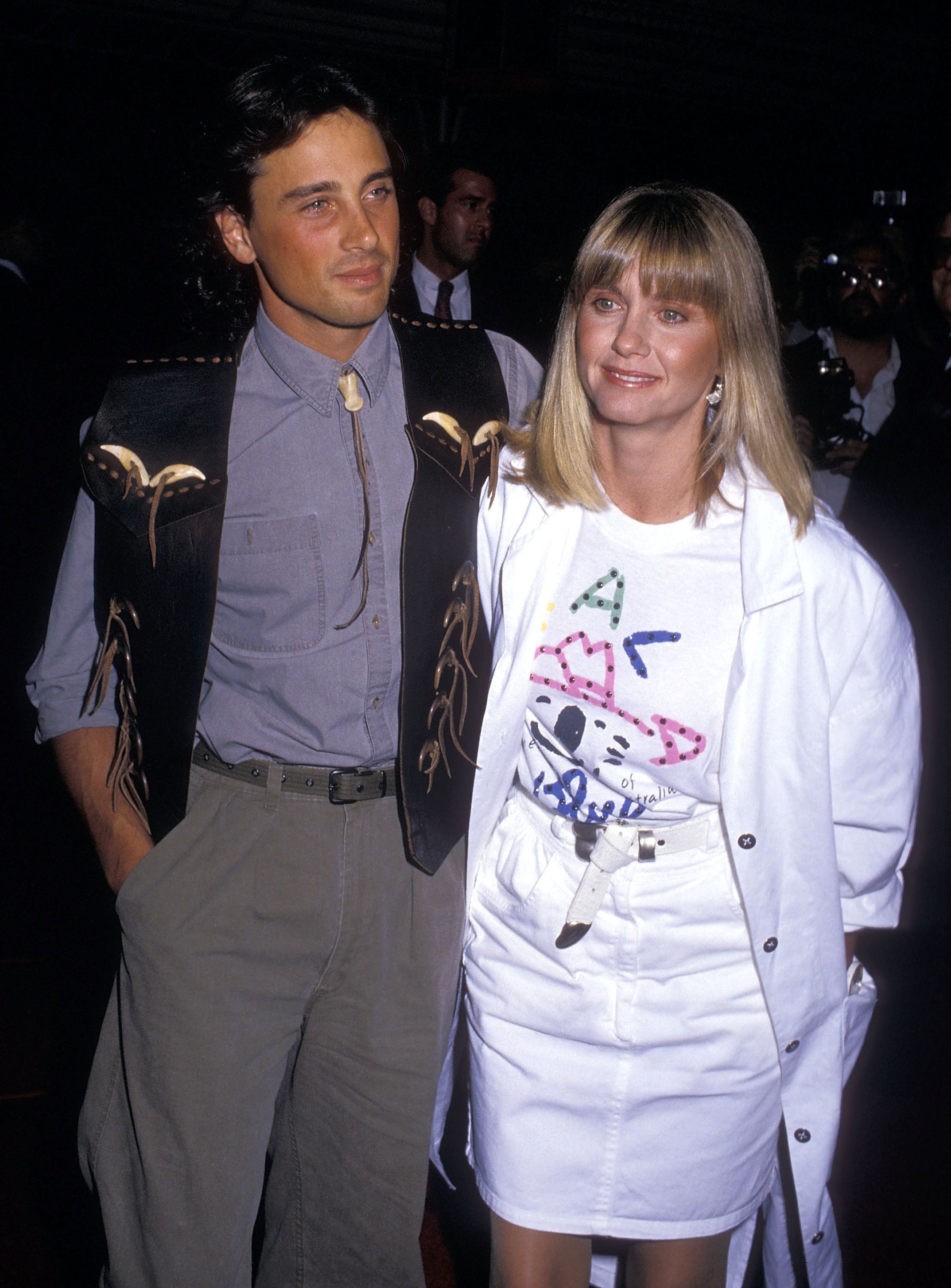 Singer Olivia Newton-John and husband Matt Lattanzi attend the "Crocodile Dundee II" Hollywood Premiere on May 22, 1988 at Mann's Chinese Theatre in Hollywood, California | Source: Getty Images
Those close to them blamed the differences between her spiritual interests and his earthly ones for the split, but Newton-John would not speak about it. She would say:
"I don't think that's anyone's business but ours."
She would, however, insist that the spit was amicable, and they would remain friends for the sake of their daughter. Their divorce became final in 1995.
A SECOND HAPPY MARRIAGE AND A CARING DAUGHTER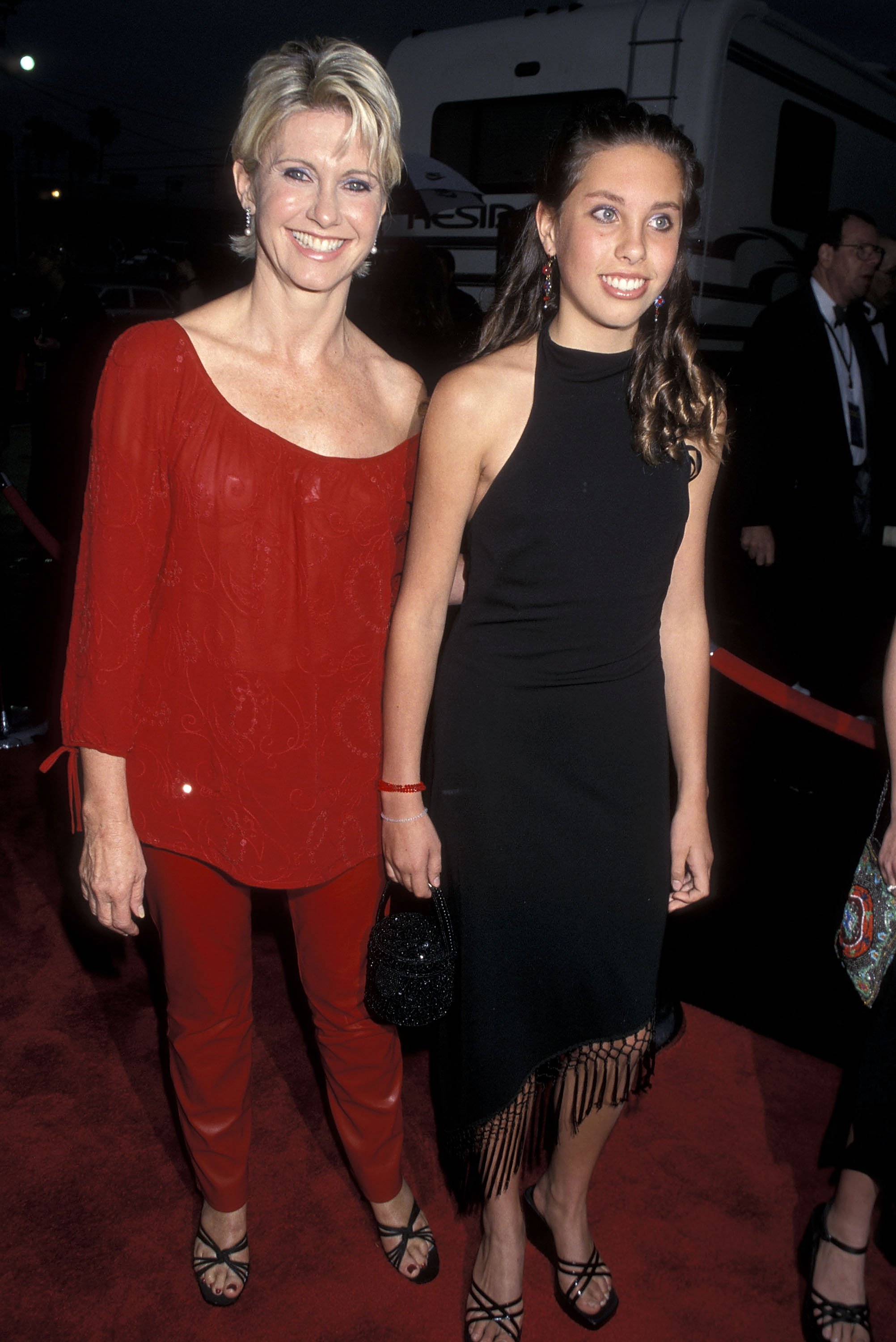 Singer Olivia Newton-John and daughter Chloe Lattanzi attend the 27th Annual American Music Awards on January 17, 2000 at Shrine Auditorium in Los Angeles, California. | Source: Getty Images
Despite her unending misfortunes, Newton-John remained strong and just as devoted to her daughter as she was when things were good. She still prioritized her daughter and taught Chloe the value of self-respect. Her optimism remained unwavering, and she would often say:
"I'm a much stronger person than I realized."
A long-time friend of Newton-John, Jane Seymour, who had inspired and encouraged Newton-John to have a baby, disclosed that the actress had mastered the art of balancing career and motherhood.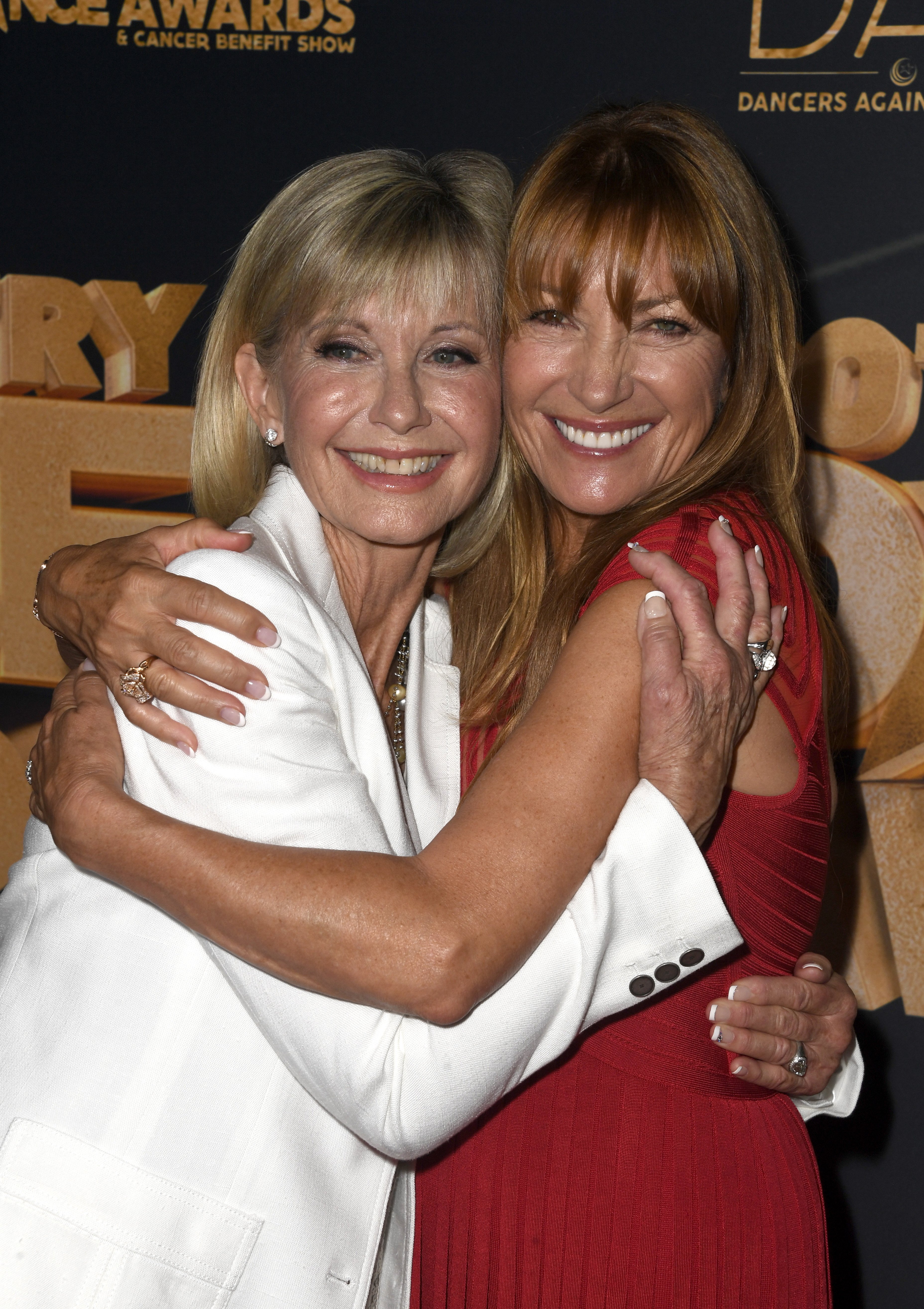 Olivia Newton-John and Jane Seymour attend the 2019 Industry Dance Awards at Avalon Hollywood on August 14, 2019 in Los Angeles, California | Source: Getty Images
Seymour disclosed that before Newton-John had Chloe, she always worried she would never manage to balance the two most important aspects of her life, but with Seymour's encouragement, she did it.
Fortunately, even after life had served Newton-John so many lemons, she finally enjoyed her big glass of lemonade when she married her second husband, John Easterling. The two wed in two secret ceremonies in 2008. She had finally found her true love at 59.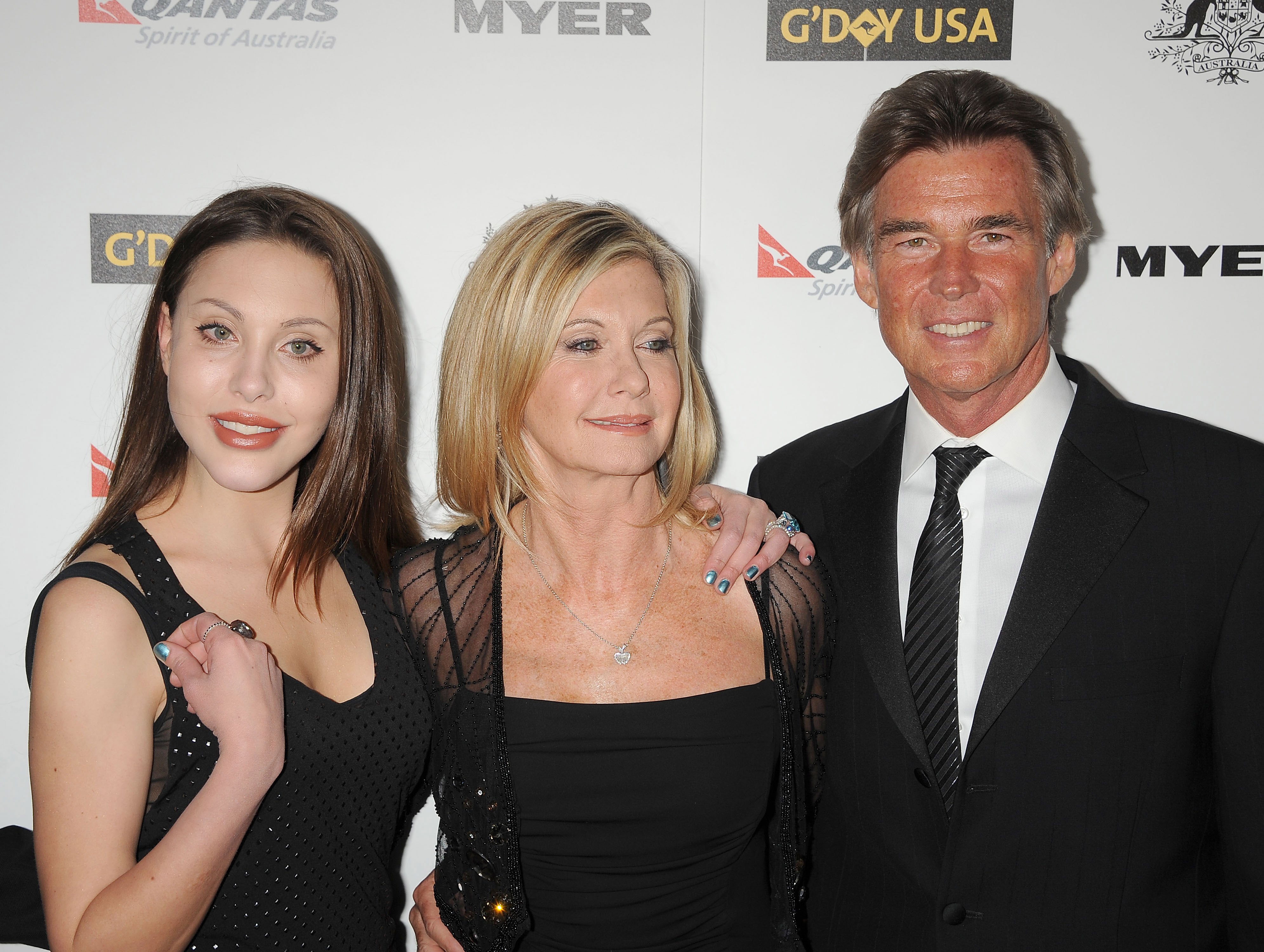 Chloe Lattanzi, Olivia Newton-John, and John Easterling arrive at the G'Day USA Australia Week 2011 Black Tie Gala at Hollywood Palladium on January 22, 2011 in Hollywood, California | Source: Getty Images
Easterling and Chloe became Newton-John's pillar of strength even as she was diagnosed with a second bout of cancer in 2013. They stood by her even as she received the devastating news that the illness was back and had metastasized to her lower back in 2017.
They were also with her during her last moments, right before she waved the world goodbye on August 8, 2022, at her home in California. Even as they deal with the void she left in their hearts, the two celebrate the life they shared with the music legend and keep her in their memories.
Please fill in your e-mail so we can share with you our top stories!