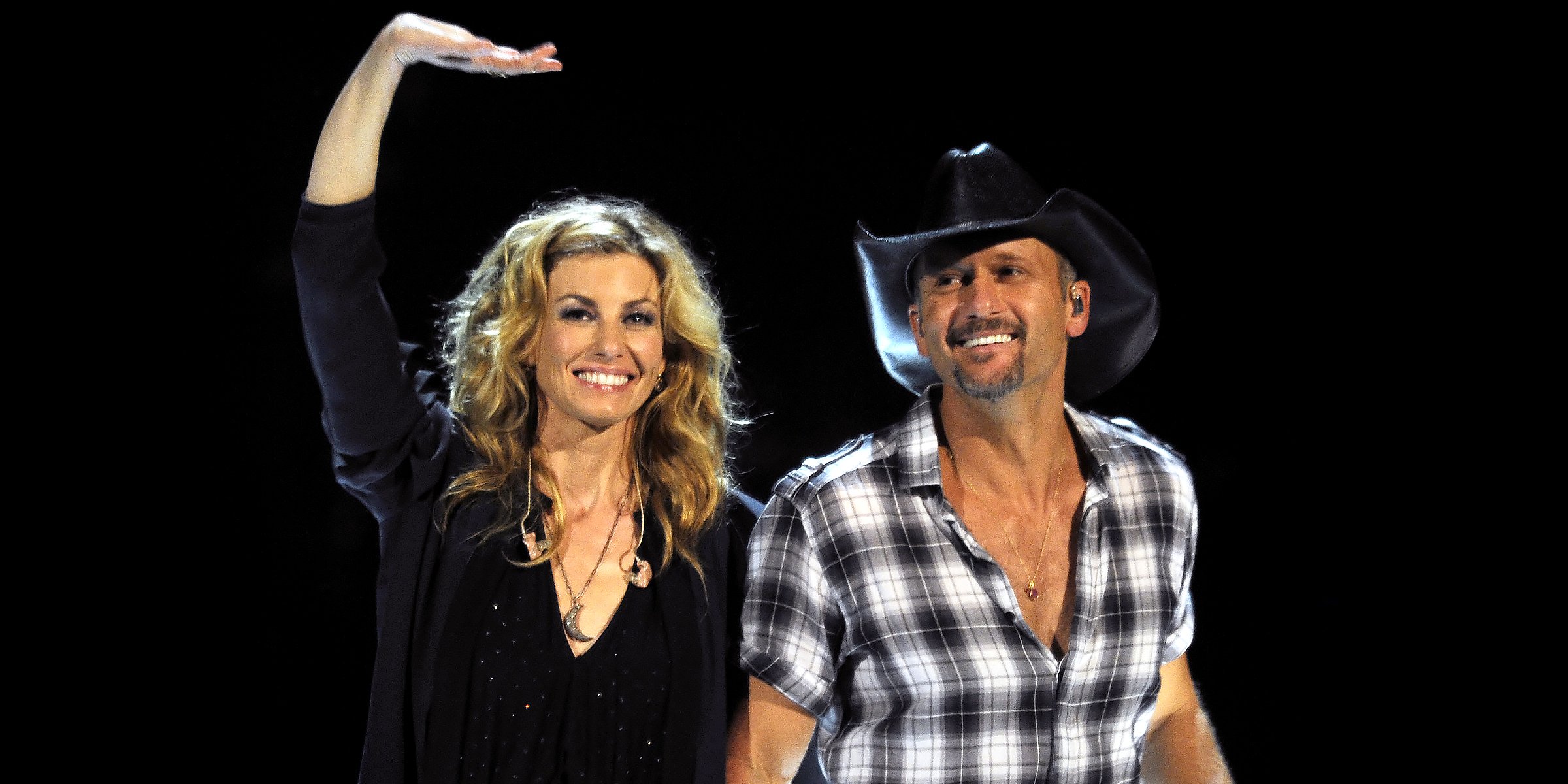 Getty Images
Tim McGraw Is Doting Dad to 3 Grown Daughters at 55 & Looks Forward to Having Grandkids 'Down the Road'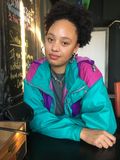 Tim McGraw and his wife Faith Hill have had a successful marriage of 26 years. They have raised three daughters together who have grown to become smart independent women, and now McGraw is ready for the next phase of becoming a grandfather.
Tim McGraw and Faith Hill are famous country singers that were brought together by their love for music. McGraw met Faith at the annual Country Radio Seminar in Nashville.
At the time, McGraw and Faith were both new to the music industry, and they performed the song "Few Faces".
Tim McGraw and faith Hill performing in Los Angeles 2017. | Source: Getty Images
The couple said that moment was instant chemistry between them, but they have also emphasized that they remained completely platonic as they were both in relationships.
The two performed together again at McGraw's Spontaneous Combustion Tour, and the spark between was noticeable.
McGraw was newly single after breaking off his engagement to Kristine Donahue and Hill was engaged to music producer Scott Hicks.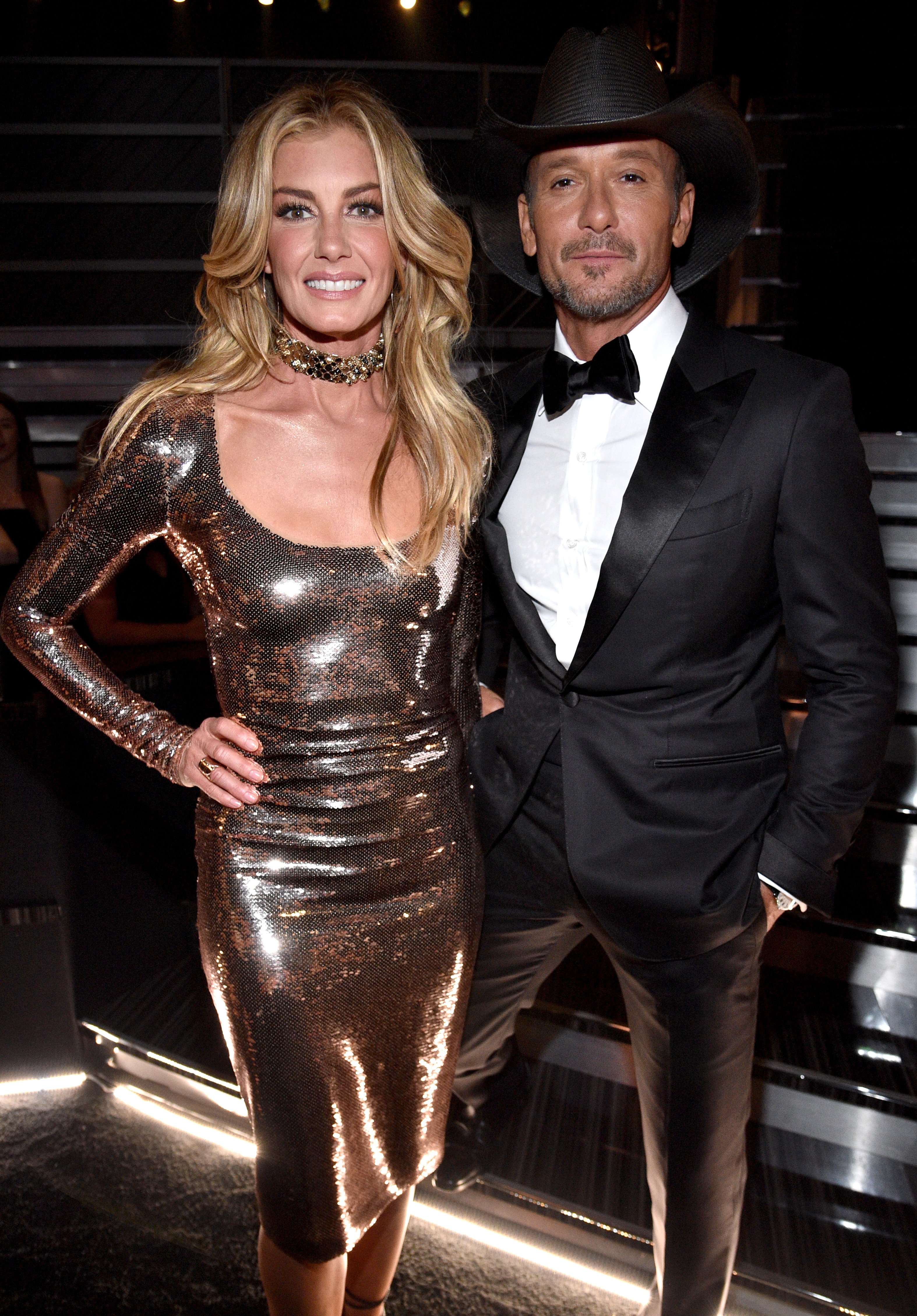 Tim McGraw and Faith Hill in Las Vegas 2017. | Source: Getty Images
But what Hill felt with McGraw was too strong to ignore, so the singer broke off her engagement to be with McGraw. The country sensation expected people to judge her decision but she blatantly aid said; "I wasn't about to let Tim slip through my hands".
Their engagement was also rather spontaneous. It was in 1996 and McGraw said he was just about to leave their trailer to perform at an outdoor country music festival and casually said he wanted to marry Hill.
Hill was shocked that he popped the question in the trailer just before a performance, but her response was sweet.
After his performance, McGraw found the words "Yes, I'm gonna be your wife" written on the mirror with red lipstick. The couple said they still have that mirrors.
McGraw and Hill have not done anything the usual way when it came to their relationship. Their wedding was not long after the impromptu proposal but decided to throw a surprise wedding.
The couple invited their friends to a charity softball game in McGraw's hometown Rayville, Louisiana, but got married instead.
McGraw said his sisters are still upset with him for not letting them dress up for his wedding but it was another fun and casual touch from the couple.
The couple reached a milestone and celebrated their 20th wedding anniversary in 2016. Hill McGraw did not get up to anything extravagant, the couple decided to celebrate their anniversary in sweats while binge-watching television.
In their 20 years of marriage, the couple also decided on simpler gift giving. McGraw said they agreed for Christmas and anniversary gifts to not be more than $100.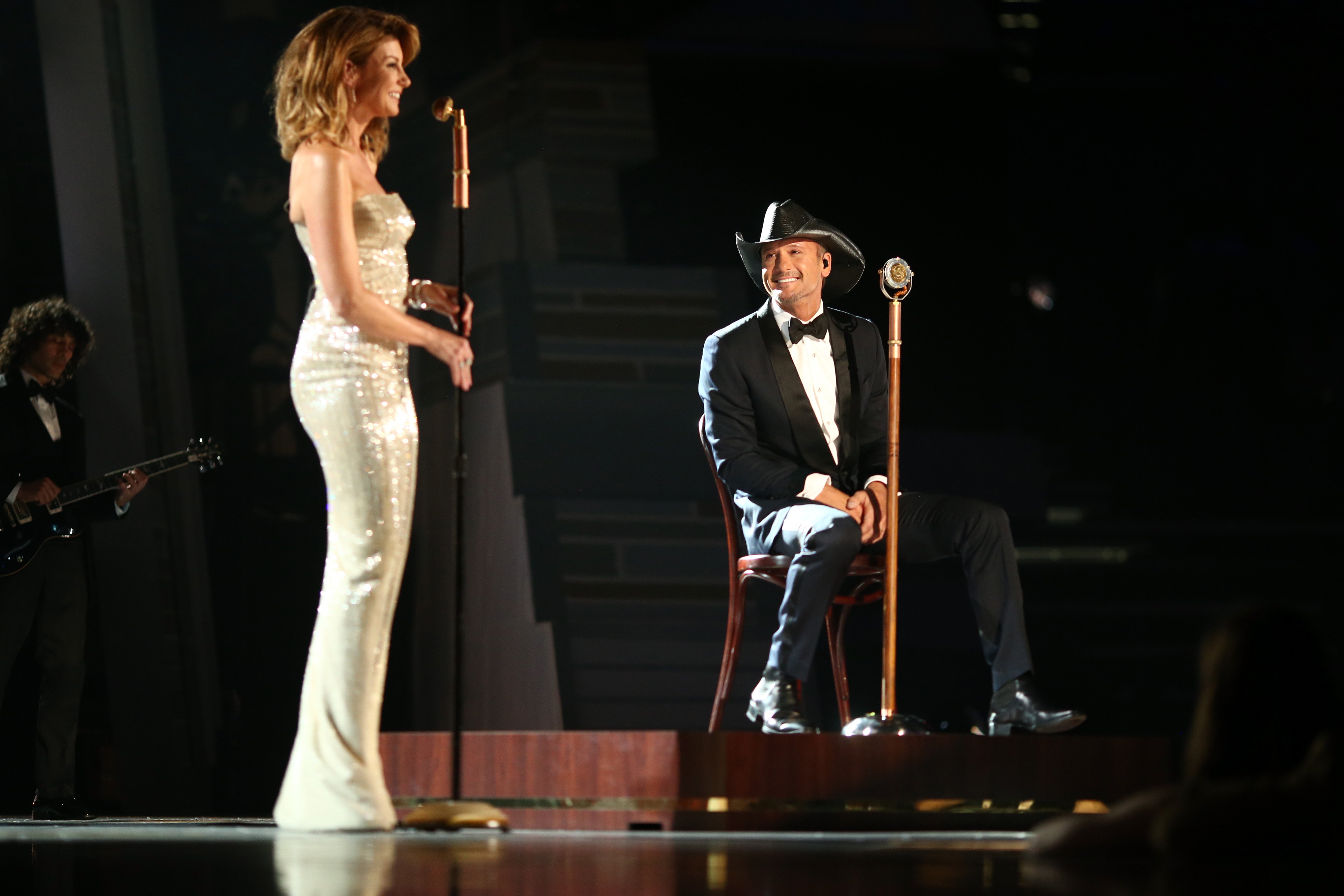 Tim McGraw and Faith Hill performing in Las Vegas 2014. | Source: Getty Images
Performing together never stooped for McGraw and Hill. The couple went on tour in 2000 for the Soul2Sould tour and again in 2006 for part two of Soul2Soul.
When it was time to give being on the road a rest, the couple also had a 20-show residency in Las Vegas and gave people a show to remember together.
Hill and McGraw have had a successful marriage of 26 years, and the couple said the secret to keeping the spark alive is about balance.
The country singers met through music and that transitioned into their marriage. Hill admitted that a lot has changed since they started dating in 1996 but she said she is still in awe whenever she sees her husband perform.
Additionally, the couple's careers have grown which means schedules have gotten busier. However, Hill said they always try to give each other space whenever they are working.
They have separate dressing rooms and individual daily schedules. But their romantic quality time together is still important.
For Hill and McGraw what is important is the pleasure of being together, and as they have gotten older the couple enjoys more intimate times at home.
ALL ABOUT THE MACGRAW KIDS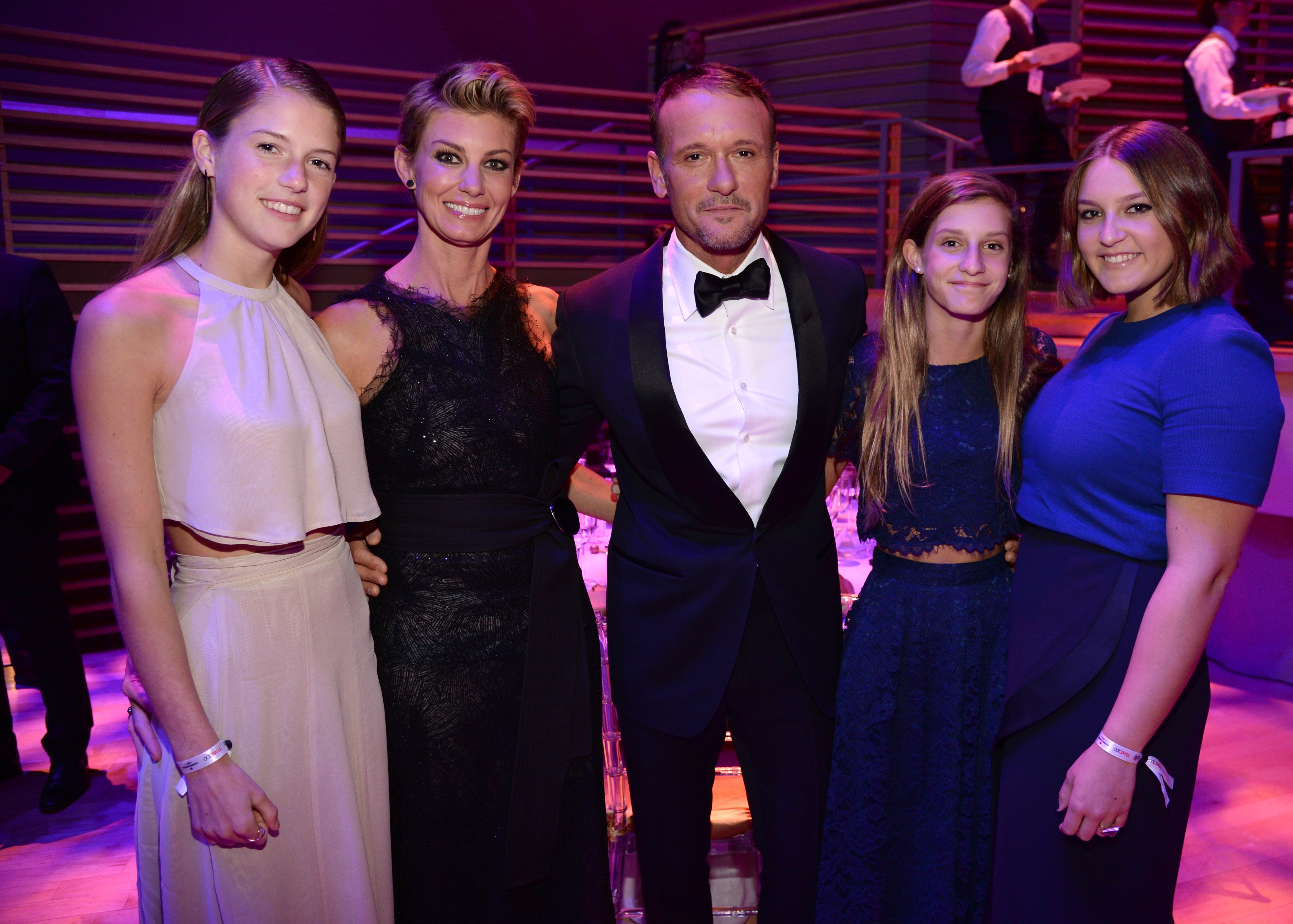 Tim McGraw and Faith Hill with their daughter Gracie, Maggie and Aubrey in New York 2015. | Source: Getty Images
Hill and McGraw welcomed three children together. Despite their busy schedules, they have always been devoted to their children, and time with them has never been taken for granted.
Their first-born daughter Gracie was born in 1997 followed by Maggie in 1998 and their eldest daughter Aubrey was born in 2001.
McGraw and Hill are proud to see their girls grow but still emotional to realize how much time has flown. They described their eldest daughter Gracie as a kind and caring person that is always there for friends and family.
Gracie also has the talent of singing like her parents. When she was 18 years old McGraw performed a duet with her at his concert in Nashville.
Fans loved the performance and the video of the father-daughter duet gained million of views on Youtube and was even featured on the Today show.
Tim McGraw performing with his daughter Gracie in Nashville 2015. | Source: Getty Images
Gracie is now a 24-year-old woman that is embracing her body and who she is. Gracie expressed how she had criticized her body in the past but now that has changed because she is "taking her body back."
Gracie has also shown her dancing skills on a stripper pole and she is a woman that is proud to use her body to make herself happy. She's all about body positivity and her followers made sure she knew how gorgeous she looked.
Secon-born Maggie is also making her parents proud. The 23-year-old was part of a nonprofit organization called Feed the Frontliners during the COVID-19 pandemic.
She volunteered during quarantine and even appeared on the Ellen DeGeneres Show for her tremendous work. McGraw was all smiles and said: "It's a great project. I'm proud of her."
The youngest Aubrey is also taking in the steps of her parents. Aubrey made her first acting debut in her father's music video for the song 7500 OBO.
The music video is about a man that sells his truck because it is a painful reminder of his ex-love. The video is told from the perspective of a teenage girl who is played by Aubrey.
McGraw was proud to work with his daughter, he said making her part of the video would have never crossed his mind but he's happy he did.
As the children are getting older and moved out of the house, McGraw said it was tough to see them go at first, but the singer assured other parents that it gets better.
McGraw said those difficult emotions fade away when he sees his children grow and build their own lives and careers.
Now Hill and McGraw have started to enjoy their time alone at home but they still have the girls over as often as possible.
The Its Your Love singer said he is now looking forward to his next stage of life which is becoming a grandfather. He is not in a hurry but he would love some grandkids one day.
Please fill in your e-mail so we can share with you our top stories!