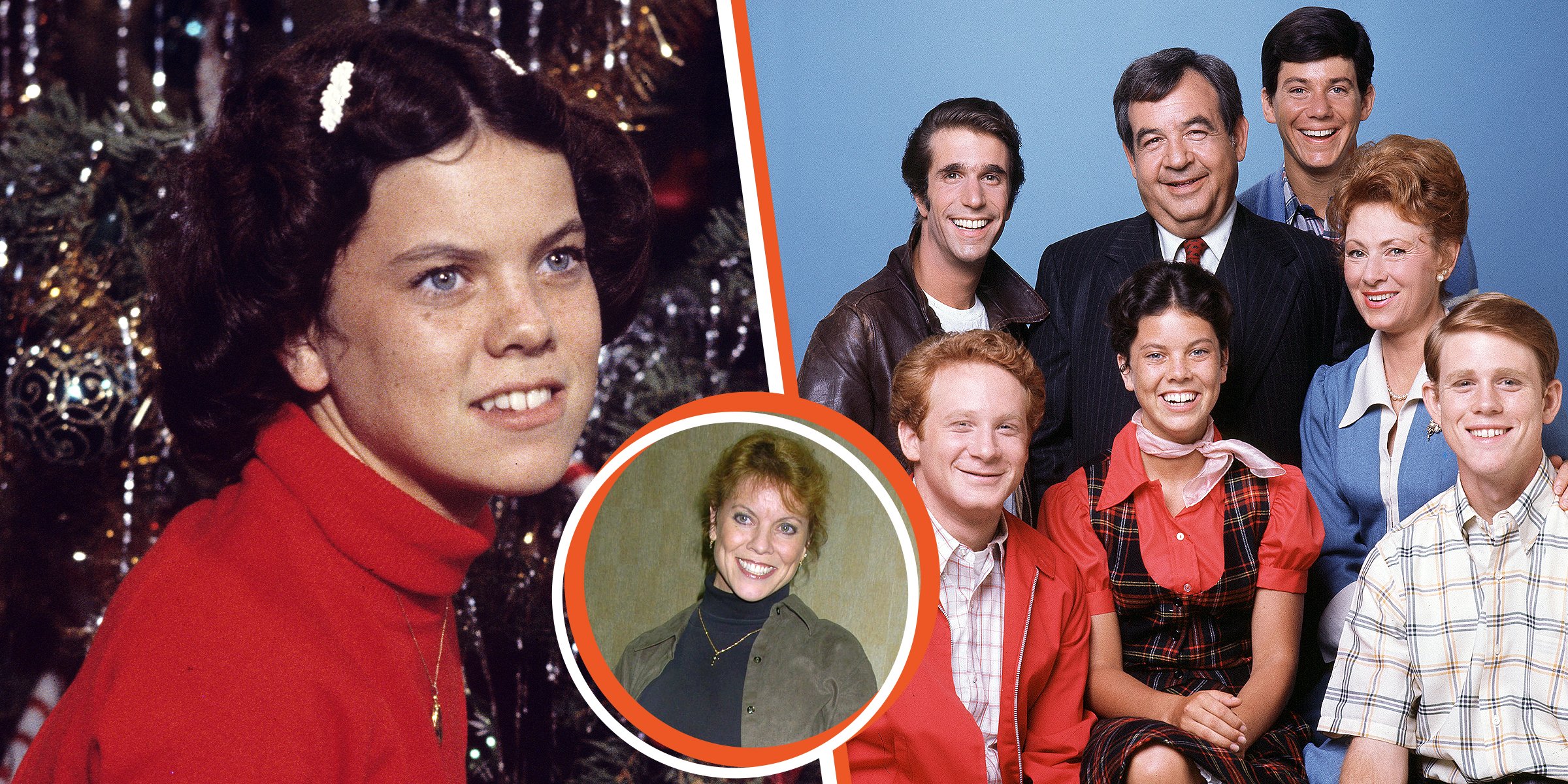 Getty Images
Erin Moran Felt 'So Surreal' with 'Happy Days' Family — She 'Needed More' from Them before Becoming Homeless

Anyone who grew up watching "Happy Days" knows Erin Moran. However, not many people know what happened to the once-world famous actress. Her life did not turn out like many would have expected.
On-screen, the TV family, The Cunninghams, had a picture-perfect life. The series, set in the 1950s, showed a perfect family who did what they could to support and love one another throughout the series.
One theme that recurred throughout the series was Joanie, played by Moran, being protected. She was the youngest member of the Cunningham family and was therefore protected by all family members.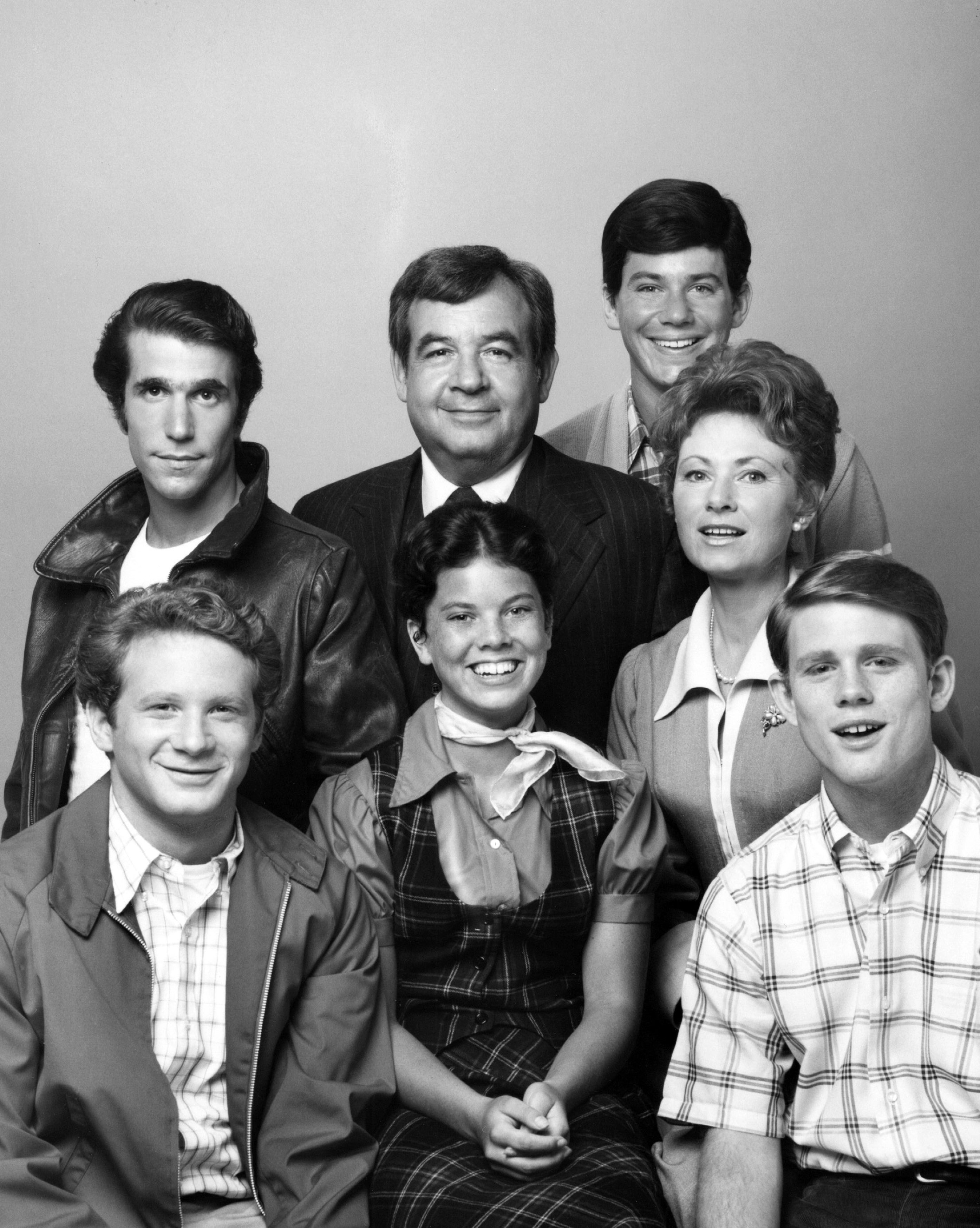 Henry Winkler, Tom Bosley, Anson Williams, Marion Ross, Donny Most, Erin Moran, Ron Howard on "Happy Days" Season three, July 1975 | Source: Getty Images
It has been said that life imitates art, which was the case for Moran as she needed protection in real life. Many fans did not know that her life behind the scenes was far from the idyllic character she played on-screen.
Some of Moran's cast mates knew about her home struggles. Throughout her years filming "Happy Days," Moran grappled with her father being an alcoholic and her mother resenting her success as an actress.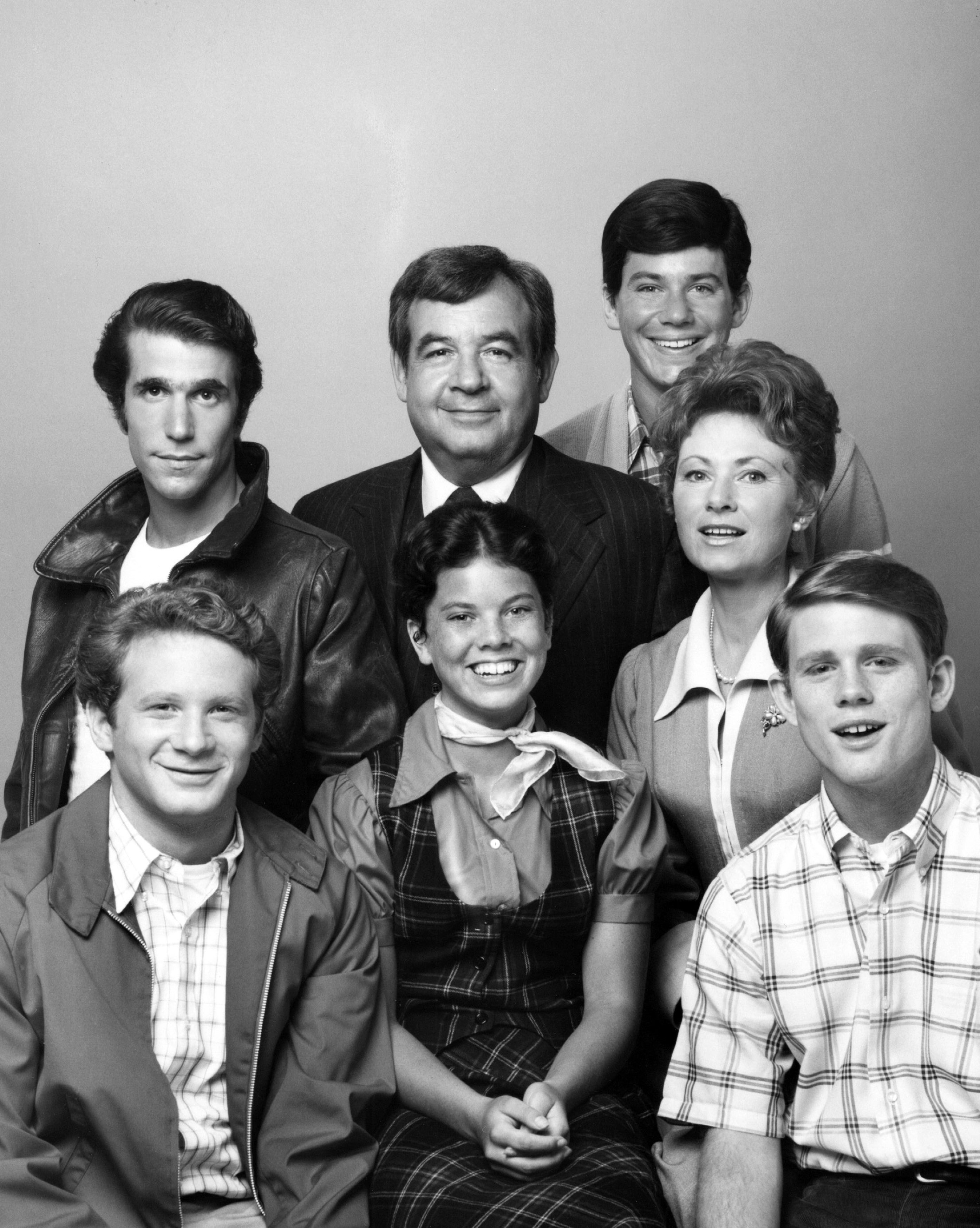 Erin Moran on "Happy Days" Season Two, July 10, 1975 | Source: Getty Images
Because her cast mates sensed her reality was troubled, they did their best to provide a safe space for her. However, nobody could ever save Moran ultimately from the sad life she was living.
When "Happy Days" was canceled, Moran got candid about her home life and said that while her cast mates knew some truths, there was much that she did not divulge to them about her life at the time.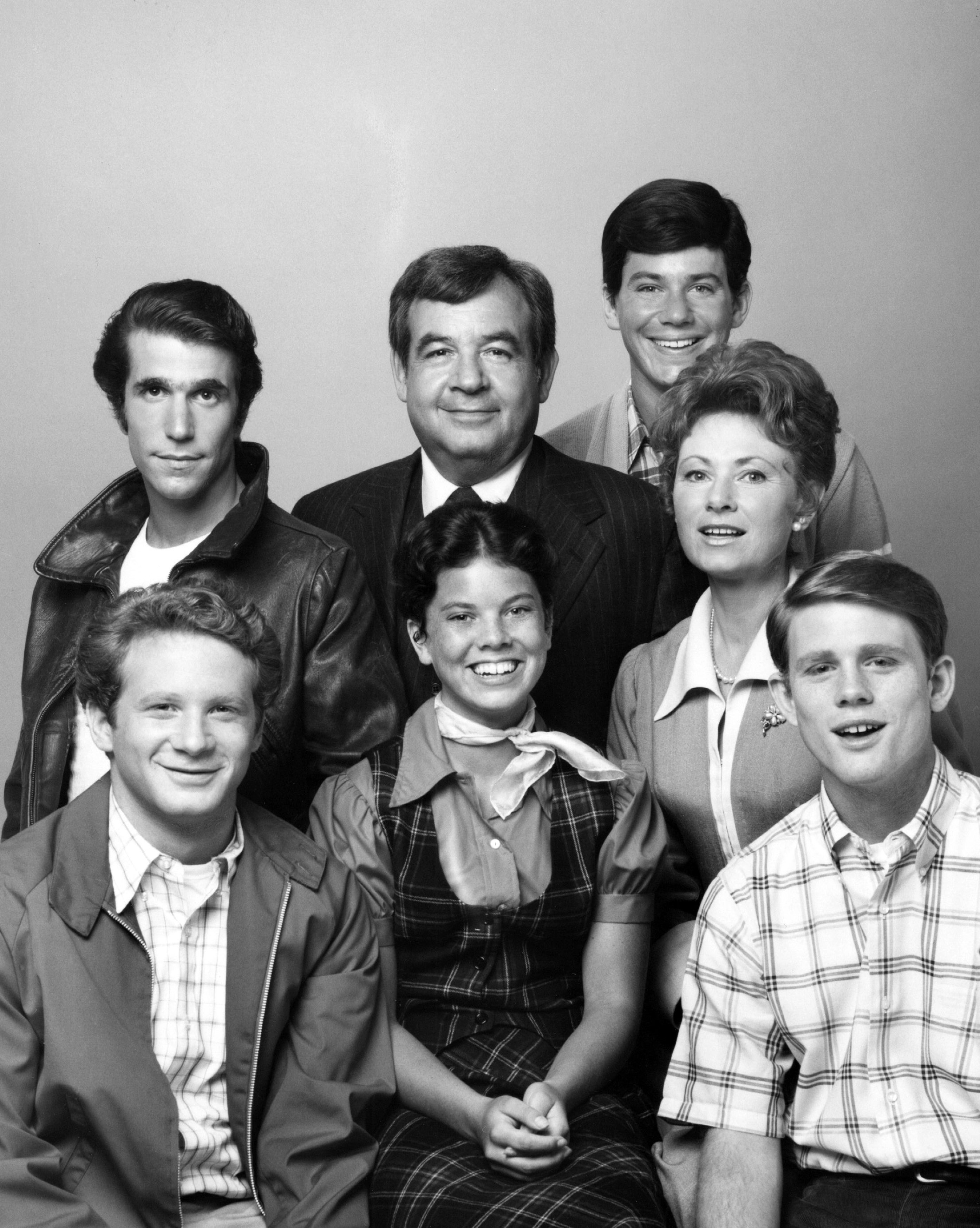 Marion Ross, Tom Bosley, Erin Moran, Ron Howard, Gavan O'Herlihy, Donny Most, Anson Williams, and Henry Winkler on "Happy Days" Season One , January 15, 1974 | Source: Getty Images
One of these instances was when her father drank too much at an ABC party and could not drive home; he asked Moran to drive. Moran was only 13 then and recalled praying she would make it home safely.
MORAN THOUGHT OF THE "HAPPY DAYS' CAST AS HER FAMILY
While Moran had a difficult home life, she knew that when she was on set, she had another "family" in the cast. In an interview, she revealed how she felt about the model, saying:
"What happened with all of us was like we were this family. It was so surreal with all the cast members. ... They were my family, get it?"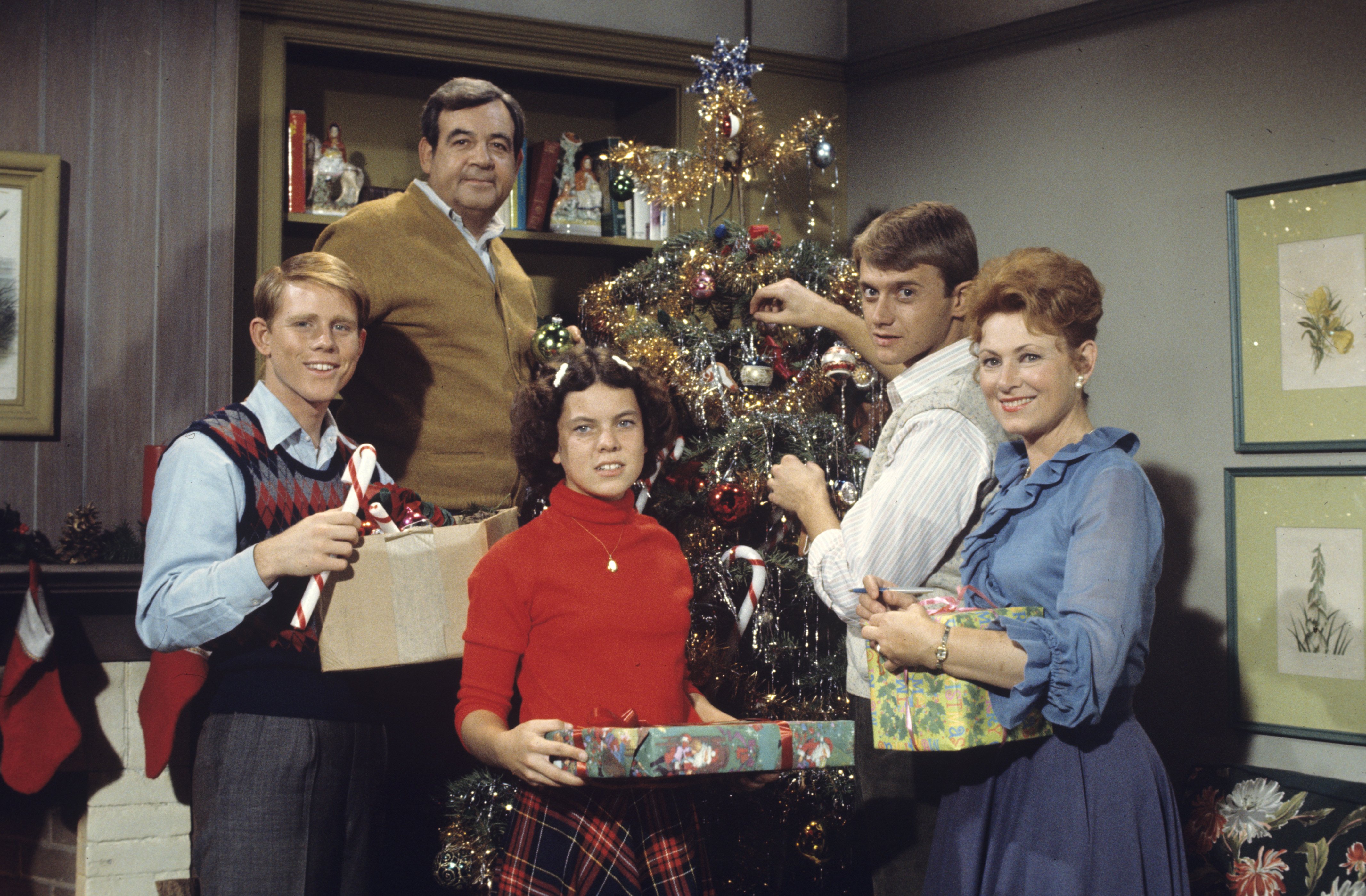 The cast of "Happy Days" in Season Two of the series, 29 October 1974 | Source: Getty Images
It was this affinity to the characters on the show that alarmed her TV mother, Marion Ross. Ross confessed that she became aware that Moran might be mistaking her TV family for a real family even though they weren't.
Ross shared her feelings about filming with Moran and then mentioned Moran's love for her TV family and it being difficult for a young woman. She said:
"I even thought for a time she was confused about thinking that we were family…But you see, we weren't her family. And that's very confusing for a young girl. We forget that show business is a hard choice, isn't it?"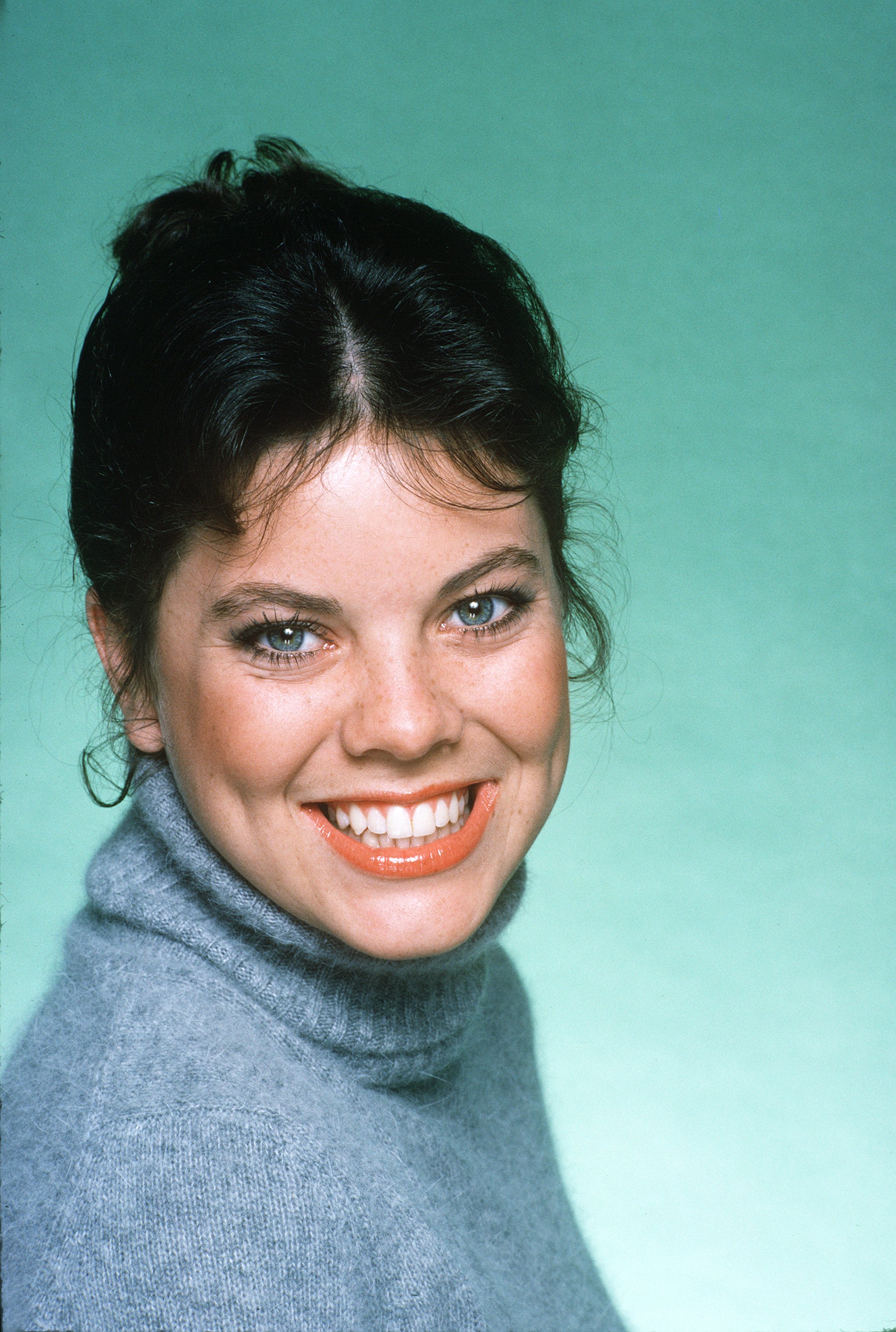 Erin Moran on Season Five of "Happy Days" on February 28, 1978 | Source: Getty Images
Moran also said that she was looking for love and care from her cast mates but knew they were not obliged to her. She confessed: "I needed more. But their job wasn't to take care of me."
While on the show, Moran had somewhere that she could escape to when she needed it. However, after the show went off the air, Moran's life began to spiral, and she ended up in a compromising situation.
MORAN'S LIFE AFTER "HAPPY DAYS" AND CAST SUPPORT
Moran was still a young, impressionable woman when "Happy Days" ended in 1984. She got a spinoff series, "Joanie Loves Chachi," but that only lasted for a year between 1982 and 1983, so when "Happy Days" ended, she had nothing left in the franchise.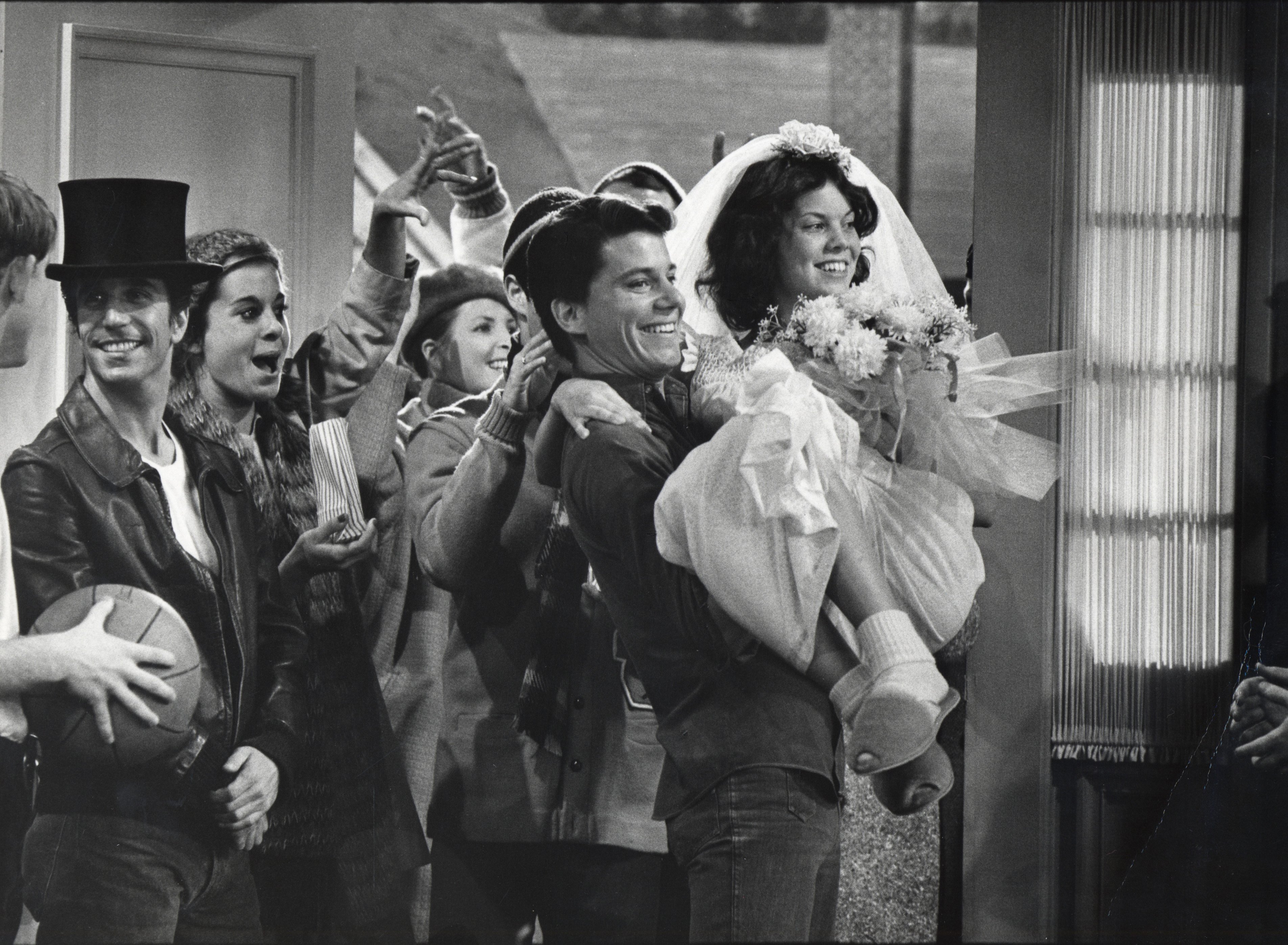 Erin Moran and Anson Williams As always, the course of love never runs smoothly on Season Three of "Happy Days" , 31 October 1975 | Source: Getty Images
In an interview in 1988, Moran admitted that she struggled with depression after the cancellation of both series and said that because of this, she found it difficult to land any other acting roles. However, she did pursue other aspects of her life, such as getting married.
Moran was married twice, and her first husband was Rocky Ferguson, whom she married in 1987. This relationship fell apart because of what he asked of Moran. He expected her to deny her status as a star. She shared:
"He wanted me to lie in who I was, and if anyone recognized me to say no, I wasn't. And that's the pressure he put on me."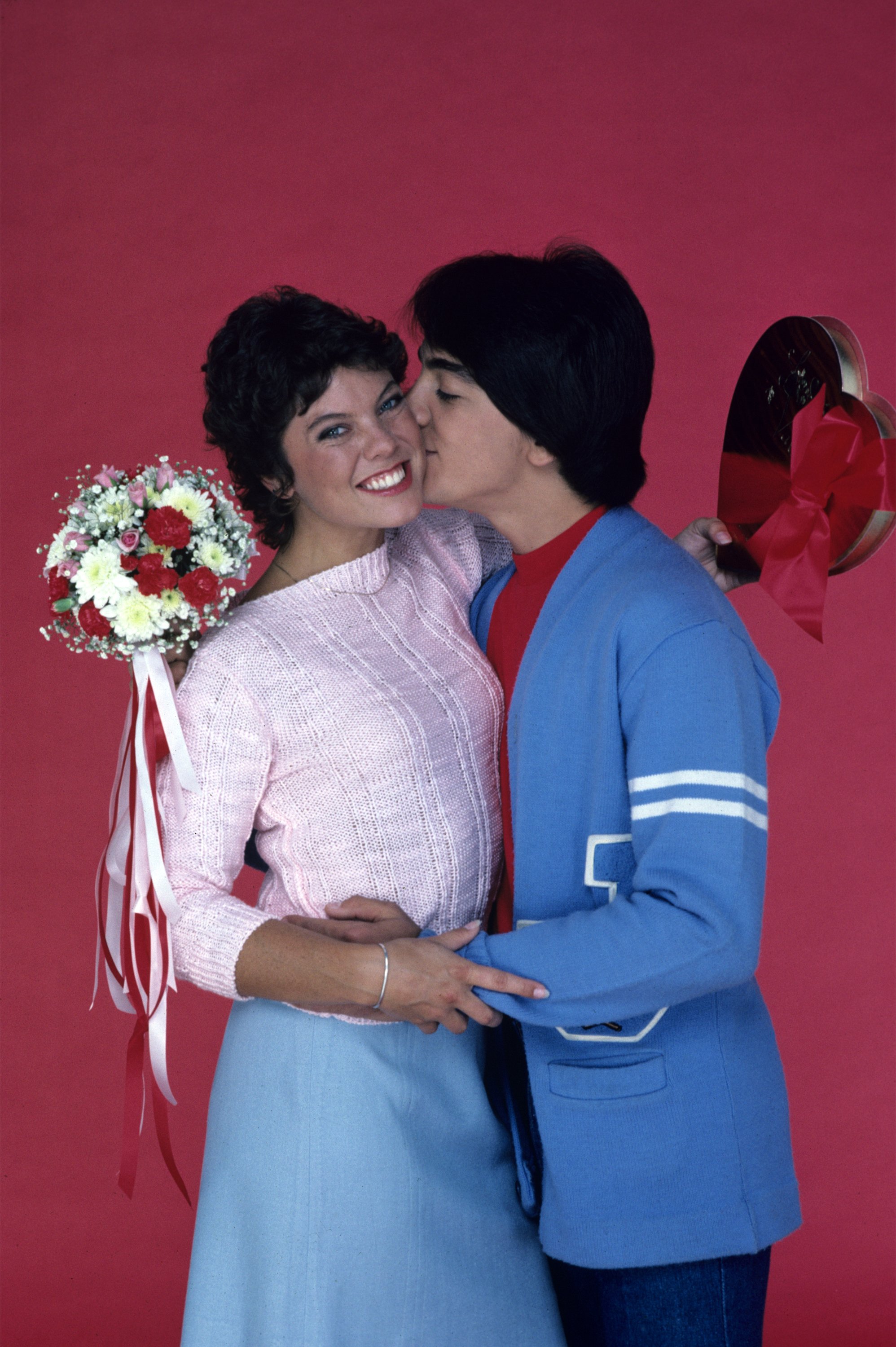 Erin Moran and Scott Baio on Season Nine of "Happy Days" October 6, 1981 | Source: Getty Images
However, she wanted to return to the screen, and when asked if she would do it, she confirmed it. Unfortunately, she never got the chance to fulfill that wish.
Amid all of the struggles she was facing with her depression, she turned to drugs and alcohol. Her problems became out of control and took over her life in the worst way. She also married once more.
Her second marriage was to Steve Fleischmann, which occurred just months after she divorced Ferguson. Her relationship with Fleischmann lasted much longer than she had with Ferguson.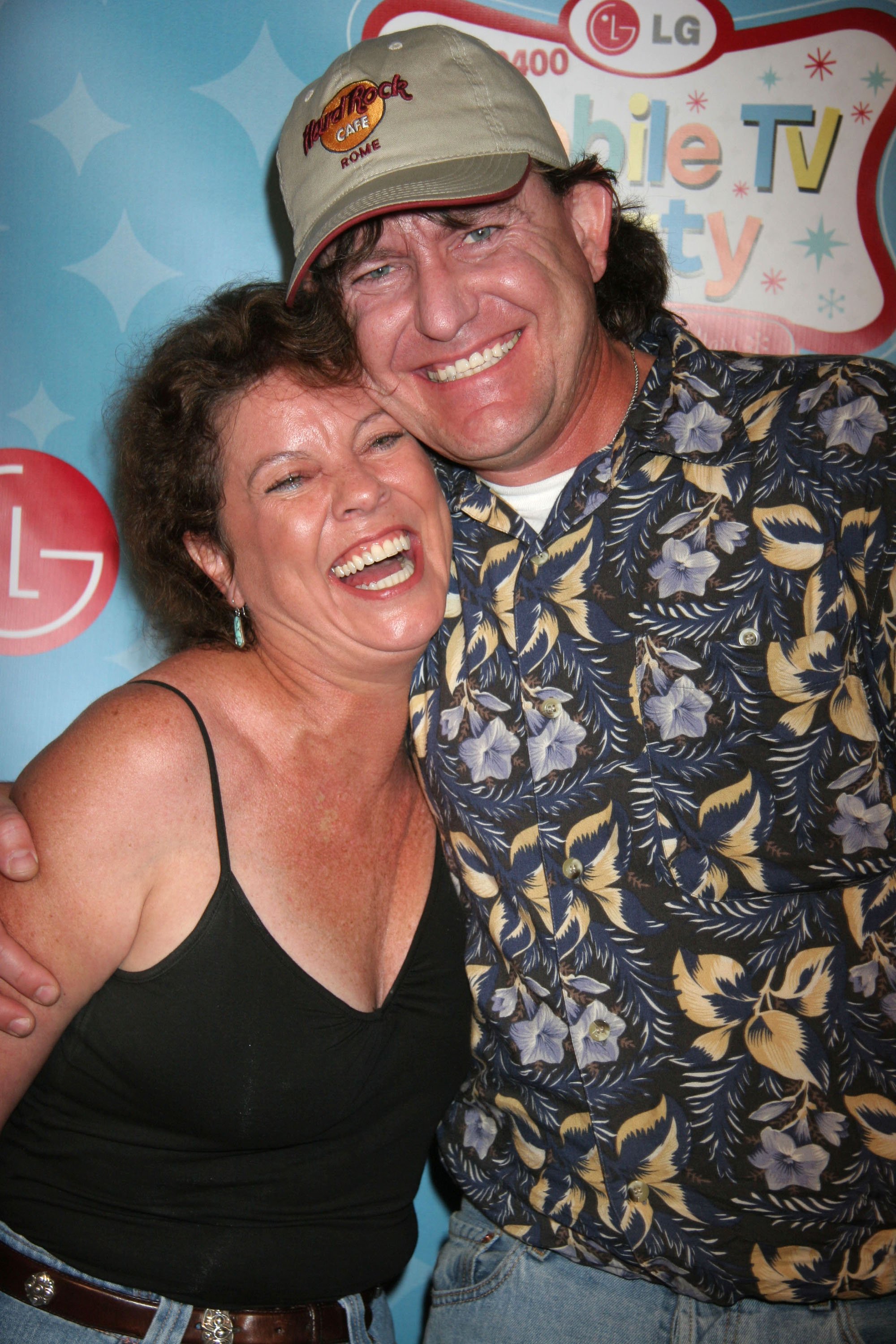 Erin Moran and husband Steven Fleischmann during LG Mobile TV Party at Stage 14 - Paramount Studios in Hollywood, CA, United States | Source: Getty Images
The couple remained together for the rest of Moran's life. However, they did not live a comfortable life together. In 2010, their California home was foreclosed upon, and they had to move in with Fleischmann's mother in a trailer park in Indiana.
Soon after, Moran and five other cast members sued CBS over "Happy Days" merchandise. The actors each demanded $10 million in compensation for merchandise, including T-shirts, dolls, toy cars, greeting cards, and lunch boxes.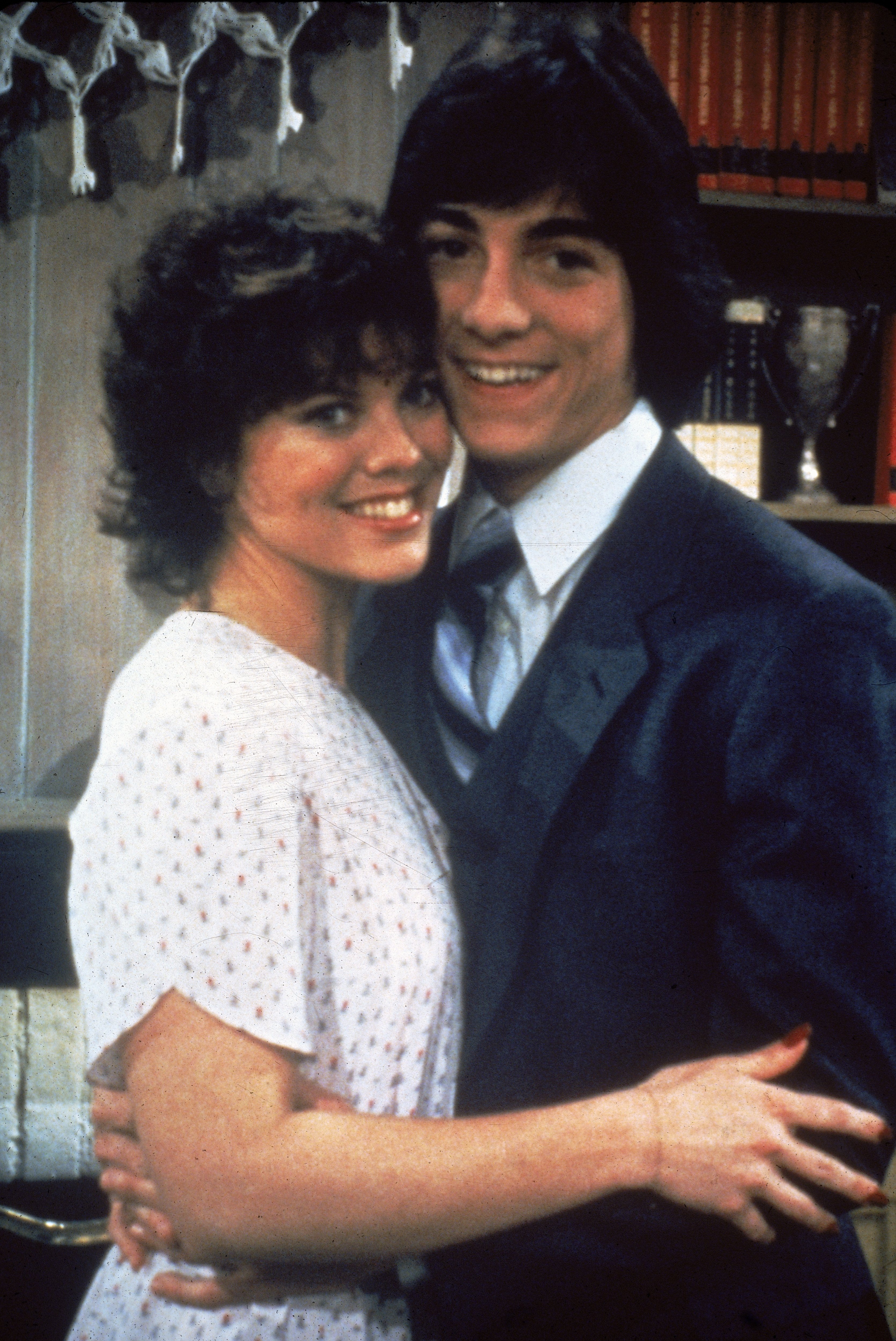 Erin Moran and Scott Baio hold each other in a publicity still for the television show 'Joanie Loves Chachi,' in which they play the title characters, 1982 | Source: Getty Images
However, by the time the deal was settled, they only got paid between $60 000 and $65 000. This, coupled with the fact that she never landed any other roles, made Moran feel cast aside by Hollywood. A friend shared:
"She was a little disheartened. She felt kind of like an outcast that none of them ever got hold of her — wrote her off [and] left her, you know, in the dust."
After this, images of Moran began to emerge, showing her looking unhealthy and desolate. She and her husband had been quicked out of his mother's home because of Moran's partying.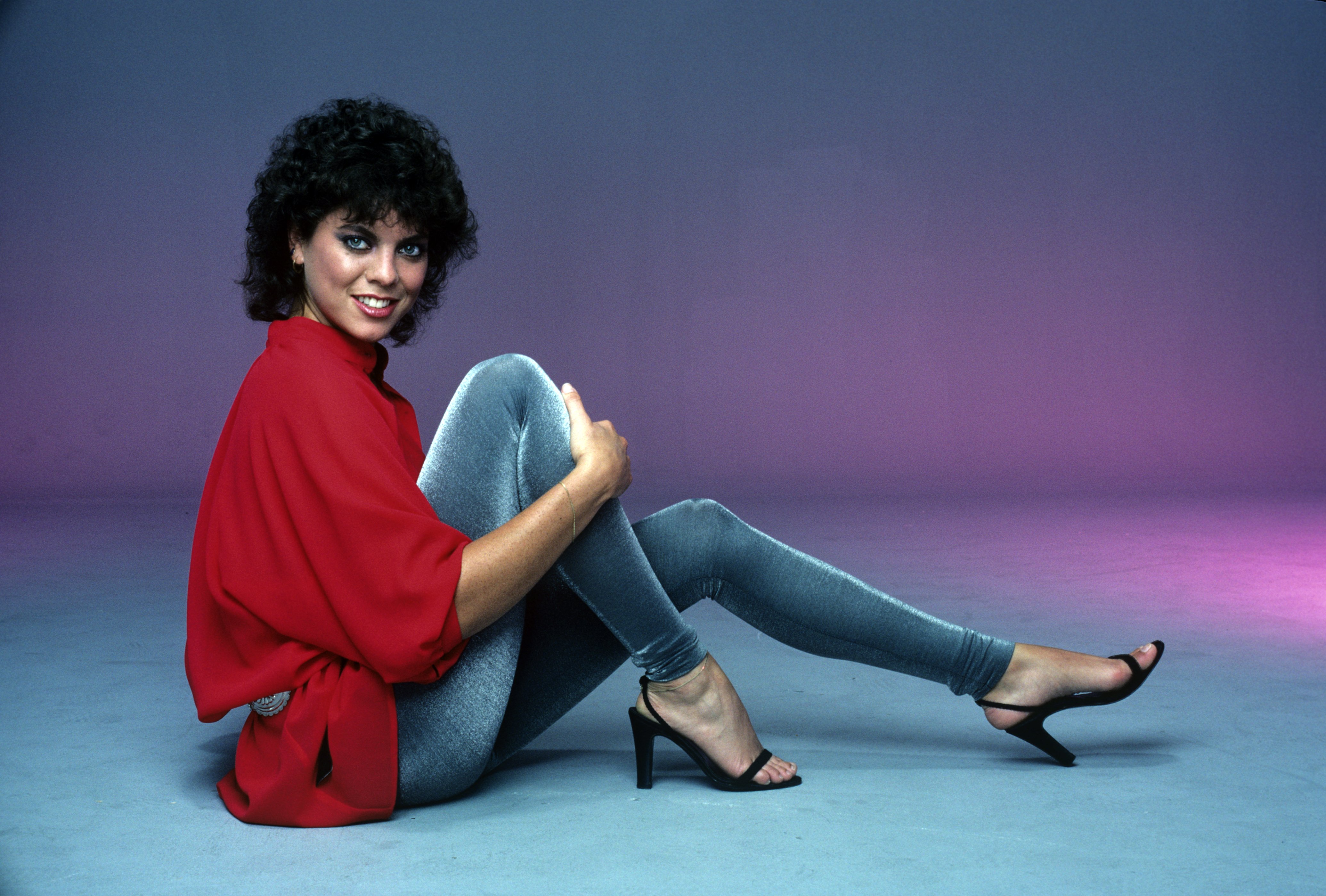 Erin Moran poses for a portrait while filming "Happy Days" in 1983 | Source: Getty Images
It quickly got an old costar's attention, and he immediately acted in her best interests. Henry Winkler tried to land her a role in the 2013 reprise of "Arrested Development," which aired on Netflix.
It was also revealed that she was working on a memoir at the time, which she would entitle "Happy Days, Depressing Nights." Yet none of these pursuits worked out for the actress, and she remained in a dark place.
Erin Moran during Mike Carbonaros Big Apple Comic Book, Art and Toy Show Press Conference - January 21, 2005 at Penn Plaza Pavilion in New York City, New York, United States | Source: Getty Images
A lawyer, Paul Petersen, later revealed that while many people, including him and his team, did their best to help Moran, she "ran from help." It was not long after this that Moran passed away. Petersen shared:
"We did our best with the resources available to us, but it was a very dark room. Some don't find the light switch in time."
Moran's health began deteriorating in late 2016; by early 2017, she had passed away from cancer. Her husband was one of the first to share his thoughts in a letter detailing her health struggles and their journey together.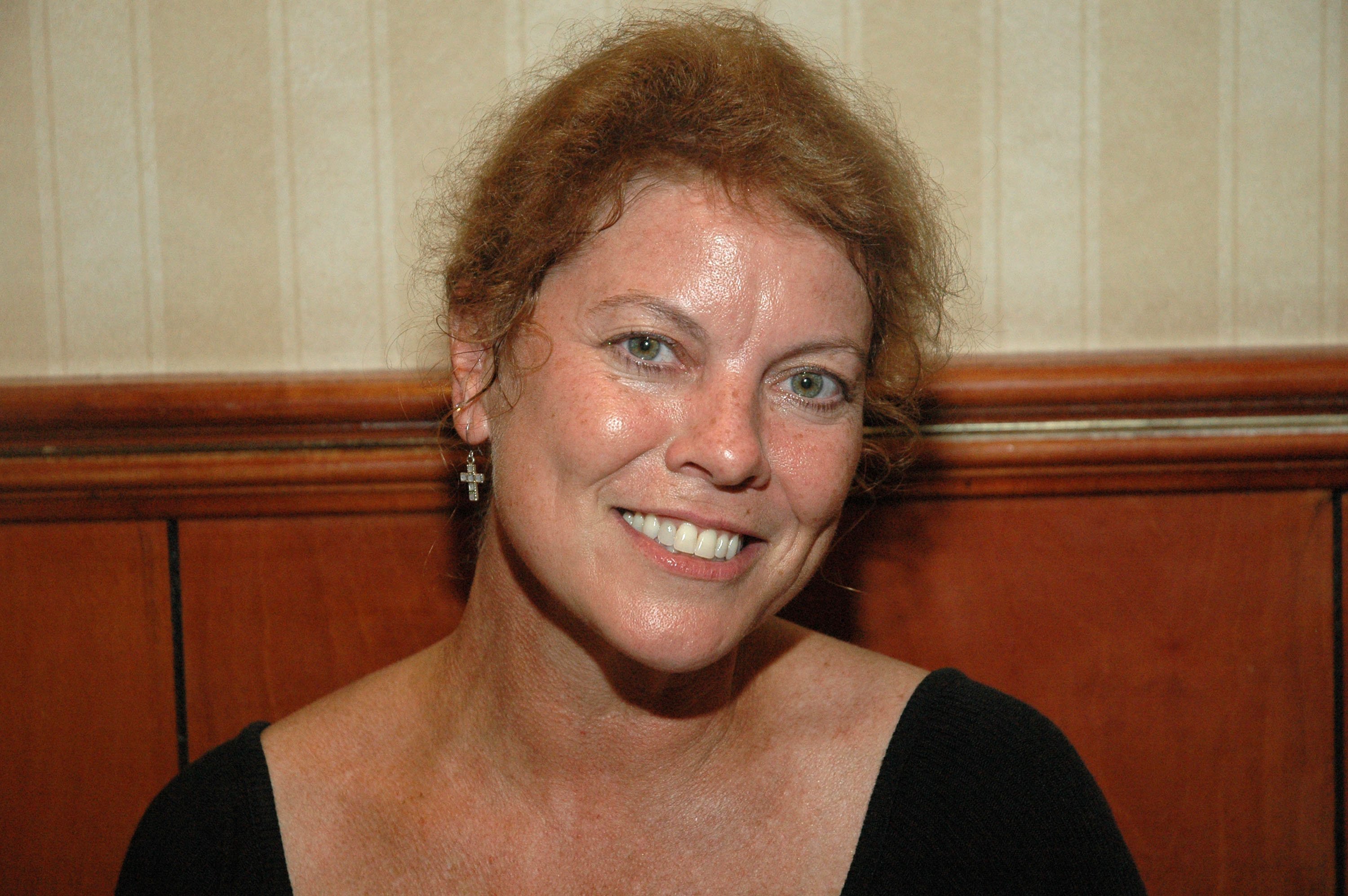 Erin Moran during Halloween Extravaganza at the Chiller Theater in Secaucus, N.J. at Chiller Theatre in Secaucus, New Jersey, United States, October 28, 2006 | Source: Getty Images
At the time of her passing, Moran had no money and believed she had no friends. However, after her death, it was clear how many people cared for her as the tributes began pouring in for her.
Henry Winkler shared a post on Twitter, saying he hoped she would find the peace she desperately sought. Another person who paid tribute to her was Ron Howard, who said:
"I'll always choose to remember you on our show making scenes better."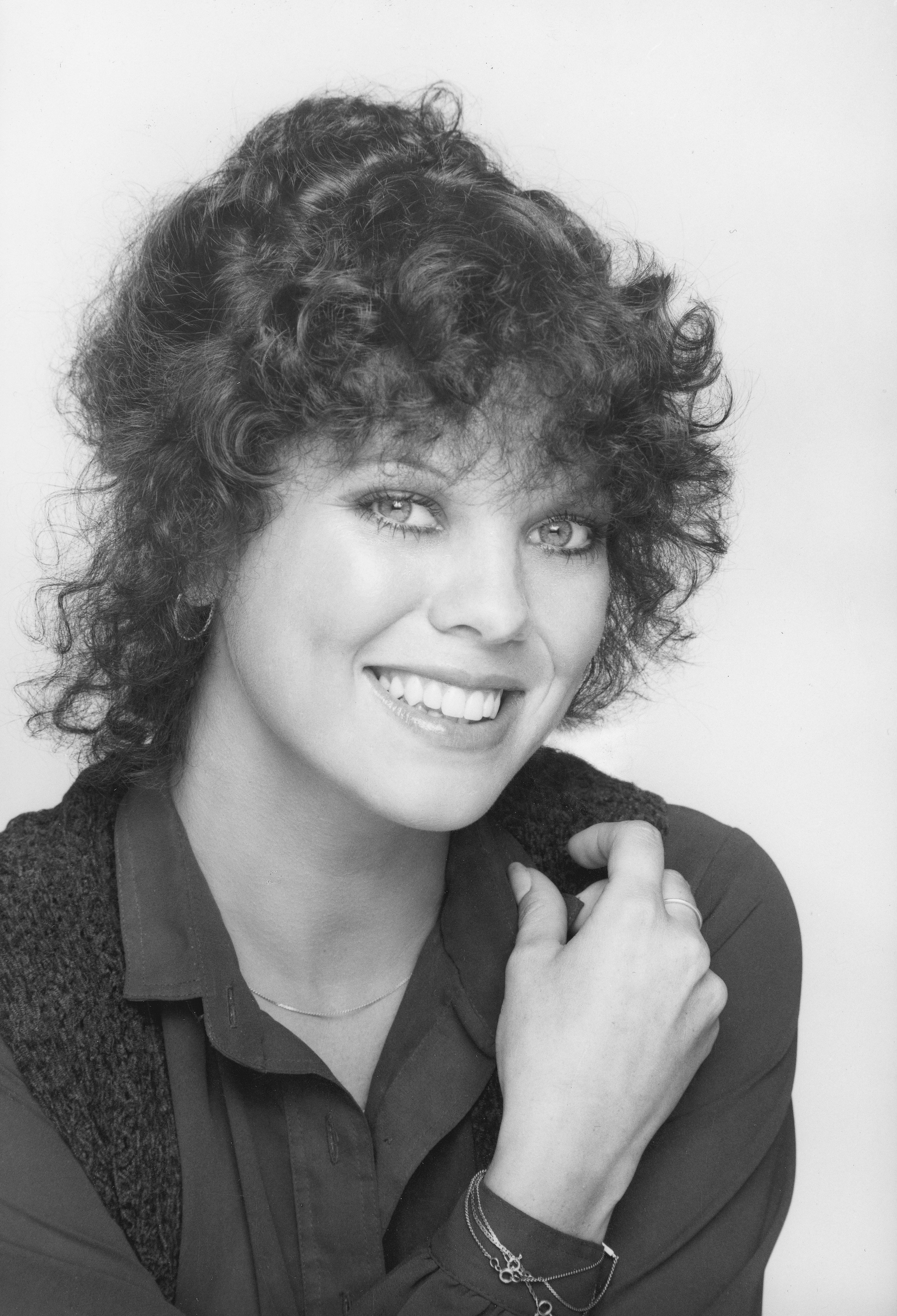 Erin Moran poses for a portrait while filming "Happy Days", 31 May 1979 | Source: Getty Images
While it has been years since her passing, the loss is still keenly felt each time "Happy Days" or any of her other works are mentioned.
Please fill in your e-mail so we can share with you our top stories!