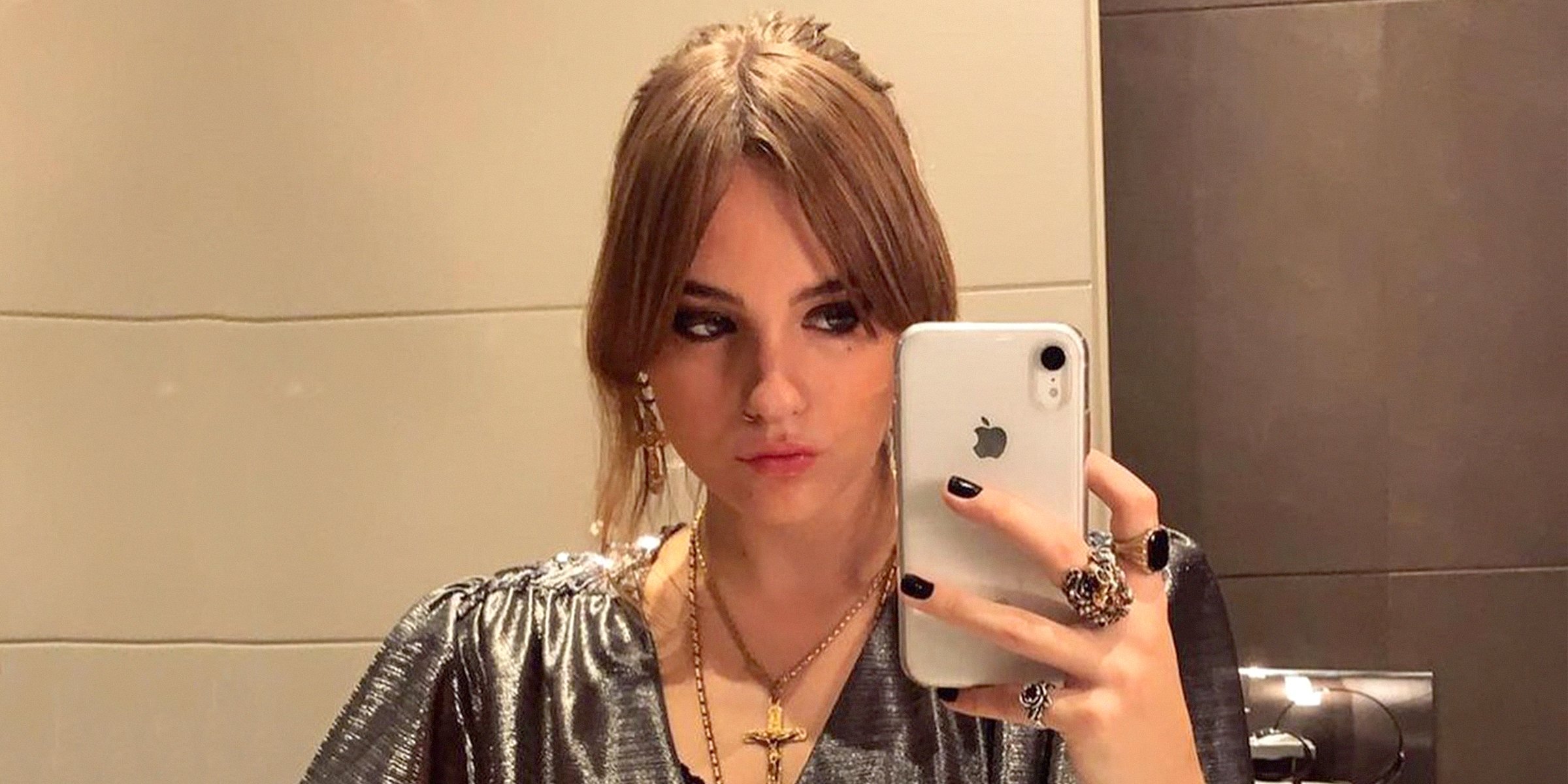 Instagram/vicdeangelis
Facts to Know about Victoria de Angelis Who Is a Founding Member of Måneskin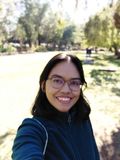 Bassist Victoria de Angelis quickly rose to fame after performing at the MTV Video Music Awards 2022, becoming an internet sensation. Here are some interesting facts about Måneskin's lone female band member.
One of the Måneskin's members had a wardrobe malfunction as a crowd of dancers surrounded the group, jumped, and danced on stage during their performance at the MTV Video Music Awards 2022, attracting a lot of attention and controversy.
Despite the fashion faux pas, the band's bassist, Victoria de Angelis, continued to play her bass guitar. As a result, the show's producers decided to cut the visuals for forty seconds. The unforeseen incident left viewers disappointed.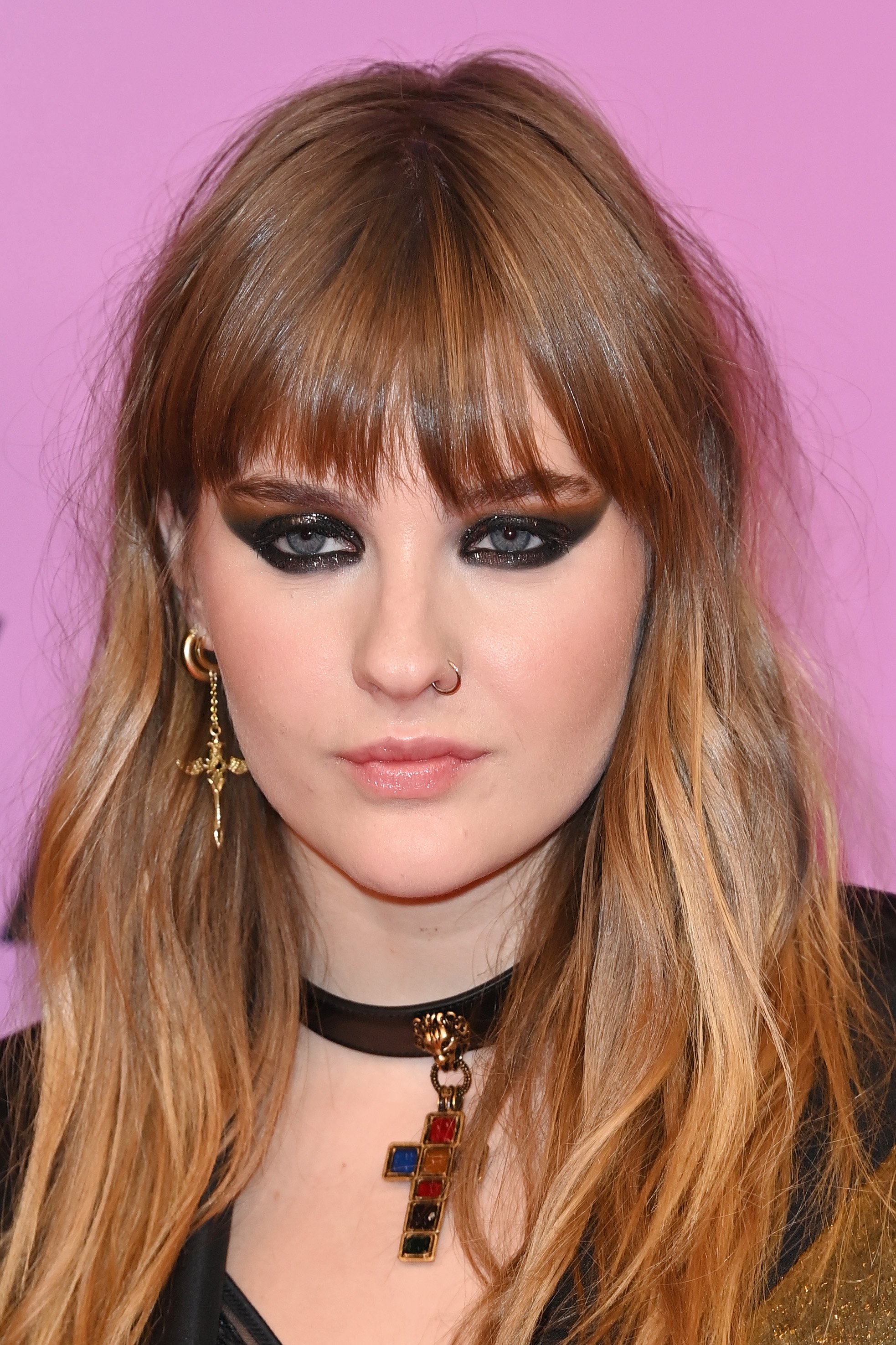 Victoria De Angelis attends the MTV EMAs 2021 on November 14, 2021, in Budapest, Hungary. | Source: Getty Images
VICTORIA DE ANGELIS - THE ONLY MÅNESKIN WOMAN
As the only female member of the influential Italian rock band, Victoria's recent outfit blunder has garnered much attention. The young musician was born in Monteverde, Rome, on April 28, 2000.
Victoria grew up multilingual. Her late mother was Danish, and her father, Alessandro, is Italian. In Denmark, her mother passed away. Victoria has a younger sister named Veronica.
Victoria's late mother was the one who taught her the Danish language. The young musician would speak their language whenever she got the opportunity to visit Denmark for holidays.
Victoria's Danish grandmother once stated in a Danish publication that her granddaughter has never publicly spoken about her mother. Victoria and her sister were teenagers when their mother died of cancer, according to their grandmother.
Victoria has not spoken openly about her mother's death but publicly about her love of music, specifically the bass guitar. She admitted that she began playing the guitar as a child. She said:
"I started playing the guitar instinctively at the age of eight. Three years later, when I took classes in school, my (female) teacher always criticized me because of my position. On a few occasions, I could test the bass guitar."
After trying the bass guitar, she fell in love with its distinctive tone. Notable female bassists like Kim Gordon of Sonic Youth, Suzi Quatro, Tina Weymouth of Talking Heads, and The Slits became Victoria's main influences.
Victoria has voiced her admiration for female musicians who have achieved success in a field dominated by male attitudes and perspectives. She considered these women as her musical role models.
Victoria has learned music with the help of Thomas Raggi, in addition to the female musicians she admires. She and Thomas were the first two members of Måneskin long before the band got its name and officially formed.
They had known each other since high school. Both friends were together when they began looking for a singer and drummer. Raggi and Victoria started to look for potential band vocalists until they found one, a female singer.
Unfortunately, they were unable to collaborate thoroughly with their female singer because she lived outside of Rome and could not attend practice sessions. The high school friends then discovered Damiano David and Ethan Torchio.
David and Torchio are now the official vocalist and drummer of the band, respectively. Since the group's formation, Victoria has suggested the name Måneskin, which means "moonlight" in Danish.
According to Italian media, Victoria's father, Alessandro, is the CEO of Måneskin Empire. His responsibilities include overseeing the band's revenue streams, which include merchandise, concerts, image rights, and sponsorships.
Since then, the band has made a name for itself in the entertainment industry. Their meteoric rise to fame, however, was not without complications. Fans assumed Victoria had been in a relationship with David.
Victoria clarified she and David were never a couple and said they have a "very special relationship" that can be seen whenever they perform on stage. She added that they are more than just siblings and friends.
Despite the fans' assumptions, Victoria has been open and transparent about her sexuality. In previous interviews, she frequently stated that she is bisexual and attracted to both women and men.
MÅNESKIN TALKS ABOUT SUCCESS
Following the band's success, Måneskin revealed in an interview with Vogue that they are now living the dream. The group is known for promoting a message of acceptance and for normalizing a genderfluid aesthetic.
Victoria is becoming a trendsetter, in addition to the band's genderfluid fashion.
David reflected on the band's work, saying that while he felt different on and off stage, his thoughts and feelings were genuine in both situations. Victoria's reaction was the polar opposite of Damiano's, and she stated:
"I feel it's always me, but [onstage] that's the moment where I feel like I can express myself fully and just be free of any inhibitions and just enjoy the moment."
Torchio stated that playing for the crowd was about "living the moment," while Raggi mentioned that it was the best thing he had ever experienced, adding that he "will stay forever on stage." Victoria said that their journey had been emotional yet rewarding.
The band, formed in 2016, came in second in Rome's "X-Factor" competition in 2017. In 2021, the band competed in and won the San Remo Festival and Eurovision. They are known for their various hits, including the track "Supermodel."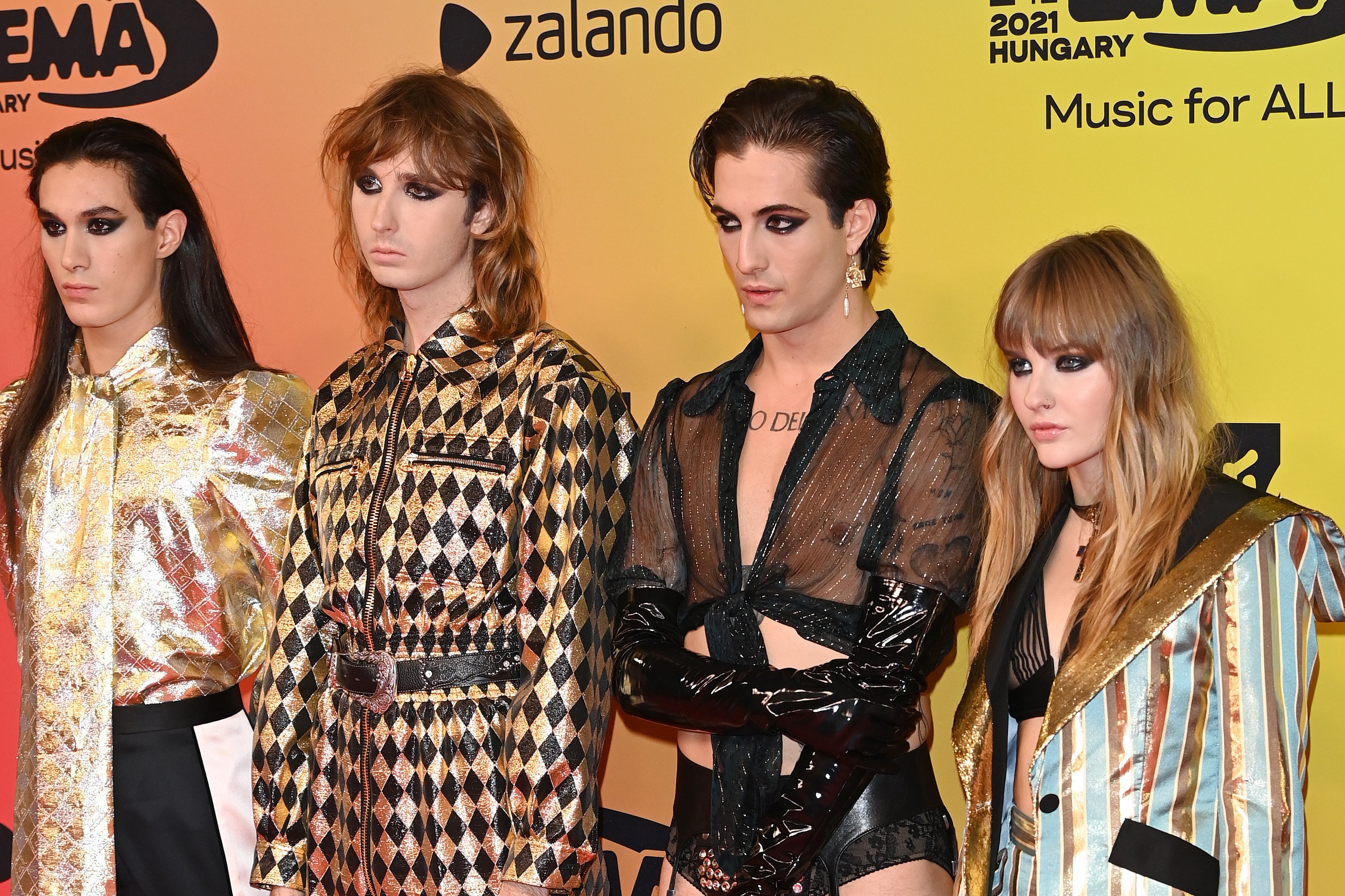 Måneskin attend the MTV EMAs 2021 on November 14, 2021, in Budapest, Hungary. | Source: Getty Images
VICTORIA DE ANGELIS'S LOOK AT THE MTV EMAS 2021
Victoria is becoming a trendsetter, in addition to the band's genderfluid fashion. She wore a stylish and glossy striped blue and gold suit and trousers, as well as a black sleeveless top underneath, to the MTV European Music Awards 2021, a counterpart to the annual MTV Video Music Awards in the United States.
Her striking dark eye makeup complemented her black outfit. According to makeup artist Chantal Ciaffardini, she used dramatic lashes, glitter, and matte brown shadow to create an ombre effect on Victoria's lids.
Ciaffardini perfectly groomed the bassist's bushy brows and added a pop of pink color to her lips. Victoria's overall appearance, which includes her messy blonde hair, elevates her to the status of a true rock star.
Please fill in your e-mail so we can share with you our top stories!