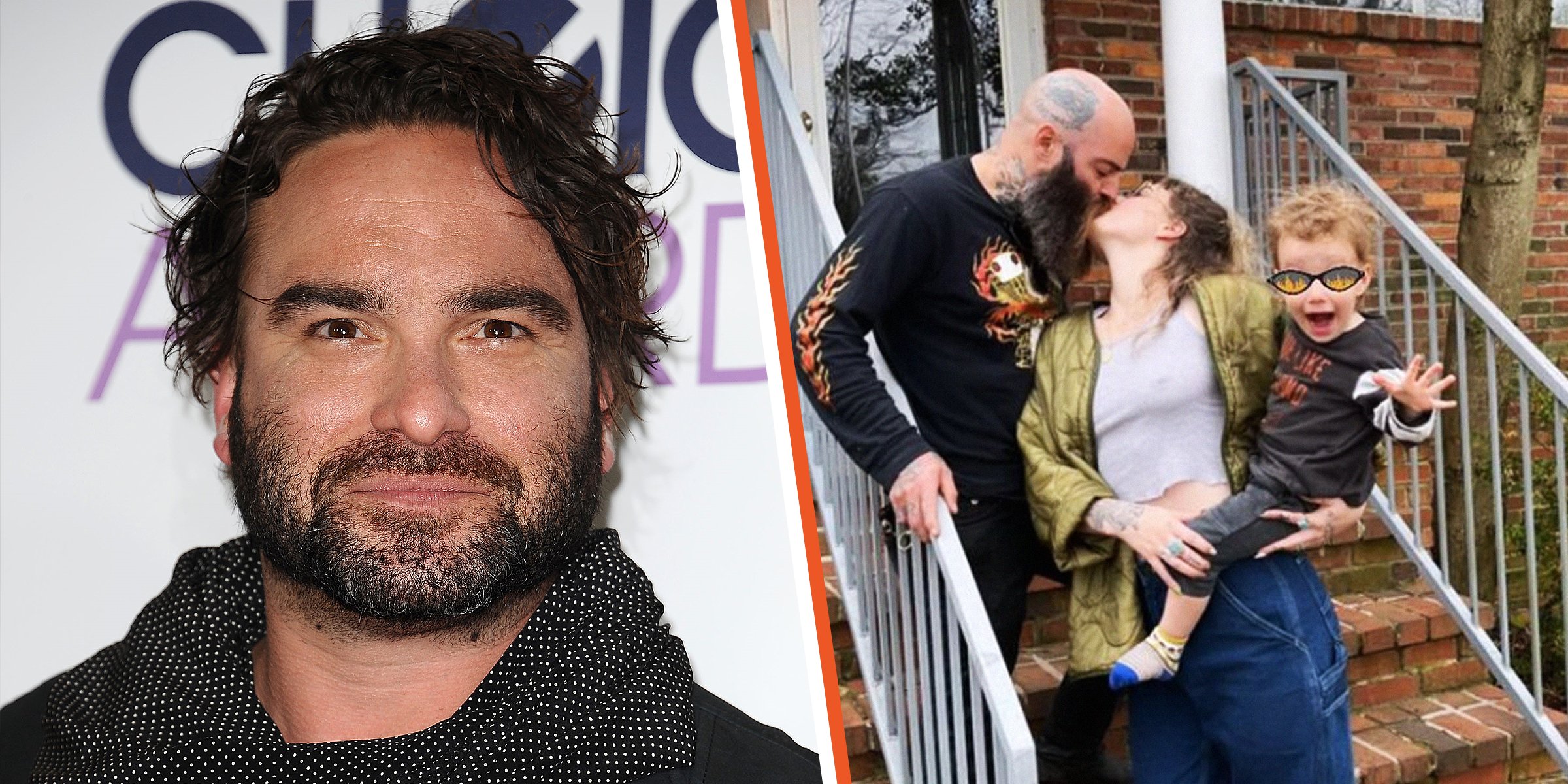 Getty Images - Instagram.com/alainamariemeyer
Johnny Galecki's Ex Poses Like a Family with Actor's Only Son & Heavily Bearded Fiancé Who Renovated New Home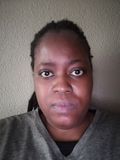 Johnny Galecki and his girlfriend, Alaina Meyer, welcomed a baby before their relationship concluded after being together for two years. While Galecki dedicated social media posts to one of his exes, Meyer was sharing ones where she appeared with the star's child and her new fiancé, looking like a perfect family in their newly renovated home.
Johnny Galecki, in his late 40s in 2022, and Alaina Meyer, in her early 20s that same year, welcomed a baby in December 2019. The birth made the actor a first-time father, and he couldn't wait to share the news with his fans.
In an Instagram announcement post, he uploaded an image of him, Meyer, and their child holding hands. He revealed how grateful he and his girlfriend were to have welcomed a baby boy named Avery.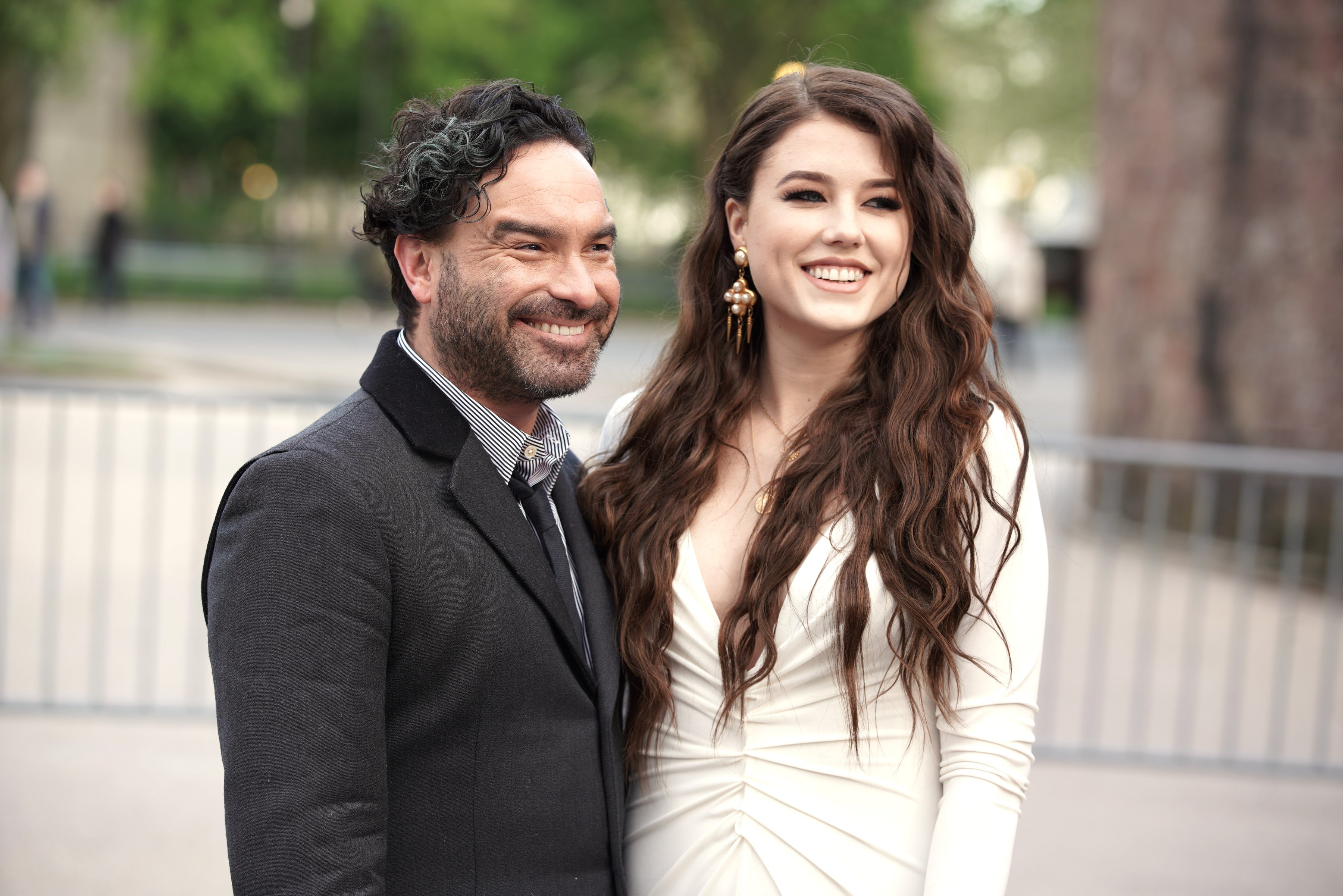 Johnny Galecki and Alaina Meyer at the Statue of Liberty Museum Opening Celebration on May 15, 2019, in New York City | Source: Getty Images
The star thanked his followers for their support and love. His girlfriend, a San Diego model, shared a similar post on her account and had documented her pregnancy journey on the platform.
Galecki and Meyer began dating in September 2018, but by November 2020, a People magazine source revealed that the couple had separated. The break-up came months after the couple had become parents together.
How Alaina Moved on While Johnny Dedicated Social Media Posts to His Other Famous Ex-girlfriend
After Galecki's relationship with Meyer concluded, it was noticed that he would share social media posts dedicated to one of his exes. In the month that the news of his separation from Meyer came out, the actor shared several Instagram images of Kaley Cuoco.
The actress and Galecki dated before, and she was also his television wife on the show "The Big Bang Theory." The "Roseanne" star's post was to celebrate Cuoco's birthday, and the first line in his caption read:
"The happiest 74th birthday to my fake wife @kaleycuoco You know how much I adore you and respect you."
The photos he shared showed him and his ex over the years. The actor said he was proud of Cuoco for all the things she was doing in life and happy for her happiness before concluding:
"But most of all, our friendship and partnership over the years. XO, dear. Congratulations on 82 years of age."
The "Flight Attendant" actress responded to the post by sharing their inside joke, writing, "THIS IS EVERYTHING! I LOVE U MOOKS! Even at my old age of 82!" The former couple had dated from 2007 until 2009.
Even though they broke up, they remained close and played a couple on "The Big Bang Theory" until the show concluded in May 2019. In a previous "Armchair Expert" podcast, Cuoco explained that they dated for nearly two years before calling it quits.
She explained that she had a massive crush on Galecki when they did the series pilot, but he had a girlfriend at the time. When they finally got to be together, they fell madly in love until they broke up.
The actress said her ex came out of the relationship "brilliantly," and they were now closer than ever. By 2018, the "Harley Quinn" star had completely moved on from Galecki and married Karl Cook on June 30 that same year, after they had started seeing each other two years before.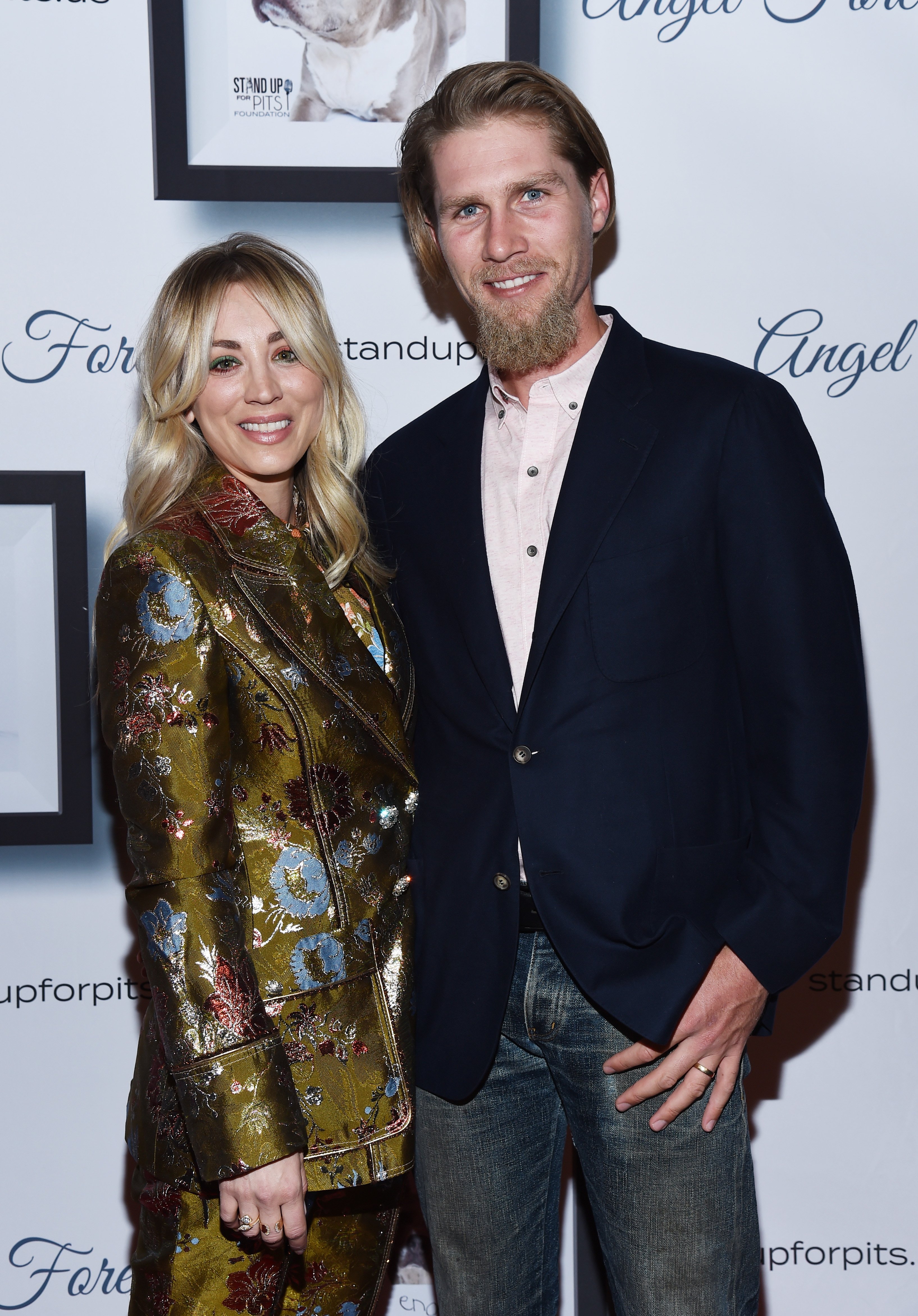 Kaley Cuoco and Karl Cook at the 9th Annual Stand Up For Pits event on November 3, 2019, in Los Angeles, California | Source: Getty Images
In a joint statement in September 2021, Cuoco and Cook revealed they were separating. The same day they released the information, the actress officially filed for divorce in the Los Angeles Superior Court.
By June 15, 2022, the former couple's marriage was legally dissolved and officially concluded. Before her marriage had legally dissolved, in May 2022, Cuoco went Instagram official with her new boyfriend, and it wasn't Galecki.
In the Instagram post, the actress wrote "Life lately" while sharing several photos of the vacation she'd taken to the mountains with her dogs and Tom Pelphrey. The "Ozark" also shared a similar post on his Instagram page.
[Alaina] Meyer's partner [Bobby Middleton] noted how it had been the most fantastic year and that he couldn't wait until they had moved into their new home.
Ever since their relationship ended, Galecki and Meyer have never posted about each other on social media despite sharing a child. Instead, Avery's mother moved on with her life and was happy with another man.
How Alaina Found Happiness and a New Fiancé after Leaving Johnny
In May 2021, a man named Bobby Middleton shared an image where he was seen posing with Meyer in Nashville, Tennessee. Middleton revealed in the comment section that Meyer was his "heart."
In December 2021, Galecki's ex-girlfriend shared a photo of herself holding Avery while kissing Middleton on the steps of their new home. The trio looked like a happy family as the little boy smiled broadly for the camera. In January 2022, the couple uploaded a clip of them renovating their new house.
The following month, Middleton shared several images of Meyer and Avery and thanked her for making him "feel so special." The post was an appreciation where he shared his gratitude for her cooking healthy and delicious meals and tolerating his morning energy.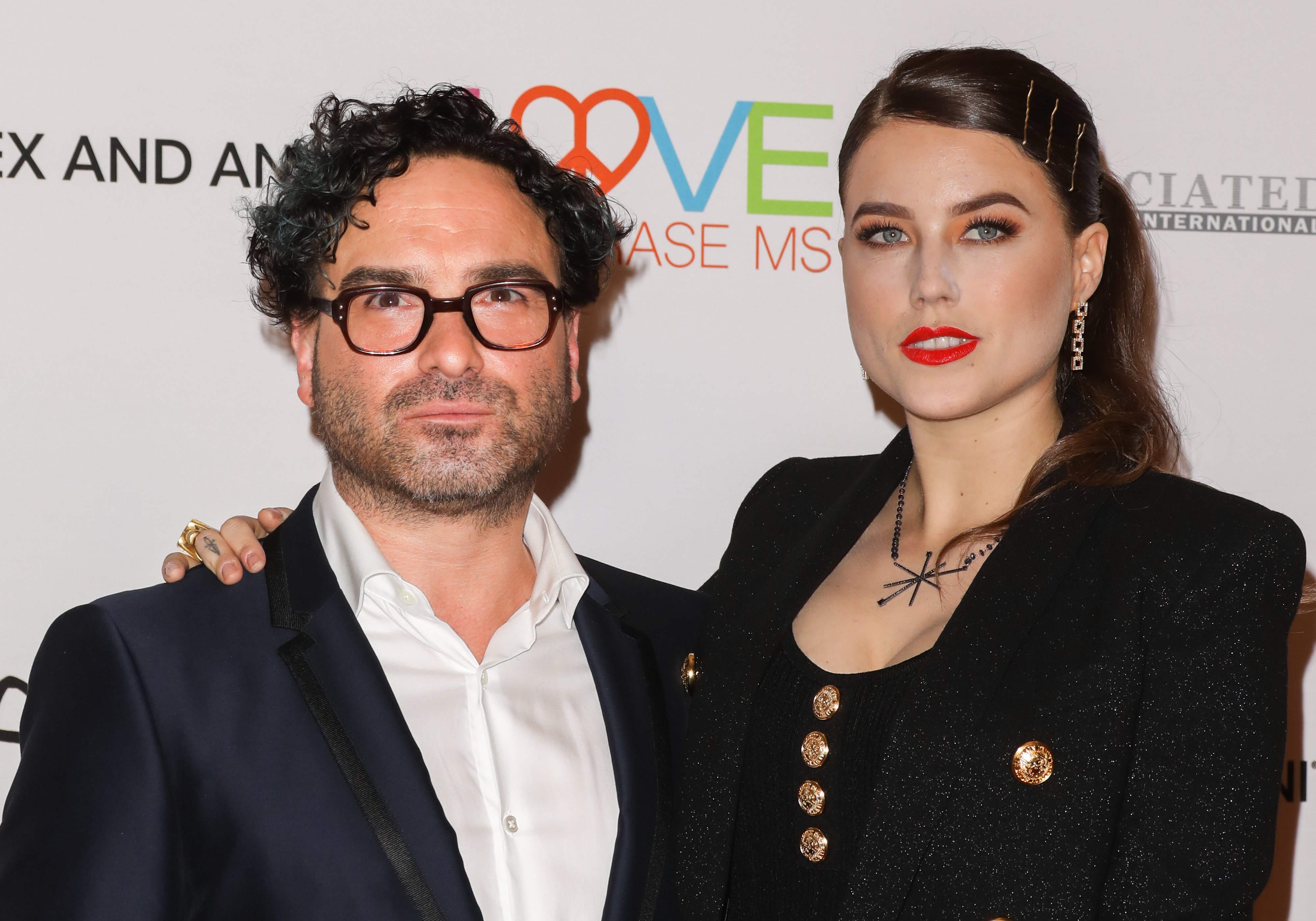 Johnny Galecki and Alaina Meyer at the 26th annual Race To Erase MS Gala on May 10, 2019, in Beverly Hills, California | Source: Getty Images
He also thanked her for loving him like no one else ever did. Meyer's partner noted how it had been the most fantastic year and that he couldn't wait until they had moved into their new home.
In March 2022, Galecki's ex uploaded several images and videos on Instagram, showing how much she and Middleton enjoyed each other. The first photo in the thread was of the couple outside with Meyer showing off what looked like an engagement ring!
The last clip was the duo and other bikers preparing to ride out. The same month, Middleton shared pictures of his partner posing on a motorcycle while they were in Daytona Beach, Florida, and confirmed their engagement by writing:
"Best bike week yet!! Love my Daytona family and my fiancé (sic)! Life is good!"
The couple was fond of riding bikes and being with their biker family. Another post by Middleton that same month showed them posing with motorcycles and other bikers.
Please fill in your e-mail so we can share with you our top stories!