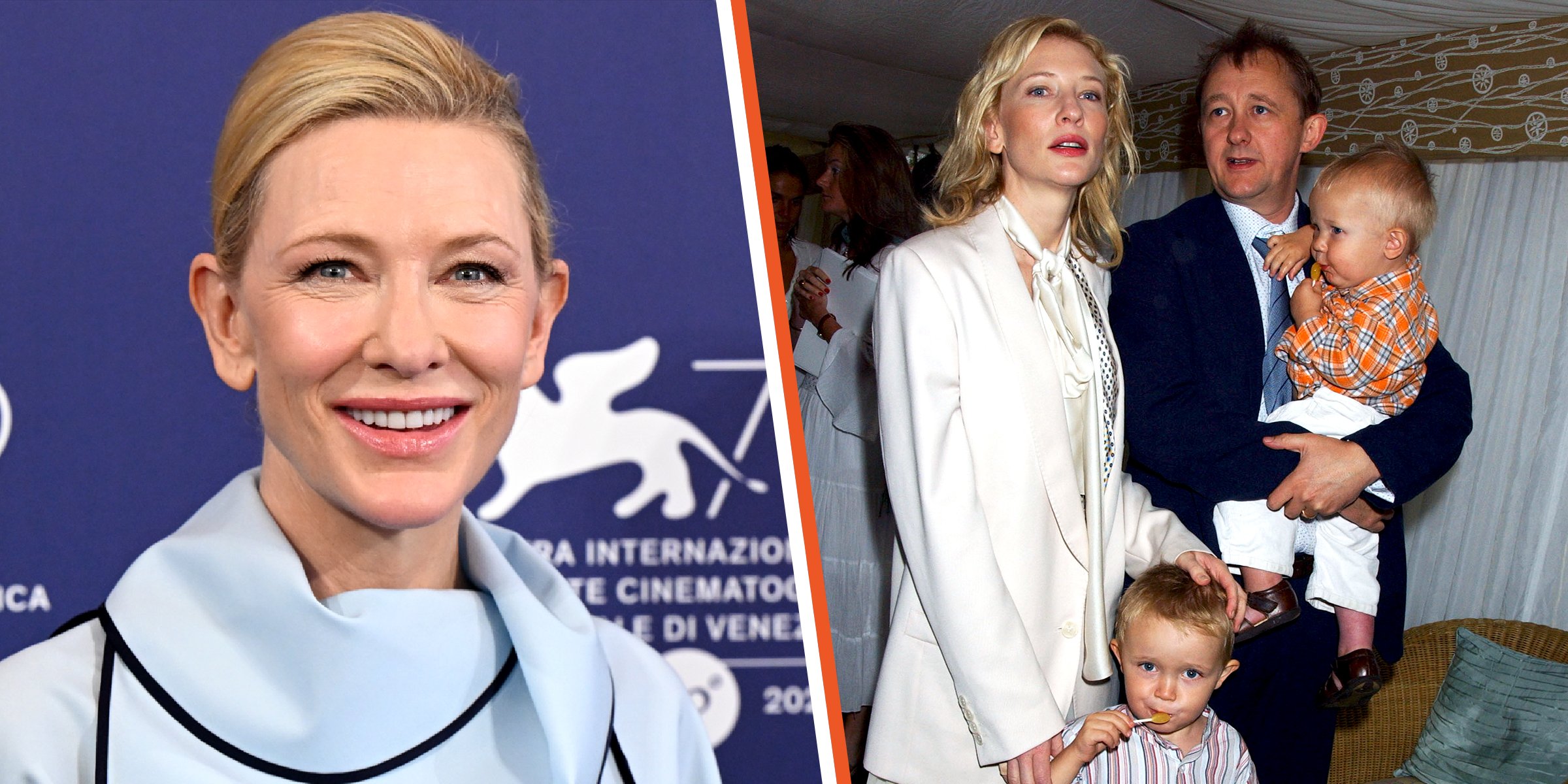 Getty Images
Cate Blanchett's Children: Meet the Actress' Three Sons and Daughter

Australian stage and on-screen actress Cate Blanchett has been married to the Australian playwright, screenwriter, and director Andrew Upton since 1997. They have four children; three sons and one adopted daughter.
"The Lord of the Rings" actress was born Catherine Élise Blanchett on May 14, 1969, and graduated from Australia's National Institute for Dramatic Art in 1992.
Before making her American film debut in 1997 with "Paradise Road," she immediately began playing with the Sydney Theatre Company and appeared in "Top Girls" and "Kafka Dances."
She received her first Academy Award nomination at 29 for portraying Queen Elizabeth I in the movie "Elizabeth." Her career became a success, and she starred in other films such as "The Curious Case of Benjamin Button," "The Aviator," "I'm not There," "Blue Jasmine," and more.
Blanchett has also starred in "Oceans 8," "The House with a Clock in Its Walls," and "Thor: Ragnarok." She also lent her voice to "Mowgli: Legend of the Jungle," "The School for Good and Evil," and "How to Train Your Dragon: The Hidden World," among others.
In 2020, she became an executive producer for nine episodes of "Mrs. America" and also a co-creator for six episodes of "Stateless."
Blanchett has balanced her successful career with her marriage to Upton and their family of four kids. The couple welcomed their first son four years after their wedding, followed by the second son three years later.
In 2008, they welcomed their third son, and in early 2015, the couple, who could not imagine their lives without each other, adopted a daughter.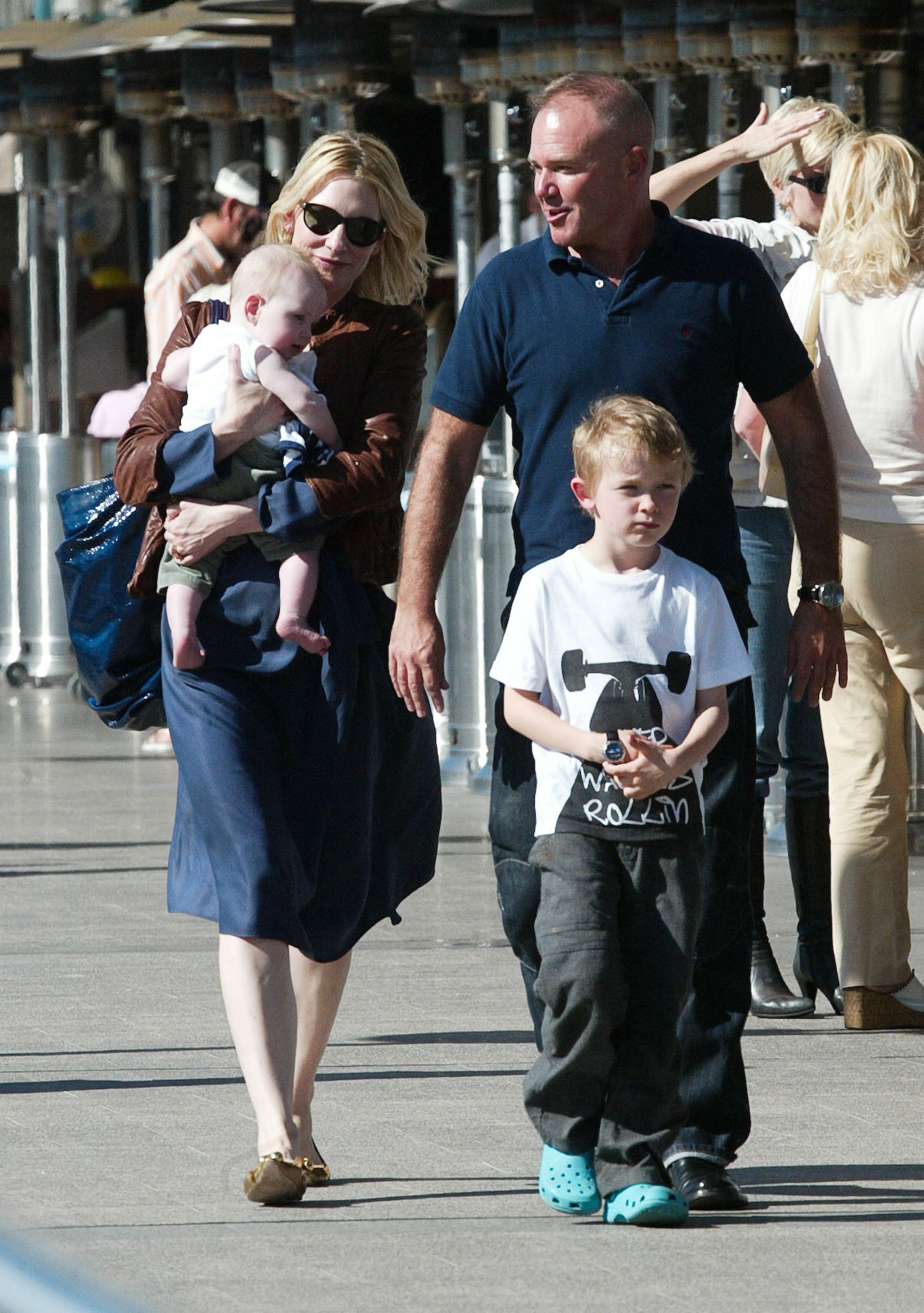 Cate Blanchett, Ignatius Martin Upton, Andrew Upton, and Dashiell John Upton after lunch at Woolloomooloo Wharf on October 25, 2008 | Source: Getty Images
Dashiell John Upton
On December 3, 2001, Blanchett welcomed her first son Dashiell John Upton, named after her husband's favorite American writer, screenwriter, and political activist, Samuel Dashiell Hammett.
In early 2020, as he prepared to go to film school, the actress said she had difficulty coming to terms with the idea of her son leaving. She revealed that it was difficult to break away, but she was proud of her son.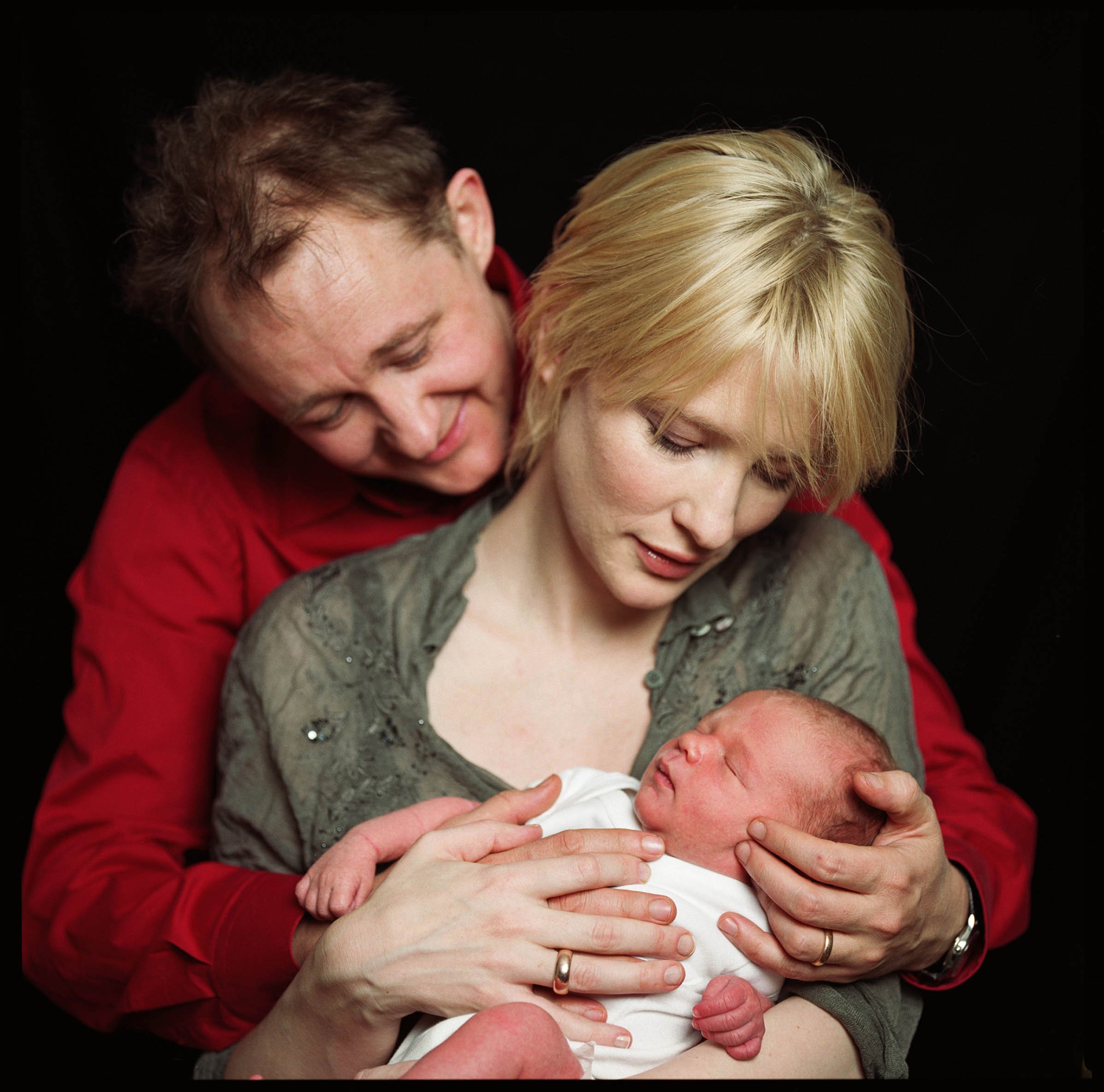 Photo of Cate Blanchett, Andrew Upton, and Dashiell Upton on December 13, 2001 | Source: Getty Images
When Blanchett talked about the most challenging thing she has had to do as a parent, the actress said:
"I think it's letting them go, being able to do it. [...] 'Dashiell no longer needs me,' I say to myself. And then I think, 'No, he will always need his mother.'"
The actress believed that a parent's relationship with their children should be redefined while enabling them to grow up and become adults.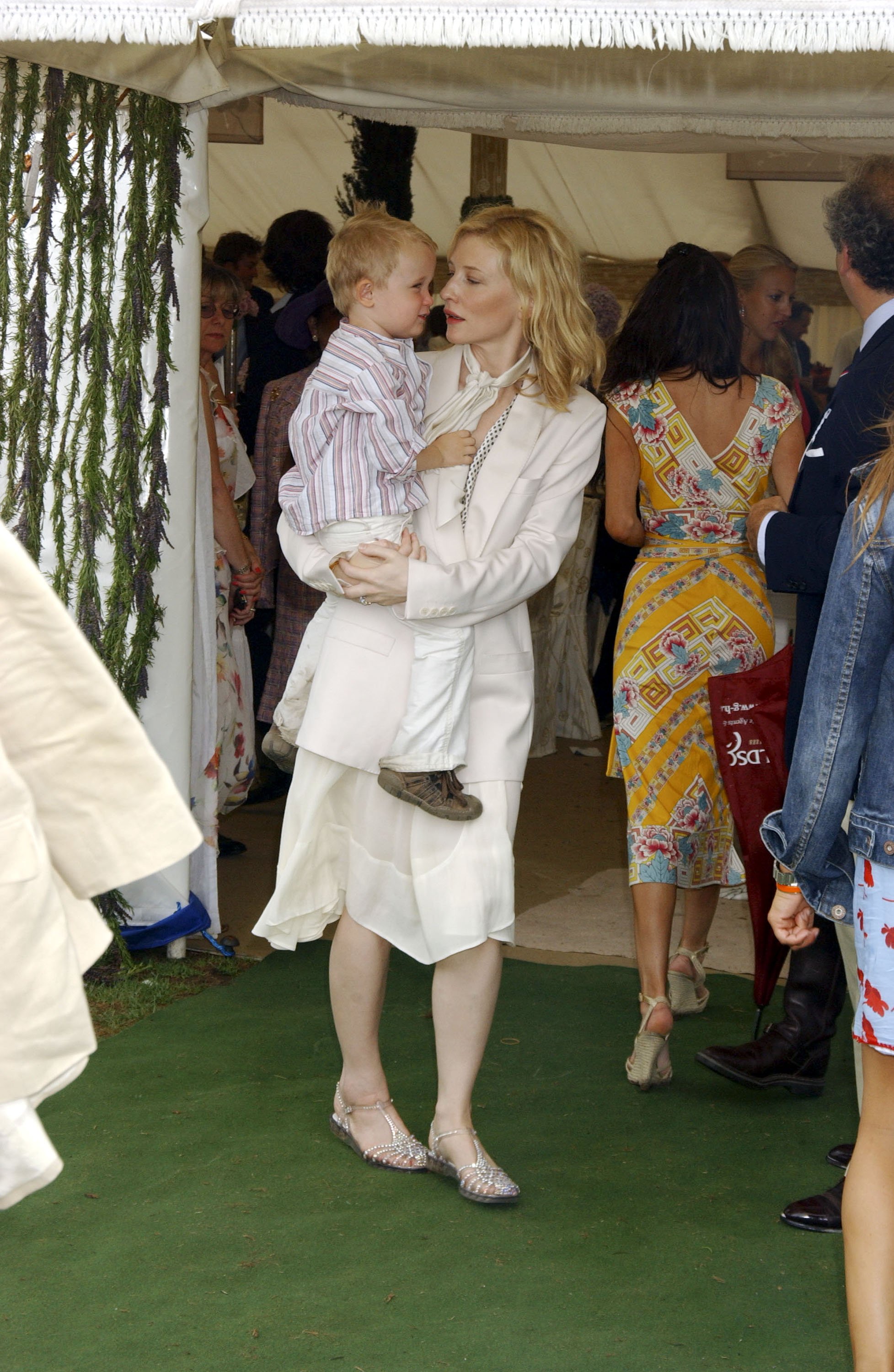 Cate Blanchett and Dashiell Upton at the Cartier International Day on July 24, 2005 | Source: Getty Images
Though the family loves privacy, Dashiell attended the Cartier International Polo match in Windsor, Britain, with his mother in 2005.
In 2018, they were also together at the Venice Film Festival. They took a stroll in the city and caught up with the screening of "The Favourite."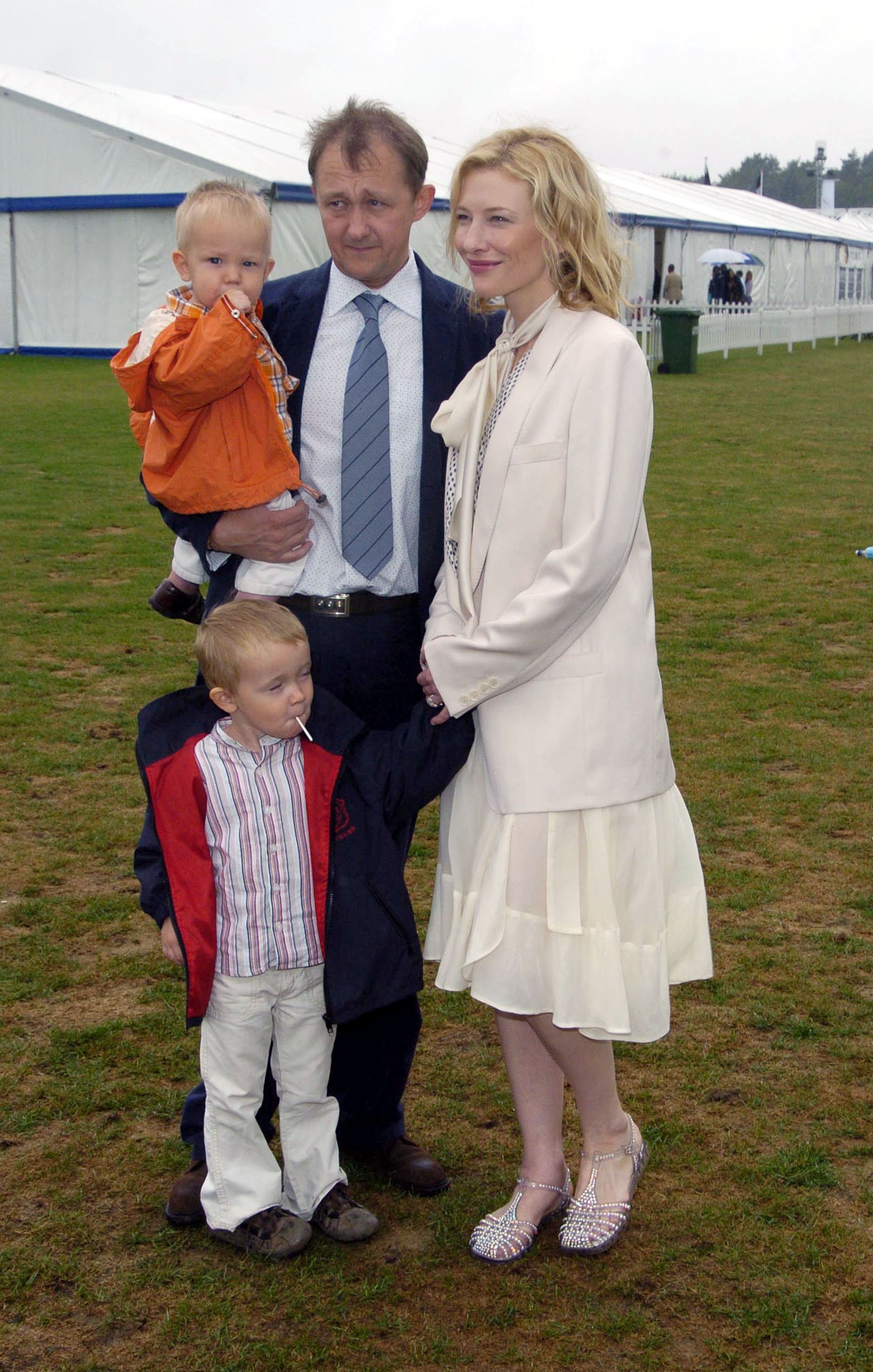 Cate Blanchett, Andrew Upton, Roman Upton, and Dashiell Upton at the Cartier Polo Day on July 24, 2005 | Source: Getty Images
Roman Robert Upton
The actress and her husband welcomed their second child on April 23, 2004, and they named him Roman Robert Upton. Blanchett revealed that he was named after the French film director, producer, screenwriter, and actor Roman Polanski, but Roman is also the French word for book.
When Roman is not taking a stroll with his mother, he sometimes makes a few appearances with her on the red carpet. In 2005, he also attended the Cartier International Polo match in Windsor, Britain.
In 2012, he attended the Helpmann Awards in Sydney; in 2014, he was at the Critic's Choice Awards; and in 2018, he was also with her at the SIHH trade show in Geneva, Switzerland.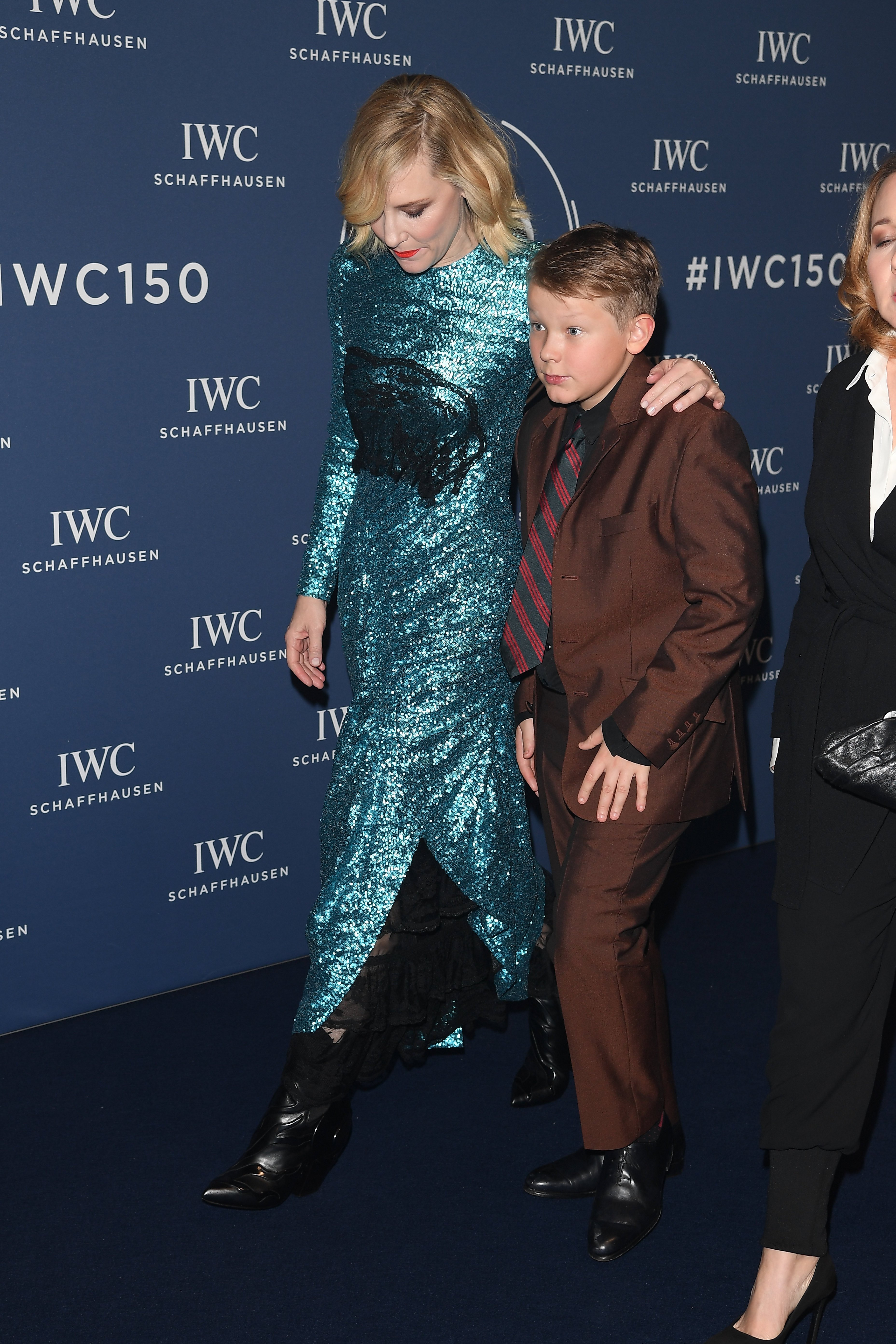 Cate Blanchett and Roman Upton on the red carpet at the SIHH 2018 on January 16, 2018 | Source: Getty Images
Ignatius Martin Upton
Blanchett's third son, Ignatius Martin Upton, was born on April 13, 2008. His first name was an inspiration from the book "Captain Underpants."
The actress revealed that she and her husband had run out of ideas for names while she was pregnant. However, while reading the children's novel series, the character Professor Pee-Pee Poopypants stuck out to her.
In an interview with Jimmy Kimmel, the actress said a section of the book had names starting with each letter of the alphabet, and the name for "I" is Ignatius.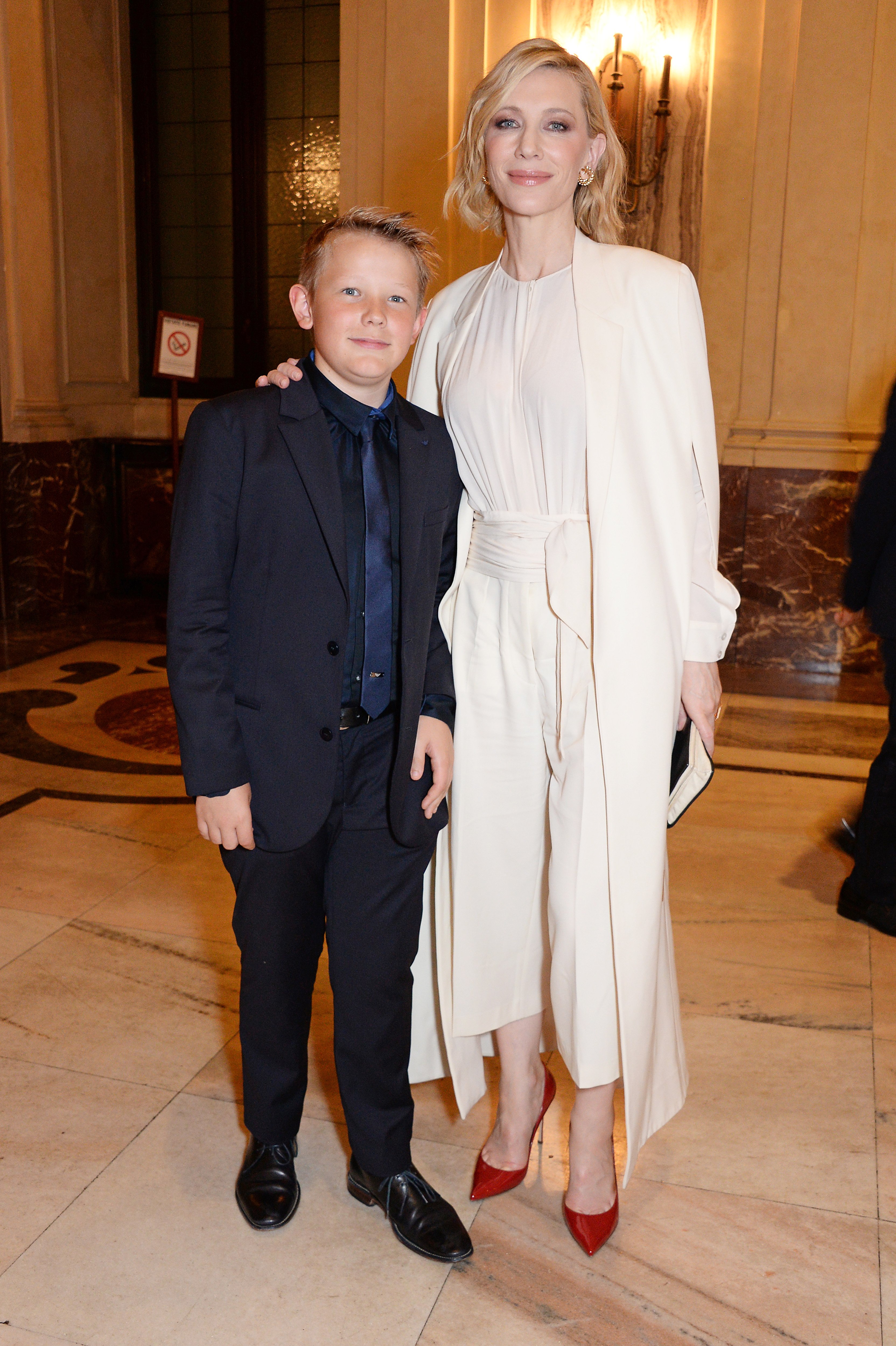 Ignatius Upton and Cate Blanchett at The Green Carpet Fashion Awards Italia 2018 after party on September 23, 2018 | Source: Getty Images
Edith Vivian Patricia Upton
The actress and her husband decided to adopt a daughter after three boys. Their baby, whose birthdate is on March 6, was given the name Edith Vivian Patricia Upton, and she was adopted as a baby in 2015.
After the news of the adoption broke, the "Cinderella" actress, who was excited to be a mother for the fourth time, said:
" You know, there are a lot of children out there who don't have the good fortune that our biological children do, so it's wonderful to welcome a little girl into our fold—we're besotted."
Blanchett had initially started the conversation about adoption after she welcomed her first child. However, as her family grew, the conversation dropped off the radar until after her third son.
Despite wanting a daughter, during the lockdown, the actress revealed she had a traumatic experience teaching her daughter. The star realized she could not teach Edith grade one math, and her daughter sniffed that out after two weeks.
Blanchett said she was terrific for the first two weeks, and there was no respect after the first two weeks. The actress said she had to dress like her daughter's teacher and use the teacher's voice.
However, Edith would refuse to let her mother teach her unless her mother used stuffed animals to replicate her classmates, and the actress found the experience quite traumatic.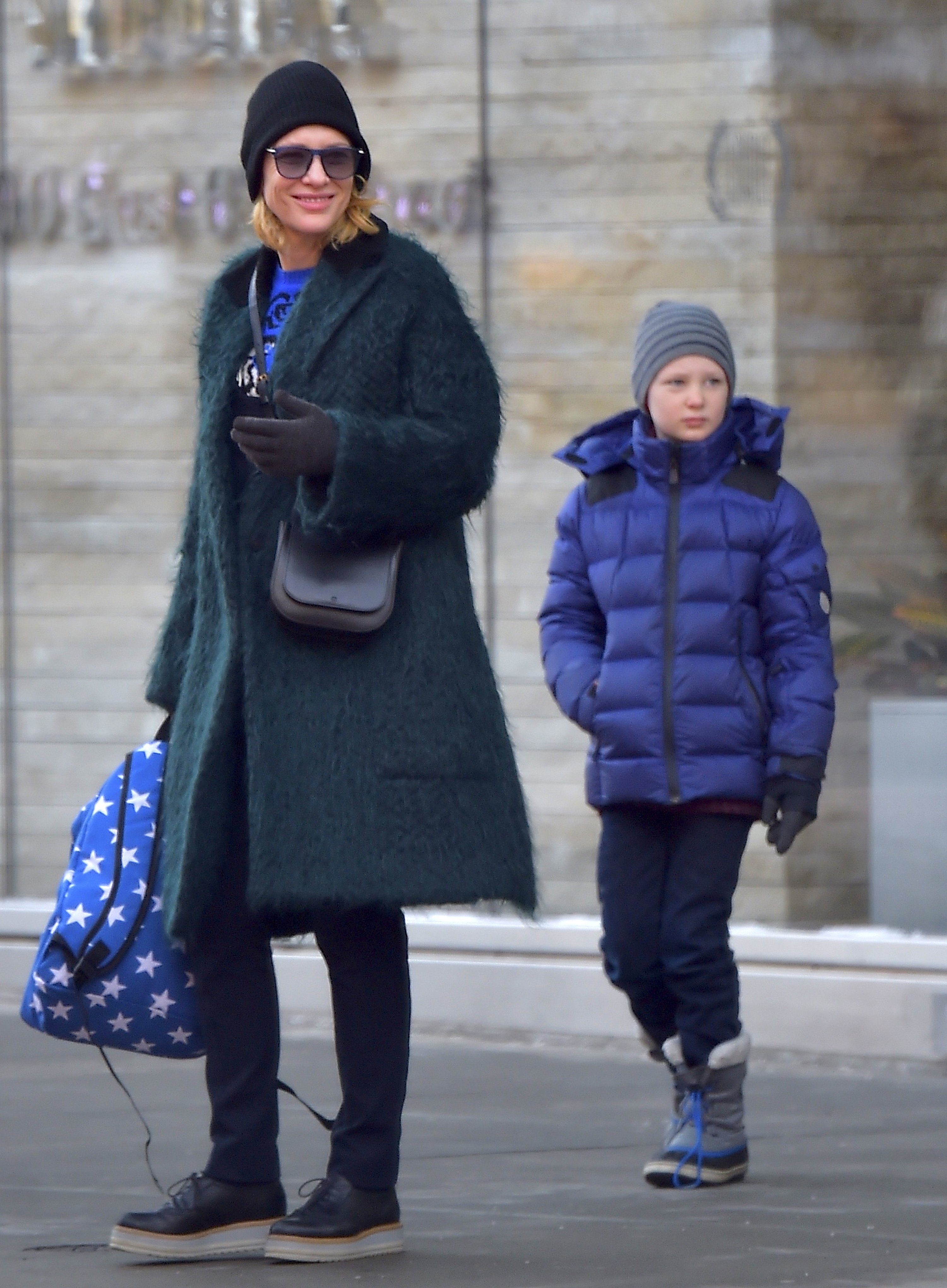 Cate Blanchett and Ignatius Martin Upton sighted in Tribeca on January 9, 2017 | Source: Getty Images
Cate Blanchett's Kids Don't Care about Their Mom's Fame
In early 2022, Blanchett said her kids did not care about how famous she was, and they had no idea. The "Don't Look Up" star said when she told them she was traveling to New York for almost two days, they asked her to have a good time.
Despite not knowing their mother's celebrity status, Cate Blanchett remarked that her children's disinterest occurred in the best and healthiest way.
Please fill in your e-mail so we can share with you our top stories!