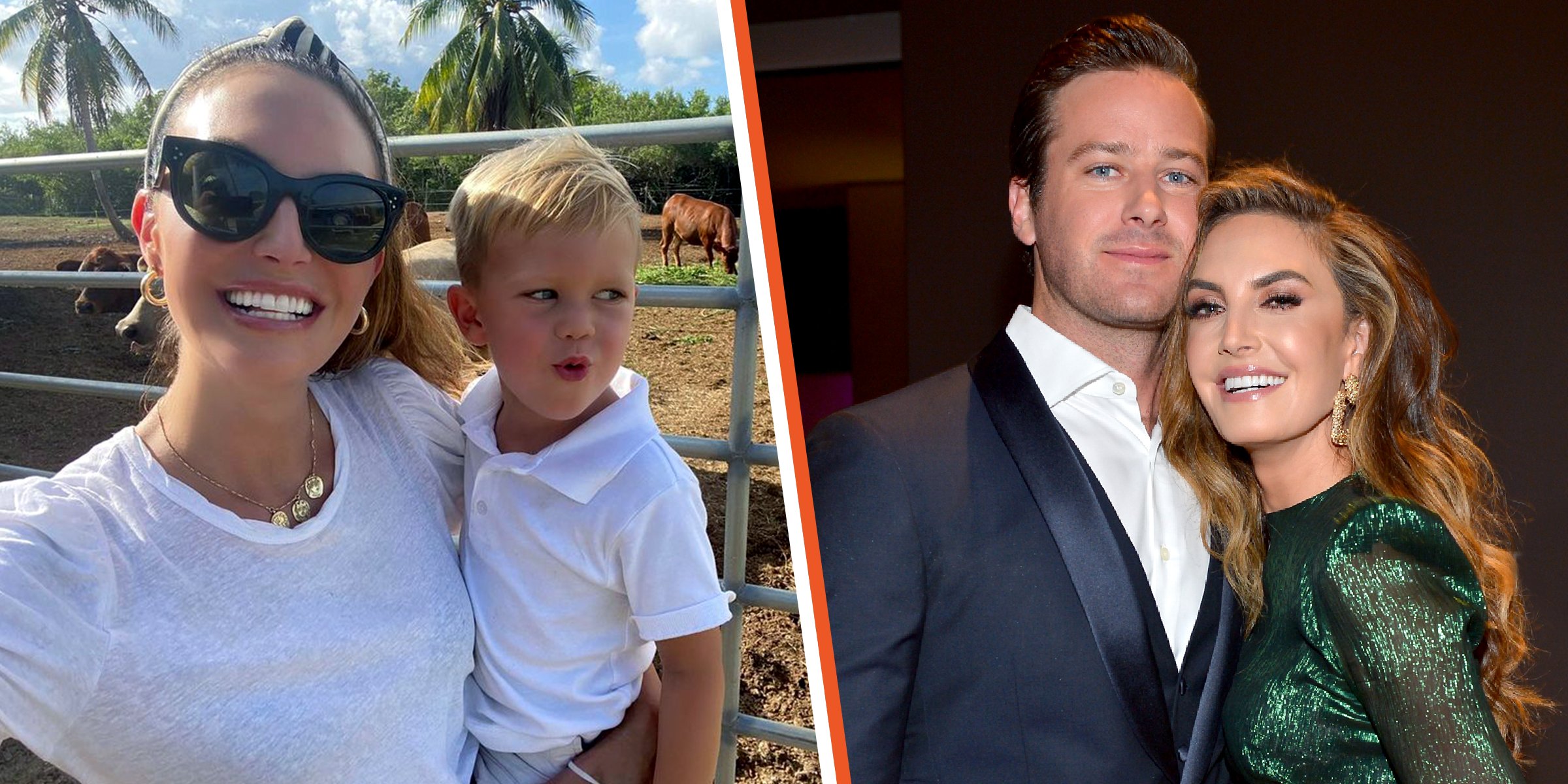 Instagram/elizabethchambers I Getty Images
Ford Douglas Armand Hammer's Middle Name Pays Tribute to the Hammer Family Lineage

Ford Douglas Armand Hammer is the son of well-known actor Armie Hammer and Elizabeth Chambers. Ford, who is Armie and Elizabeth's second child, is still very young.
Ford Douglas Armand Hammer is the child of actor Armie Hammer and Chief Correspondent of the Human Rights Foundation Elizabeth Chambers, who is their second born.
As young as he is, the young boy's mother has already faced the scandals that have enveloped his father. Here's all we found out about Ford Douglas Armand Hammer.
Ford Douglas Armand Hammer Was Born in 2017
Ford Douglas Armand Hammer was born on January 15, 2017. His parents were excited about his arrival and shared the great news on social media. His mother took to Instagram and shared an adorable image of the newborn after his birth. The post showed Ford with his family while still in the hospital.
Ford's father, Armie Hammer, was named Armand Douglas Hammer at birth, his grandfather Michael Armand Hammer, and his great-grandfather Armand Hammer. Not surprisingly, Ford Douglas Armand Hammer was given that name.
Ford isn't the pair's only child together; they also have a daughter. Their daughter is Harper Grace Hammer, and she was born in 2014.
Their mother posted a cute photo of Ford with his sibling on Instagram. She captioned the image by first mentioning Ford's sister and how he has been receiving lots of kisses from his sister and further revealed the newborn's name.
The Life of Ford Hammer
Ford Douglas Armand Hammer plays a lot and enjoys spending time with Elizabeth as he often travels with his mom. Judging by the pictures on his mother's Instagram, the little one loves animals.
Amid a pandemic, he began his academic year in the Cayman Islands. After the school year ended, Elizabeth wrote on her Instagram that the school year had been the "strangest." Ford also knows how to ride a horse and is on good terms with his sister Harper.
Ford Douglas Armand Hammer Is Close to His Mother
Ford is close to his mother, and the two often go on vacation together. The young boy also seems to be quite helpful as his mom posted a video on social media of him washing dishes after she cooked a meal.
For Mother's Day in 2021, Ford and his sister wrote a letter to his mother. The two kids thanked Elizabeth for taking care of them and said the only thing she should do during the day was relaxing and drink tea.
Strange Video
In 2019, Ford's father, Armie, shared a video of his son giggling and having his dad's toes in his mouth. Ford's mother reacted to the video and wanted to set the record straight after it was again shared on Perez Hilton's Instagram and said Ford had the toes in his mouth for seven minutes.
Elizabeth said, "It wasn't seven minutes ... more like five seconds. Our son likes to play with people's feet, and I put the video on our family stream because this phase is an ongoing joke."
There were a few reactions from the public, which said the video was not a big deal, while most disagreed, with some saying Armie should be arrested for allowing his child to do that.
One person who didn't have a problem with the video commented, "Why are people freaking out about this. I know parents who don't care when their infants put a cat's or dog's paw in their mouths."
Another person wrote, "This makes my stomach turn," with another saying, "WACKED! Exploiting your child in so many HORRIFIC ways! DISGUSTING!"
Ford Douglas Armand Hammer's Parents Are Divorced but Co-parenting
Ford Douglas Armand Hammer's parents are divorced but are co-parenting amicably. Despite all the scandals surrounding his father's name and his parent's divorce, Ford continues to grow up in a friendly family atmosphere. Even after the former's spouse's split, the parents spend as much time together with their children.
Ford's mother, Elizabeth Chambers, realizes that the internet is forever. The mother-of-two fears that her children, Ford and Harper, will learn the unpleasant truth about their father.
Please fill in your e-mail so we can share with you our top stories!