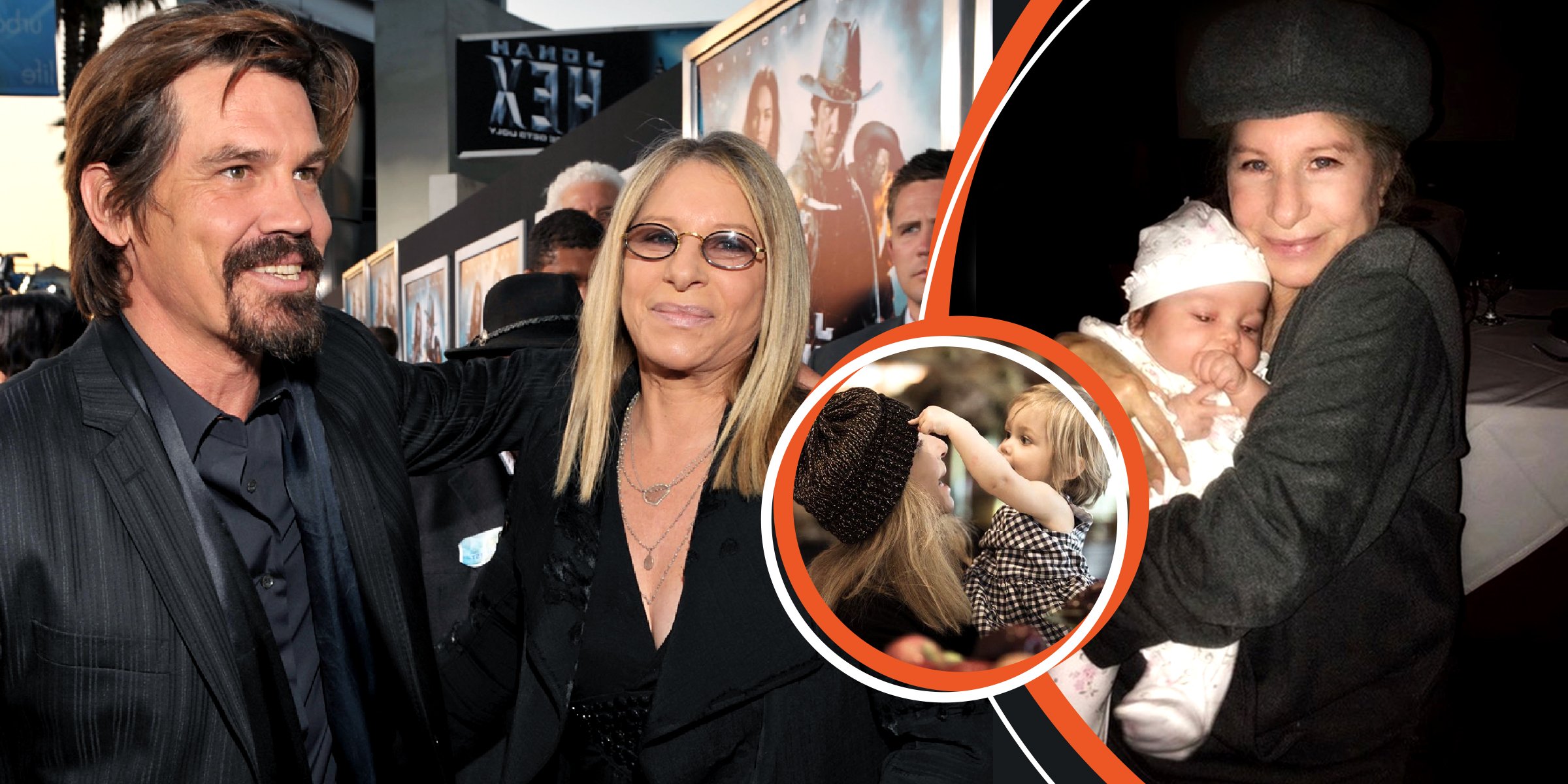 Josh Brolin and Barbra Streisand┃Barbra Streisand and Westlyn Brolin┃Westlyn Brolin and Barbra Streisand┃Source: instagram.com/barbrastreisand┃Getty Images
Barbra Streisand Cried When She Got Bracelet That Said 'Grandma' — She Became a 'Typical Jewish Grandmother'

EGOT winner Barbra Streisand is a loving mother, stepmother, and grandmother. She played a significant role in her stepson's life, who, in turn, adores her, together with his wife.
Singer Barbra Streisand met her second husband, actor James Brolin in the '90s. The couple's first date was on July 1, 1996, and it went better than they had imagined.
The pair talked until 3 a.m. and were both indecisive about whether to lock lips or not. Streisand later admitted that it took her a few months to know if Brolin was "the one."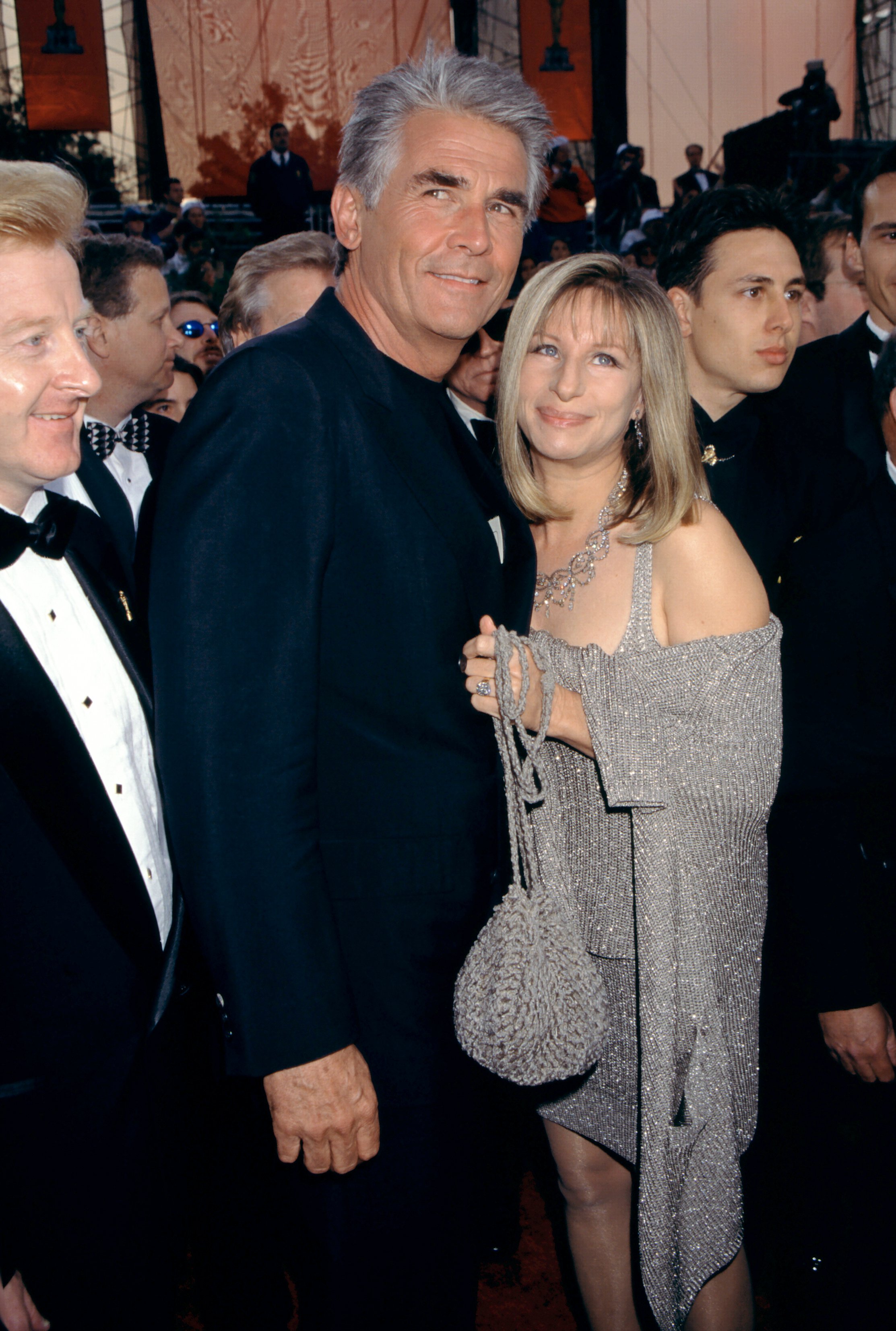 Actor James Brolin and girlfriend singer Barbra Streisand attend The 69th Annual Academy Awards ceremony at the Shrine Auditorium on March 24, 1997 in Los Angeles, California ┃Source: Getty Images
During that period, their newfound romance was only over the phone as he was in Ireland to direct "My Brother's War." However, that did not derail the lovebirds' plans because Brolin moved in with Streisand in November that same year.
The duo wed on July 1, 1998, at the actress's estate in Malibu, California. The wedding date became the second anniversary of their first date.
Streisand Became a Stepmother to Brolin's Kids
When the couple married, Streisand became a stepmom to her husband's three children, son Josh and daughters Jess and Molly from his two previous marriages.
Brolin shares Josh and Jess with his former first wife, actress Jane Cameron Agee with whom he was married from 1966 to 1984. He welcomed his daughter Molly with his second wife, actress Jan Smithers whom he wed in 1986 but later divorced in 1995.
Streisand and the two-time Golden Globe winner decided to give Josh (who is also an actor) and his siblings a normal upbringing despite them being both famous.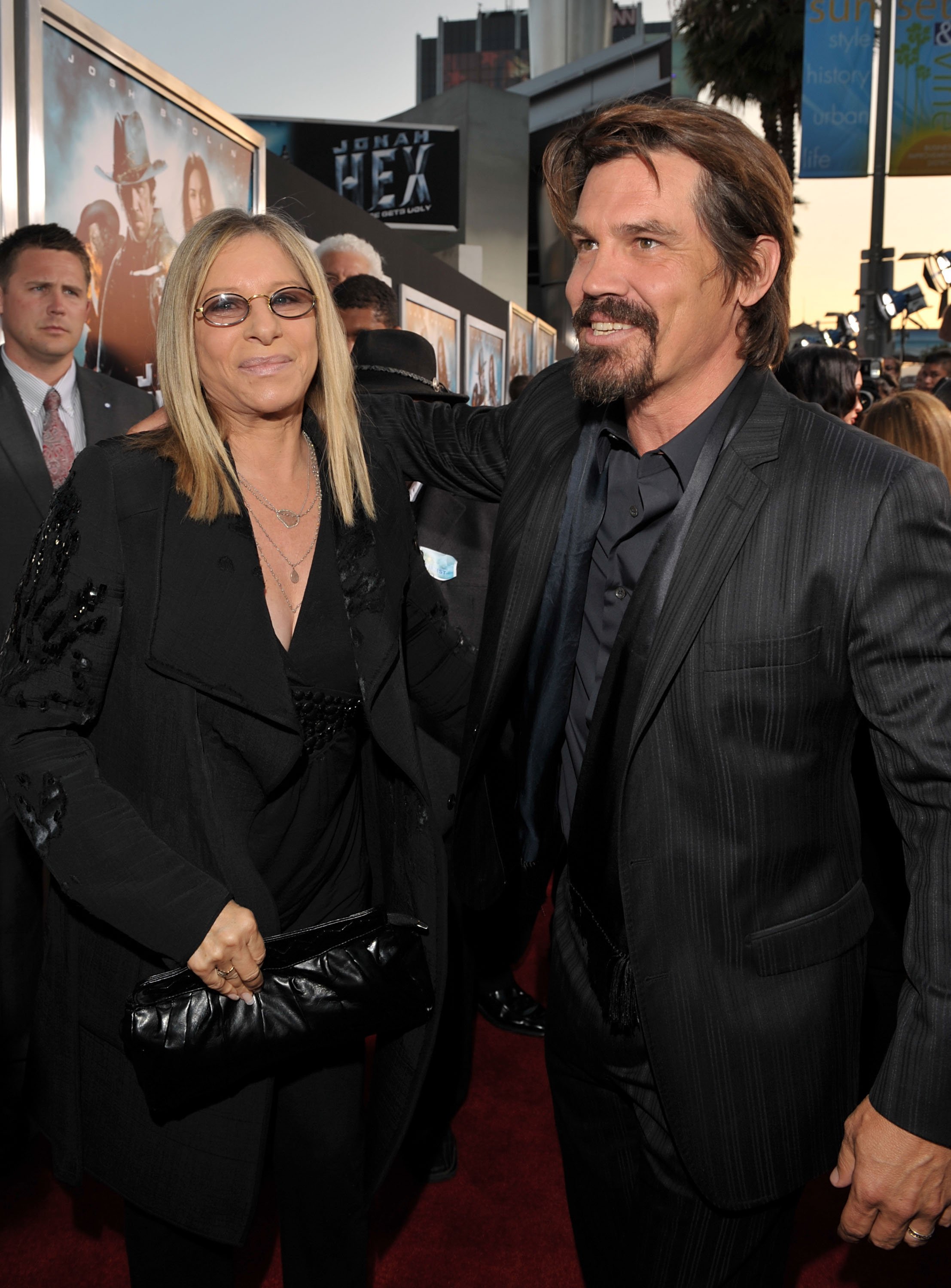 Actress Barbra Streisand and her stepson, actor Josh Brolin attend the "Jonah Hex" Los Angeles premiere at ArcLight Cinemas Cinerama Dome on June 17, 2010 in Hollywood, California ┃Source: Getty Images
Josh got candid about the experience in an interview with Bang Showbiz.com., stating that because he led a private life for most of his childhood, the paparazzi did not follow him wherever he went until he became a young adult:
"Only now has my profile risen. But I don't have a mob following me. As children, we were removed from the fame because our nearest neighbor was a mile down the road. I didn't experience my dad's fame until I left home."
Josh is now a father of four, and his stepmother – who also has a son named Jason from her first marriage to actor Elliott Gould – could not be prouder of being a grandma. When Josh appeared on "SiriusXM" in June 2018, he talked about his then-unborn third child with his wife, Kathryn Boyd Brolin.
When asked whether his dad and Streisand were excited about having another grandchild, Josh revealed that his beloved stepmom was the most stirred about her then-unborn grandchild:
"My wife got her a bracelet that said 'grandma' on it, and she started crying."
He shared that Streisand sent emails daily, telling him and Kathryn that she thought about some baby names and wanted their opinion. She also asked when she could go to the couple's house to feel Kathryn's baby bump:
"She is really into it, and I love that she is into it. It's like a typical Jewish grandmother who is saturated by this event. It's awesome."
Josh has two older kids; his firstborn is son Trevor, followed by a daughter, Eden, and two toddlers, daughters Westlyn and Chapel. Apart from connecting with Westlyn the most and spoiling her and her younger sister rotten, Streisand also has a strong bond with the older siblings.
Per TheThings.com., the New York native once divulged details about spending time with the older kids. There was a time when she canceled all her appointments to spend time with her adult granddaughter, Eden.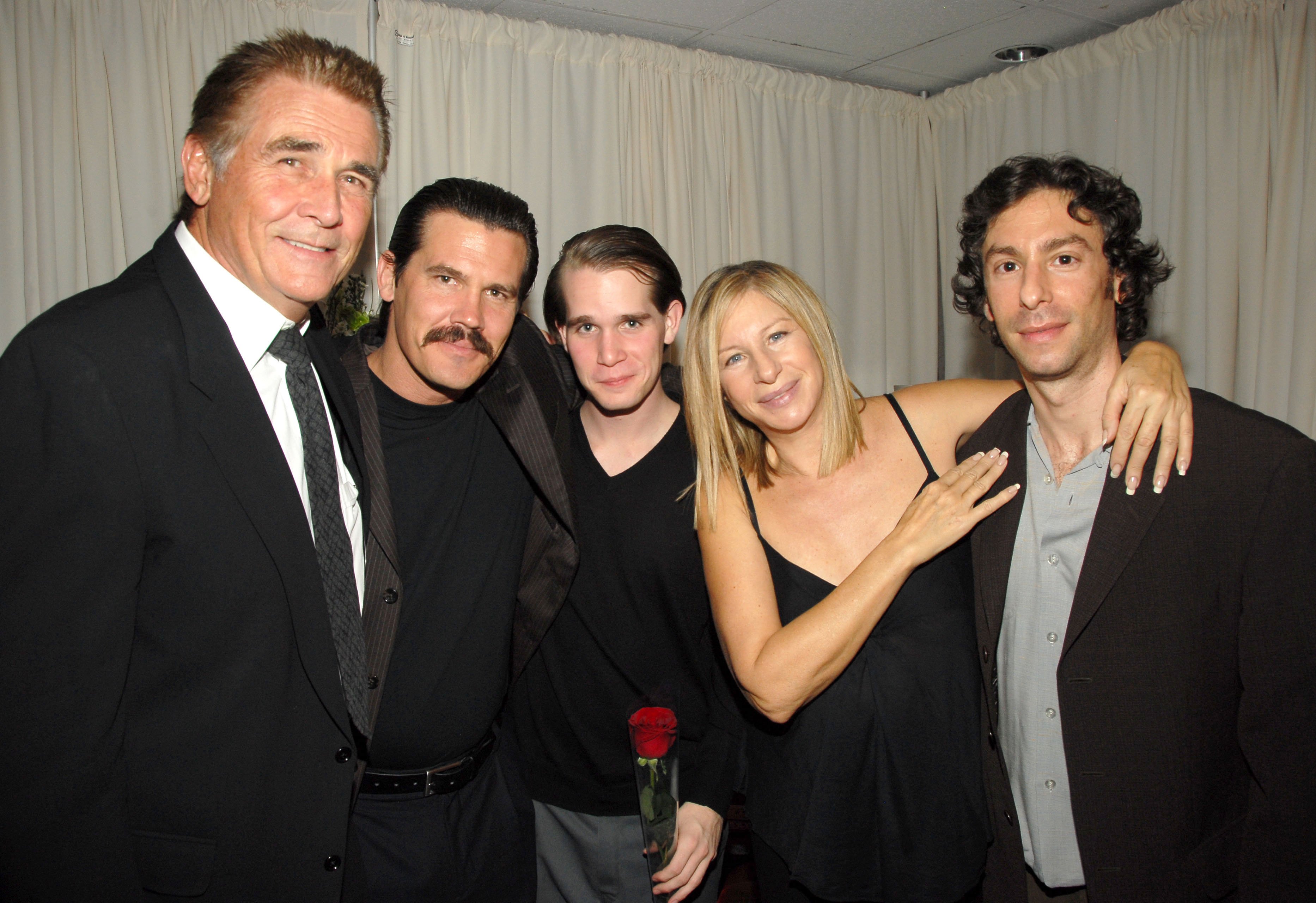 (L-R) James Brolin, Josh Brolin (James Brolin's son), Trevor Brolin (James Brolin's grandson), Barbra Streisand and her son Jason Gould ┃Source: Getty Images
Eden and her bother Trevor followed in their parents' footsteps by pursuing acting careers. Josh shares his two adult kids with actress Alice Adair.
Their son Trevor was born in June 1988 and is an actor and producer known for 2011's "All Kids Count," "Felt," and "X" (2008).
Their actress daughter Eden arrived in 1994 and is best known for her role as Charlie Singer in the TV series "Beyond" and Mia in the Neo-Western drama series "Yellowstone."
Moreover, Streisand and Brolin do not live far away from Josh and Kathryn's home and are practically neighbors. Kathryn and Josh often make time to visit Brolin and Streisand.
Streisand's love for her grandchildren is infinite, and her spouse confirmed it. Brolin once revealed that his wife loved buying gifts for their grandkids and had no issue spoiling them whenever she could.
Josh & Kathryn Warmly Express Their Love for Streisand Publicly
In turn, Streisand also gets showered with love from Josh and Kathryn. In April 2020, a delighted Streisand posted a photo of her daughter-in-law that reads: "We love you, Gamma and Grandpa." The image was captured amid the ongoing COVID-19 pandemic.
The "Funny Girl" star said she loved the gesture and the flowers they brought. "I love the sign Josh and Kathryn painted yesterday when they came to see us with our little grandchild, Westlyn! P.S all of the flowers are now blooming on our wishing well – we wish with our hearts and minds for everybody to stay well!" the star wrote.
In May 2019, Streisand shared a photo of her and Josh posing while leaning in for a kiss and captioned the post: "Thank you for the wonderful Mother's Day note honey. From my younger son...Josh," alongside a heart emoji.
Streisand and Josh Are a Mother & Son Duo
The filmmaker is incredibly close to her stepson, and their affection and social media displays are evidence of their tight-knit relationship. Streisand also supports Josh's achievements and makes time to be there for him in person.
In 2010, the Hollywood veteran and her spouse accompanied Josh to the "Jonah Hex" screening and captured the special moments together. Eight years later, she was present at the premiere of her stepson's 2018 film, "Sicario: Day of the Soldado."
When COVID-19 put the world function at a standstill in 2020, leaving many people separated from their loved ones, Josh and his wife went to Streisand and Brolin's house after being away from them for months.
The "Avenger: Endgame" star was so glad to finally see his parents again that he took to social media to share a heart-warming picture of his family. Fans could not stop admiring the said snapshot.
Please fill in your e-mail so we can share with you our top stories!