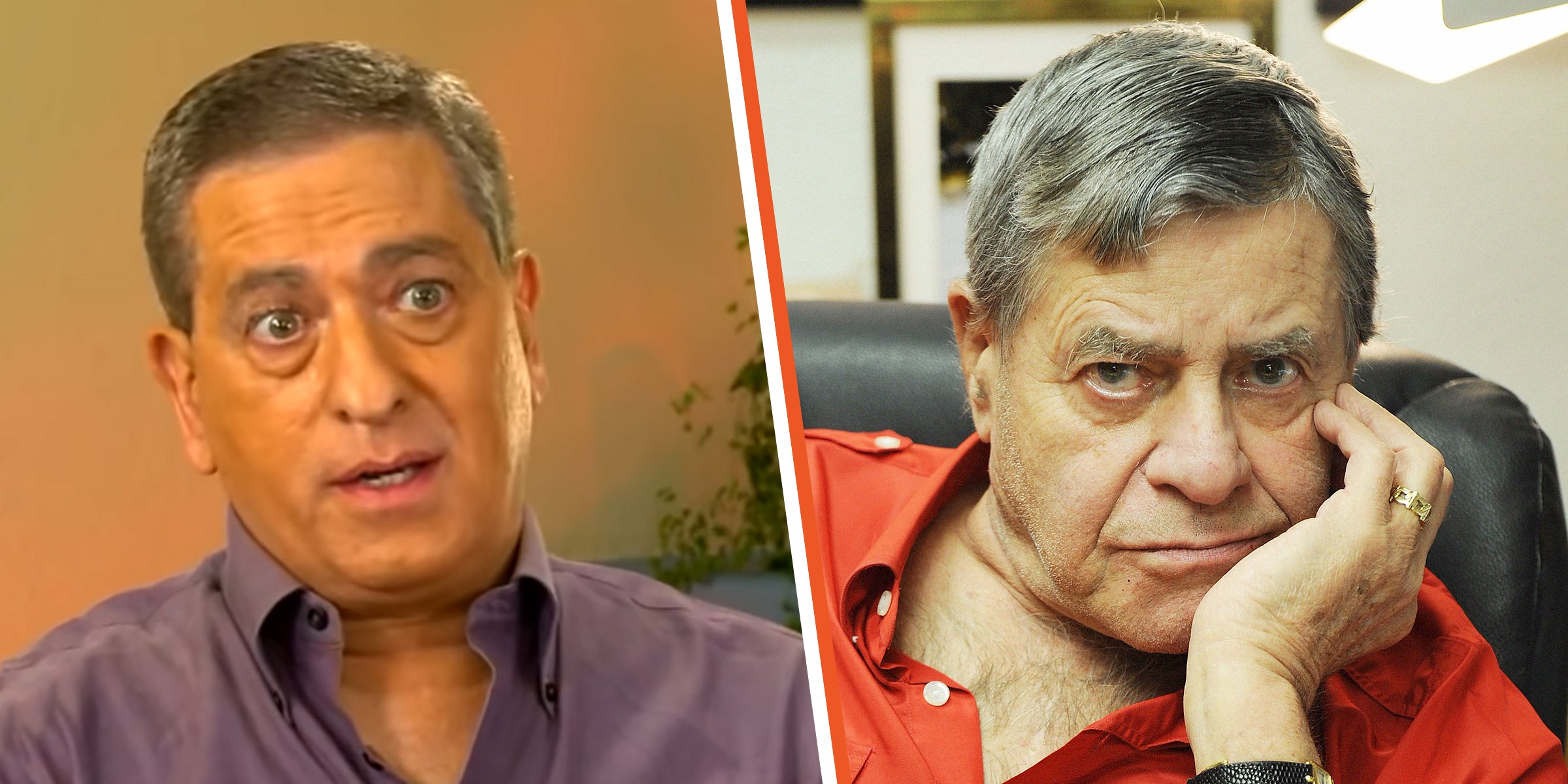 Anthony Lewis [L] | Jerry Lewis [R] | Source: youtube.com/Inside Edition | Getty Images
Jerry Lewis' Son Had to Choose between Letting His Mom Go on the Streets or Suing Beloved Father

Jerry Lewis is a much-beloved figure in Hollywood, but his home life was much more complex than his wide smile in public would allow people to believe. He was separated from the woman he married in 1945, and his son had to make difficult decisions because of Lewis' actions.
In Lewis' 1971 book, "The Total Film-maker," he mentioned Patti Lewis, his wife. He revealed that she showed him love and patience when he was still growing up. Yet their relationship fell apart soon after.
The couple was married for 35 years before Patti decided that she wanted to call it quits. Before that, though, the couple welcomed six children together. Their marriage was not all it seemed to be.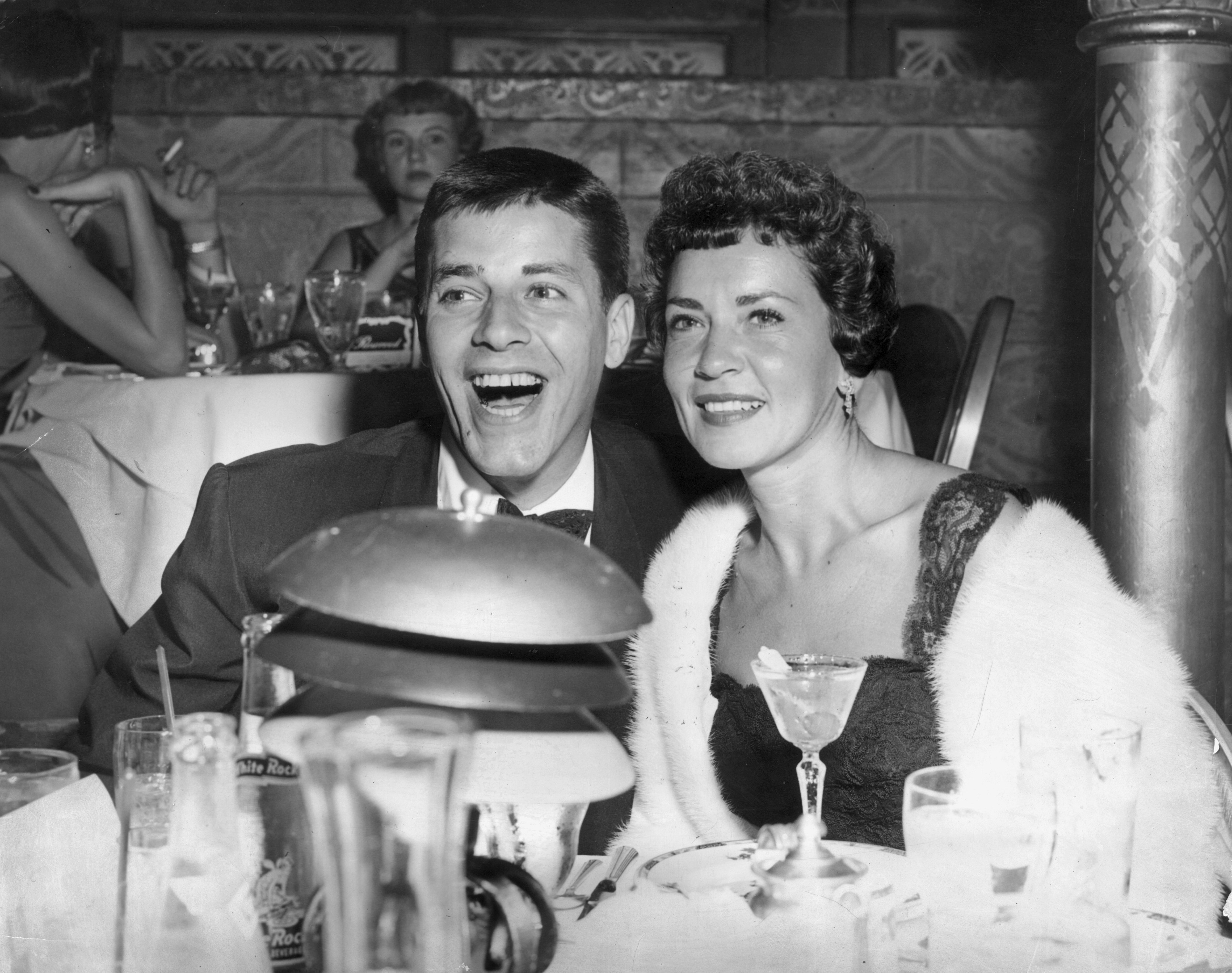 Jerry and Patti Lewis. Circa 1955 | Source: Getty Images
Lewis once revealed that he struggled with chronic back pain that would have put any other person out of commission, yet he didn't let it stop him from performing. He injured his spine and struggled with back pain from that point.
The comedian shared that he relied on painkillers and knowledge from medical professionals to cope with his condition. He even had to have a pain stimulator, which blocks a nerve's ability to feel pain, permanently inserted into his back.
While the struggle with his back pain was difficult, it was nothing compared to the pain he felt when he lost his son. Lewis' youngest son, Joseph, got involved with drugs and took his own life at 45.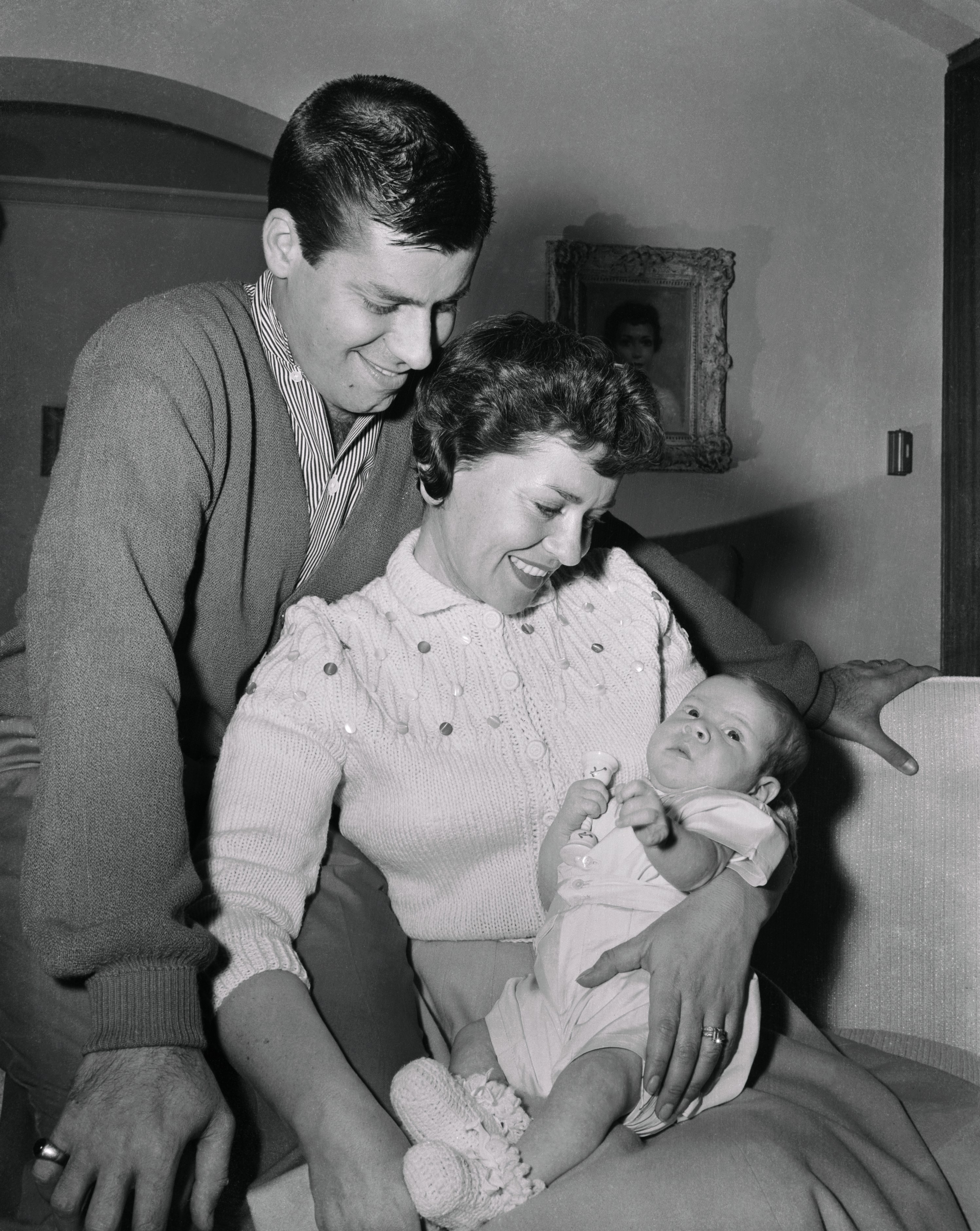 Jerry Lewis, Patti Lewis, and Baby Scott Anthony. April 12, 1956 | Source: Getty Images
Lewis said that he did all he could for his son, but Joseph made his own decisions, and he will never get over his death. He then confessed:
"I've worked under the most painful conditions any man has ever felt in his life. But when I walk out on that stage, the pain goes away."
Patti Wanted a Legal Separation from Lewis
After 35 years of marriage, Lewis' wife knew she could take no more and requested a legal separation from him. She also requested $450,000 a year to support herself and the couple's youngest son, Joseph, who was 16.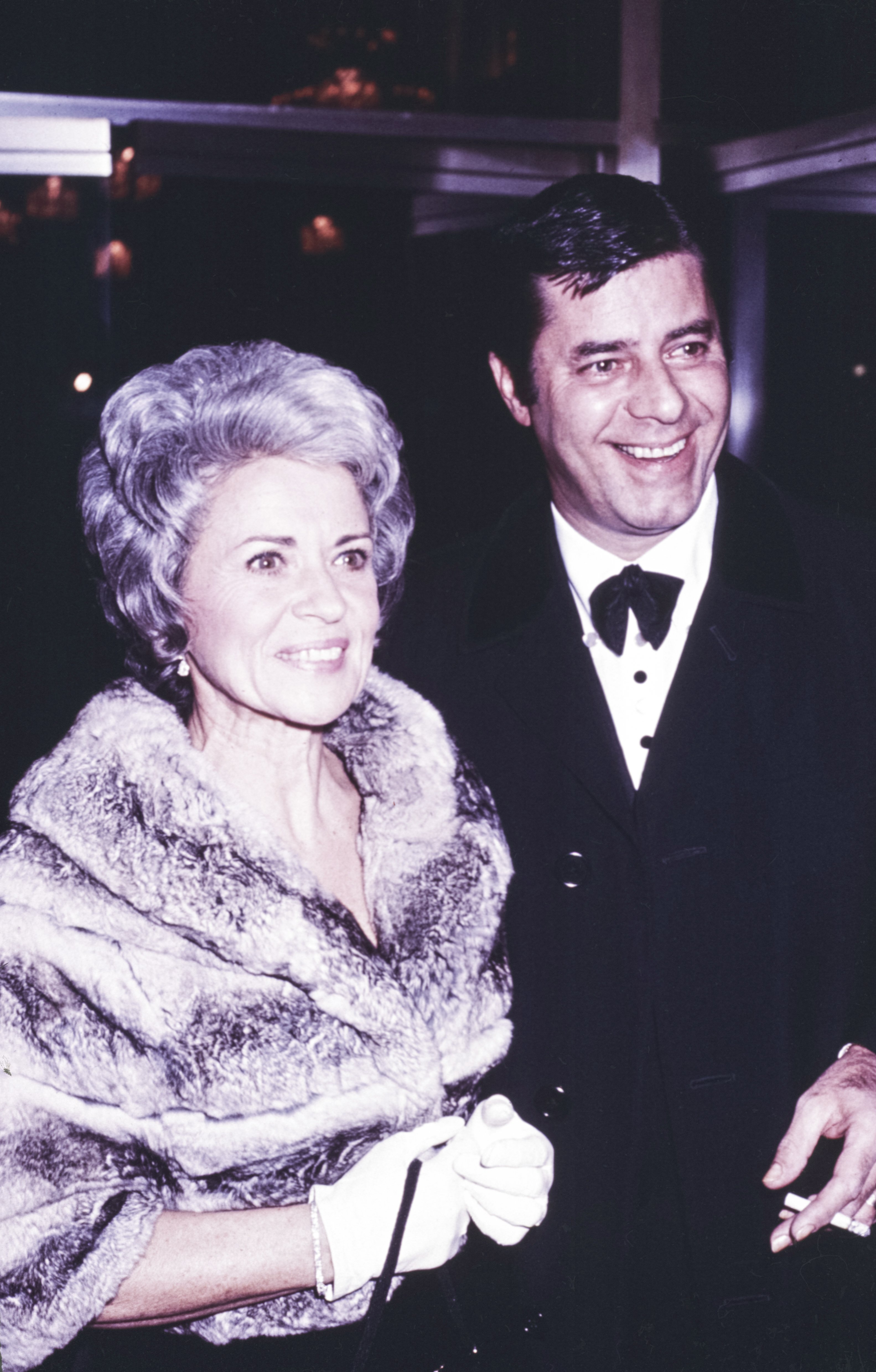 Jerry and Patti Lewis circa 1999 | Source: Getty Images
Although the couple had many years under their belt, the separation came as no shock to friends of the couple. Explaining what happened, Patti claimed:
"[Jerry Lewis] has displayed an open disregard for our marriage, and I am a 'financial puppet' at the mercy of his office, with no money of my own."
Patti alleged that she had no money for herself because Lewis kept spending their money on expensive gifts that he gave to other women he was entertaining. Sources close to the couple said that Patti had become exasperated.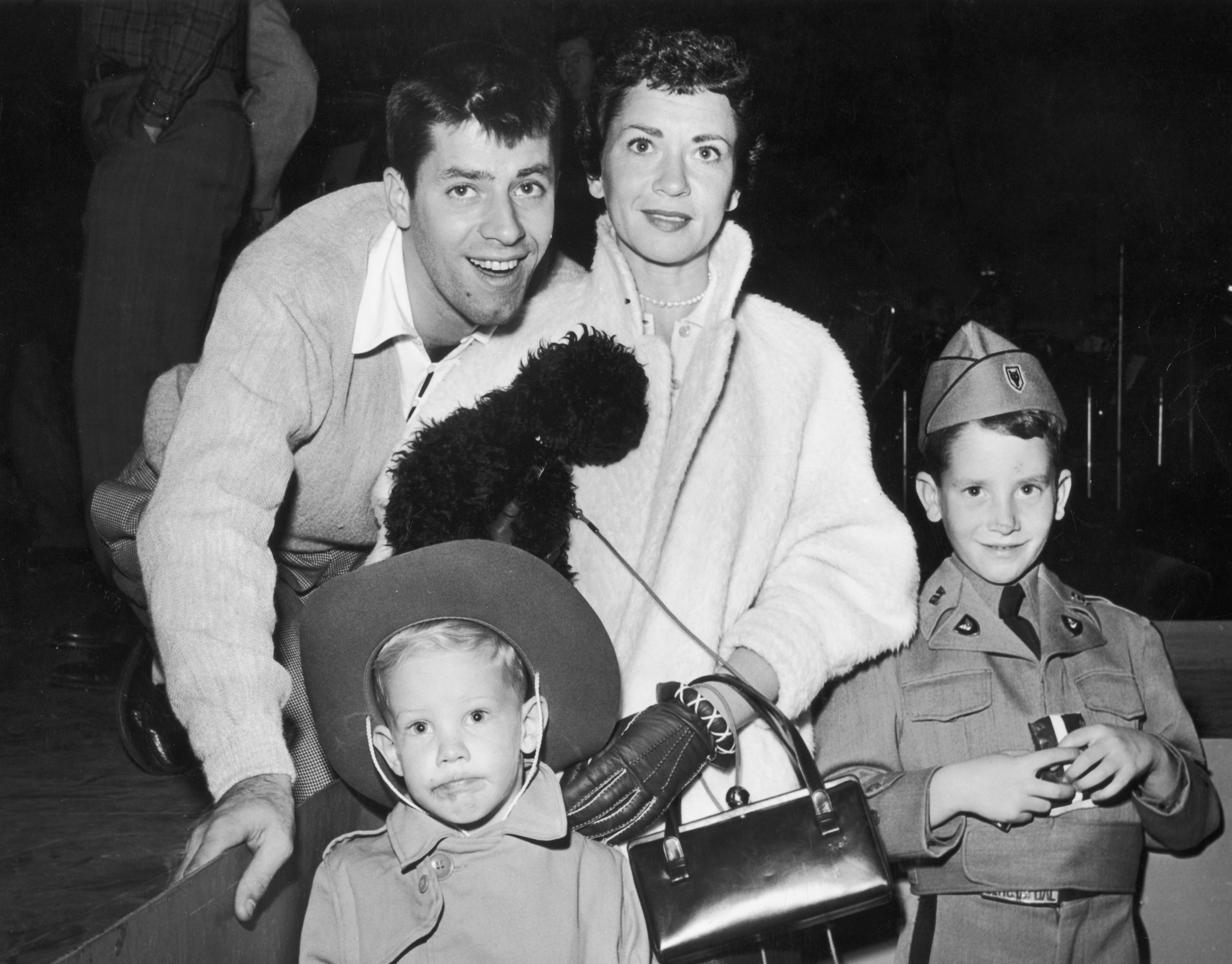 Jerry and Patti Lewis with their sons Ron and Gary. January 1, 1953 | Source: Getty Images
Lewis did not grant Patti the money she needed after the separation, and their son, Anthony, had to step in. Anthony recalled having to make a difficult decision about his mother's finances.
By then, Lewis had remarried, and he and his new wife and adopted daughter were living a high life while Patti had nothing. Anthony recalled:
"Do I let my mother go on the street, or do I sue my father."
Jerry Lewis, Patti Lewis, and Baby Scott Anthony. February 1956 | Source: Getty Images
Anthony also revealed that suing his father on behalf of his mother led to him being excluded from his father's will, but it was a chance that he was willing to take to ensure that his mother was all right.
While Anthony and Lewis had a complicated relationship, it was not the only complex relationship that the actor had in his immediate family. Two of his sons attended his funeral, while three others were not included. Joseph had already passed by the time Lewis took his final breath.
Lewis and His Sons Didn't Get Along
Lewis' adopted daughter from his second marriage, Danielle, said that her father was always chipper, happy, and ready to joke. From Danielle's account, Lewis seemed to be the perfect father to her. However, his sons had a very different experience.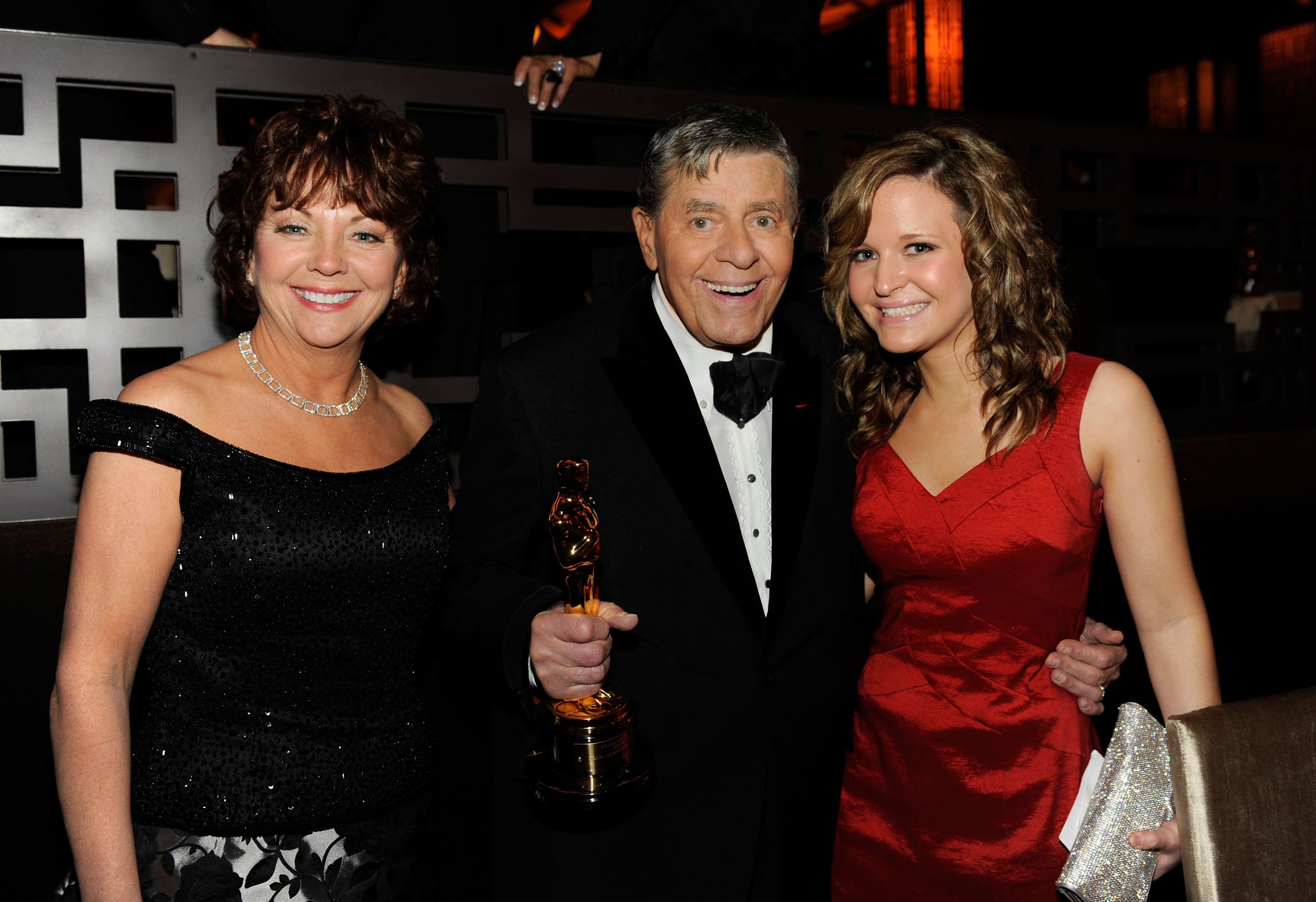 Jerry Lewis, Sandra Pitnick and their adopted daughter, Danielle Lewis. February 22, 2009 | Source: Getty Images
None of his five eldest surviving children were included in his will. It was later revealed that Lewis had intentionally left nothing for his sons to inherit. His first wife, Patti, also received nothing. Only his second wife, SanDee Pitnick and Danielle received an inheritance.
Joseph was kept in the will, even though he had passed away in 2009. However, his father had not spoken to him for 20 years at the time of his death and did not even pay for his funeral.
Joseph and his father had not spoken for years because the pair did not get along, and Joseph could not stand living with his father. After his son's death, Lewis asked his other sons not to speak to the media about Joseph.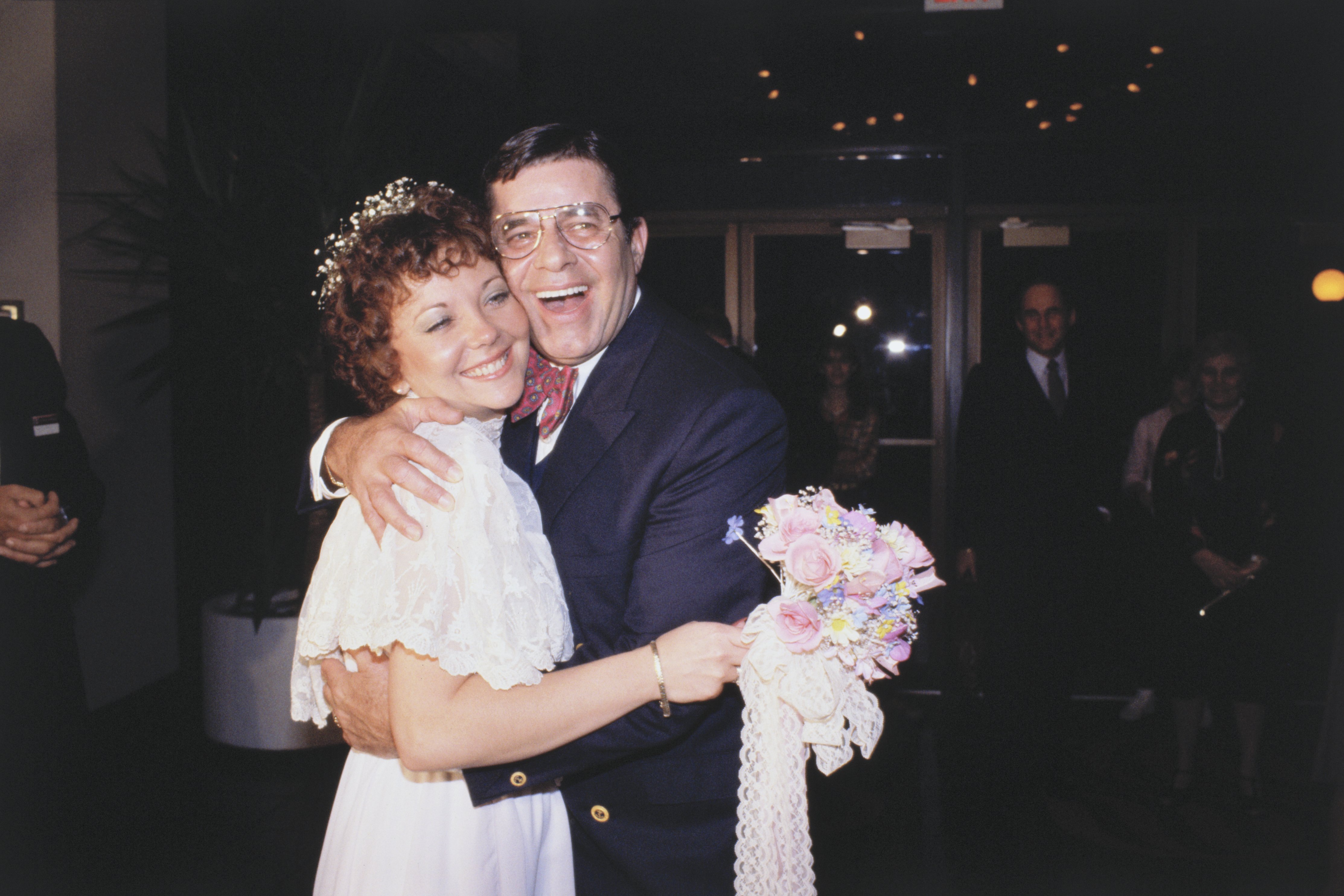 Jerry Lewis and Sandra Pitnick. February 13, 1983 | Source: Getty Images
Lewis was afraid that the press would find out about his son's drug dependency and that he frequented homeless shelters and soup kitchens to stay alive. Despite Lewis' best efforts, the information was eventually released.
In 2021, after years of fighting for her and her children's well-being at the hands of Lewis, Patti passed away at the age of 99. Patti passed away peacefully of natural causes in a nursing home.
Gary Lewis, one of Lewis and Patti's sons, gave an account of his mother. Gary mentioned that his mother was a beautiful spirit. He also said she was never ill and would walk around the nursing home humming.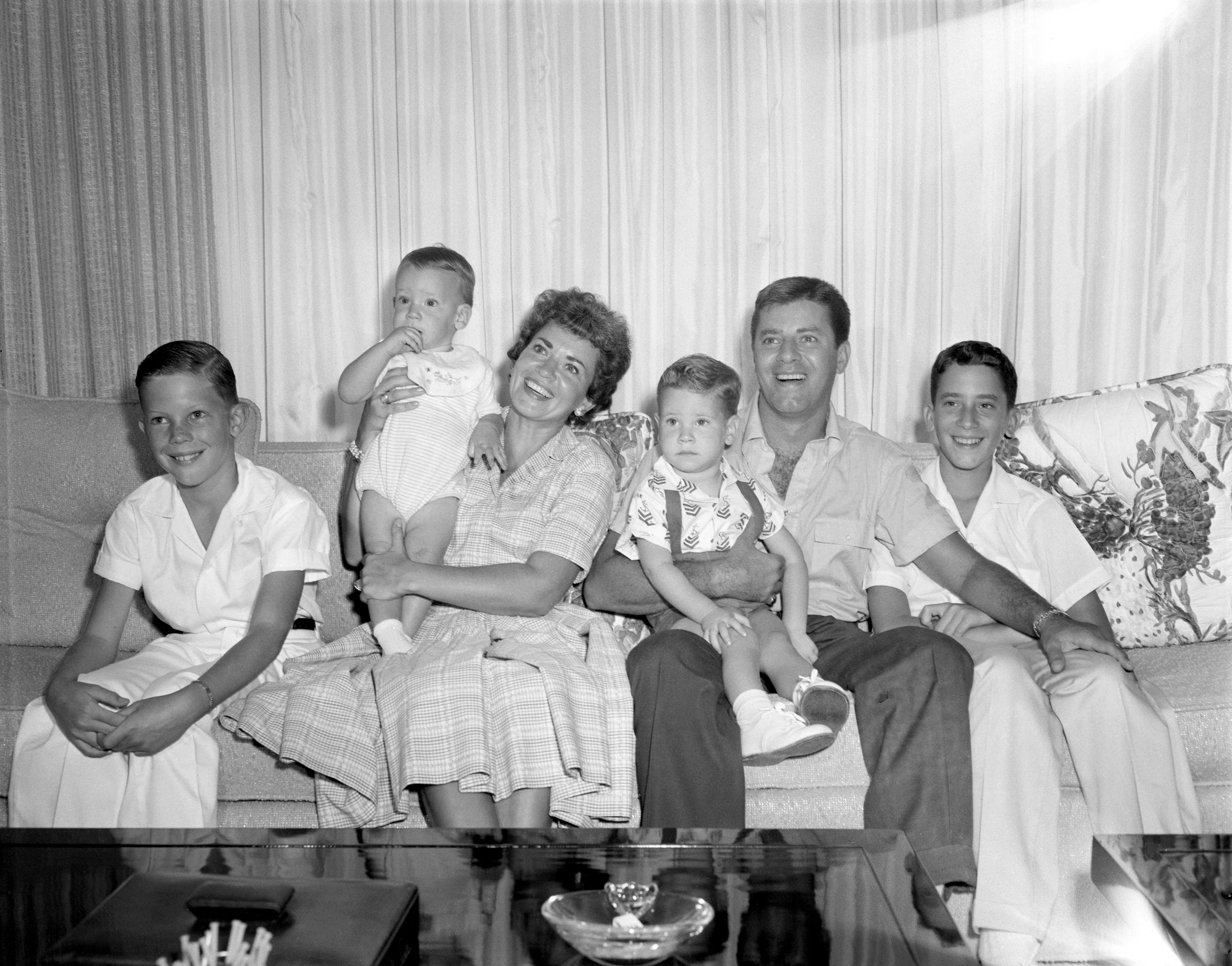 Jerry Lewis, Patti and four sons, (left to right) Ronald, Christopher, Scott, and Gary. September 1958 | Source: Getty Images
He also told the press that his mother loved singing, and because of that, their home was always filled with music and joy. Gary shared that it was here that he developed his own love for music, which turned him into the successful musician he is today.
Gary gave a gleaming description of his mother, far different from how his father has been described and concluded:
"She lived 99 years and had a full life and is now in heaven singing with the angels."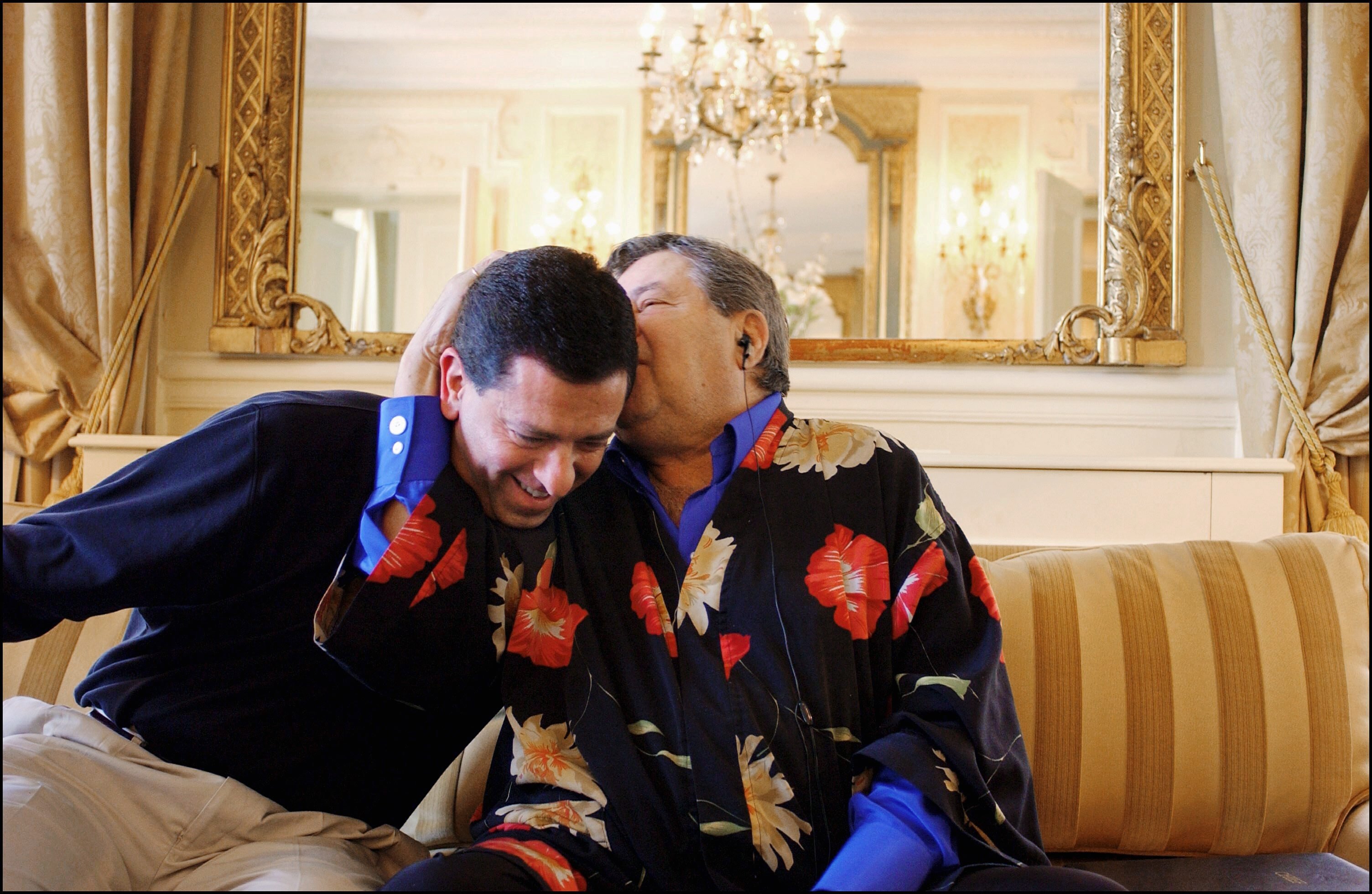 Anthony and Jerry Lewis. April 15, 2004 | Source: Getty Images
Although his father did not treat him fairly, Anthony Lewis has said that he wishes he had one more chance to tell his father that he loved and cared for him, despite everything they had been through together.
If you or someone you know is considering suicide, please contact the National Suicide Prevention Lifeline at 1-800-273-TALK (8255), text "help" to the Crisis Text Line at 741-741, or go to suicidepreventionlifeline.org.
Please fill in your e-mail so we can share with you our top stories!
The information in this article is not intended or implied to be a substitute for professional medical advice, diagnosis or treatment. All content, including text, and images contained on news.AmoMama.com, or available through news.AmoMama.com is for general information purposes only. news.AmoMama.com does not take responsibility for any action taken as a result of reading this article. Before undertaking any course of treatment please consult with your healthcare provider.