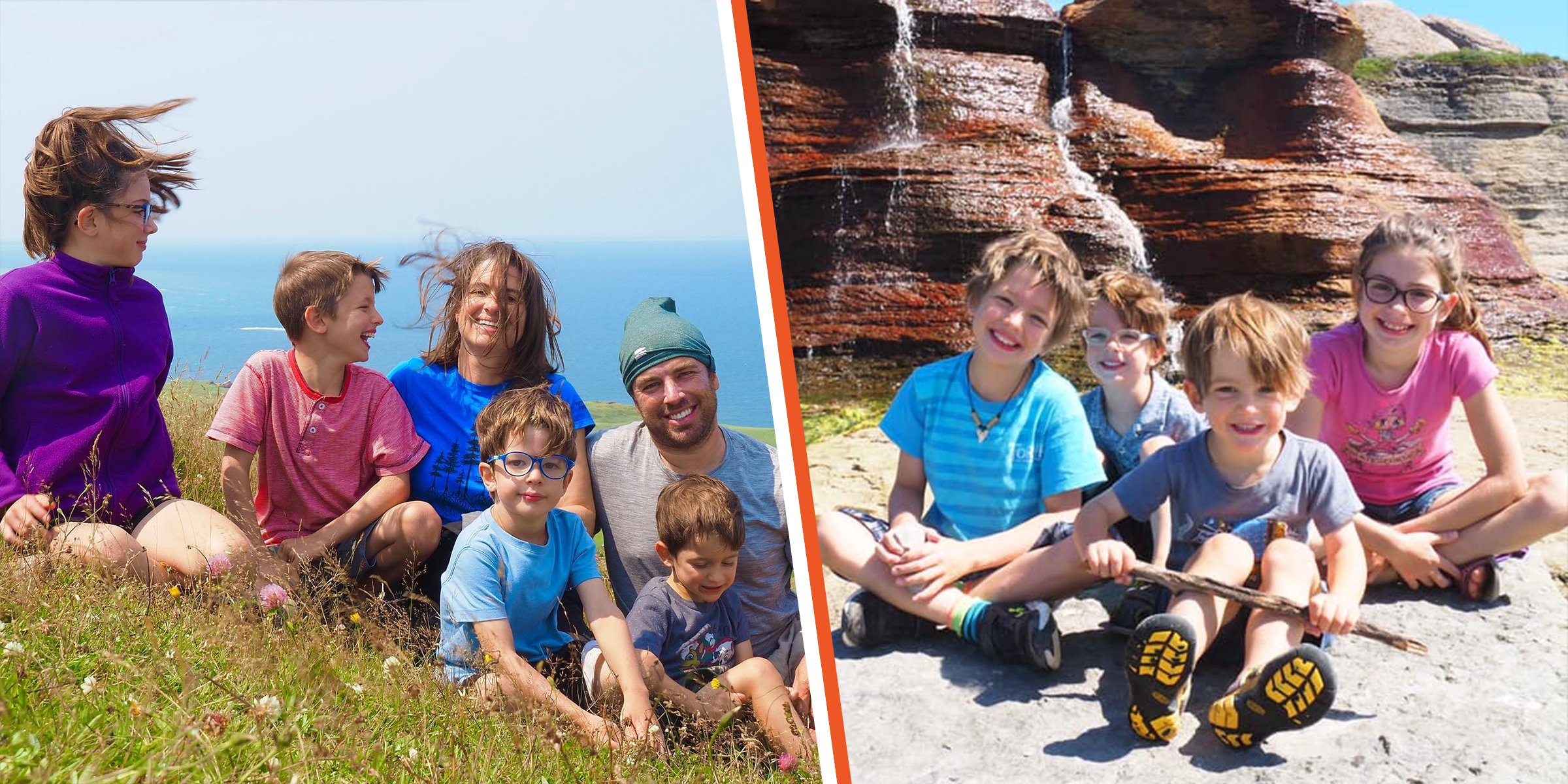 Mia, Leo, Edith Lemay, Colin, Laurent, and Sebastien Pelletier | Leo, Colin, Laurent, and Mia | Source: facebook.com/PleinLeursYeux
Parents Find Out Their Kids Will Go Blind, Take Them on a World Trip for Visual Memories before it's Too Late

When a Canadian couple learned about their children's rare eye condition, they were shocked. The doctors told them three of their four kids would go blind soon and that there was no cure for their disease.
For most parents, watching their children grow is a bittersweet feeling. While they celebrate every milestone their little ones achieve, they also feel sad thinking their kids will leave their house in a few years.
The couple in today's story looked forward to their children's bright future until the day their daughter suddenly complained about her vision. They took her to an eye specialist and learned she would eventually lose her eyesight.
The Unexpected Diagnosis
​​​​​Edith Lemay and Sebastien Pelletier were living a perfect life with their four children in Quebec, Canada, when suddenly, their 12-year-old daughter, Mia Lemay-Pelletier, complained about her vision. She couldn't see clearly after sunset.
Unaware of the severity of her condition, Edith and Sebastien took Mia to an eye specialist, who told them something they never wanted to hear. Their daughter had a rare genetic disorder, retinitis pigmentosa.
Having the genetic condition meant Mia would gradually lose her eyesight. The doctors weren't sure when she would completely go blind, but they expected it to have happened by the time she turned thirty.
Two More
In 2019, the couple discovered that their sons, Colin and Laurent, Mia's younger siblings, were also experiencing vision problems. The eye specialist diagnosed them with the same genetic condition. Edith said:
"We don't know how fast it's going to go, but we expect them to be completely blind by mid-life."
Since there was no cure for their genetic condition, the parents couldn't do anything to save their children from losing their vision. All they could do was help their little ones make memories they would remember for the rest of their lives.
Making Memories
Three out of their four children were diagnosed with the rare condition. Their second-born, Leo, was given the all-clear. The eye specialist suggested Edith and Sebastien fill their children's memories with vibrant images before they go blind.
Instead of making their children watch movies and buying them illustrative books, the couple went the extra mile and planned a year-long trip to various destinations across the globe. Edith said:
"I'm going to fill her [Mia's] visual memory with the best, most beautiful images I can."
The Bucket List
Initially, the family of six was supposed to leave in the summer of 2020, but travel restrictions during the pandemic hindered their plans. They had to wait for two years before embarking on their memorable journey.
In March 2022, the family left their hometown without planning their entire trip. They only had a few things in mind. Mia said she wanted to go horseback riding, and Laurent wished to have a glass of juice while riding a camel. Edith said:
"It was really specific and very funny at the time".
Incredible Experiences
The first destination on their list was Namibia, where they came close to elephants, giraffes, and zebras. Next, they traveled to Zambia and Tanzania and stayed in Turkey for a month. Sebastien said:
"So we're really trying to make them see things that they wouldn't have seen at home and have the most incredible experiences."
Edith and Sebastien believed traveling was a way to teach their children many life lessons. Apart from the scenic views and exciting experiences, traveling put them in uncomfortable situations that taught them essential life skills.
Heart-Wrenching Questions
When Mia learned about her condition, she was seven years old but didn't have many questions. But Edith said her five-year-old son asked her "heart-wrenching" questions after learning about his condition. She recalled:
"My little one asked me, 'Mommy, what does it mean to be blind? Am I going to drive a car?'"
The couple wanted their children to see the positive side of their lives. For instance, they wanted their kids to understand that "running water" and "going to school" were luxuries they must not take for granted.
People's Responses
While the couple tried to provide their children with unforgettable experiences, they shared their travel stories with the world on Facebook and Instagram. Edith and Sebastien connected with people with the same genetic condition through the internet.
Soon, news outlets covered the family's story and posted it on social media. Here are some of the comments people left under CNN's Facebook post:
"I pray for a miracle so the children may never lose their vision. He's a God of wonders".

― (@Patience Maluza) September 12, 2022
"I'm so happy they are doing this and giving their children these amazing experiences while they can still see them".

― (@Christie Driscoll) September 12, 2022
"My heart aches thinking about the children and their family. May God bless them with continued vision!"

― (@Siddharth Sanghi) September 12, 2022
Our prayers are with Edith and Sebastien's children, who have been diagnosed with this rare genetic condition. We hope they will make the most out of their year-long trip.
Click here to read another story about a little boy who developed a white spot on his face that grew with time. Soon, the doctors diagnosed him with a life-changing condition that shattered his confidence as a child.
Please fill in your e-mail so we can share with you our top stories!
The information in this article is not intended or implied to be a substitute for professional medical advice, diagnosis or treatment. All content, including text, and images contained on news.AmoMama.com, or available through news.AmoMama.com is for general information purposes only. news.AmoMama.com does not take responsibility for any action taken as a result of reading this article. Before undertaking any course of treatment please consult with your healthcare provider.