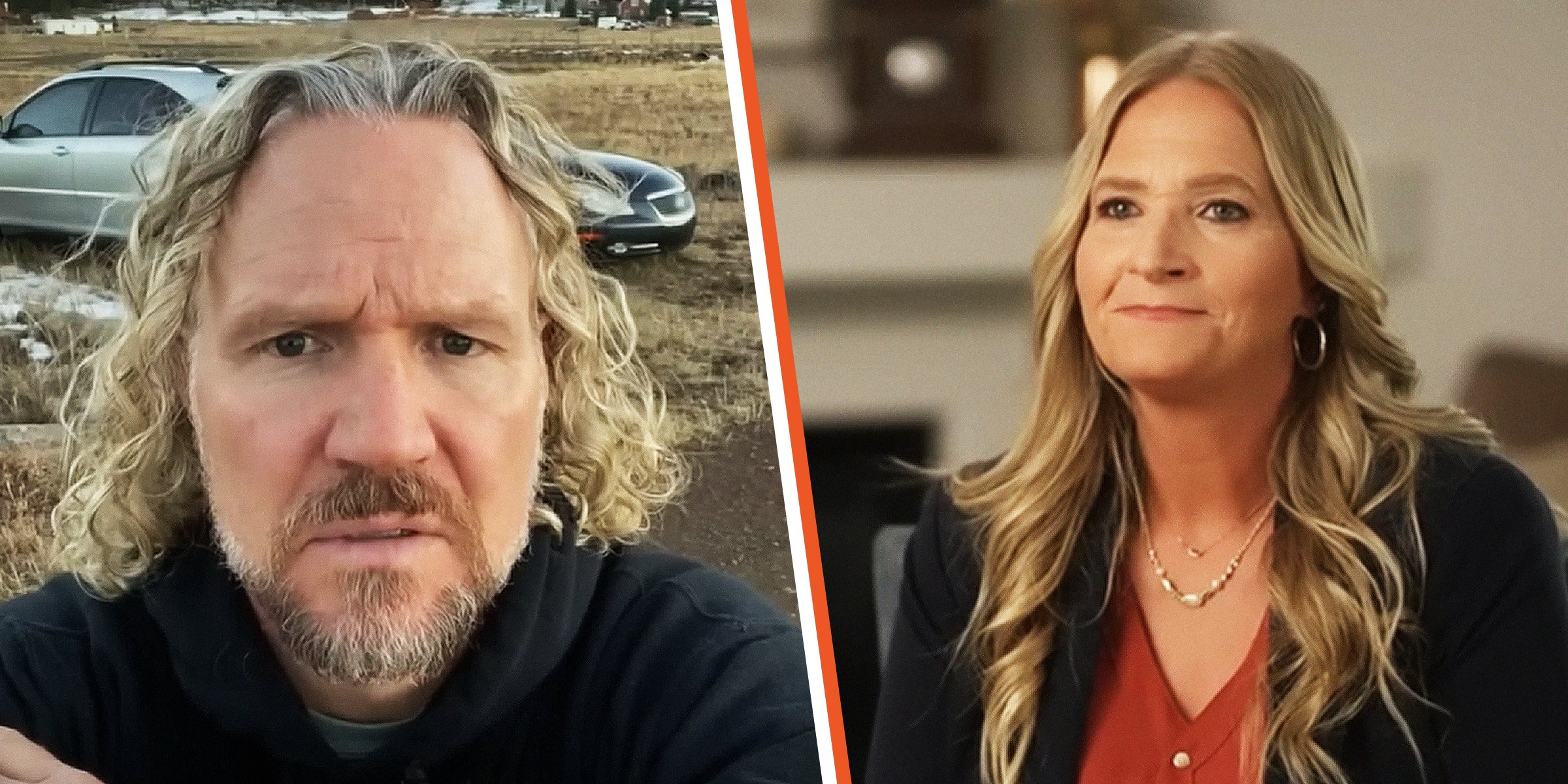 Kody Brown and Christine Brown, 2022 | Source: YouTube.com/People | YouTube.com/TLC
'Sister Wives' Star Christine Brown Doesn't Regret Decision to Split from Kody: 'He Has a Favorite Wife'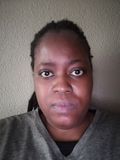 Christine and Kody Brown were married for almost three decades and welcomed six children before calling it quits. Their separation was due to how Kody treated his fourth wife in their polygamous union.
The last season of TLC's "Sister Wives" proved one of the tensest and heartbreaking for viewers to watch. In November 2021, Christine Brown shocked fans when she revealed she was separating from her husband, Kody Brown.
Shortly before the season 16 premiere of the show, Christine took to her Instagram account to make her announcement. She shared that after being together for 25 years, they'd grown apart.
The reality star confessed that her decision to leave the marriage was a "difficult" one. However, the TLC personality clarified that she and Kody would continue having a "strong presence" in one another's lives as they proceed to parent their children and support their family.
During the current season of the Brown family series, viewers got a glimpse into the events that led to Christine's decision. Her personal problems came into play, while those caused by Kody made things worse.
Problems Christine Faced during Her Marriage to Kody
Christine "spiritually" married Kody on March 25, 1994. She became his third wife, and even though their marriage wasn't legal, the reality star still changed her last name to her husband's.
The couple's first child, a daughter, Aspyn, was born on March 14, 1995. Their second daughter, Mykelti, joined the family on June 9, 1996, while her third sibling and only boy, Paedon, was welcomed on August 7, 1998.
The fourth addition to the family, Gwendlyn, was born on October 15, 2001. The fifth sibling, Ysabel, was welcomed on March 7, 2003; and the last addition was Truely, born on April 13, 2010.
The Brown family began filming "Sister Wives" in May 2010. Eventually, Christine started voicing her jealousy over the other wives in their polygamous relationship, and by season three, it was apparent something was seriously wrong in the union.
Before Christine joined the Browns, Kody married his first wife, Meri, in April 1990 and his second one, Janelle, in January 1993. During the show's first season, Kody's third wife had issues with her husband taking on a fourth wife, Robyn.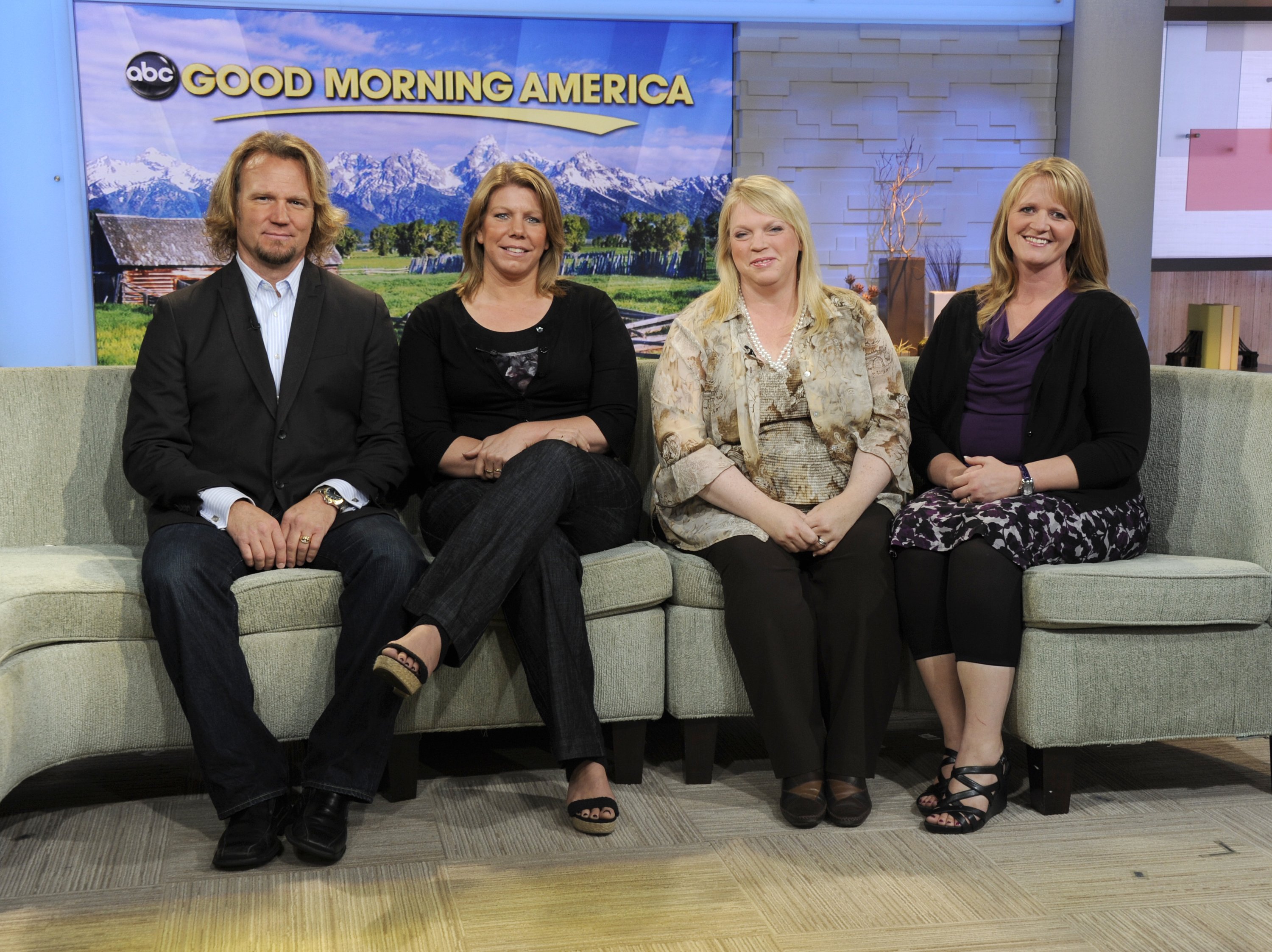 Kody, Meri, Janelle, and Christine Brown on "Good Morning America" on September 21, 2011 | Source: Getty Images
She noted how Robyn lived five hours away while Kody was courting her. Christine admitted that at times she would tell him not to leave her and the family. She complained that he was replacing them with Robyn and her children, lamenting:
"It was hard, and at the same point, I realized that it needed to happen, but it didn't necessarily make it easier."
In May 2010, the family patriarch married Robyn. During a March 7, 2021 episode of "Sister Wives", Kody's third wife confessed that she had struggled with her role in the family since the fourth wife joined.
Christine couldn't handle how close their husband was to Robyn. The reality star admitted that she saw herself as a "basement wife" instead of a "queen wife" in her relationship with their husband.
In February 2021, on the season 10 premiere, Christine revealed how she'd felt like she was always on the outside looking in. She also opened up about her jealousy over the other wives, stating:
"I'm really sorry — I still get jealous. I still get super, super, super jealous, and I'm really, really, really sorry."
On the other hand, Robyn noted that she did, indeed, deal with jealousy from the other wives after being dubbed Kody's "favorite" wife.
In 2022, Christine revealed how she'd always been someone who said yes to everything until her father called her out on it. He asked her when she'd start saying no, and that's when the reality star started standing up for herself.
However, her husband wasn't on board with the change, and things began to shift in their relationship, with him withdrawing first and Christine following suit.
In a clip, Christine acknowledged how difficult marriage was. She vowed not to make any drastic decisions on that day, but it was clear her heart wasn't in the relationship any longer, with her saying:
"Marriage is hard, but I never wanted the kind of marriage that I have now. I never wanted to be so estranged and have extremely limited physical contact... My marriage to Kody is sad."
Christine's Fears of Backlash after Leaving Kody
In February 2022, Paedon was featured on the "Reality Life with Kate Casey" podcast, where he spoke about his parents' separation. He revealed that when his mother first announced the news on Instagram, she feared the backlash she'd receive.
However, fans noticed that she appeared happy and content since moving back to Utah and leaving the Brown home. In April 2022, Christine shared several Instagram photos showing how she was thriving in her new life.
Christine [Brown] described herself as having been the third wheel for years, and everyone knew it.
One of the images showed her smiling broadly while lying comfortably on a couch. A young child slept peacefully in her arm, and the star revealed that the cat beside them was Truely's, named Zelda.
Kody's ex appeared to be enjoying herself to the fullest and even hosted a 1920's-themed Murder Mystery dinner party, complete with several photos that showed how much fun she had. The last picture was of her standing outside her garage smiling and looking healthy.
After leaving Kody, Christine shared her gratitude to a fan on Cameo for the support she'd gotten after her departure. She noted how the decision had been in the books for a long time and that she now felt like a better person divorced, adding:
"Life is so great. I had no idea life could be simple."
Christine Tackles Robyn Being Kody's Favorite Wife
In September 2022, during the season 17 premiere of "Sister Wives," Christine discussed Kody having a favorite wife. She said she thought he had one, which was why things were tense in the marriage.
The reality star shared how Kody felt she was not treating Robyn "well enough". She confessed that she thought the fourth wife was more important to her ex, at least more than her.
Christine described herself as having been the third wheel for years, and everyone knew it. She complained about it being sad, and that it sucked, but that her relationship with Kody wasn't important, no matter how much he said it was.
Please fill in your e-mail so we can share with you our top stories!