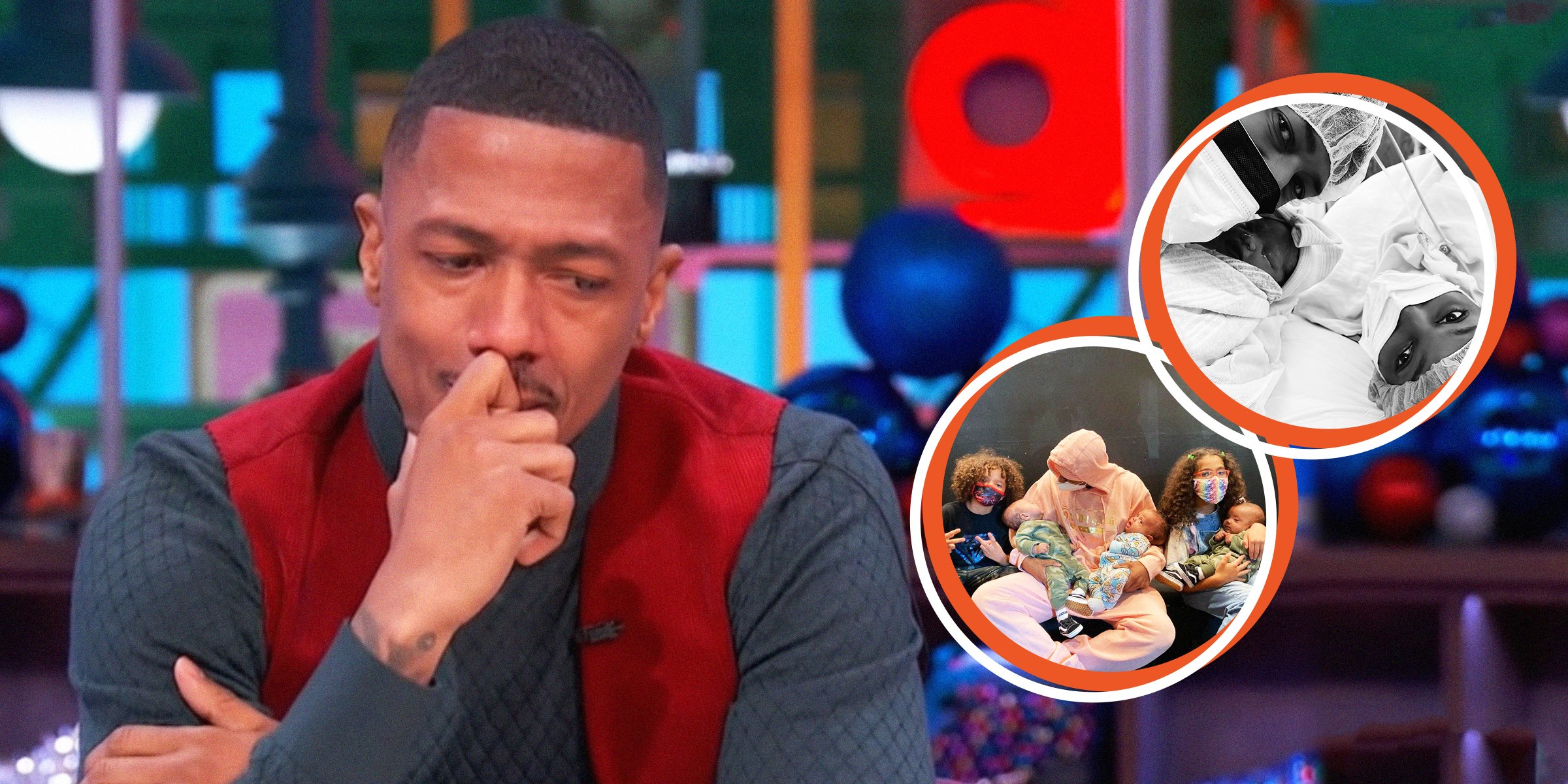 Nick Cannon | His children | Source: YouTube/Entertainment Tonight | Instagram/NickCannon
Nick Cannon Celebrates Birth of His Baby After the Tragic Loss of his Infant Son Last Year

Nick Cannon recently welcomed baby number 9

Cannon suffered an immense loss after the tragic death of his seventh child, son Zen in December 2021.

Why Nick has so many kids and how he defends his parenting

How is Nick as a father?
American TV host Nick Cannon is a dad again. The "School Dance" actor welcomed his ninth baby on Wednesday, September 14, with "A Beautiful Soul" actress LaNisha Cole.
Cannon announced the news on his Instagram alongside a black and white photo with his newborn baby girl Onyx Ice Cole Cannon, as he posed beside the new mom, only hours after she had the baby.
In the photo, set against Cannon's song "I Do" with Chris Brown, he explained how in awe he was that, once again, mother nature had chosen him and Cole to host an angel on earth.
TV host Nick Cannon attends Amnesty International USA's Inaugural Art for Amnesty Pre-Golden Globes Recognition Brunch at Chateau Marmont on January 8, 2016 in Los Angeles, California | Source: Getty Images
The "Underclassman" star shared that he has learned it is not the limited amount of time on this planet that's the issue, but the limited amount of love. He then vowed to protect his daughter with all his heart, regardless of what people said. He continued:
"I vow to protect, provide, guide, and love this child to the best of my abilities."
Baby Onyx is the first child of Cole, 40, who also shared the news on her Instagram, stating how special and blessed she felt welcoming her baby into the world.
As a first-time mom, Cole says the experience has been eye-opening for her. She also gushed over her daughter saying that she was already in love with the little girl.
2022 has been a blessed year for the "Masked Singer" host as he also welcomed his 8th baby a few months back with model Bre Tiesi, who shared her pregnancy, labor, and delivery journey through photos and videos on her Instagram.
Cannon Suffered a Heart Wrenching Tragedy in 2021
The 2021 December holiday season started on a low note for Cannon after he lost his 7th baby Zen to cancer. Announcing the sad news to "The Nick Cannon Show" audience, the actor tearfully opened up about his loss, the struggles leading to his son's death, and their last moments together.
He disclosed that during the first two months of Zen's life, he and the boy's mother, model Alyssa Scott had noticed an unusual breathing pattern with their baby, who also had a persistent cough. They brushed it off as a bad case of sinuses.
He told People that his son's breathing sounded like he had fluid in his lungs. They thought and hoped everything would be alright, especially after the doctors seemed to think it was not anything too concerning.
However, when the problem became persistent, the alarmed parents had Zen checked again, and the doctor determined that his head was growing a little too fast.
Upon further tests a few weeks later, the doctors discovered that he was suffering from a form of cancer characterized by a tumor in his head.
Thanks to a successful surgery, Zen seemed to be doing alright and his parents were thrilled to see him play with his siblings again. Sadly, his condition deteriorated after Thanksgiving, and his parents had to come to terms with the fact that they were running out of time.
Tragically, after spending a memorable weekend at the beach with his parents, Zen succumbed to the illness and waved the world goodbye on December 5.
Days later, Cannon paid tribute to Zen by getting a tattoo of his son on the side of his torso. A month later, he remembered his son, while posing with five of his other children, alongside a caption that read:
"Still missing my little dude...His spirit and brightness were soo strong #ZensLight."
Cannon Is a Proud Father of Nine, He Is Expecting His Tenth Soon
The actor is a proud father of nine children. He shares his eldest, twins Moroccan and Monroe, with his ex-wife Mariah Carey, his third and fourth, Powerful Queen, and Golden Sagon with Brittany Bell.
His fifth and sixth are another set of twins, Zillion Heir and Zion Mixolydian with broadcast professional and international DJ Abby De La Rosa, son Legendary Love with Bre Tiesi, the late Zen with Scott, and the youngest of the brood, daughter Onyx Ice Cole with Cole. Speaking to People in May, Cannon said:
"Every day I just wake up excited as a father. I'm so excited about all my kids."
Cannon has also previously expressed his inhibitions about his children following his showbusiness footsteps. However, when Monroe made her modeling debut advertising clothes for OshKosh B'gosh, he shared the video and said he was a proud dad.
Appearing in the May/June issue of "Men's Health," Cannon defended his parenting, saying he does not subscribe to the traditional family setting and bearing kids as there is too much toxicity involved in such households. He says he believes in doing what is right for him and his children and what brings him happiness.
The actor also opened up about the misconception about fathering many kids, saying that contrary to popular belief, he is very involved in their lives. In fact, he says, he might be more involved in their lives than the average adult.
The "Drumline" actor says whenever he is in the same city as his kids, he will make sure he drives them to and picks them up from school. Whenever he is in a different town, he will Facetime them before they leave for school.
In June, the "Wild 'n' Out" host revealed that there might be more surprises before the end of the year, hinting at the fact that he is also expecting another baby, his 10th, with Bell. He quipped during the Lip Service podcast, as People reports:
"If you thought it was a lot of kids last year...the stork is on the way."
Cannon shared the news through footage on social media showing Bell with a baby bump posing in different outfits. The announcement comes only a month after his ninth baby, Legendary Love, was born.
Please fill in your e-mail so we can share with you our top stories!