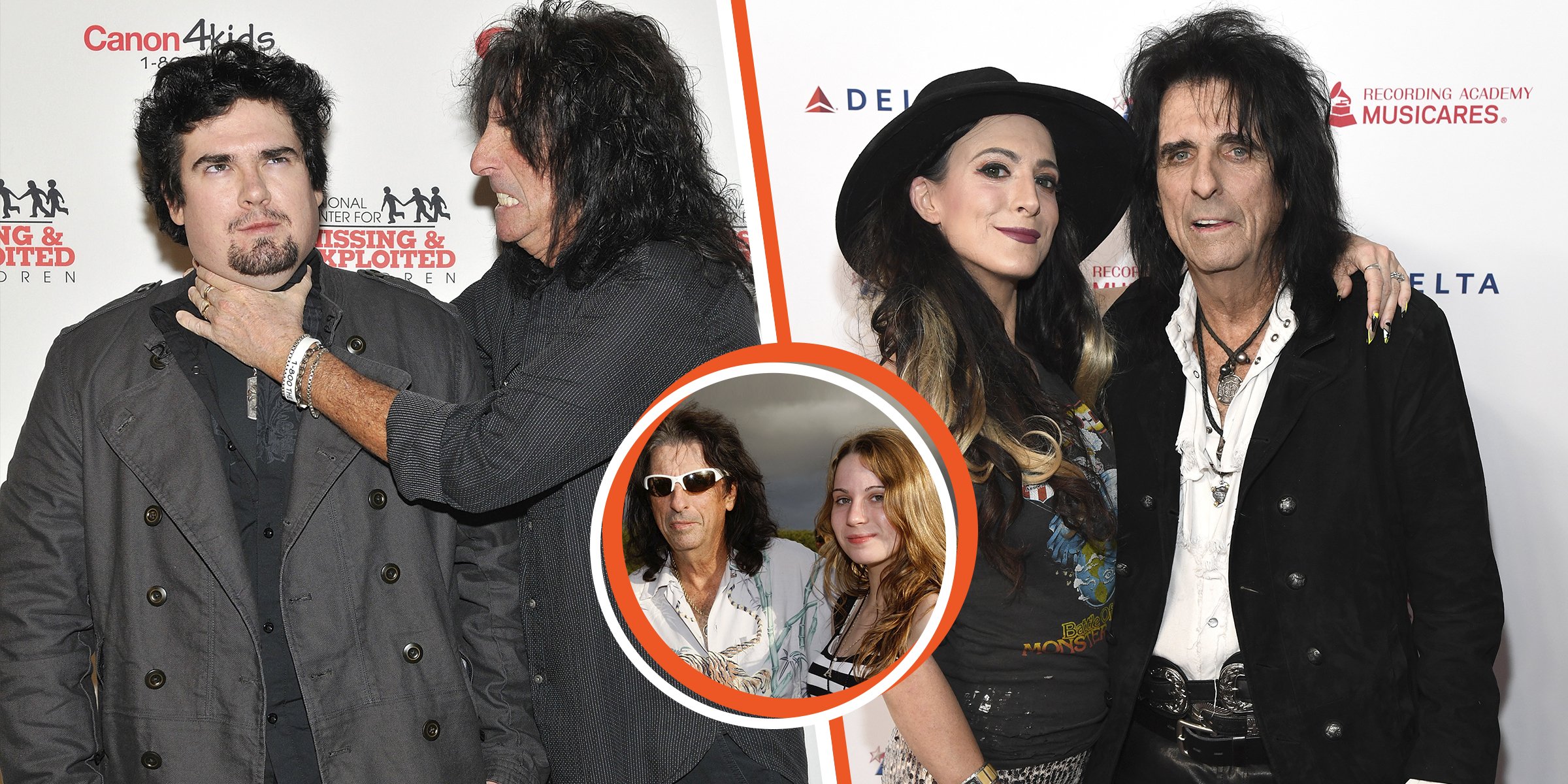 Dashiell Cooper and Alice Cooper, 2010. | Sonora Cooper and Alice Cooper, 2008. | Calico Cooper and Alice Cooper, 2020. | Source: Getty Images
Alice Cooper's Three Children and Their Family: Two of Three Kids Have Taken after Their Dad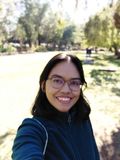 Alice Cooper's children have always been incredibly proud of their famous father, widely regarded as one of the most influential figures in rock music. Two of the legend's three children have taken up music as a career.
Alice Cooper shot to fame as a multi-million-selling shock rocker. Throughout his more than 40-year career, he pioneered horror-centered rock music. He also made a fortune with garage rock, metal, and punk songs, such as "Welcome to My Nightmare," "School's Out," and "No More Mr. Nice Guy."
The rock star has an equally shocking detail about himself. Apart from his horror-themed music, Alice, whose real name is Vincent Damon Furnier, is a born-again Christian, a minister's son, and a happily married man with three loving children: Calico, Dashiell, and Sonora Cooper.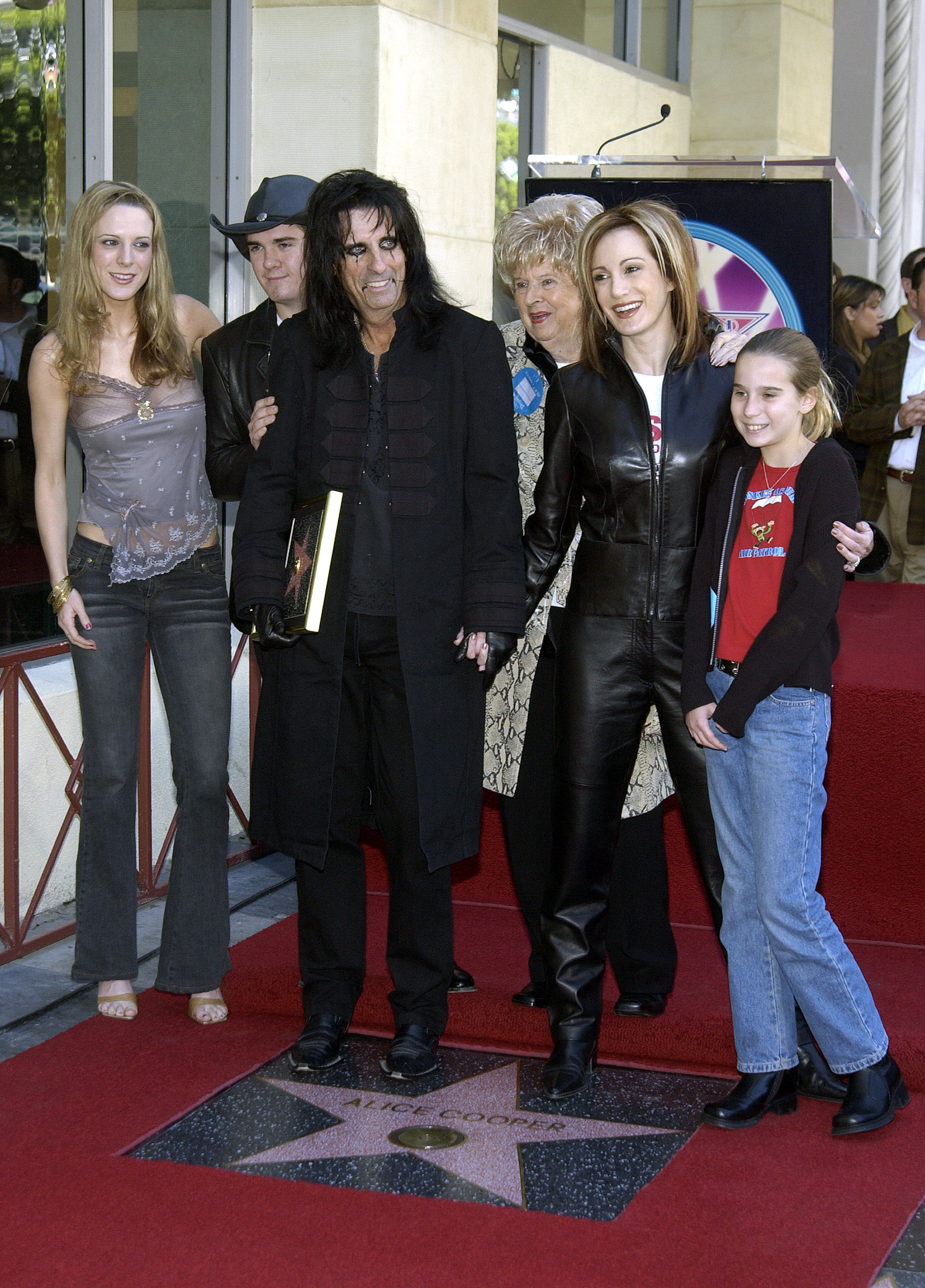 Alice Cooper and his wife, Sheryl Goddard, their children Calico, Dash, and Sonora Cooper, as well as the kids' grandmother Ella Furnier at the Hollywood Walk of Fame on December 2, 2003, in Hollywood, California. | Source: Getty Images
Calico Cooper
Calico is Alice and his wife Sherly Goddard's eldest daughter, born on May 19, 1981. Calico is a multitalented woman who can sing, act, and direct shows. She is also a dancer who choreographed for her father's stage performance of his song "Brutal Planet."
The multihyphenate appeared on various television shows such as "The Mindy Project," "Hawaii: Five 0," and "Henry Danger" on Nickelodeon. She is also the lead vocalist of the rock band Beasto Blanco.
Even though she has a successful music career, Calico revealed in a 2020 Ultimate Classic Rock interview that she never intended to do so in the first place and never even considered the possibility that she could make a living in that field. She explained:
"Because that would mean a whole other box of...you know, am I really gonna get compared for the rest of my life to my dad?"
On the other hand, Calico believed she was born to make music. Because of this, Beasto Blanco released their first album in 2013, aptly named "Live Fast Die Loud," which featured a cover of Alice's hit song "Feed My Frankenstein."
In October 2015, Calico married actor Jed Williams in Maui, Hawaii, and the couple's family and closest friends witnessed it. She wore a gorgeous ivory lace wedding dress.
The lovely pair and their guests documented their photos and videos on Instagram with the hashtag "#jedandcalico2015." Calico shared a snap of herself and her bridesmaids raising a toast to commemorate the special day.
On the other hand, Jed expressed happiness at their new milestone. He even posted an Instagram photo of himself embracing Calico with a sweet caption where he acknowledged Calico as his wife and described the occasion as the "best wedding party ever."
The beautiful and sunny wedding was far from what Calico had grown up with. When she was a child, she used to run around her father's intricate horror-themed stages, which were not exactly kid-friendly.
Although attending her father's horror-themed shows may have been frightening to some, Calico said joining in her father's events was an ordinary family affair. She recalled her father teaching soccer and then performing at sold-out concerts. She remarked:
"I think that says a lot about him as a human, more than as a performer because he was kind of one of those guys that was like, 'I refuse to believe that I can't have both things."
Like her mother, Sheryl, a ballerina, and choreographer, Calico quickly became a part of her father's stage performances. Calico finally put her creativity and talent to use after years of practice.
Calico and Alice spent three nights opening for the legendary rock band Rolling Stones in 2006, following her performance in the Brutal Planet show in 2001. To share a stage with Rolling Stone was memorable for the daughter-father pair.
She recalled how "intense" it was for her father to meet and open for the band he had long admired. The multitalented personality even had a photo of them with the iconic group taped to her refrigerator.
Despite the fact that she was born to famous parents and has two famous siblings, Sonora appeared uninterested in fame.
Calico reflected on her years on stage and felt grateful for her memorable experiences as a performer, particularly the long nights on the bus tour. She credited her hectic schedule with instilling structure and responsibility in her.
Dashiell Cooper
Born on June 3, 1985, in Phoenix, Arizona, Dashiell, also known as Dash, is Alice and Sheryl's second child. Dashiell is a happily married man, raising three kids with his wife, Morgan Cooper. He performs and writes songs for the rock band CO-OP.
Similar to Calico, Dashiell strives not to rely on his father's success, emphasizing that he has been trying to build his name in the music industry on his own. He believed that he and his older sister were talented enough to make it independently.
However, he admitted that they welcome their father's influence and direction. He went on to say that Alice occasionally collaborates with them. Dashiell said that jamming with their dad are special moments they wouldn't trade for anything.
Sonora Cooper
Born in 1992, Sonora is Alice Cooper and Sheryl Goddard's youngest child in the family. Despite the fact that she was born to famous parents and has two famous siblings, Sonora appeared uninterested in fame.
Sonora and her husband, Diego Diaz, have opted to live away from the spotlight. While older siblings Calico and Dashiell both pursued careers in show business, details about the activities of their younger sister remained unknown.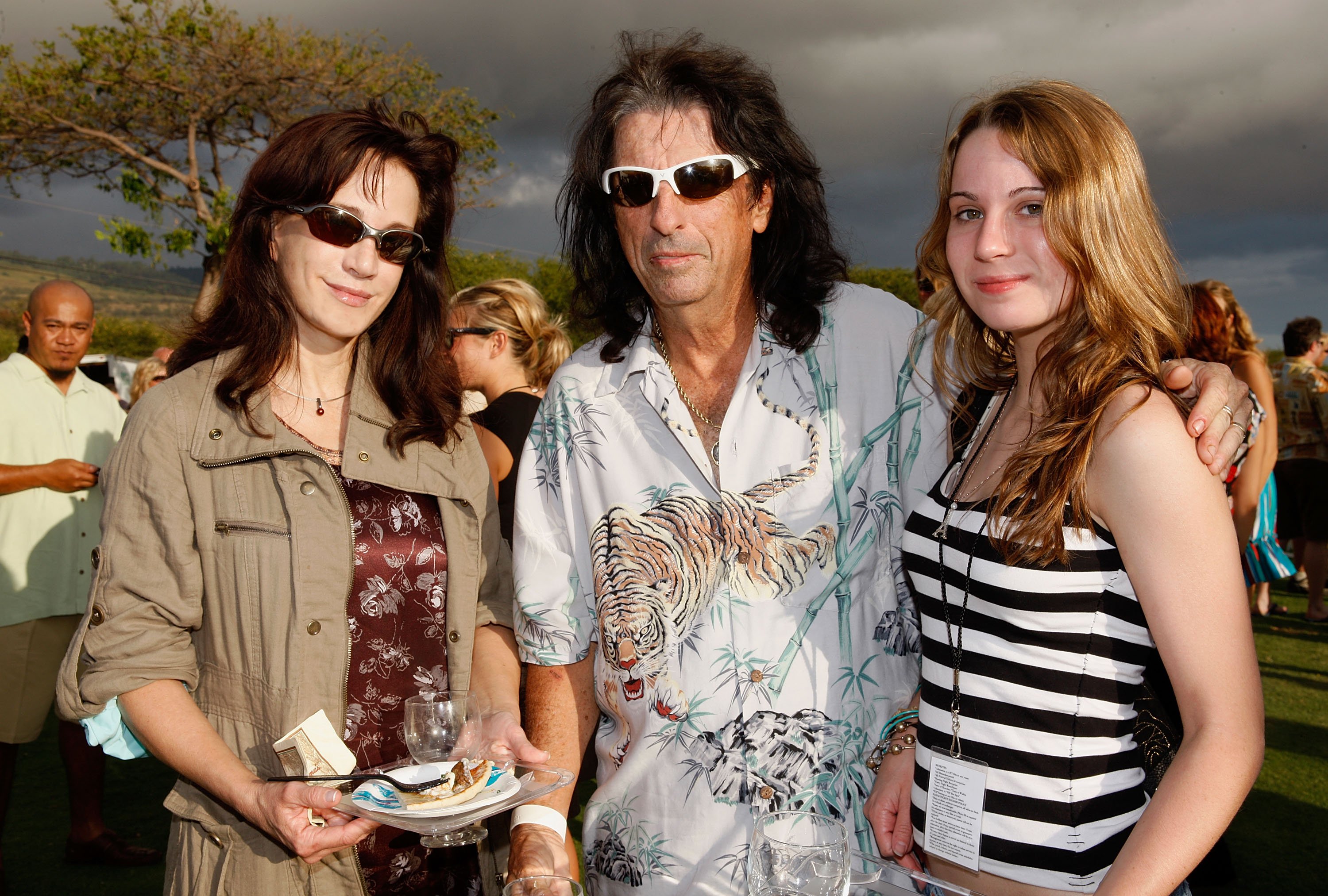 Sheryl Cooper, his husband Alice Cooper, and their daughter, Sonora Cooper, attend the Taste of Wailea on June 14, 2008, in Wailea, Hawaii. | Source: Getty Images
While Sonora and her husband have chosen to live a more private life, she appears to maintain a close bond with her siblings, especially her parents.
In 2020, Alice revealed that Sonora was expecting a child. However, the iconic rock shocker had no additional information provided in public since his youngest daughter chose to keep it confidential.
Please fill in your e-mail so we can share with you our top stories!