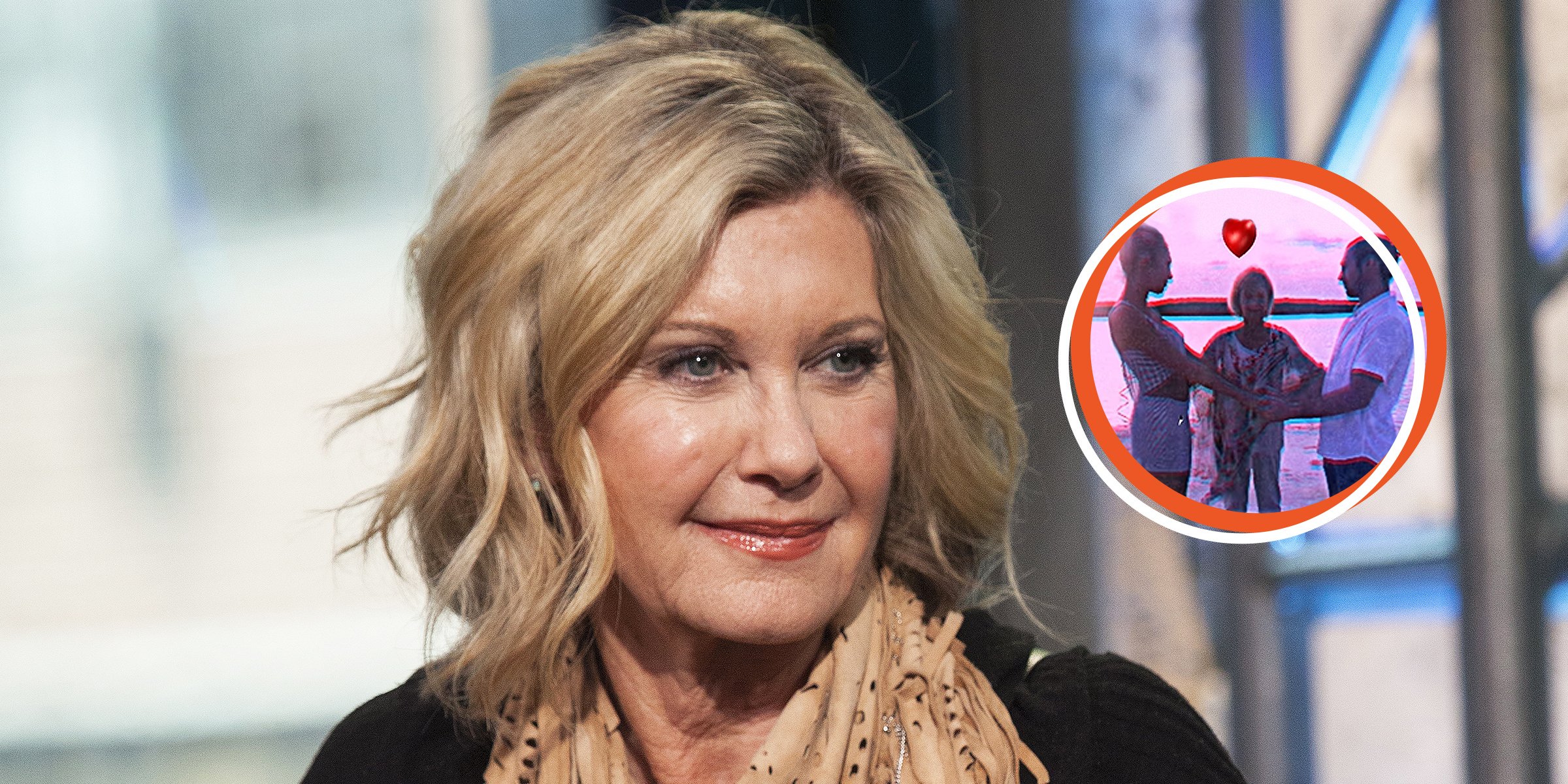 Olivia Newton-John | Olivia Newton-John, Chloe Lattanzi and James Driskill | Source: Getty Images | Instagram.com/chloelattanziofficial
Olivia Newton-John's Daughter Reveals Private Wedding Where She Asked Mom to 'Marry' Her & Fiancé before Death

Olivia Newton-John left behind a remarkable legacy through her works onscreen, music, and family life.

The "Grease" actress was adored by many, including her fans and family.

Newton-John's only daughter, who was engaged for ten years, wanted to receive her blessings before she passed away.

Thankfully, the actress officiated her daughter's secret wedding years ago in the Bahamas.
Olivia Newton-John was an exemplary superstar. She knew how to juggle career life with family, and neither suffered for the other.
She was blessed with only one child, Chloe Lattanzi, with whom she shared a close relationship. Indeed, Newton-John was one of those superhumans who never allowed tragedy to define their lives.
The multi-talented entertainer who rose to prominence following the musical "Grease", featuring John Travolta, was diagnosed with cancer in 1992.
Despite the heartbreaking news, the starlet concentrated on creating a happy world outside the disease. Her game plan included prioritizing her family, passionately advancing her career, and becoming a cancer activist.
In 2020, the positive thinking actress confessed that cancer could have a negative influence, but she chose an alternative. In her words:
"Cancer can engulf your mind and engulf your being. And I try not to always live with that in my mind."
Such a mindset was instrumental in getting her through the medications and other procedures. Her health struggles included getting a partial mastectomy, chemotherapy, and breast reconstruction.
Sadly, all these did not discourage the disease from spreading. In 2020, Newton-John was diagnosed with stage 4 metastatic breast cancer.
For three decades, Newton-John kept a refreshed mind while she championed enlightening the public through various techniques.
She was vocal about her experiences, sharing with the public how she patronized plants and herbs. Simultaneously, the actress became devoted to cancer research.
In 2015, she founded the Olivia Newton-John Cancer Wellness and Research Centre in Australia. The center worked hand in hand with a local hospital in the area and the Olivia Newton-John Cancer Research Institute.
Newton-John was desperate to provide healing to the world through her programs and lifestyle. So while she funded research, she tried several alternative medicines and hoped they would work for everyone.
This Amazon dedicated about thirty years of her life to the fight against the disease, and she wanted the world to know that it was powerless. She said:
"I live beyond it. I love beyond it. I sing beyond it. And I want that for everybody."
Unfortunately, on August 8, 2022, she died at her ranch in Southern California. Her husband, John Easterling, shared in a statement that loved ones surrounded the actress. He concluded by adding:
"Olivia has been a symbol of triumphs and hope for over 30 years, sharing her journey with breast cancer."
Fans were devastated by the news. They went online to pay tribute to the heroic actress who lived a life of service to her loved ones and the world at large.
Newton-John was recognized by her husband, fans, and, most of all, her only child, Chloe Lattanzi, from her marriage to Matt Lattanzi. The celebrity's daughter, who was in a long-term relationship, wanted her to witness her wedding before her death, so it happened!
Chloe's Secret Wedding
Lattanzi inherited her mother's talents and will to commit. The younger songstress/professional dancer remained engaged to James Driskill for a decade before deciding to get married.
A month after her mother's death, Lattanzi shocked her fans by sharing that the Grammy winner had blessed her marriage.
While announcing the big news during a song promotion, she noted that her love life does not conform to the norm, adding that they had been married in the "spirit since the moment" they met.
The "No Pain" singer, who admitted that their marriage was delayed because "we're just lazy," mentioned that their future wedding was pictured as a private affair, with a gathering of only family members.
In 2019, Newton-John shared her sentiments about her daughter's wedding. She gushed about the couple, hinting that she could not wait to become a grandmother, even though there was no definite date for the wedding yet.
A month after her mother's death, Lattanzi shocked her fans by sharing that the Grammy winner had blessed her marriage. The 36-year-old uploaded a rare video on Instagram showing the wedding ceremony in the Bahamas many years ago.
The one-minute clip revealed the couple dressed in white holding hands and sharing their vows near the shores of a wavy beach. Olivia, who was the only family member present, officiated the ceremony. Lattanzi's post caption showed that she was grateful to her mother for being present at the intimate event. It read:
"This was one of the most precious moments of my life. Years ago, in the Bahamas, I asked my gorgeous mama to marry me to this incredible man. Thank you, mama, for everything."
Even though fans were shocked that the couple had not updated the public on their marital status, many commenters passed heartwarming remarks on the clip, wishing the tight-lipped couple a happy married life.
Chloe Lattanzi Adored Her Mother before and after Her Death
Lattanzi and Newton-John were extremely close. The mother-daughter duo spent time making music and seemingly confided in each other.
Following the legendary singer's death, Lattanzi wrote a song for her mother and shared a clip where she performed behind the mic.
However, the singer refused to reveal the content of the song. Instead, she muted the audio, possibly, to keep the suspense until the song was released. Lattanzi continues to share pleasant memories of her mother in more than one way.
On Sunday, the dancer stormed the internet with several never-before-seen pictures featuring mother and daughter spending time in the kitchen and by a poolside.
Fans were stunned and gushed about the duo's bond while complimenting the adorable photos. Consequently, Newton-John's death is not the end of her story.
Her memories continue reverberating in the hearts of her daughter, husband, and fans who respect her legacy. Thanks to a life well lived.
Please fill in your e-mail so we can share with you our top stories!