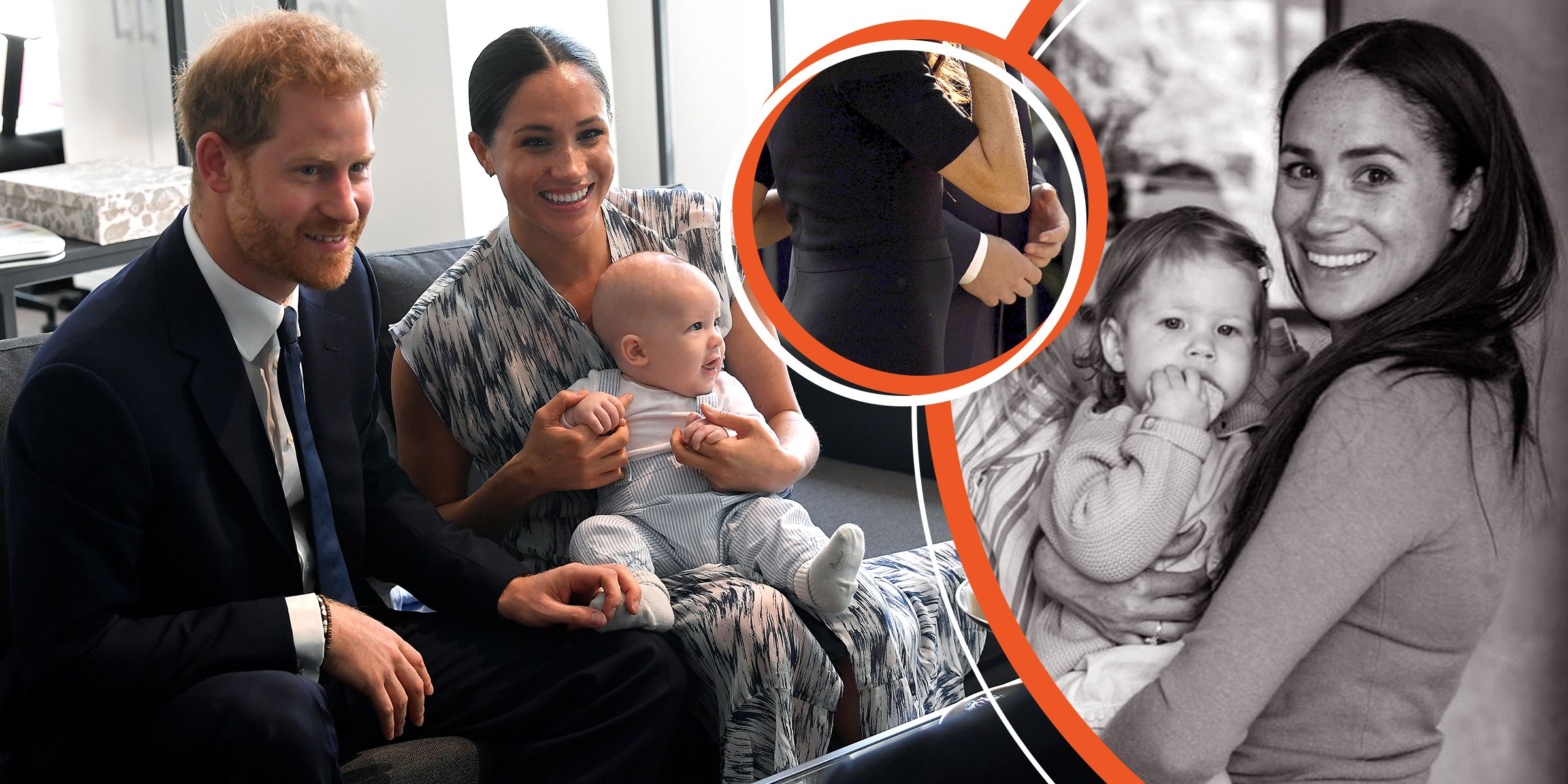 Prince Harry, Archie, and Meghan Markle | Meghan Markle at the Queen's state funeral | Meghan Markle and Lilibet | Source: instagram.com/misanharriman Getty Images
Fans Are 'Sure' Meghan Is Carrying 3rd Baby — She & Harry Miss Their Little Kids 'Like Crazy,' Said Source

Meghan sparked rumors and was captured with a tiny belly when she was pregnant with 1st baby before the official announcement.

Harry & Meghan's path to having their second child was not easy.

Recently, Meghan's appearance made people sure that she is pregnant with 3rd baby at 41.
Prince Harry and Meghan Markle have two children, Archie and Lilibet. The children have been mainly kept out of the spotlight by their parents and have also not attended any royal engagements since the Queen's passing with their parents.
The couple is said to be missing their children as they are in the UK attending royal appearances following the Queen's death, including her state funeral on September 19, 2022.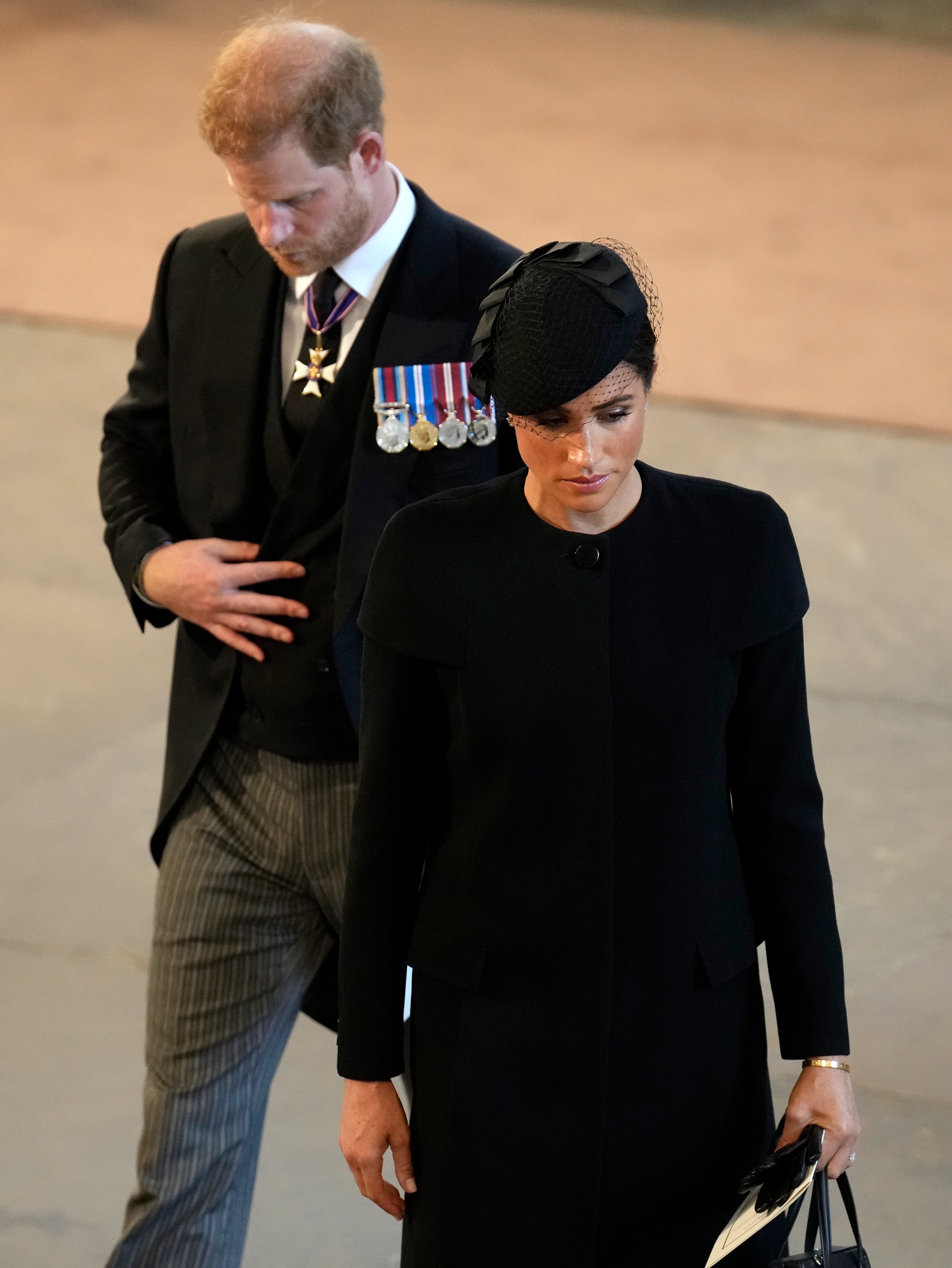 Prince Harry, Duke of Sussex and Meghan, Duchess of Sussex pay their respects at The Palace of Westminster during the procession for the Lying-in State of Queen Elizabeth II on September 14, 2022 in London, England | Source: Getty Images
A source told "Us Weekly" that the couple intended to travel home shortly after they attended the state funeral because they couldn't wait to see their children. The couple has not seen their children for two weeks.
The source revealed that this is the "longest amount of time they've been apart from their children." The couple initially planned to spend only a week away from their children, but after the Queen passed away, they had to change their plans to attend her funeral.
They have since been in the UK while their children remained at home because they are still too young to be participating in royal engagements on the scale that the Queen's funeral was. Prince Harry and Meghan Markle ensure that their children have as much privacy as possible.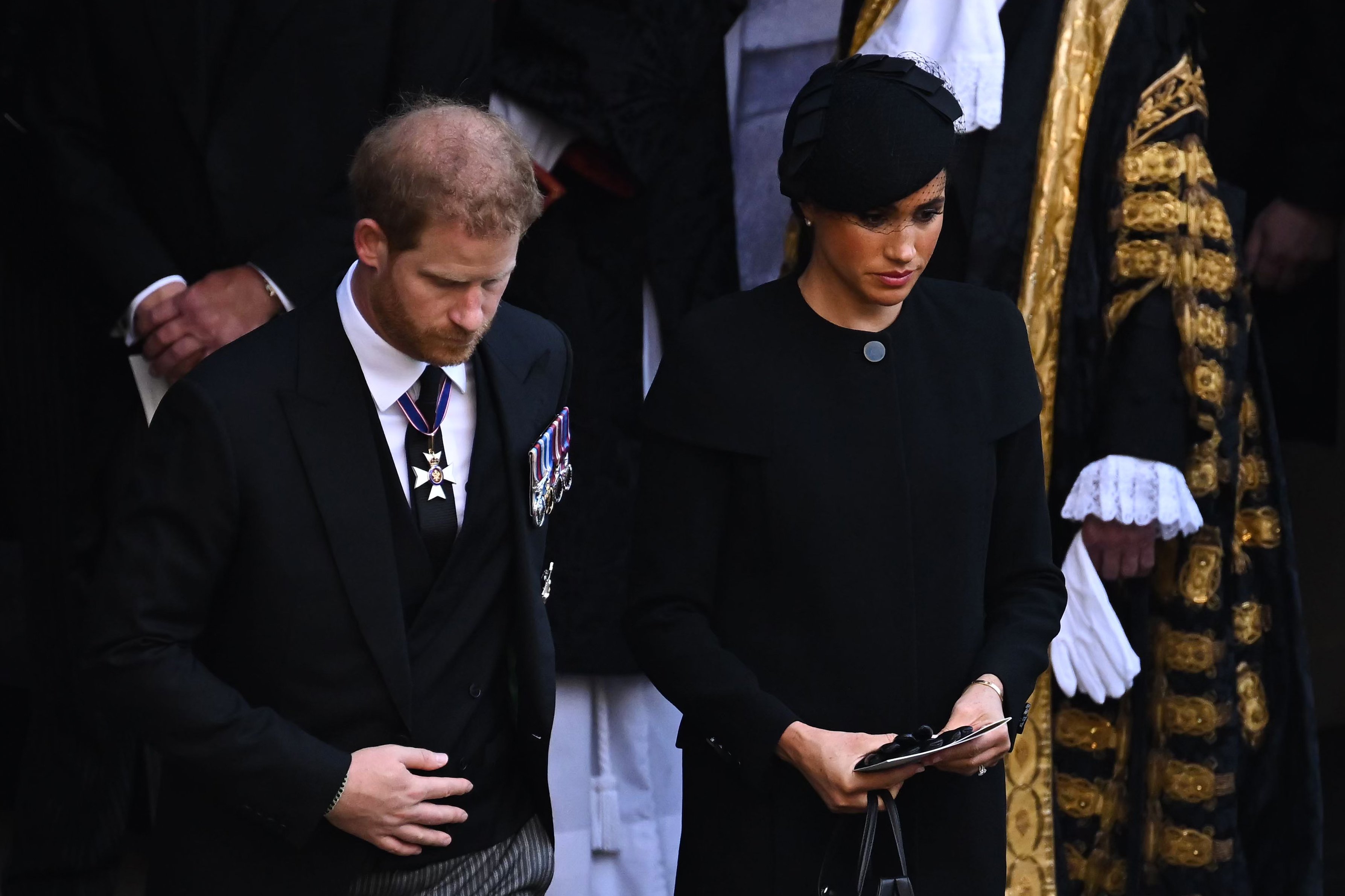 rince Harry, Duke of Sussex and Meghan, Duchess of Sussex leave after a service for the reception of Queen Elizabeth II's coffin at Westminster Hall, on September 14, 2022 in London, United Kingdom | Source: Getty Images
Although they reunited with the royal family after the passing of the Queen, a source
said
:
"They've missed the kids like crazy and have been FaceTiming them every day but can't wait to see and hold them again after a poignant few weeks."
While the couple has been wrapped up in missing their children and royal engagements after the Queen's death, fans have been wrapped up in their own deductions from their behavior during the funeral.
Many fans believe that because of the couple's behavior over the last two weeks, a pregnancy announcement is on the way. One fan tweeted in the excitement that it was being said that the couple was expecting their third child together.
Meghan and Prince Harry are devoted parents and fiercely protective of their children. They shared their thoughts on parenthood after Meghan gave birth to Lilibet.
Archie Made Prince Harry and Meghan's Parents
In July 2022, "Hello!" shared Meghan's pregnancy timeline, confirming that she had fallen pregnant in July 2022. However, she did not show until mid-October, when she had already announced her pregnancy.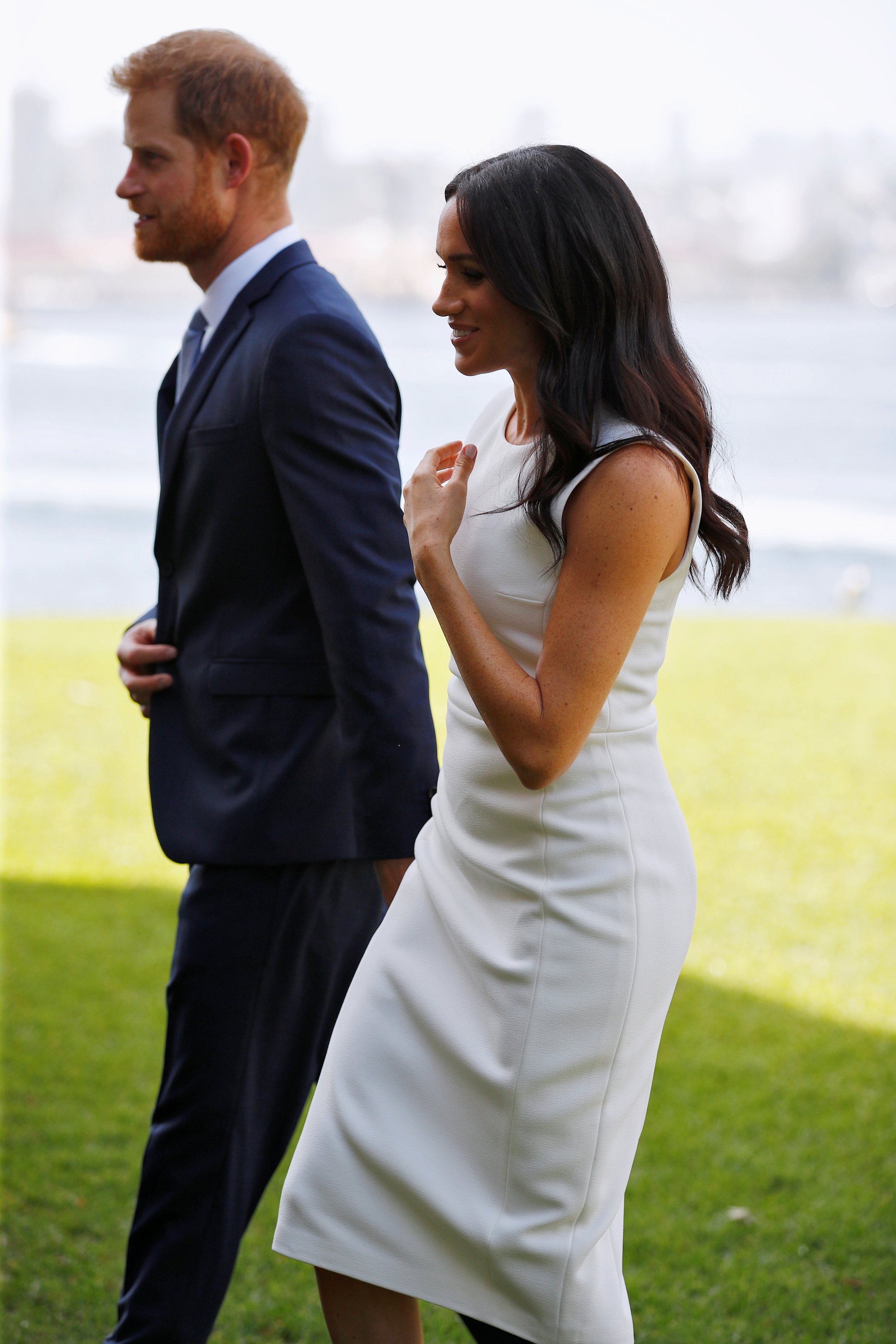 Prince Harry, Duke of Sussex and Meghan, Duchess of Sussex attend a Welcome Event at Admiralty House on October 16, 2018 in Sydney, Australia | Source: Getty Images
The pregnancy was
announced
via the royal site, where they mentioned that they were expecting a child in the Spring of 2019. However, they did not disclose the gender of the baby until he was born.
Although Meghan fell pregnant in July 2018, she could conceal her pregnancy for a long time with her slender figure and cleverly placed clothing, which helped to hide her baby bump for the first few months.
After the couple announced that they were expecting their first child together, they began a royal tour, which allowed fans of the family to see Prince Harry and Meghan Markle preparing for parenthood.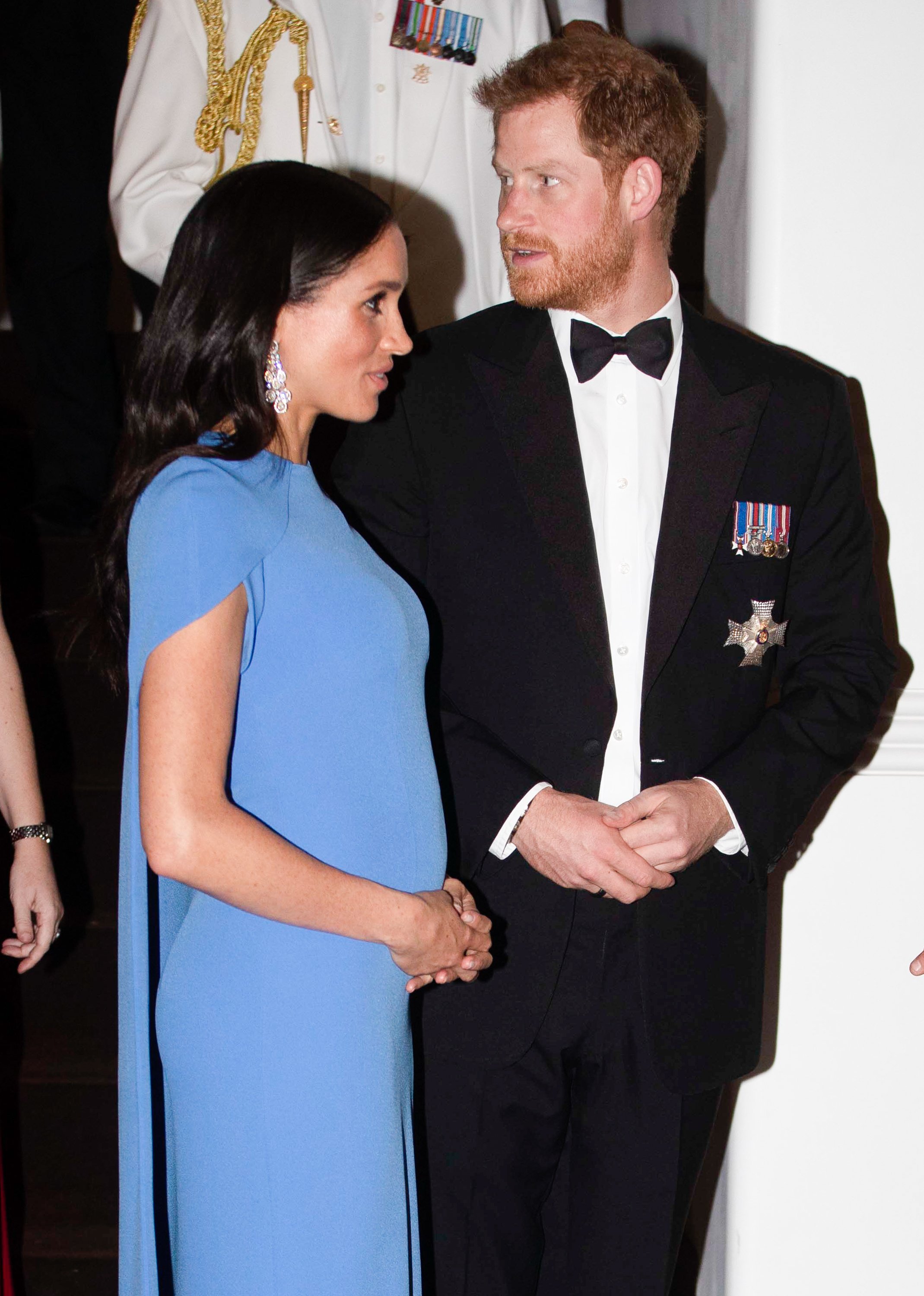 Prince Harry, Duke of Sussex and Meghan, Duchess of Sussex attend a state dinner hosted by the president of the South Pacific nation Jioji Konrote at the Grand Pacific Hotel on October 23, 2018 in Suva, Fiji | Source: Getty Images
However, once she had announced her pregnancy, she was comfortable wearing clothing that showed off her bump. She was seen during many royal engagements wearing outfits that accentuated her belly, which she was often seen resting her hands on.
On May 6, 2019, the couple took to their Instagram page to announce that they had welcomed a son. They mentioned the child's weight and that mother and baby were both well. Yet, they did not reveal the child's name.
The couple then began trying for another baby, and Meghan fell pregnant again. Unfortunately, as "Vogue" reports, the couple experienced a miscarriage. Meghan later fell pregnant with the couple's second child, Lilibet, as reported by "BBC".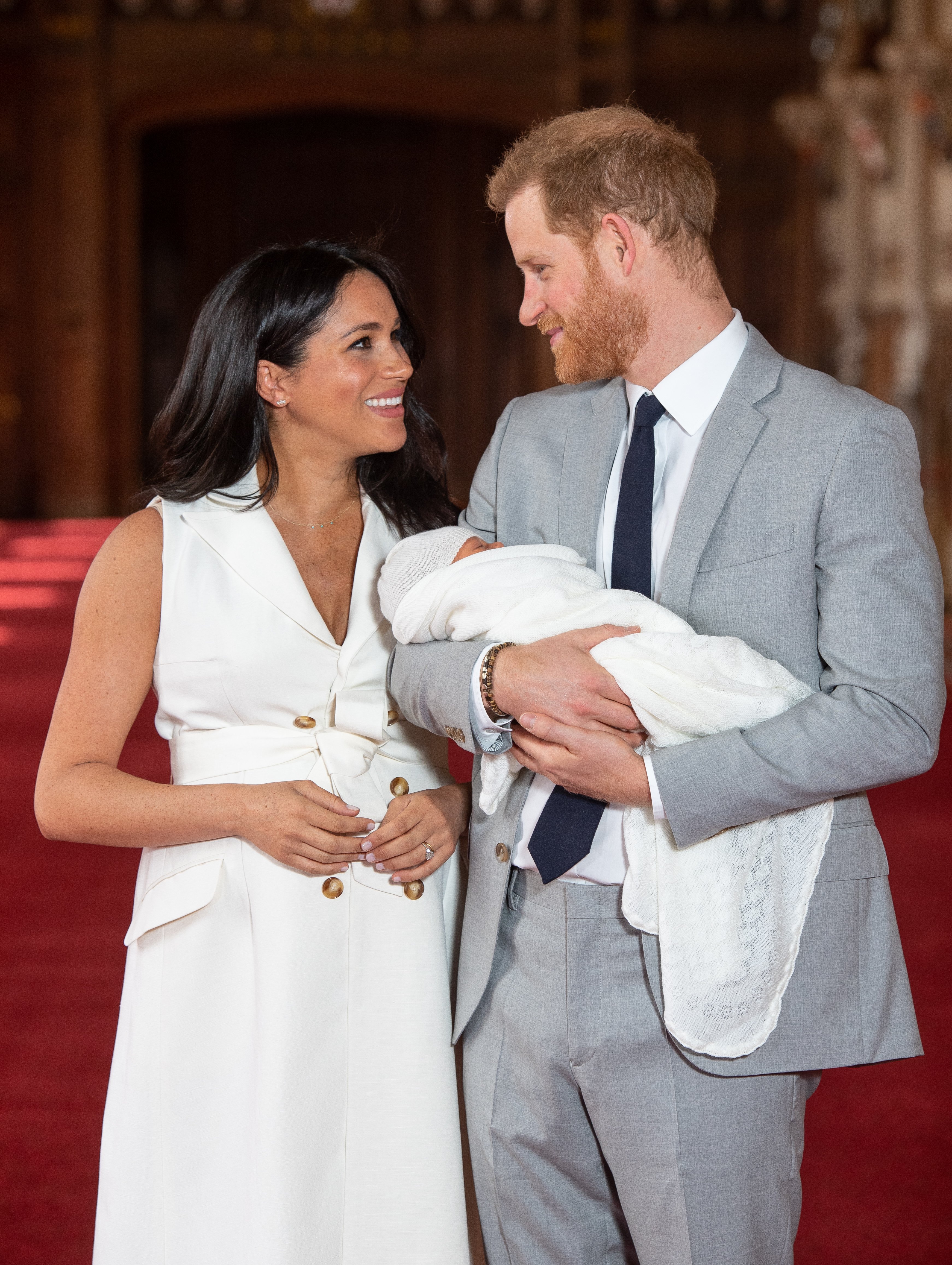 Prince Harry, Duke of Sussex and Meghan, Duchess of Sussex, pose with their newborn son Archie Harrison Mountbatten-Windsor during a photocall in St George's Hall at Windsor Castle on May 8, 2019 in Windsor, England | Source: Getty Images
Now that the couple is parents to two happy children, Prince Harry has spoken out about his feelings on fatherhood. He told Hoda Kotb on "Today" that he loved being a father. When she asked what aspects of fatherhood he most enjoyed, he said:
"All of it. The chaos, the learnings, the reminder of just every element of yourself, your soul, right?"
Rumors of Baby Number Three Begin Swirling
The couple welcomed Lilibet, named after Prince Harry's grandmother, in 2021, but "The Sun" has recently reported that a numerologist has claimed that the couple will have another baby soon.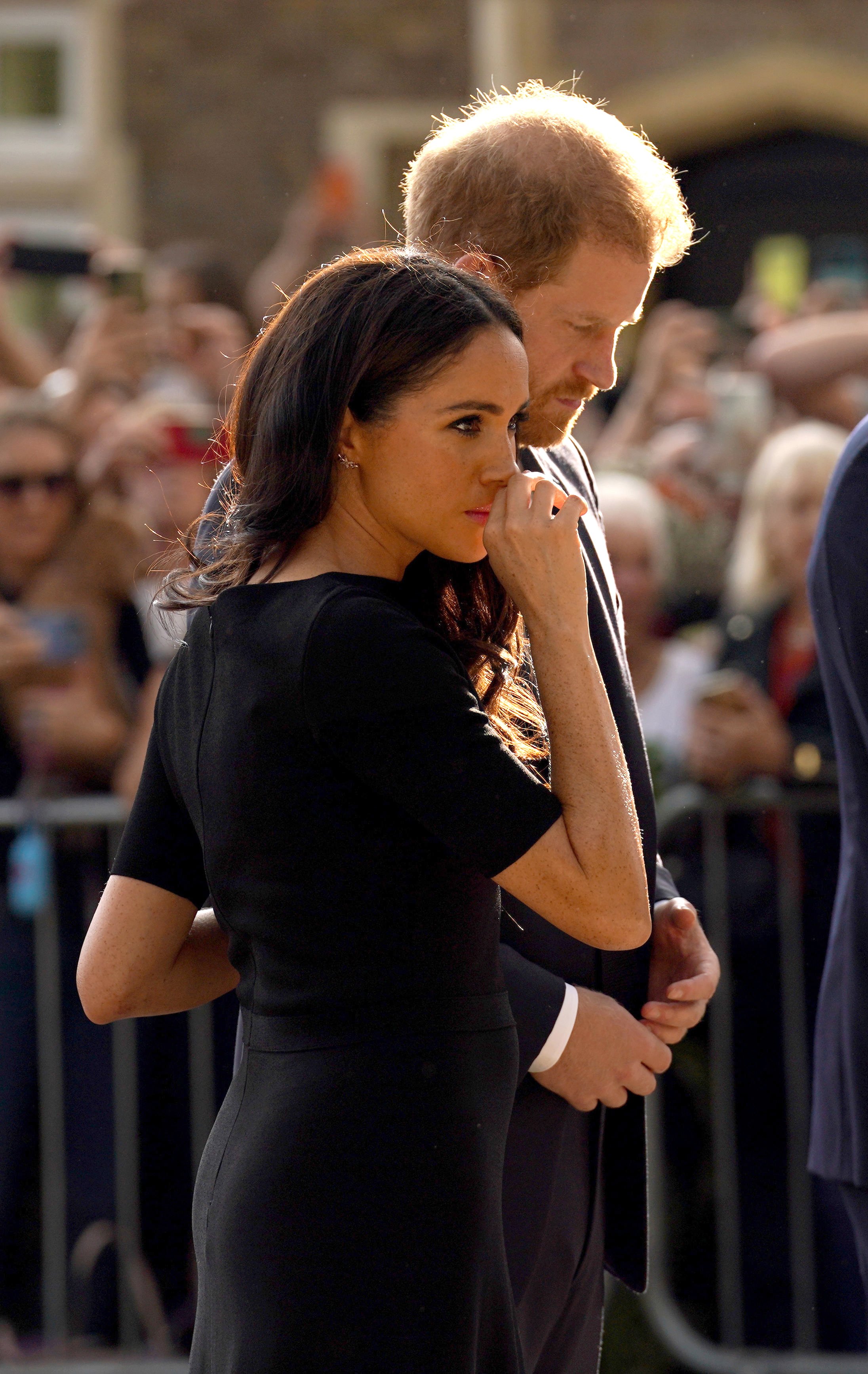 Prince Harry, Duke of Sussex, and Meghan, Duchess of Sussex view floral tributes left at Windsor Castle on September 10, 2022 in Windsor, England | Source: Getty Images
The numerologist also mentioned that because of their numbers, it is clear that Meghan and Prince Harry are a compatible couple as Prince Harry needs to be admired. Meghan is a giver who will be able to do that for him.
The rumors of the couple expecting their third baby began at the Windsor walkabout that the couple did with Princess Kate and Prince William. This was where one fan noticed Meghan's belly had a slight bump.
A few days later, at the Queen's state funeral on September 19, many shared their thoughts, saying they believed Meghan was pregnant. Some users did not give information with their tweets as to why they thought she was pregnant, while others said they simply had "a feeling".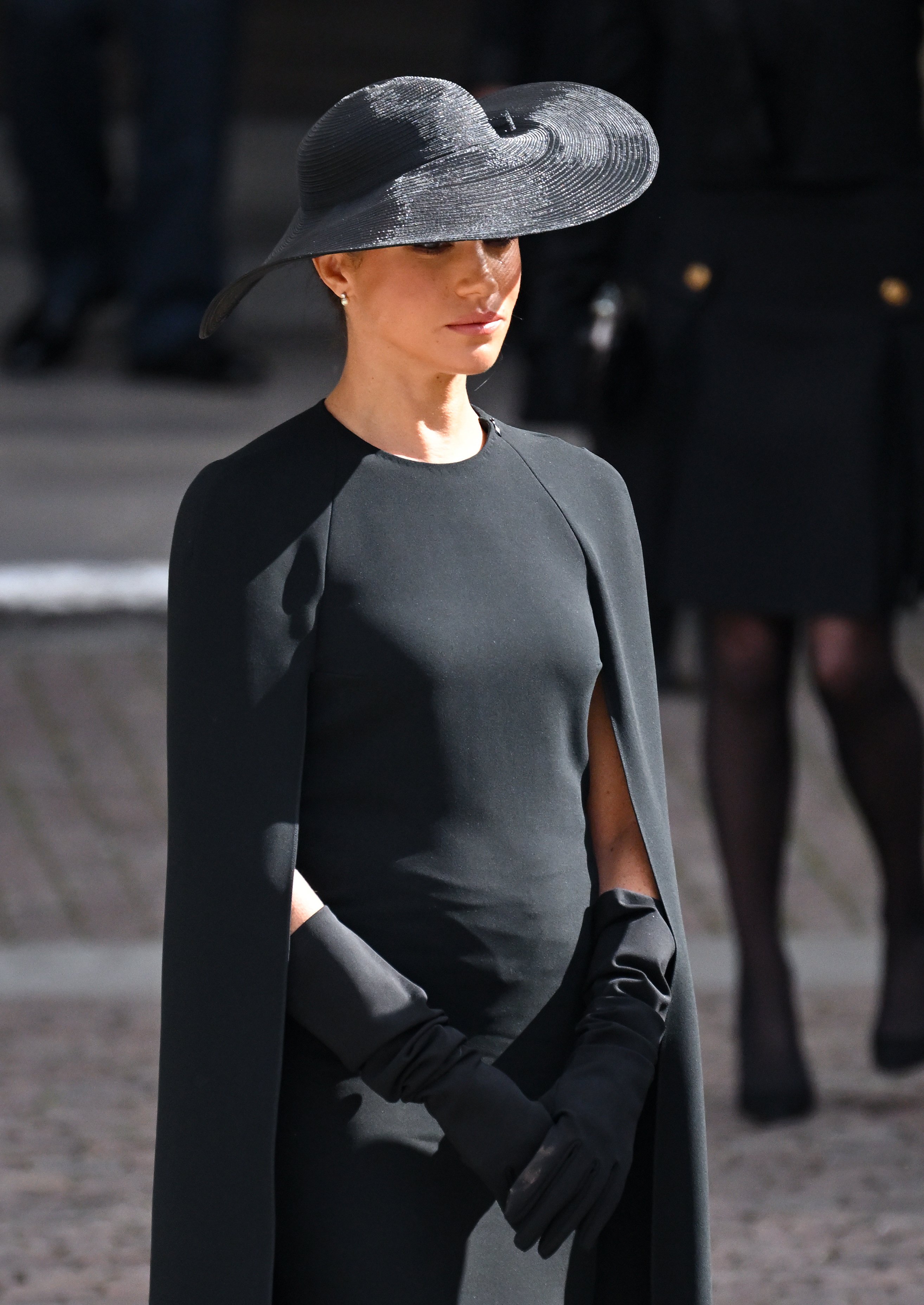 Meghan, Duchess of Sussex during the State Funeral of Queen Elizabeth II at Westminster Abbey on September 19, 2022 in London, England | Source: Getty Images
One fan was so confident that Meghan was expecting her third child with Prince Harry that they
tweeted
:
"Meghan Markle is 1000% pregnant."
Another fan said that it was plain to see that Meghan was pregnant at the Queen's state funeral. Some users commented that her outfit was lovely, but they thought she was pregnant.
One user took to Twitter to share their thoughts on Charlotte, saying she looked adorable at her late great-grandmother's funeral and that Meghan seemed pregnant. Other users commented on the post, saying they agreed.
The couple announced they were expecting Archie right before they went on tour. The couple is now on tour again, which is why they were in the UK when the Queen passed away, which has led to fans wondering if the announcement of their third baby is imminent.
Please fill in your e-mail so we can share with you our top stories!