Nikki Guidish and Patrick Cantlay | Source: Getty Images
Patrick Cantlay's Fiancée Was a Competitive Bodybuilder: Facts about Nikki Guidish

Patrick Cantlay is not married but has been in a relationship with his competitive bodybuilder girlfriend, Nikki Guidish. The couple recently got engaged, and she shared the news on her social media page.
The professional golfer has consistently stepped up his game and proved that he deserves a spot as one of the world's top 10 golfers.
Patrick Cantlay is dating an ex-professional athlete who is now a pharmacist. There is very little information about when he and Nikki Guidish started dating, but they made the news after she showed up at the 2021 Memorial Tournament, where he won the sudden death playoff.
Nikki Guidish Was Formerly a Successful Bodybuilder; Today, She's a Pharmacist
Guidish is a Florida-born former model who is now a doctor of pharmacy. However, she has participated in bodybuilding competitions and has had several modeling jobs.
She was a pre-clinical health science pharmacology student at the University of South Florida for four years. While in school, she never stopped modeling and was part of the bikini team in the 2015 NPC Tim Gardner Tampa Extravaganza.
After her first four years of schooling, she returned to the University of South Florida and graduated with a Doctor of Pharmacy (Pharm.D.) Pharmacology in 2018.
She interned with different hospitals, pharmacies, and medical centers throughout her university days. She was also an intern at Publix Super Markets in 2017 before she became their pharmacist after six months.
Guidish is currently the pharmacist in charge at Palm Beach Pharmaceuticals in Florida, and according to her LinkedIn page, she started the job in July 2020.
She Was a Magazine Cover Model
Although Guidish currently holds a Doctor of Pharmacy in Pharmacology, she was a model who had graced the covers of several magazines.
In 2015, she landed the cover of South Tampa magazine to promote fitness. She was a classmate cover girl for the Spring Break magazine calendar two years later. She also covered South Hampton magazine in February 2015.
They Had Just Gotten Engaged
Cantlay and Guidish announced they were engaged on social media on September 5, 2022. He had proposed to her two days before their announcement in Napa, California.
The couple was on vacation with their friends, including the Olympic gold medalist, golfer Xander Schauffele and his wife, Maya Schauffele.
Immediately after Guidish shared the good news, friends and well-wishers from the golf world congratulated her and Cantlay in the comments section.
Patrick Cantlay is a professional golfer born on March 17, 1992. He began playing golf early, and by his first year at the University of California, Los Angeles, he had won four tournaments.
In addition, he won the 2011 Haskins Award for being the most outstanding college golfer and qualified for the 2011 U.S. Open. Before the year ended, he had won several awards and was the top-ranked amateur golfer for the season.
Cantlay had a successful run as an amateur, and for almost one full year, he consecutively held the World Amateur Golf Ranking. In 2012, rather than graduate from college, he decided to become a professional golfer.
One year later, he won the Colombia Championship and earned his PGA Tour card for the following year. Several medical injuries prevented him from playing for a few years, but he made a remarkable comeback.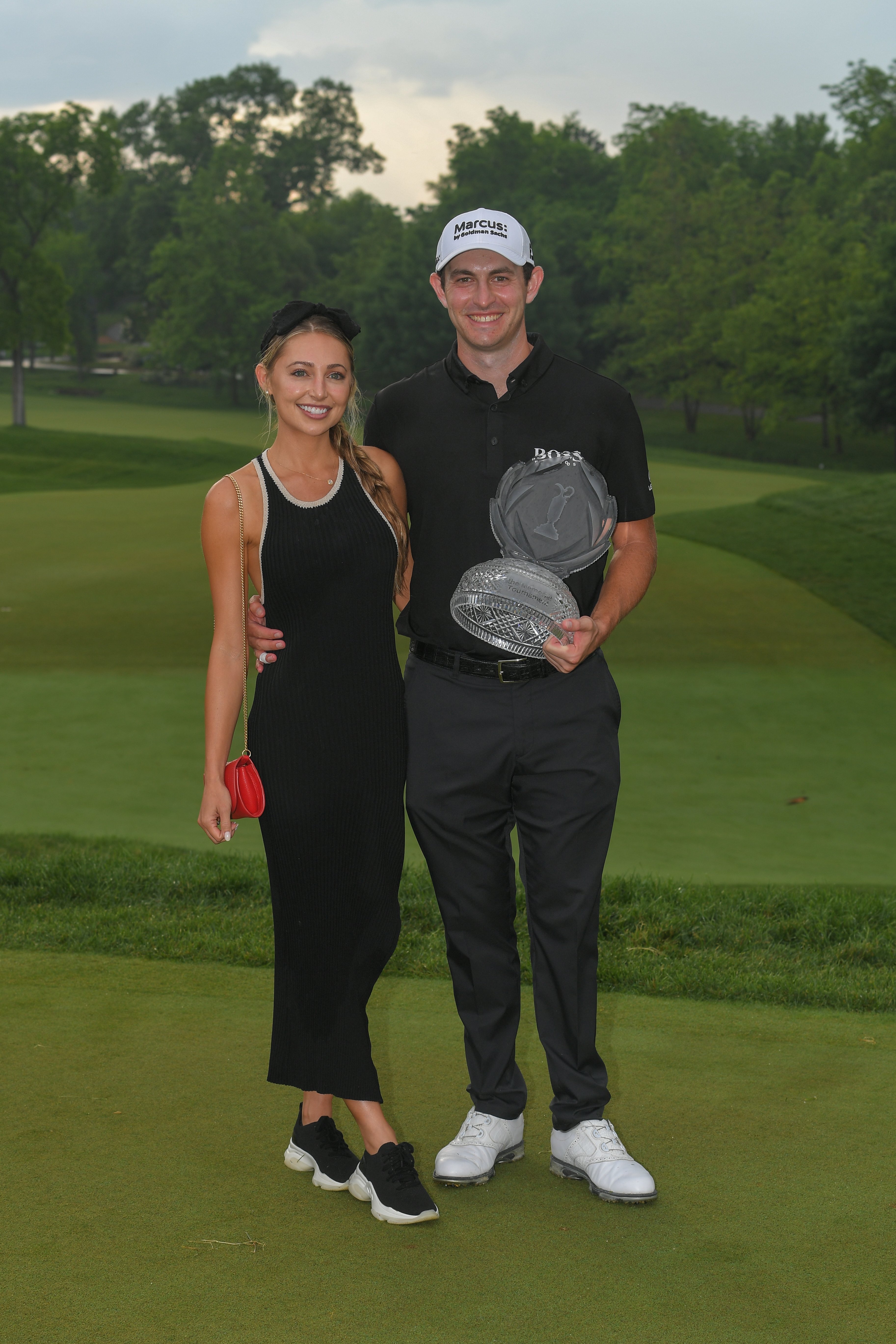 Patrick Cantlay and Nikki Guidish after the final round of the Memorial Tournament on June 6, 2021 in Dublin, Ohio | Source: Getty Images
Despite the losses in his career, he has some wins he is proud of, such as winning the 2020 Zozo Championship. In 2021, Cantlay made his debut, played, and won three out of four matches at the 2021 Ryder Cup for the U.S. team.
One year later, he defended his BMW Championship and qualified for the U.S. team for the 14th edition of the Presidents Cup in September 2022.
Please fill in your e-mail so we can share with you our top stories!