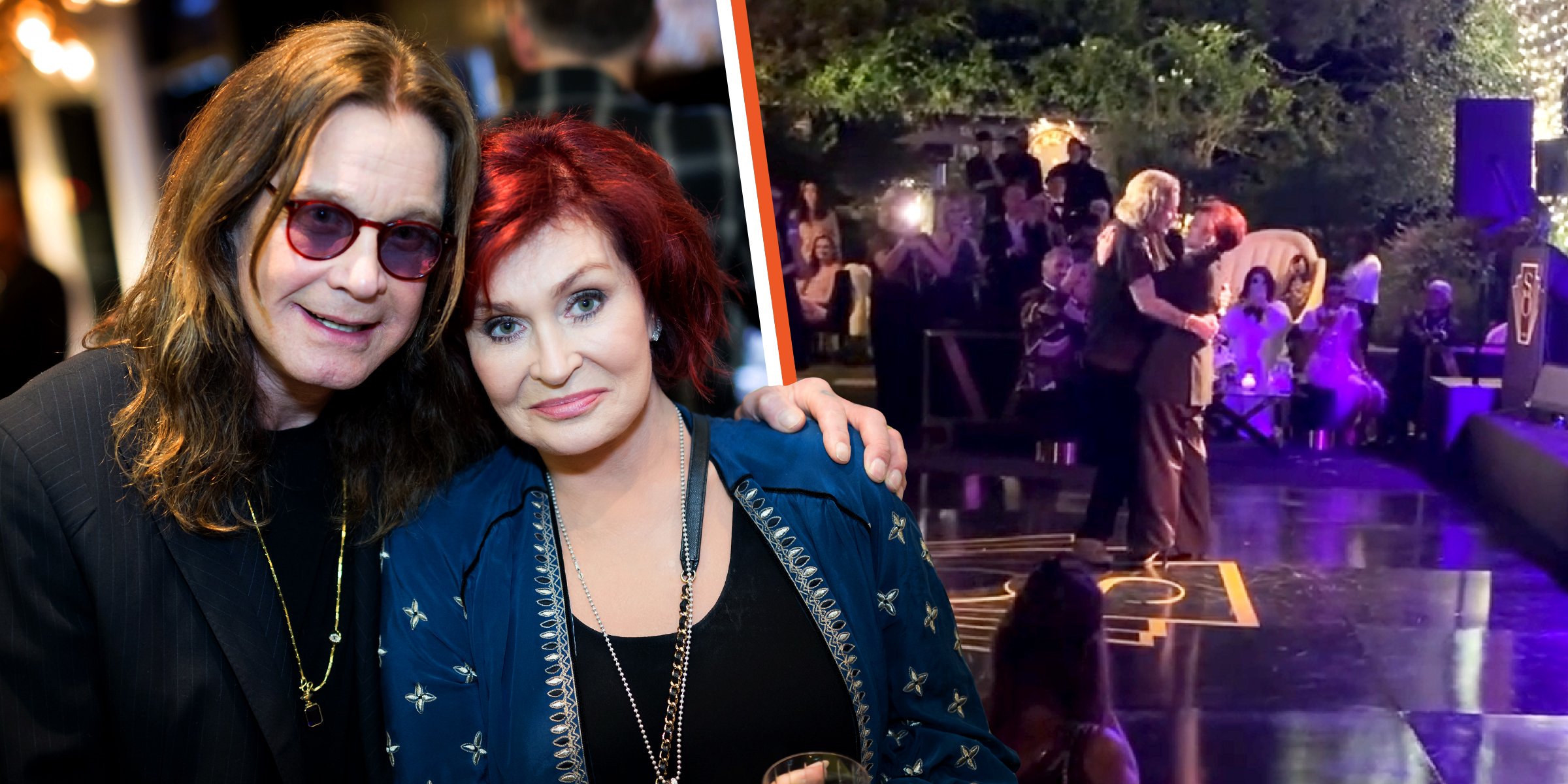 Ozzy Osbourne and Sharon Osbourne | Ozzy Osbourne and Sharon Osbourne | Source: Getty Images | www.instagram.com/sharonosbourne/
Ozzy Osbourne Ditches Cane to Dance with Wife Sharon despite 'Agony' of Parkinson's — Her Love Helps Him Heal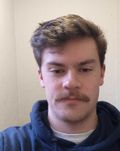 Ozzy Osbourne was diagnosed with Parkinson's disease and while his health suffers, describing it as "agony", his wife, Sharon Osbourne, cares for him daily. On her birthday, he showed his love for her by ditching his cane to dance with her.
In 2020, rock and roll legend Ozzy Osbourne revealed he had Parkin 2, a form of Parkinson's disease. The musician's wife, Sharon Osbourne, stated it was not the end of the road.
While the illness was easy to manage on some days, other days are almost unbearable. The rock icon was diagnosed in 2003, and in 2022, he had a year filled with injuries and major surgeries.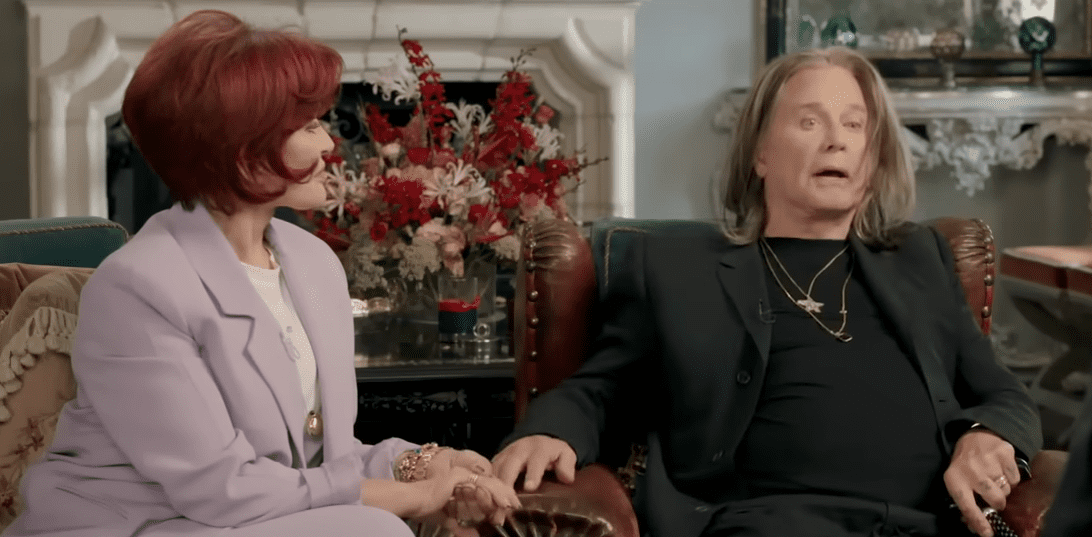 Sharon Osbourne and Ozzy Ozbourne talk about moving back to England, September 7, 2022 | Source: www.youtube.com/@GMA
The musician had previously had a spine injury, which required metal plates to be installed in his back. In June 2022, he had to get another surgery to sort out a problem with the plates. Sharon explained:
"The screws had come loose and were chipping away at the bone. And the debris had lodged under his spine. So his spine, instead of being like this [straight], was like this [hunched over]."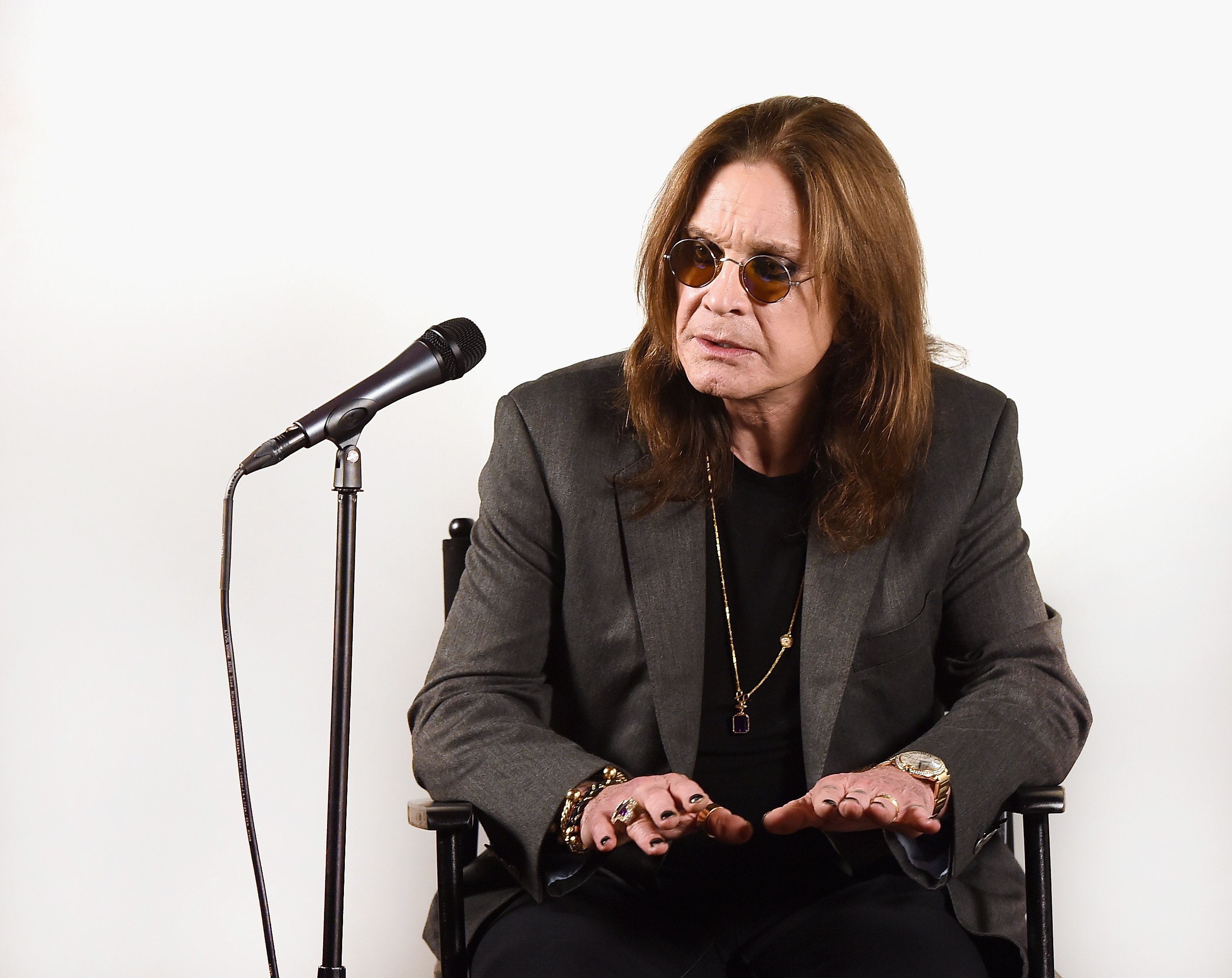 Ozzy Osbourne announces his "No More Tours 2" Final World Tour at a press conference at his Los Angeles home on February 6, 2018 | Source: Getty Images
Ozzy mentioned he was on a wide range of medications to help him with the pain from previous surgeries, including the debilitating nerve pain he feels with the loose plates pressing on his spine.
Moreover, according to Ozzy, having Parkinson's felt like "walking around in lead boots." Thus, the pain from his injuries and surgeries was made worse by Parkinson's, and he describes it as "agony."
The disease has also kept Ozzy from performing for a long time, which for him, is the worst part of the illness — not being able to do what he loves and not being able to tour and see his fans.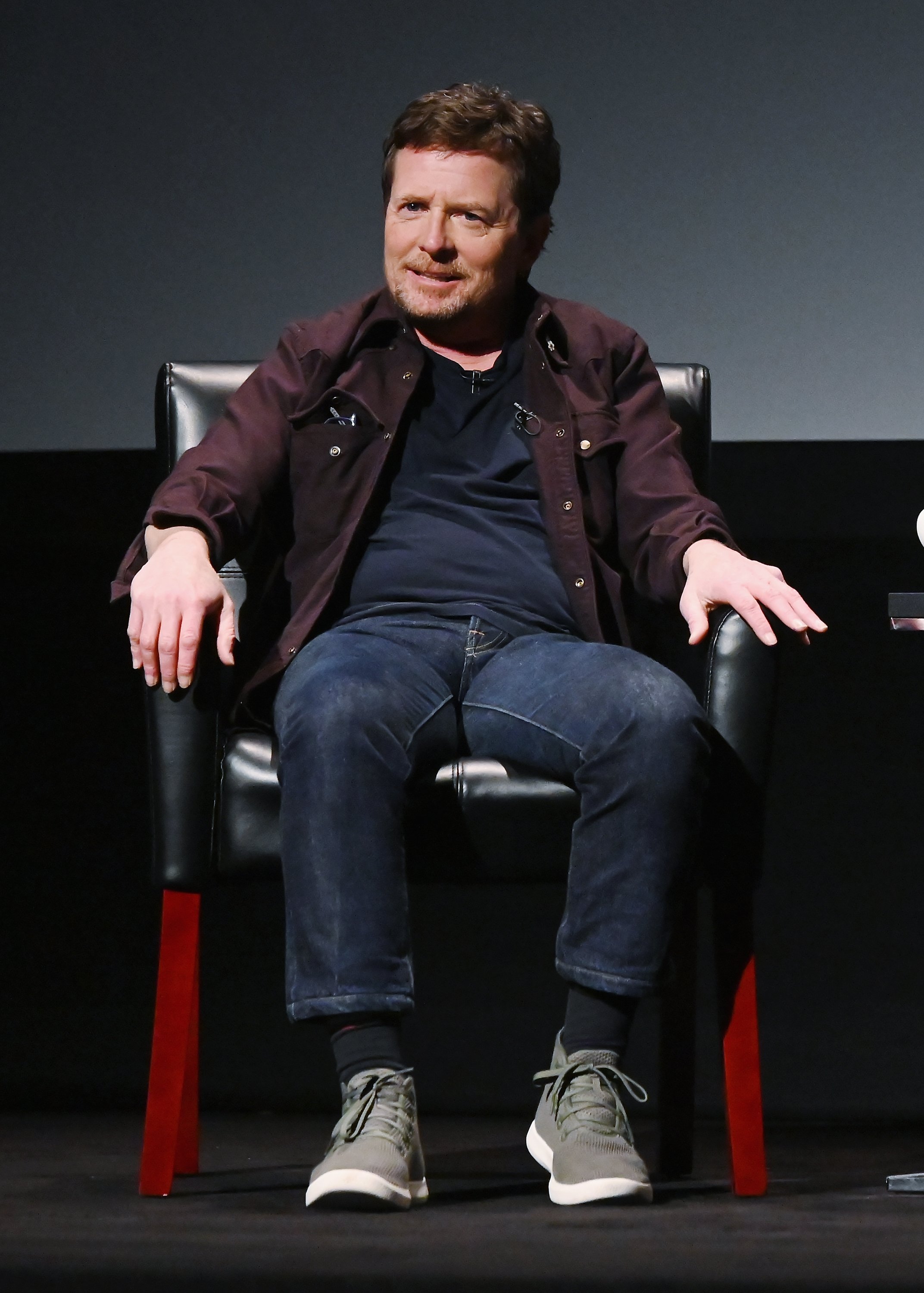 Michael J. Fox, who also has Parkinson's, speaks at the Tribeca Talks - Storytellers - 2019 Tribeca Film Festival at BMCC Tribeca PAC on April 30, 2019 in New York City | Source: Getty Images
Ozzy isn't the only celebrity to face the disease. Other famous figures battling Parkinson's include Alan Alda, Micheal J. Fox, Billy Connolly, Linda Ronstadt, and Janet Reno. Although these stars live with the illness, they haven't allowed it to define them.
How Sharon Takes Care of Her Husband
Ozzy and Sharon have been very open about their rough patches in the past. The couple has been through a lot throughout the years, and the singer's failing health is just the latest bump in the road. However, the illness has only helped the two grow closer, since Sharon noticed how it has affected him:
"When I look at my husband, my heart breaks for him. I'm sad for myself to see him that way, but what he goes through is worse. And sometimes when I look at him and he doesn't know I'm looking at him, I'm like crying."
Ozzy's wife is also his full-time caretaker, seeing as even sleeping is challenging for him. But Sharon looked toward the positives and said they now have much more time together. Their children have also been affected by their father's illness, and it has brought the whole family together.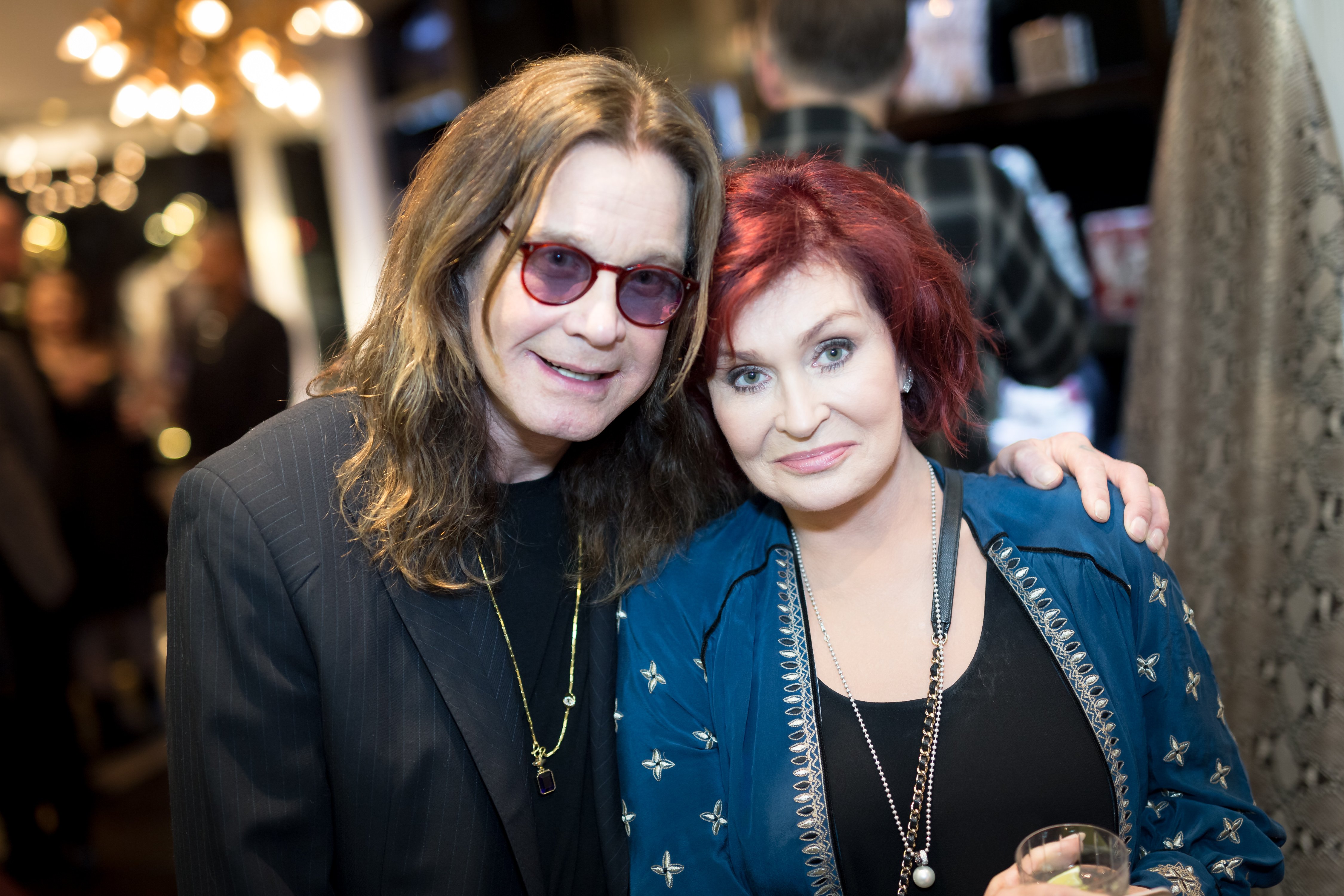 Ozzy Osbourne and Sharon Osbourne attend the Billy Morrison Aude Somnia Solo Exhibition at Elisabeth Weinstock on September 28, 2017 in Los Angeles, California | Source: Getty Images
The Black Sabbath frontman admitted he is unbelievably grateful to his wife for all her care. Sharon's love and support kept him going and he said, "Without my wife, I would be gone." Of course, they still have a "little row" every once in a while, but Ozzy said they just try to handle things day by day.
Despite his Parkinson's, the "Back in Black" singer gave up his cane, and the pair swayed around romantically in each other's arms.
Sharon planned to get her husband a physical trainer but decided that the singer would never fully recover. Nonetheless, she believes he can get much better, stand on his own feet onstage again, and entertain his adoring fans. Ozzy is also hopeful, saying, "If I have to go up there and die on the first song, I'll still be back the next day."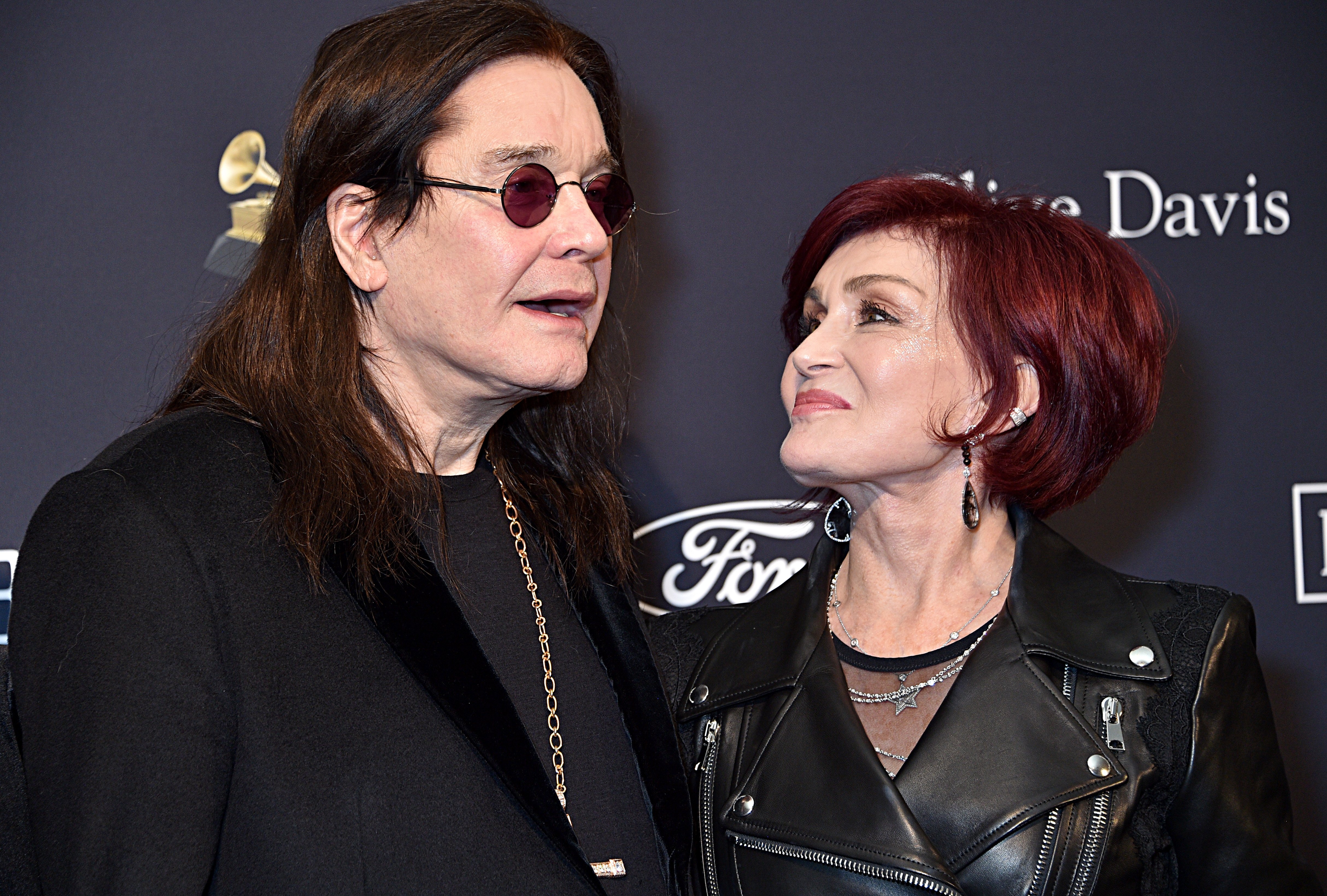 Ozzy Osbourne and Sharon Osbourne at the Pre-Grammy Gala and Grammy Salute to Industry Icons Honoring Sean "Diddy" Combs on January 25, 2020 in Beverly Hills, California | Source: Getty Images
True to form, the musician released a new album in September 2022. He also mentioned he would like to move back to England. Thinking of the future, Ozzy said he'd like to spend his remaining years there since he is English.
Ozzy Dances with His Wife
Not even Ozzy's health issues could keep him from celebrating his wife's 70th birthday. On October 8, 2022, Ozzy, his son Jack Osbourne, and daughters Aimée and Kelly Osbourne made sure the Emmy Award winner had a day worthy of her when they threw a big birthday bash. Following the events of that day, Sharon posted:
"All my wishes in one room. My heart is full."
Ozzy made his wife's day when Kelly queued a slow-dance song, and he stood up to accompany his wife on the dance floor. Despite his Parkinson's, the "Back in Black" singer gave up his cane, and the pair swayed around romantically in each other's arms.
To commemorate the sweet moment, Sharon posted a clip on Instagram showing them dancing, along with a few snapshots of friends and family present that night.
In the video, the pregnant Kelly stands onstage with the mic, and after requesting James Arthur's "Say You Won't Let Go," she takes her dad's cane so the two can dance. Ozzy can be seen leaning on his wife's shoulder for support.
The dance was extra special since Sharon had just previously admitted feeling sad for Ozzy and how his life changed since his diagnosis. She revealed:
"I just think of my husband, who was very energetic, loved to go out for walks, did a two-hour show on stage every night, running around like a crazy man. Suddenly, your life just stops—life as you knew it."
Sharon's devotion paid off when Ozzy, 73, had the chance to play at Birmingham's Commonwealth Games closing ceremony on August 8, 2022. Although it was a very brief performance, the singer enjoyed it tremendously and finished his set with a loud "I love you all, Birmingham! It's good to be back!"
Please fill in your e-mail so we can share with you our top stories!
The information in this article is not intended or implied to be a substitute for professional medical advice, diagnosis or treatment. All content, including text, and images contained on news.AmoMama.com, or available through news.AmoMama.com is for general information purposes only. news.AmoMama.com does not take responsibility for any action taken as a result of reading this article. Before undertaking any course of treatment please consult with your healthcare provider.