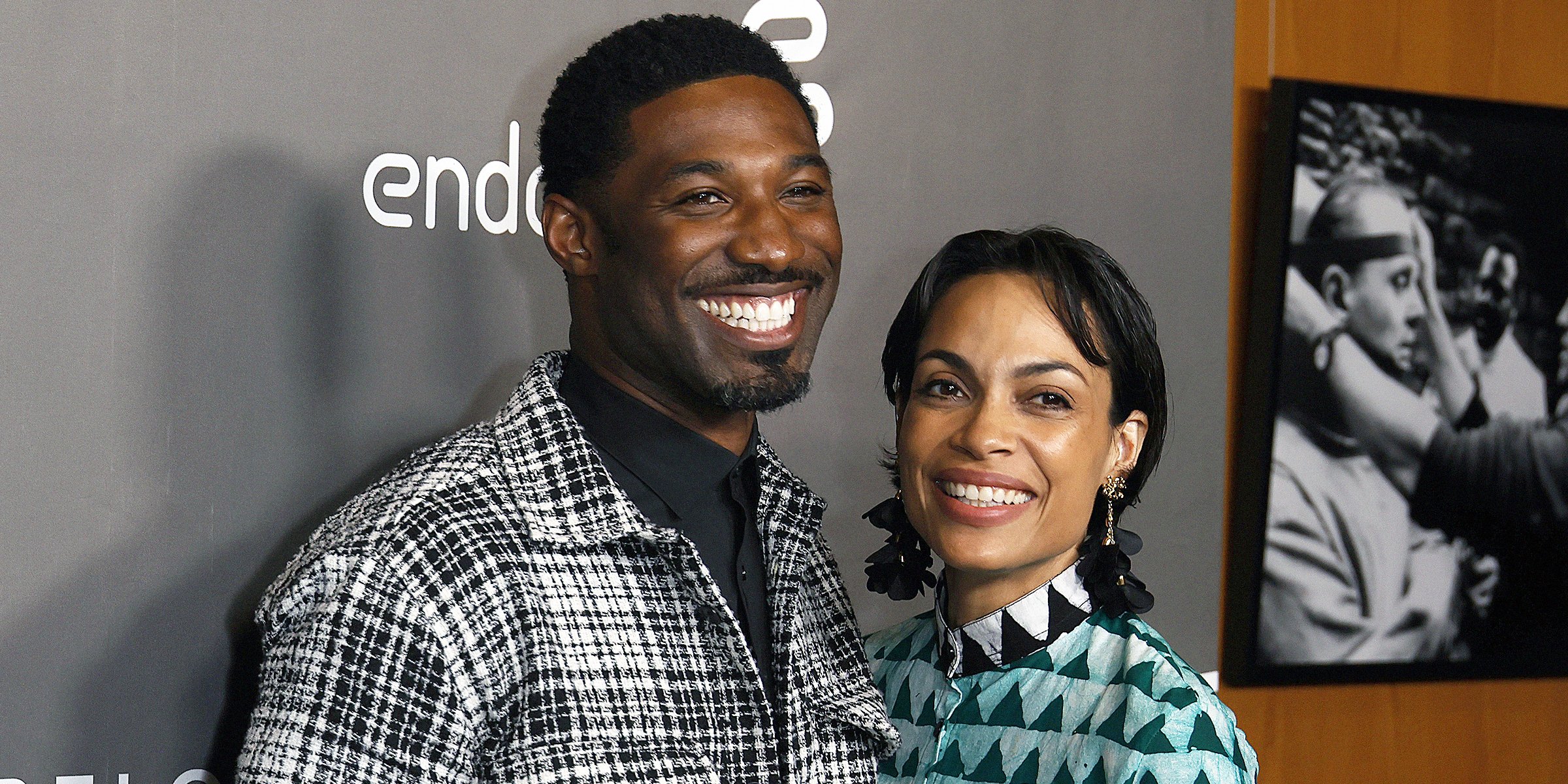 Nnamdi Okafor and Rosario Dawson ┃Source: Getty Images
Nnamdi Okafor ​​Is Rosario Dawson's Poet Boyfriend Who She Doesn't Want to Hide from the World
Film actress Rosario Dawson has been romantically linked to several Hollywood men over the years, some of whom include rapper Jay-Z, movie director Quentin Tarantino and New Jersey Senator Cory Booker.
However, Dawson's most serious relationship with Booker caught people's attention. The pair met in October 2018 at a friend's party, but the politician only admitted in 2019 that they had been dating ever since.
Interestingly, Booker shared with RuPaul at the party that the movie star shaded him during their conversation. Months later, they crossed paths again at another event; this time, he was brave enough to ask for her numbers.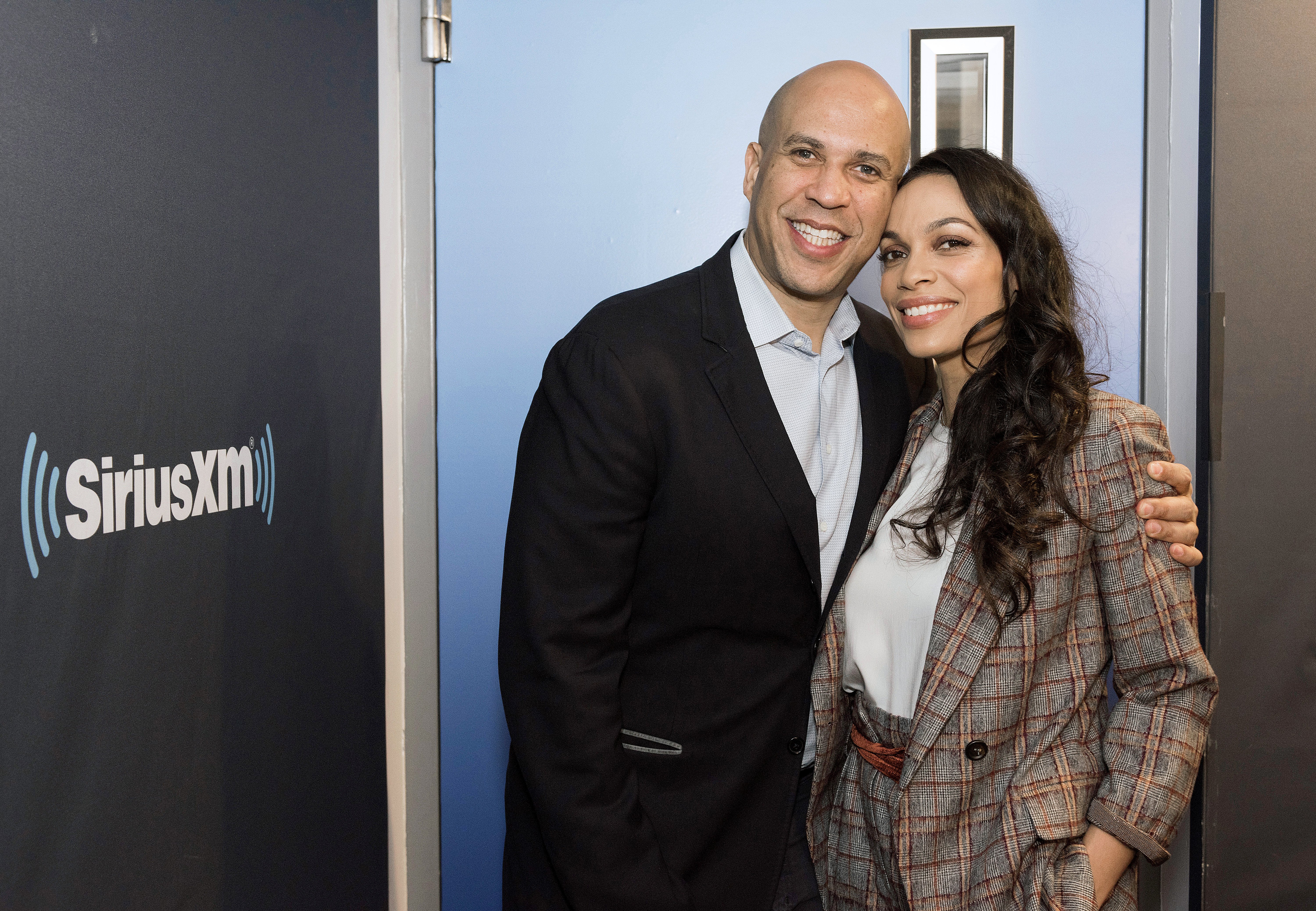 US Senator Cory Booker and his girlfriend actress Rosario Dawson visit SiriusXM Studios on February 7, 2020 in New York City ┃Source: Getty Images
After a year of dating, the Hollywood star confessed that she was in love with the attorney, and the couple made it Instagram official.
Dawson and Booker even moved in together in New Jersey. The "Seven Pounds" star went on social media to congratulate her lover on his re-election to the Senate in 2020.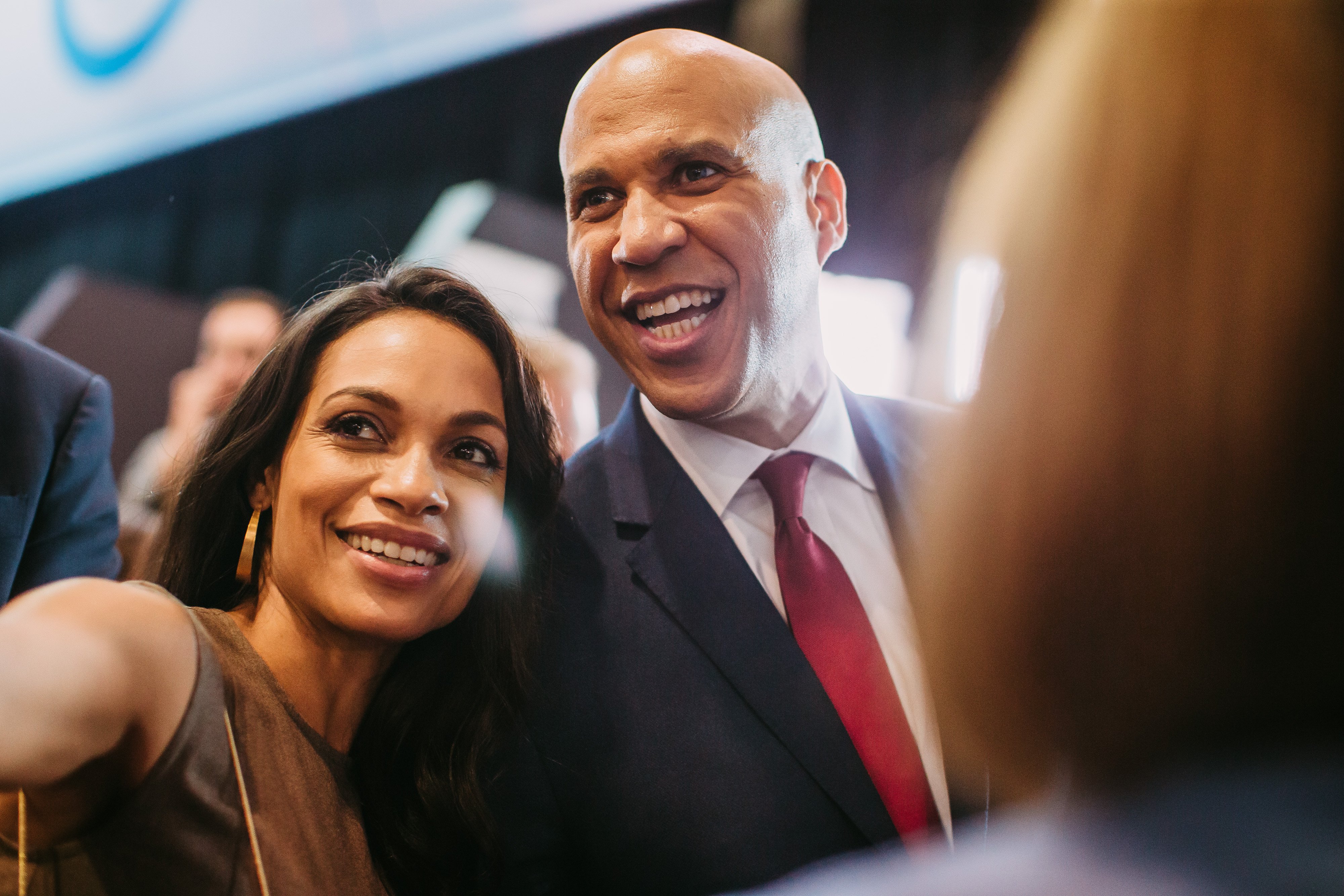 Senator Cory Booker and Rosario Dawson pose in the spin room after the Democratic presidential candidate debate on October 15, 2019 in Westerville, Ohio ┃Source: Getty Images
However, she and the lawmaker split in February 2022 after more than two years together. An insider close to Booker revealed that the pair remain close friends.
Dawson has since moved on with a new man, Nnamdi Okafor, and Booker already gave the new couple his stamp of approval. She posted a clip of her and Okafor in August 2022 where he said to her: "I love you, baby," to which she replied: "I love you, too." Booker reacted to the post by liking it.
Rosario Dawson's New Boyfriend, Nnamdi Okafor, Is a Poet and a Philanthropist
Unlike Booker and Dawson, Okafor is not a public figure. Per his LinkedIn account, he is a "philanthropic strategist and consultant."
The Nigerian native studied at California State University, Fullerton, where he obtained a Bachelor of Arts degree in Criminal Justice and Corrections and Afro-Ethnic Studies with a double major.
Okafor is passionate about his philanthropic efforts and is involved in several charitable organizations. His management company, VSN Management, is described as a "philanthropic firm."
Besides his work obligations, Okafor is also a poet and has shown much interest in writing. He has a poetry collection called "30days30poems," which was published in January 2012. His Instagram account boasts over 5,000 followers.
Rosario Dawson Met Her New Partner, Nnamdi Okafor, at a Bar
Okafor and Dawson first sparked romance rumors when she posted a video of them on a golf cart while expressing their love for each other. She posted heart and fire emojis alongside the clip.
The social media upload showed the lovebirds making silly faces at the camera while riding at the back of the cart. That was when they openly said "I love you" to one another.
Dawson revealed where she and the author first met in October 2022. She divulged they crossed paths at a bar in Southern California City.
Of their meeting, the New York native deemed it "classic" that people still meet at bars "every once in a while," especially in this day and age.
Rosario Dawson Is Done Being "Super Secretive" about Her Relationships
Dawson and Okafor constantly share loving posts dedicated to each other on social media and typically appear in public together.
In August 2022, the "Trance" star posted a video with the "I Got You Babe" song playing in the background. It displayed photos of her with her arms wrapped around Okafor while beaming. "I got you, babe," she penned.
That same month, Dawson posted another clip of her singing along to a Spanish song, "Besame," which means "kiss me." Later in the video, she and her beau took to the dance floor.
Okafor has also gushed about his girlfriend online and shared several pictures of the couple from different occasions on his Instagram. "Woman Crush Wednesday, September Photo Dump. Loving what's happening here," he wrote.
The pair attended the GEANCO Foundation's Annual Hollywood Gala in Los Angeles in 2022 and were all smiles side-by-side. Dawson donned a Bohemian one-shoulder dress with white and brown hues and completed the look with cream boots. Meanwhile, Okafor wore a navy set that he paired with black shoes.
Before the event in LA, Okafor had also accompanied his famous girlfriend at the premiere of Kevin Smith's recent film, "Clerks III."
Dawson told People that she is done "being super secretive" about her relationships. "The Mandalorian" star admitted that she has reached a stage where she finds it pointless to play hide-and-seek in her relationships.
"You get to a certain age, and it's just, 'I'm not going through the trouble of hiding somebody. That just seems silly.' So, it's nice that we could go," Dawson said of the "Clerks III" movie premiere that she and Okafor attended.
Please fill in your e-mail so we can share with you our top stories!