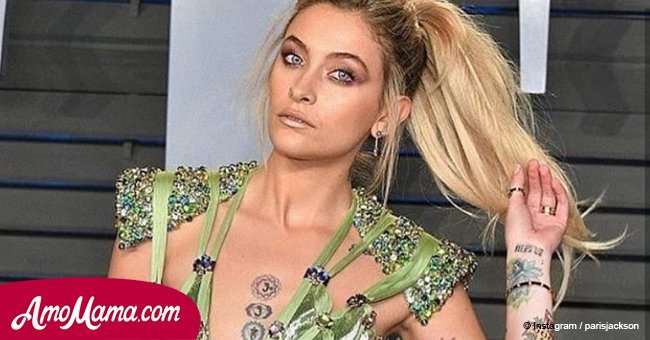 Michael Jackson's daughter Paris in the centre of scandal after her new Instagram video

Several people across the world have confessed that they have smoked cannabis at least once in their lives.
Paris Jackson, the daughter of the world-wide famous Michael Jackson, is one of them. She has been supporting the aforementioned drug openly in her social media and, on March 12, 2018, she did it again.
As reported by Pop Culture, she uploaded a video to her Instagram story smoking a joint and proudly exhaling the smoke. The next short video showed her getting ready to light another cigarette up.
A third video was labeled as the most graphic one because it showed her with a stem of marijuana in her mouth. She even took her time to joke about it making people believe that she would smoke it just like that.
Even though she is old enough to smoke cannabis legally in California (where she lives), people couldn't help but comment on her videos and behavior.
Chrissy, a Twitter user, pointed out that her father would never allow her to smoke weed and that, before doing so, she should think about him.
Janicka, another social media user, admitted that it was too much already and that it seemed like she was just seeking for attention. What anybody expected was that Paris replied to some of the comments.
She told Janicka that she thought it was funny after apologizing. Apart from that, she confessed that she was doing 'pretty ok considering the circumstances' addressing what Chrissy said about her father.
A third Twitter user, Alexandria Lowell, quoted what Paris said in the past about being a role model to young girls and finished saying that parents don't believe that a person who smokes marijuana is a good role model.
Paris replied that she knows a couple of parents who rather give their children that 'amazing organic medicine' instead of the pharmaceutical drugs in order to save their lives.
It is not the first time she has been backlashed for her posts. In the past, people attacked her because she was posting photos showing 'too much skin.' She defended herself by saying that being naked is part of the human race.
'Not only is your body a temple and should be worshiped as so but also part of feminism is being able to express yourself in your own way.'
Paris Jackson, Pop Culture, March 13, 2018.
Please fill in your e-mail so we can share with you our top stories!