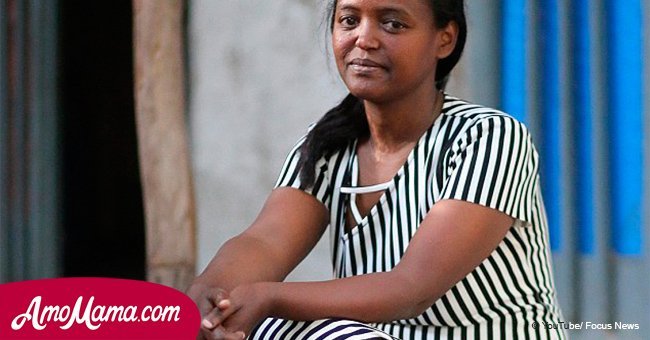 Her daughter is adopted by a famous Hollywood star, now she makes heartbreaking announcement
Years after the adoption, she has spoken out to say that she has never heard from her daughter again, but is desperate to.
Zahara Jolie-Pitt may be famous because she is the adopted daughter of Brad Pitt and Angelina Jolie, but her biological mother, Mentewab Dawit Lebiso, has not heard from her daughter once since she left Ethiopia.
As reported by Daily Mail, Lebiso longs to have regular contact with her daughter, but is not asking for her daughter back.
It is believed that when Jolie adopted Zahara when she was just 6 months old, she was told that she was an AIDS orphan with no parents. She only discovered in 2007, 2 years after she took Zahara home, that her mother was alive.
Lebiso had been just 19 years old at the time of her daughter's birth, and was forced to give her up because she had been raped. Even after Jolie discovered that she was still alive, she has received nothing from the actress.
While she claims she does not want any money from the star, and she does not wish to take her daughter away from the life she could never have given her, she is now pleading for Jolie to let her have contact with Zahara.
She has dreamed for years of meeting the infant she gave up so many years ago. She knows that her daughter has led a very different life, and doesn't even speak the same language, but she hopes to one day have a relationship with her.
"Angelina has been more of a mother to her than I have ever been. She has been with her since she was a baby, but that does not mean I do not miss her," Lebiso explained.
She has also said that she wishes she could celebrate her daughter's birthday and other special occasions with her.
Lebiso has also called for Jolie to get full custody of Zahara in wake of her ugly split from husband Brad Pitt.
Zahara's birth mother lives in extreme poverty in a tiny village, far from Addis Ababa and the tourist attractions of Ethiopia. She has nothing to her name, and is grateful for the fact that her daughter could grow up with everything she couldn't have given her.
"I would like Zahara to know she has a mother who loves her as much as Angelina. I know her life is with Angelina is in another country. She has a life that I could never give her, but I would still like to have some contact."
Lebiso would like her daughter to know her roots as well, and her family in Ethiopia.
Despite Jolie and Pitt's wealth, Lebiso never received a dime from them. She lives in a one room home that has no access to running water or a toilet, and makes the equivalent of $20 a month.
"I do not want any money from Angelina. She does not have to send me any money, but all I would like is to talk with Zahara," Lebiso pleaded.
Please fill in your e-mail so we can share with you our top stories!