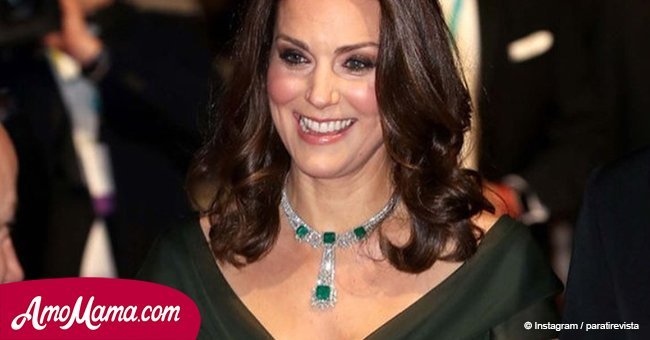 Kate Middleton's recent dress choice was harshly slammed. But it had some hidden meaning

It might not have been Kate's own decision after all.
An article published by Harper's Bazaar delves into the real reason behind Duchess Kate Middleton not adhering to the black-themed dress code at the BAFTA Awards this year.
Most of the attendees at the grand evening were seen wearing black – in solidarity with the Time's Up movement.
However, when Duchess Middleton, one of the most influential women of this time, walked in wearing a dark green gown, fans, followers, and the media expressed their disappointment in her.
Designed by Jenny Packham, the silken gown featured short capped sleeves, an empire waistline, and a deep V-neckline. However, everybody's attention had been captured by the emerald green shade of the fabric.
Trendwatchers and fans across the internet failed to understand why the Duchess did not conform to the dress code. After all, it was in support of one of the strongest movement lead by women against sexual assault.
The comments ranged from expressing a state of confusion about Middleton's choice to stating bluntly that she was indifferent to the cause.
However, reports are that the reason is more layered than it seems. It is the rule of the royal family to refrain from making political statements.
In the interest of separating the monarchy from the government, they are extra careful about every gesture and every remark they make, that could end up influencing the public.
For the same reason, they do not vote in the elections, so as to remain neutral and let the citizens decide for themselves.
Queen Elizabeth is a strong abider of this royal rule. She herself has very seldom commented on any political or social matters, despite her powerful position.
In the rare occasions that she or Prince Charles have shared a remark, it has been rather vague and diplomatic.
While the rule applies to every royal heir, it is still unclear whether the same could also apply to Duchess Middleton. However, it is being reported as the most probable cause of her non-participation.
While she did wear black to the BAFTA night last year, it is said that this year, she chose the color dark green to symbolize hope.
Please fill in your e-mail so we can share with you our top stories!