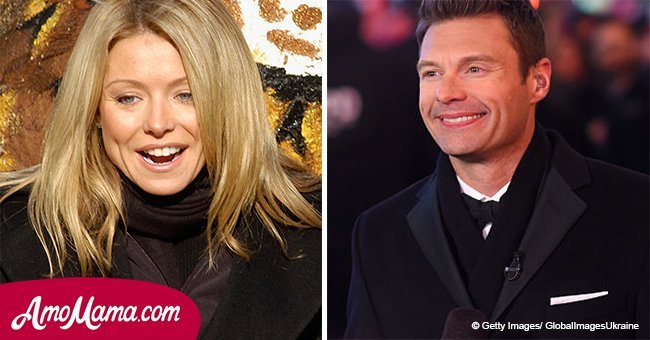 Kelly Ripa reportedly worries about her show's fate. The reason is Ryan Seacrest's behavior
She is a worried host these days and the cause of her worry is her co-star.
According to Closer Weekly, Kelly Ripa feels extremely betrayed by her co-host, Ryan Seacrest.
Kelly Ripa took more than a year to find the right person to co-host the popular show, Live. She was faced with this difficult situation after Michael Strahan left for another gig on Good Morning America.
Fans soon realized that the Ripa shared an incredible chemistry with the new host, Ryan Seacrest.
According to a source, things are not as good as they were between the two. The star host now feels extremely betrayed amid the sexual misconduct allegations against Seacrest.
The source revealed, "Kelly feels blindsided. The last thing she needs is celebrities boycotting. Everyone is on pins and needles."
Seacrest can still be seen interviewing some of the biggest names in Hollywood with Ripa by his side, though that was not the case on the 2018 Oscars red carpet.
Days before the event, publicists said they would steer their clients away from him due to the allegations against him. It was also evident during the broadcast that he was having a slow night.
It was only when Ripa and her husband, Mark Consuelos, walked by on the carpet that Seacrest got some acknowledgment.
She appreciated her co-host, admitting that she was watching him upstairs in the hotel and that he was doing a great job.
The source, however, said Ripa is confused by the allegations because that is not the "Ryan she knows at all." Even if she wanted to be with him, she cannot as she is torn.
No one could have guessed Seacrest could have any skeletons in his closet, but the more important question is if he had any idea the claims would be out in the open.
In the times of the #MeToo and #Time'sUp movement, corporations are playing it safe. This means that if ratings for Live with Kelly and Ryan drop, the network will have to do something about it.
This is a dark period for Ripa as she waits to see what happens with her co-host.
Please fill in your e-mail so we can share with you our top stories!