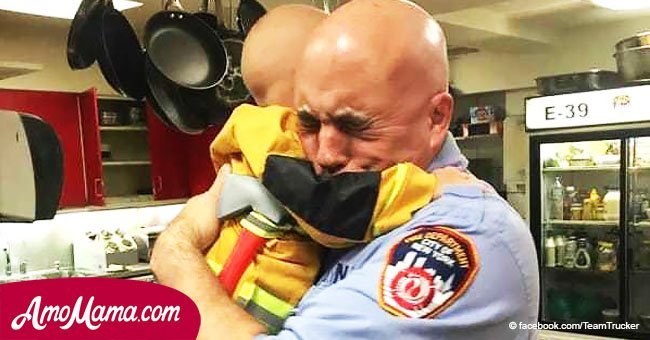 The fireman sees a 3-year-old child running to him. He understands what is happening and his heart is melting
This is the story about a 3-year-old little boy who has bravely gone through really harsh moments due to his health condition.
When Trucker was just 19 months old, he was diagnosed with aggressive neuroblastoma, a childhood cancer of the sympathetic nervous system.
According to Newsner, Trucker and his mother, Shauna Dukes, began traveling from their home in Hawaii to New York City after he was diagnosed in order to receive specialized treatment.
Tucker's father, Joshua Dukes, is a firefighter back in Hawaii and Tucker always had the dream of meeting the New York City Fire Department.
Source: Facebook/Team Trucker
When firefighters were called to the Ronald McDonald House, where Trucker was recovering from a round of treatment, this little one immediately became friends with Captain Jim Grismer.
"I see this little boy excitedly walking towards me with his eyes aglow. I opened my arms and he basically climbed up and hugged me around the neck. It was as if we've been friends/brothers for years," Grismer said.
Source: Facebook/Team Trucker
Joshua was really sorry due to the fact that he couldn't travel with them as much as he would like to because he works as a firefighter at home in Hawaii.
Since they first met, Trucker and the firefighters' team became really close friends. Trucker even celebrated his third birthday at the station.
Source: Facebook/Team Trucker
Trucker's mother, Shauna Dukes, explained thoroughly about helping Trucker through his treatment in an interview she gave to LittleThings.
"In a lot of ways, this journey has restored my faith in humanity," she said.
Source: Facebook/Team Trucker
On May 31, 2016, during a special ceremony, bestowed him with a glorious honor, swearing him in as an honorary FDNY firefighter.
This 3-year-old Maui boy, who inspired thousands across the nation as he battled cancer, died on Friday, March 3, 2017.
Please fill in your e-mail so we can share with you our top stories!