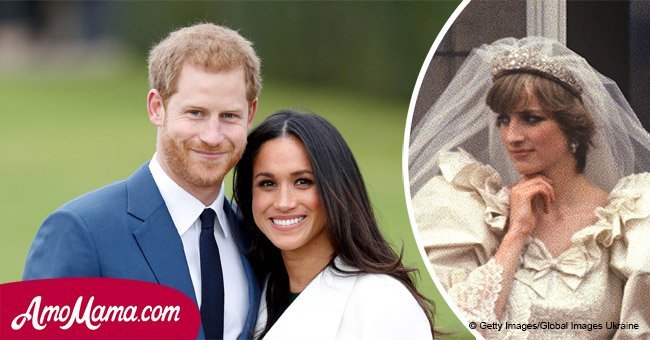 Meghan Markle may wear an iconic part of Diana's wedding dress for her wedding with Harry

The former actress, Meghan Markle, might be wearing an iconic piece of jewelry when she marries her Prince.
The couple, who have been dating since mid-2016, will exchange vows on May 19, 2018, at St. George's Chapel at Windsor Castle.
As reported by Pop Culture, the 36-year-old bride-to-be might wear the Spencer Tiara worn by Princess Diana on her wedding day in July 1981.
The tiara is an 18th century Spencer family heirloom and was made up of other pieces of jewelry. The central part of the crown was given to Diana's grandmother on her wedding day in 1919.
The ends of the tiara were crafted from a jewelry piece which belonged to the Frances Manby, the last known Viscountess of Mantagu. The family line died in 1797 when her husband passed away.
The Spencer Tiara is constructed from diamonds in the shape of tulips and was worn by several members of the Spencer family throughout the centuries.
The tiara has not been worn in public since Diana's death two decades ago and can only be seen when it's loaned out to 'Diana-themed' exhibits.
While Diana's diamond collection belongs to her sons, the tiara does not, and Prince Harry will need permission from his uncle, Charles Spencer, if he wants Markle to wear it on their wedding day.
Two diamonds from Diana's collection were incorporated in Markle's engagement ring, along with a Botswana diamond.
"It's incredibly special to be able to have this, which sort of links where you come from and Botswana, which is important to us, and it's perfect."
Prince Harry, Pop Culture, February 12, 2018.
Kate Middleton didn't wear any of her late mother-in-law's tiaras when she wed Prince William on April 29, 2011, instead opting to wear Queen Elizabeth's 1936 Cartier Halo tiara.
However, Kate did wear the famous Cambridge Lover's Knot tiara in July 2017, and again at the Queen's winter party in December 2017. The Lover's Knot was said to be a favorite of Prince Diana.
Please fill in your e-mail so we can share with you our top stories!