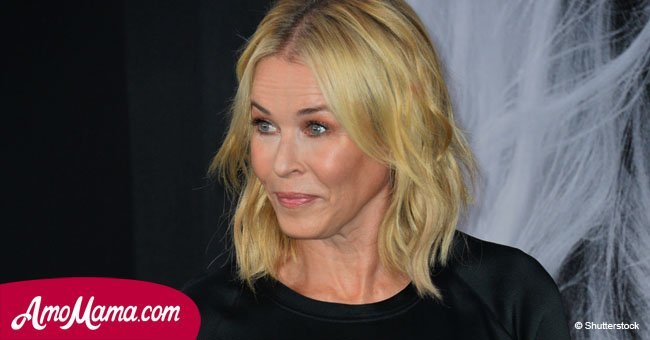 Chelsea Handler shares a bikini only picture while struggling to fit into a tiny piece
The comedian explained her issues with wearing bikini tops on Instagram.
Chelsea Handler shared a video of her n her Instagram story as she talked about her dilemma while she was on vacation on March 17, 2018.
Handler, 43, was on a family trip when she talked about her issue with the specific swimwear.
On the video, Handler was shown wearing a black, gray, and pink bikini top plus black bottoms, according to Entertainment Tonight. The clip was taken and recorded in a hotel bathroom.
Inquisitr shared that Handler supposedly wanted "everyone to know" about her problems in getting into bathing suits because of the size of her chest.
She went on to explain that she finds it hard to find perfect-fitting clothes because of it. Handler went on to declare that she considers having surgery done to fix the problem.
Handler had previously faced speculations about her breasts. Allegedly, some people had speculated that they were fake.
People reported in March 2015 that the comedienne slammed her haters on Twitter, who said that she has breast implants.
Entertainment Tonight suggested that Handler had always been known to speak up about positive body image.
She had spoken to the media outlet in 2016 and she claimed that she enjoyed getting in shape. She said she felt stronger as she reached her goal and that she had put a lot of effort into achieving her desired figure.
The star had shared a few photos of herself on Instagram being active, playing tennis and working out at the gym.
Even though Handler had been a vocal advocate about positive body image, as a comedian, she is no stranger to insulting other with the way they look.
In December 2017, as reported by Jezebel, Handler had retweeted a video to promote her Netflix series where it showed White House Press Secretary Sarah Huckabee Sanders being made fun of.
Comedian Fortune Feimster was playing Sanders and she called the press secretary old with a face that is "a big fat biscuit."
Handler was slammed on social media for retweeting the video.
Please fill in your e-mail so we can share with you our top stories!