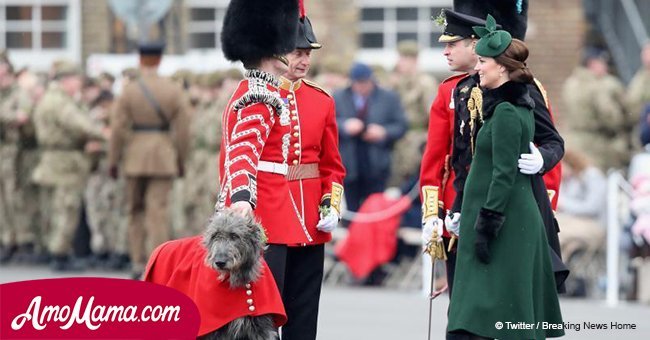 Rare PDA moment between Prince William and pregnant Duchess Kate that most people likely missed

The Duke and Duchess rarely give in to public displays of affection. As working representatives of the monarchy, they represent the commonwealth.
On March 17, 2018, Prince William and Kate Middleton celebrated the St. Patricks Day by attending the annual event with the Irish Guards at their barracks in West London.
As reported by House Beautiful, Kate showed off her 8-month baby bump, while William gently placed his hand on her lower back.
While they are not directly forbidden from showing displays of affection in public, it is frowned upon at official events. The same rules don't apply to casual occasions, such as sports events.
As a sign of respect, the Royal couple won't overdo it, and a gentle touch on the back, shoulder or elbow is still allowed. When they do touch each other in public, it definitely grabs the media's attention.
The rules are little more lenient for Prince Harry and his fiance, former actress Meghan Markle. They often show displays of affection when out in public, even holding hands.
During an interview with BBC in November 2017, Markle was seen holding the Prince's hand. She also placed her hand on his knee while explaining how they met.
Prince Harry and Markle's behavior is described as 'atypical for royal engagements,' and the House Beautiful explained that standards for them differ from those set out for his brother and sister-in-law.
Prince William and Kate are the future King and Queen, and 'need to look a little more prim and proper' when stepping out in public. Even more so when attending an official event.
The Duke and Duchess are expecting their third child, whose arrival might fall on the same date of the couple's wedding anniversary, April 29. Prince Harry will then be sixth in line to the throne.
Please fill in your e-mail so we can share with you our top stories!