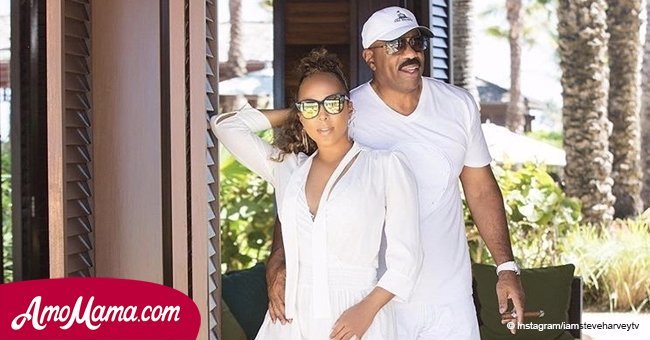 No kids' permission granted for Steve Harvey to begin a blended family with his third wife

He said the children's disapproval of his third marriage is not his concern.
According to an article published by Closer Weekly, television star Steve Harvey recently confessed that his children were not very happy about him and his third wife Marjorie Bridges being together.
Harvey and Bridges celebrated their 10th marriage anniversary recently, and he expressed his happiness over their relationship.
Harvey compared his experience of marrying Bridges to being reincarnated as a whole new person. He admitted that he had made a lot of mistakes in the past years, however, Bridges walking into his life changed things for the better.
The 61-year-old celebrity also opened up about his philosophy on a happy marriage. In his view, if one is happy in one's own family and home, one can achieve a lot of things in life.
Harvey confessed that neither his nor Bridges' children have been very pleased with their marriage. However, he appears to have made peace with it.
Harvey expressed that if the children had a problem with their father's happy marriage, they should deal with it themselves. He emphasized that he did not yearn for their approval or permission to marry the person he loved.
Harvey has twin daughters, Karli and Brandi, while Marjorie has three children, Lori, Jason, and Morgan. Bridges also chimed in on dealing with the children's disapproval while trying to bring everyone together as a family.
The 43-year-old self-made fashionista revealed that above everything else, she knew that it felt right to be with Harvey.
Bridges also acknowledged that when people from two broken families want to start a family together, it is tough for every family member.
She shared that she spoke to her children about the new relationship, highlighting that each one of them was included in the new family. Every child, her own and Harvey's, would have caring, approachable parents to be loved by.
Bridges also recognized that the absence of a father figure for her children would have left an impact on them. To address this, she advised the children to let go of the past, and not let it come in the way of enjoying the present.
Please fill in your e-mail so we can share with you our top stories!